2022 Christian Reading Challenge
It's finally that time of year again: We are here today to announce the 2022 reading challenge and chat about this year's reading. We will discuss our goals, making new goals, and some exciting changes to the 2022 reading challenge (it's going to be so much fun)!! Listen in here:
Listen to the Podcast:

You can find all the links and notes for this episode below!
What's New This Year
In an effort to inspire more reading, and to do it as a community, we are introducing a community aspect for the first time ever!
We've always wanted to do this, but now is our year!! The community group will kick off on January 1st. You can join our community in the meantime here —> FindingJoyCommunity.com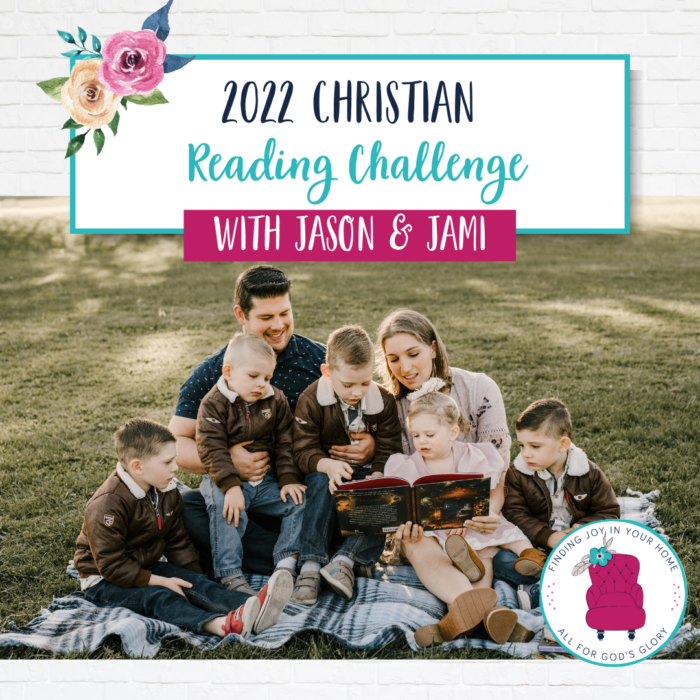 In the community, we will all be able to update on our progress, share new favorite books and ask for book recommendations in categories. Jason and I will also be publishing detailed book lists throughout the year and posting our book reviews of our books we read throughout the year!!
Next exciting change: You will determine your goal for the year and then compete against yourself for some fun little prizes. If you hit your quarterly goal, we'll have stickers, magnets, and bookmarks you can win for free and add to your next store order!!
It's going to be super fun. I'll be unveiling quarter one's prize soon!
BONUS: I'll have a reading planner PDF to download for FREE as part of the challenge. I'm almost done with it and will release it into the community as soon as it's done!! It has places for book summaries, tracking your reading goals, favorite quotes, and more.
Jason & Jami's 2021 Reading Goal:
We both set big goals for this year, and neither of us are hitting it! But that's okay because I feel like we both had great reading years. And that's really all that matters.
Jason's read (so far): 93 books for the year
Jami's read (so far): 97 books for the year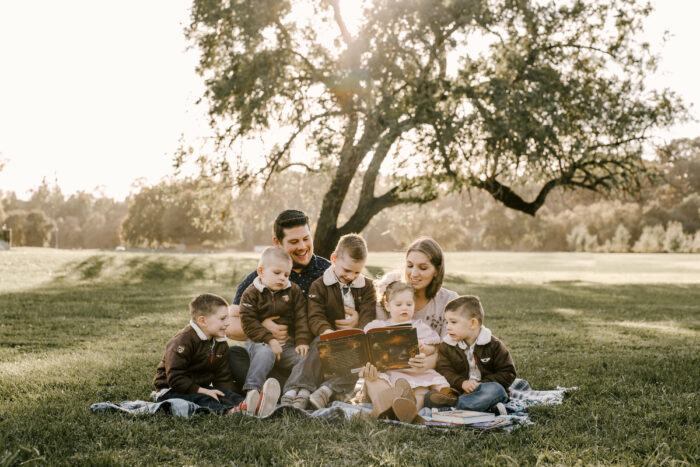 2022 Christian Reading Challenge
Here's how it works: 
You will find the reading challenge below. You'll see that we've given you two tracks – 13 books or 26! This is either reading one book every four weeks or one book every two weeks. If you want to do 52 books (one a week) you can easily adjust for that as well.
A note about fiction: This year we've included fiction categories per your request! I think fiction is hard because all of us are going to have different tastes in what fiction we prefer. You can find some of our favorite Christian Fiction books here. But feel free to substitute any fiction books or series that you enjoy.
Pick Your Level:
I know each of us has different reading levels and time for reading, so I created two different tracks you can follow.
13 Books a Year – This works out to 1 book every 4 weeks. If you have no habit of reading right now or have no idea you will fit reading time into your busy schedule, then this is a great level to begin with. Pick one book every 4 weeks and commit to getting it down within that time.
26 Books a Year – If you want to tackle a bigger challenge, then this level will get you reading 1 book every two weeks throughout the year. It's still a very doable reading track but will challenge you to stay on track! If you want to follow this plan, read one book from each list every month. So in January, read book #1 and book #14! This way everyone can read through and follow along with books #1-13 together.
Here are the categories: 
Christian Living

Marriage

Parenting/Family Life

Theology

Fiction

Biography/History

Spiritual Disciplines 

Christian Classics

Church History
*If you are not a parent or are not married, then scroll down and fill in those spots with other fantastic book suggestions from the other categories.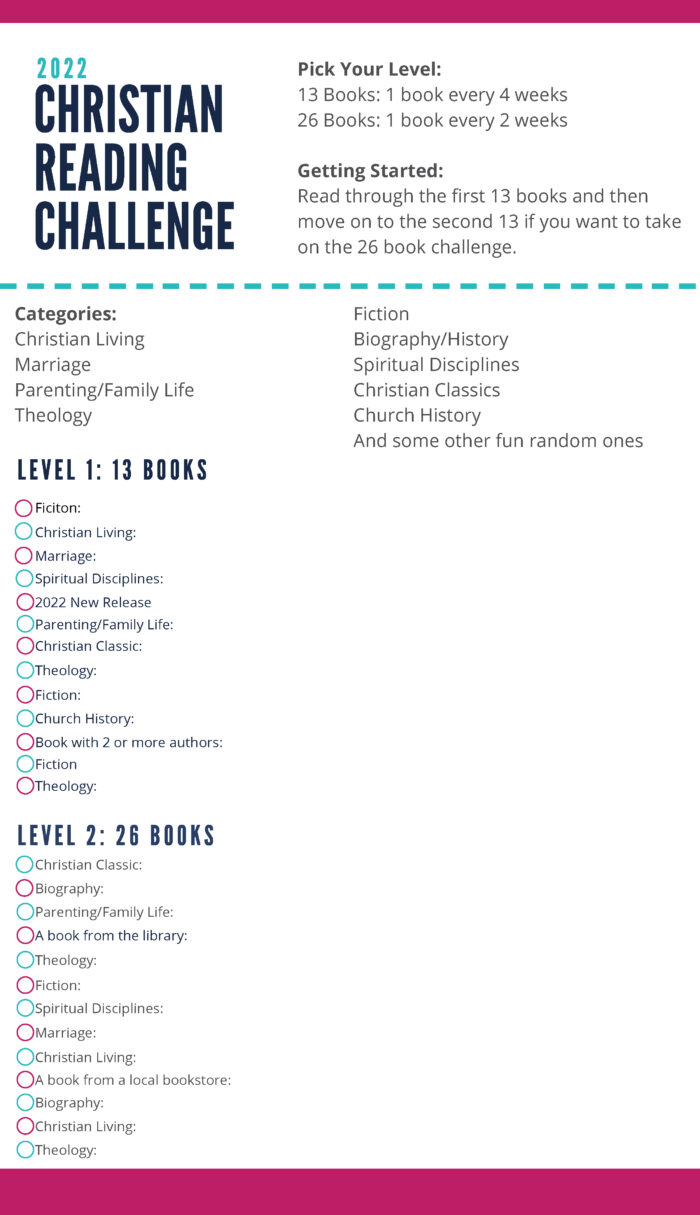 Book Recommendations Per Category:
Christian Living:
Womanhood & Marriage:
Parenting/Family Life:
Theology:
Biography:
Money & Finances:
Christian Classics:
Church History: