7 Biblical Resources for Families – 2020 Edition – Hf #296
I'm taking a stand this year. 2020 is the year of directing my family back to Christ and making a Gospel Centered, Christ focused atmosphere in my home. In this episode I share 7 resources we've been enjoying for helping in that regard!
Listen to the Podcast:

You can find the notes for this episode down below.

And don't forget to subscribe to the podcast in iTunes.

Right click here and save-as to download this episode to your computer.
This is a fantastic parenting book for all Christian parents to read!
"God hasn't just sent you to do his work in the lives of your children; he will use the lives of your children to advance his work in you."

"So your hope as a parent is not found in your power, your wisdom, your character, your experience, or your success, but in this one thing alone: the presence of your Lord. The Creator, Savior, Almighty, Sovereign King is with you. Let your heart rest. You are not in this parenting drama alone. Your potential is greater than the size of your weaknesses, because the One who is without weakness is with you, and he does his best work through those who admit that they are weak but in weakness still heed his call."
Drawing close together as a family is hard work! But it's more important than ever that I'm making the time in my day to connect with my kids and all of us together as a family. Reading together is a beautiful way to do this! The Read Aloud Family is a great book that helps with that (it even has booklists)! Her podcast The Read Aloud Revival is also a great resource.
"No one will ever say, no matter how good a parent he or she was, "I think I spent too much time with my children when they were young."

"When my head hits the pillow each night, I want to know that I have done the one most important thing: I have fostered warm, happy memories and created lifelong bonds with my kids—even when the rest of life feels hard."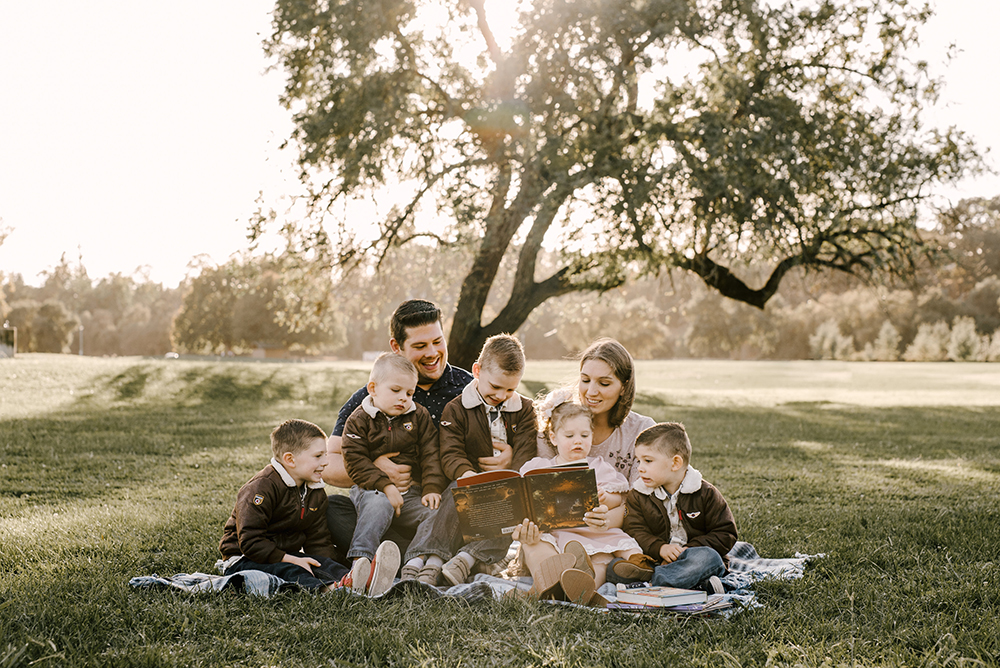 Courageous Parenting is a weekly podcast for Christian parents who want to equip confident Christian kids in an uncertain world. As parents of 8 kids, they know how important and hard it is to focus on Christ in your everyday and in marriage and parenting. I love their commitment to Christ centered parenting and I love to see the team they make in this.
Angie is also a very encouraging person to follow on instagram.
Matt and Lisa are another couple I love getting advice from. They especially shine for me when it comes to marriage advice. Their podcast is a terrific resource! "What does it mean to be a biblical Christian in Marriage, Parenting, Church, and Culture? Each episode takes on a vital issue and explores what The Word says about it – topics like sex, purity, growing in oneness as a married couple, difficult parenting issues, being a biblical Christian in a fallen world and much more, including practical steps for real success and deep growth in these areas. . . we laugh a lot, too!"
This is a book I have't read yet. But Jason says it's the best book on parenting he's ever read! It's next on my to read list. It's a quick short book but an excellent one!
Did you cancel Netflix this month? Or are you struggling in knowing what shows are safe (and encouraging) for your kids? Minno (use to be Jelly Telly) is a streaming service for kids. Basically it's like a Christian Netflix for kids shows and we are huge fans of it!!
Go to Gominno.com and use coupon code HOMEMAKING for 7 day free trial. While you check out that free trial, try out our favorite shows: Theo, Owlegories, 3, 2, 1 Penguins, and of course the classic veggie tales!
7. Drawing together in our marriage
This last one isn't really a resource, but it's an important one right now! With everyone going on in the world today (and having a 4 month old + 5 other kids, work, life, and traveling full time) it's more important than ever that we are staying connected. We want to laugh together, have fun, and connect on all levels. So we are making sure:
Making sure we have regular "Date" time (at home, when kids are asleep!)
Spending time talking and bonding together (playing board games together, cuddling on the couch and watching movies, reading together, etc)
Praying together and coming to the Lord together (a BIG priority for us lately)
Studying theology together (you might need to be at least a little bit of a nerd to really enjoy this one like we have been LOL!)
Our Sponsors Today: 
Looking for a better way to educate at home this year? Check out LaurelSprings.com/Foundation for your waived registration fee
Need a customized vitamin and wellness plan? Check out TakeCareOf.com/home25 and use coupon code home25 for 25% off each of your first 3 boxes!