Hf #43: Biblical encouragement for those long weary Mom days
Today is been one of those tough days. At least the morning was and things are slowly starting to calm down now as we head into the afternoon.
You see – my energy stores (and thus my patience) are in pretty low supply lately. I'm currently 9 weeks pregnant and this third pregnancy has been wiping me out. Between the morning sickness and the fatigue of being in my first trimester AND keeping up with four kids three and under, I'm pretty exhausted lately.
Plus honestly, even not being pregnant, some days as a mom are just really really tough. Anyone else feel like that? I love my kids and I love being a mom. But some days, some seasons, and some times are really really tough.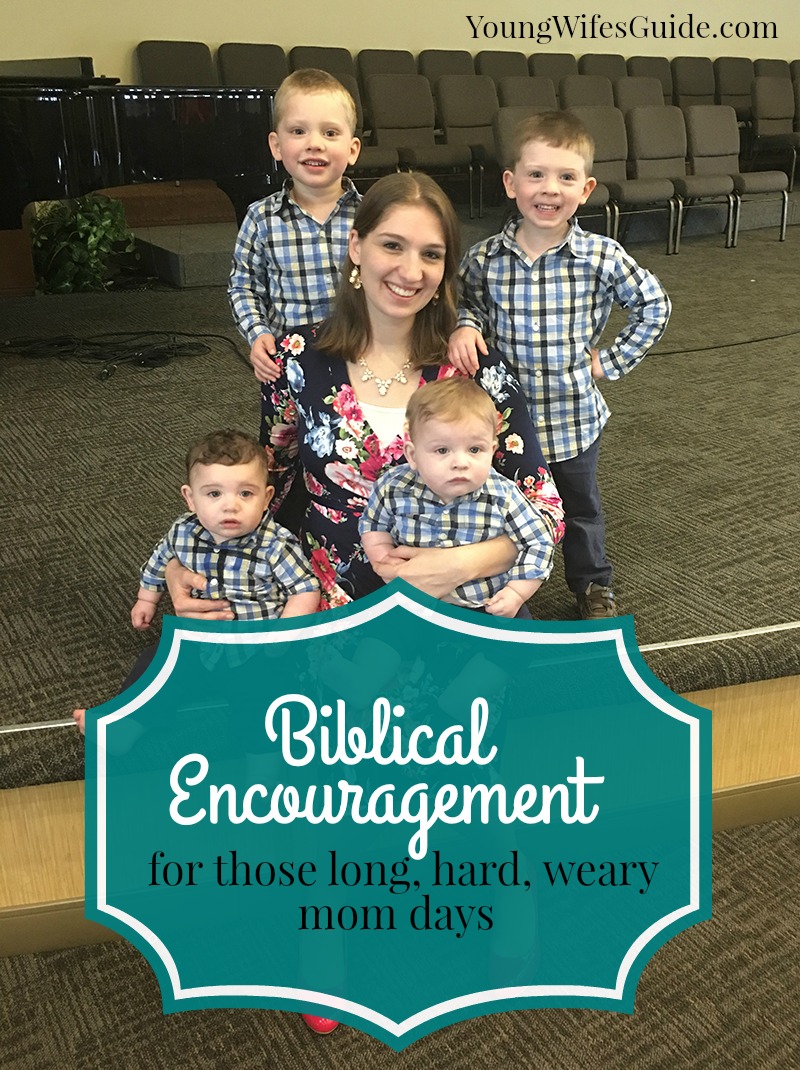 Listen to the podcast: I've recorded this blog post as an audio podcast. You can read it here, or if you prefer, listen to it as a podcast below! Enjoy!

Right click here and save-as to download this episode to your computer.
I think everyone woke up on the wrong side of the bed this morning. It was only 9am and all four kids were currently crying. It certainly wasn't the end of the world, but with 12 things that needed to be done at once, I really started feeling overwhelmed.
So I stood there, I felt my temper rising, my patience draining away, and that familiar tug of fatigue threatening to overwhelm me…I had to stop and figure out how I would handle it all. Would I let anger overwhelm me and start yelling? Would I turn into a Zombie and just get.through.the.morning. Would I break down and start crying myself? Would I call my husband and beg him to come home to my rescue?
Believe me, all these thoughts went through my mind. And as I stood there in the midst of four crying kiddos, I felt the gentle call to remember to who it is I'm working for. Why I get up everyday and care for these munchkins. Why I am pouring my life into raising these 4+ blessings. And that they are indeed BLESSINGS. And that it's ALL for God's Glory and His Kingdom.
So dear mama, if you are having a tough morning. Or a tough day. Or a tough year…hang in there. Some days are tough and God doesn't promise that our life and our days will be all cupcakes and sprinkles.
So where do we turn? What do we do when we feel that familiar tug of overwhelm threaten to engulf us? Here are a few ideas to help you have a heart and attitude change in the midst of a really tough mama day:
Encouragement for those long weary Mom days
Make sure you read your bible
This really needs to be your #1 priority. If you are having one of those long tough days, endeavor to sit down and read your Bible, if only for 10 minutes.
I know that in the midst of chaos, such as this morning when I had four crying, hungry, cranky kids, I couldn't ignore them to sit and read my Bible right then. But I had already done by daily Bible reading that morning while the house was still and the kiddos were sleeping.
I armed my heart and my mind to think about God from the very first thing this morning and I know it really helped me to battle that overwhelm when the chaos started. So if you already did your Bible reading, try and think about and remember what you read that morning.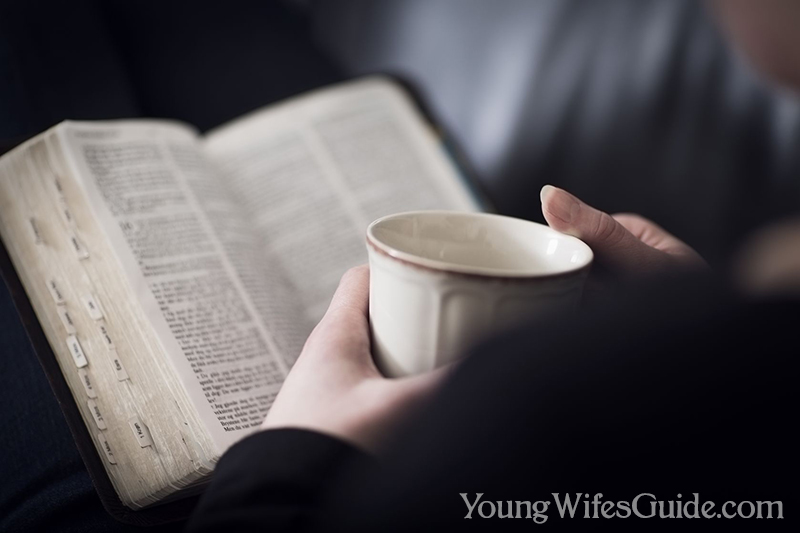 And if you haven't read your Bible yet, or want to spend more time reading (which is always a good plan), endeavor to find a few minutes as soon as you can!
If you need some help establishing a daily habit of Bible reading, I highly recommend you check out my free eCourse: Finding Joy in Your Home – essential habits for Christian homemakers. In lesson #3 I cover the habits of daily Bible reading and prayer.
Pray
Seriously, stop right in the middle of chaos and pray. If you can barely spare a second, then a quick "Lord, please give me strength, wisdom, and patience today" will do.
Or spend a few minutes if you can. Start out by thanking the Lord for the things in your life. Thank Him for your children. When you are feeling overwhelmed, then praying to God to THANK him for your children can work wonders in your heart. Thank the Lord for the many blessings he has given you.
Spend a moment and repent and confess of any sin in your own heart. Repent of the anger that is welling up and ask God to help you handle it.
Ask God to give you the strength and wisdom to handle today, and then don't stop going back to him again and again throughout the day.
Take a little time to do something for yourself
After I prayed and asked God for strength this morning, I set to work trying to put on patience while I did what needed to be done. I cleaned up the crying babies and got them down from their high chairs. I gave the big boys a snack. And while it took a little while and largely because I stayed calm and didn't add to the chaos, everyone was able to settle down after a little while.
Like I said, my fatigue has been pretty awful this first trimester and all I wanted to do after breakfast was curl up and take a nap. But we have a full afternoon and I knew this was my one chance to clean the kitchen and get things ready for today.
So with the prospect of doing a chore I was dreading, after an exhausting morning, I decided I needed to give myself a little treat to help motivate myself. So I decided to get everyone settled and listen to my book out loud on my phone while cleaning. That did the trick! It motivated me to just to it and clean the kitchen. Despite my overwhelming morning, I've actually managed to have a productive day.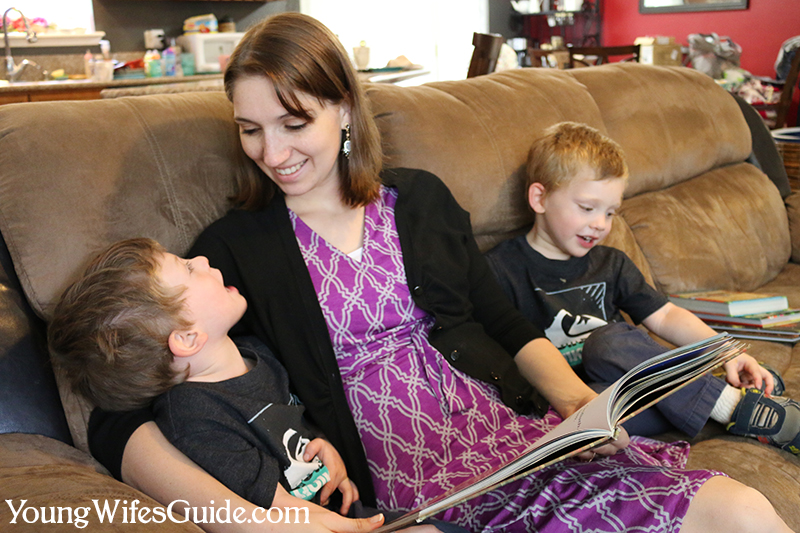 Here are some ideas when you need to take a few minutes for yourself:
Listen to a book out loud (here's a list of my favorite Christian fiction books)
Listen to a podcast episode or two (You can find out more about my podcast here)
Sit for a few minutes and enjoy a cup of coffee or tea
Take the kiddos outside and go on a short (or long) walk in the sunshine
Exercise (I know, this doesn't exactly sound exciting, but it's wonderful for your body to get moving!)
Spend a few minutes reading your favorite blog (but set a timer so you don't get sucked down the rabbit hole of the internet!)
Bake some muffins or cupcakes
Spend a few minutes coloring (this is my very favorite Scripture based adult coloring book)
Take a shower and/or get dressed for the day (this can often make a big difference)
Sit and cuddle with your kids for a few minutes
Meditate Upon Scripture
One of my favorite ways to battle anxiety, stress, a bad attitude, or a sinful heart is to memorize Scripture and to meditate upon the sweet promises found in Scripture. If you are having a tough day, I highly encourage you to at least look up some of these verses to read over and highly encourage you to try memorizing them as well!
Proverbs 3:5-6
Joshua 1:9
Psalm 5:11
Ephesians 4:2
Ephesians 4:31-32
Psalm 118:24
James 1:2-4
Download Our Pre-Made Scripture Memory Cards:

If you're looking for a simple and easy way to memorize Scripture, come on over and check out our Scripture memory cards! I've created 12 sets of Scripture memory cards on various topics such as worry & anxiety, marriage, Biblical womanhood, money & finances, and more.

I've created three options for you to make it as easy as possible. You can purchase all 12 cards at once (which is what I recommend) or choose between two bundles. Each bundle contains 6 different sets of cards. If you only want 6 sets of cards, pick whichever bundle has the topics you most want to memorize.

Purchase ALL 12 sets of Scripture memory cards (and save $5 over buying them separately)
Bundle #1 topics include: Marriage, Anger & Patience, Relationships with Others, Money & Finances, Trusting in the Lord, and Laziness. Check out bundle #1 here.
Bundle #2 topics include: Worry & Anxiety, Biblical Womanhood, Christian Living, Contentment & Joy, Discipleship & Mentoring, and Hospitality. Check out bundle #2 here.
Memorizing and meditating upon Scripture is a powerful Spiritual Discipline we have at our disposal, but it's something that a lot of us don't spend any time on. I love this encouragement from one of my favorite books Habits of Grace:
"When we learn the Scriptures by heart, we're not just memorizing ancient, enduringly relevant texts, but we're listening to and learning the voice of our Creator and Redeemer himself. When we memorize lines from the Bible, we are shaping our minds in the moment to mimic the structure and mind-set of the mind of God.

Good theology forms our minds in a general way to think God's thoughts after him. But memorized Scripture molds our minds, with as much specificity as is humanly possible, to mimic the folds and creases in the mind of God. Theology gets us to the ballpark, memorized Scripture, into the clubhouse." – David Mathis, page 68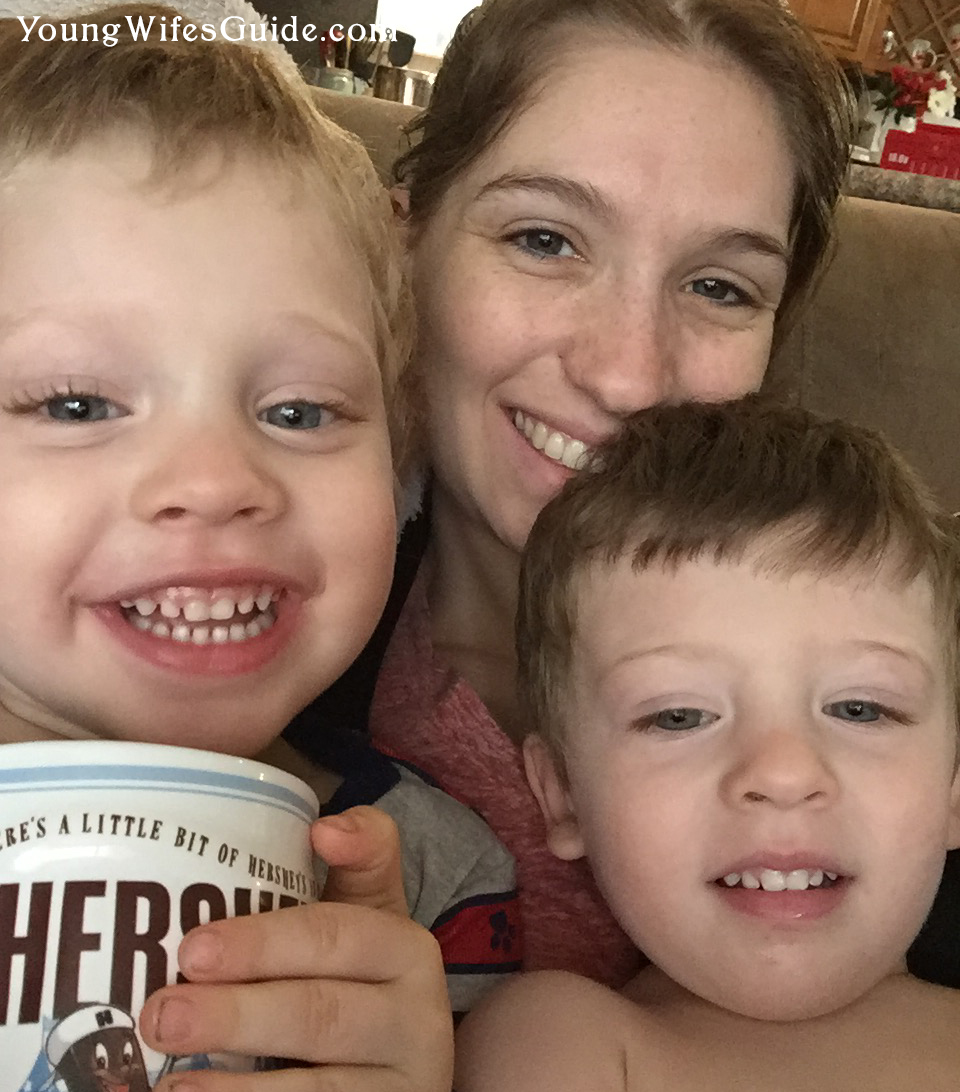 Remember to whom we are serving
CHRIST.
When everything is falling apart and your are worn and weary, we need to remember to whom we are ultimately serving. It's a wonderful and noble task to be called to raise our children, and it's one that God has called us to. We are the mother to our children for a reason and we are powerfully serving God by raising them and training them in the things of the Lord.
Yes, some days tough. Some days are exhausting. And some days are not enjoyable. But we have been tasked with a powerful ministry within our homes to raise our kids in the Lord, and when the days are long and hard, we can think on that and know we are serving in a powerful and wonderful ministry right from within our very homes.
"Right where we are, we can see glimpses of grace as we learn to apply passages like Colossians 3:1-3, which says, 'If then you have been raised with Christ, seek the things that are above, where Christ is, seated at the right hand of God. Set your minds on things that are above, not on things that are on earth. For you have died, and your life is hidden with Christ in God.'

God powerfully brings our ministry to fruition and our deeds done in faith (2 Thess. 1:11). So, that umpteenth dirty diaper, when viewed in light of the hope and promises in God's Word, can be a significant means of God's transforming work in your life." Glimpses of Grace, page 28.
So take heart weary mama, you are doing a good work today. It might be hard and as the saying goes "The days are long but the years are short."
What do you do on those long, hard days?