Build Your Own Custom Homeschooling Curriculum (This week only!)
Last week I shared a fun giveaway for Christian homeschooling resources and I promised that this week I would break down for you what this huge Build a Bundle thing is.
I was introduced to the Build Your Bundle sale when one of the organizers reached out to me to see if I wanted to add one of my products to the homemaking bundle last year. So I started doing some research into what they are all about (I DON'T back anything that I don't fully support – or I tell you my concerns up front if I have any). And now I'm back for my SECOND year and have fallen in love with this gigantic homeschool resource.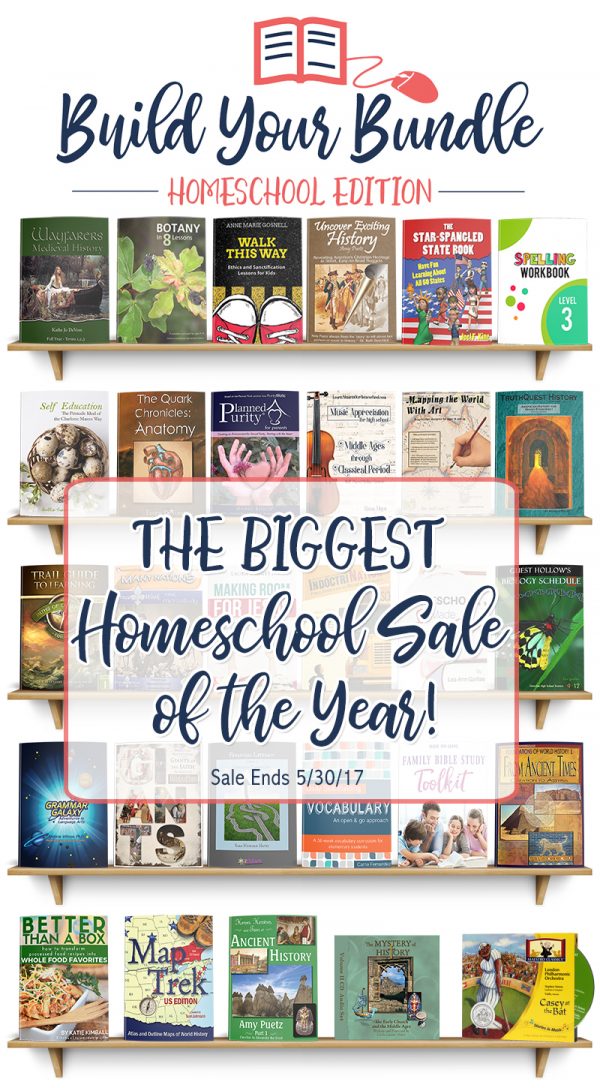 I am blown away with this resource!! I don't typically think that these big eBook bundles are all that worth it (because are you realistically going to go through hundreds of eBooks and actually make good use of the resources)? Can you really read through even 50 books in a year? Probably not worth it. So why is this one?
Side note: The links in this post are my affiliate link. If you do end up purchasing any of the bundles, I do make an affiliate commission…at no extra cost to you. I don't ever promote something I don't fully believe in (if I do, I tell you my concerns up front). So I just wanted you to know 🙂 Carry on…
What is the Build Your Bundle Sale?
For one week only, the Build Your Bundle sale has literally hundreds of resources that you get to pick and choose from and you only pay for what you want!
So instead of getting hundreds of eBooks you don't want or care about, you can choose pre-assembled mini-bundles from various topics that you care about, or build your own bundle.
Topics and bundles include:
Homemaking (<— I highly recommend this. 9 fantastic resources for $10. YES PLEASE!)
Character
Charlotte Mason Inspired
Copywork, Notebooking, & Lapbooks
Early Learning (<— So excited for this one!)
Elementary resources
Fine Arts
Homeschooling helps
Upper grades resources
Unit Studies
and so much more!
If you don't have kids, then I HIGHLY recommend you check out the homemaking and healthy families bundles (because they both rock) and if you DO have kids (even if they are not of homeschooling age or you are not homeschooling) take a look through the resources because you might some really great activities and things to do with your kids.
But I want you to be FULLY informed about what this bundle sale is so you can decide if it's right for you or not! So here's what you need to know:
Is this sale right for me?
The Homemaking Bundle – Even if you don't have kids
The first thing I want to highlight – since this is a homemaking blog and not a homeschooling blog – is the homemaking bundle.
Unlike those other HUGE eBook bundles that are frankly a little overwhelming, you can choose the homemaking mini bundle for just $10 and it has about 9 fantastic resources included! I highly recommend this homemaking bundle to everyone, regardless of if you are interested in any of the other bundles.
I find 9 resources a LOT more manageable to sift through and actually use. I am not the biggest fan of eBooks generally (i prefer physical books), but there are some real gems packed in this bundle and it's only 10 bucks. Super worth it to me.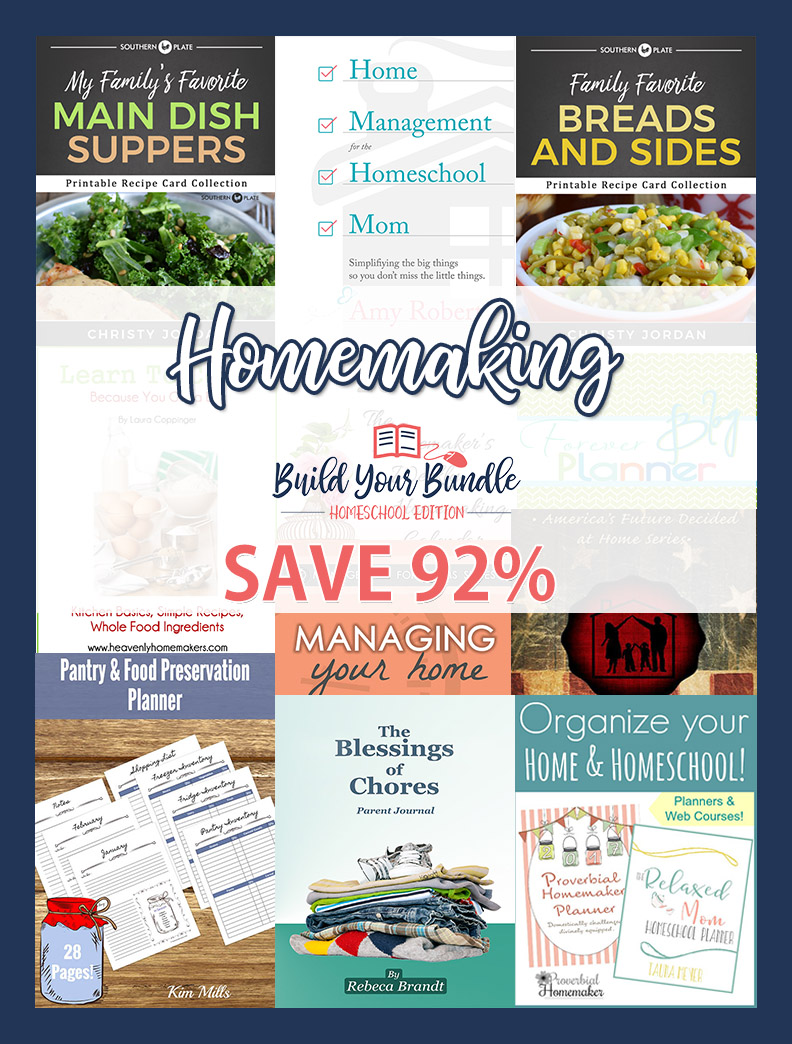 Here's whats inside the homemaking bundle:
Home Management for the Homeschool Mom – (Normally

$

9.99)
My Family's Favorite Main Dish Suppers – Recipe Card Collections – (Normally

$

5)
My Family's Favorite Breads and Sides – Recipe Card Collections – (Normally

$

5)
Pantry & Food Preservation Planner – (Normally

$

7.65)
Organize Your Home & Homeschool Bundle – (Normally

$

35)
Learn to Cook – (Normally

$

8)
Managing Your Home – (Normally

$

4.99)
The Blessings of Chores for Parents – (Normally

$

11)
2017-18 Homemaker's Weekly Homemaking Planner Bundle – (Normally

$

9)
America's Future Decided at Home: The American Christian Home – (Normally

$

3.99)
Forever Blog Planner – (Normally

$

19.99)
I'm personally most excited about the pantry and food preservation guide, managing your home, and the blog planner! Those alone are well worth $10. I'm really excited about these resources and I'm already starting to dig into the freezer cooking resource.
Healthy Families Bundle
A new bundle they are offering this year is the Healthy Families bundleHealthy Families bundle and it looks great! This bundle is just $9.95 as well and is packed full of $142 worth of goodies.
This category has 10 awesome look books. In particular the Family Bible Study Toolkit looks amazing! This ONE resource on it's own is normally $18.99!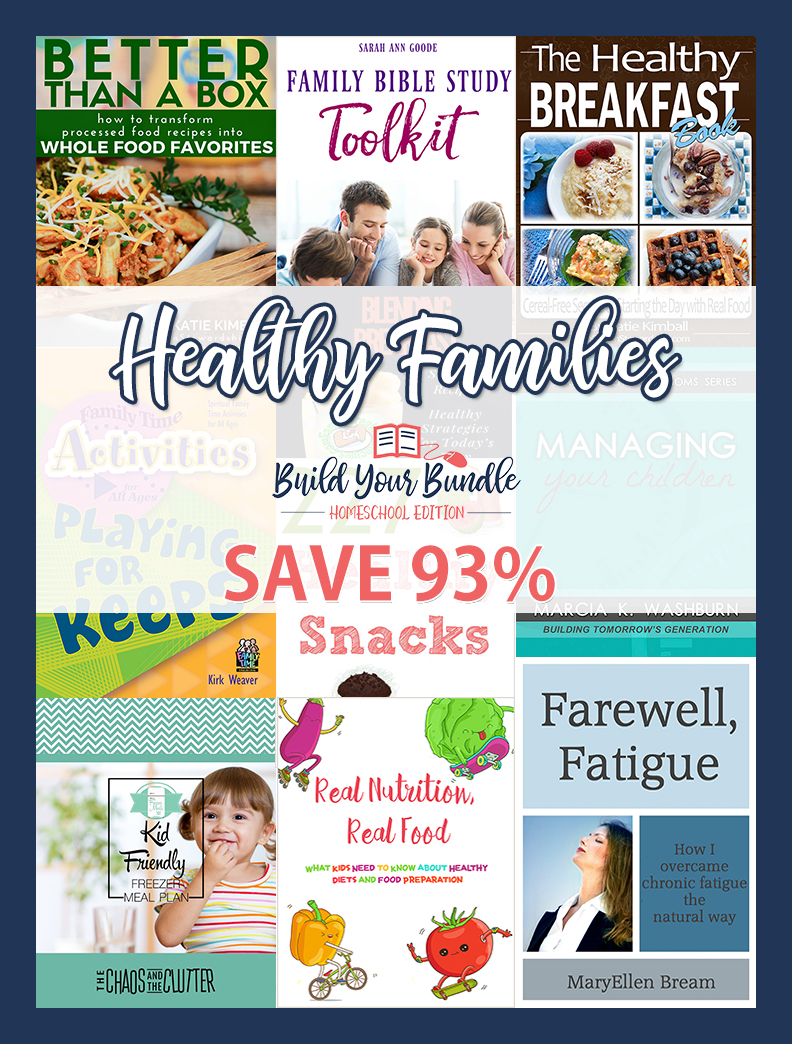 Solid, Biblical Resources – For any age
The biggest thing I've noticed about this bundle sale, unlike other big bundle sales, is that all of these resources are distinctly Christian. My boys are not even of homeschooling age yet but I am already excited about the potential for many of the resources.
For example, the character building bundle, is FULL of Christian resources. It features a giants of the faith notebook, developing a quiet time for kids, bible memory for kids, praying for your homeschool journal, my very own Spiritual Disciplines binder, and more!!
If you homeschool at any grade, or want to supplement what your children are learning with solid, Biblical teaching, I highly encourage you to RUN over and check out the resources.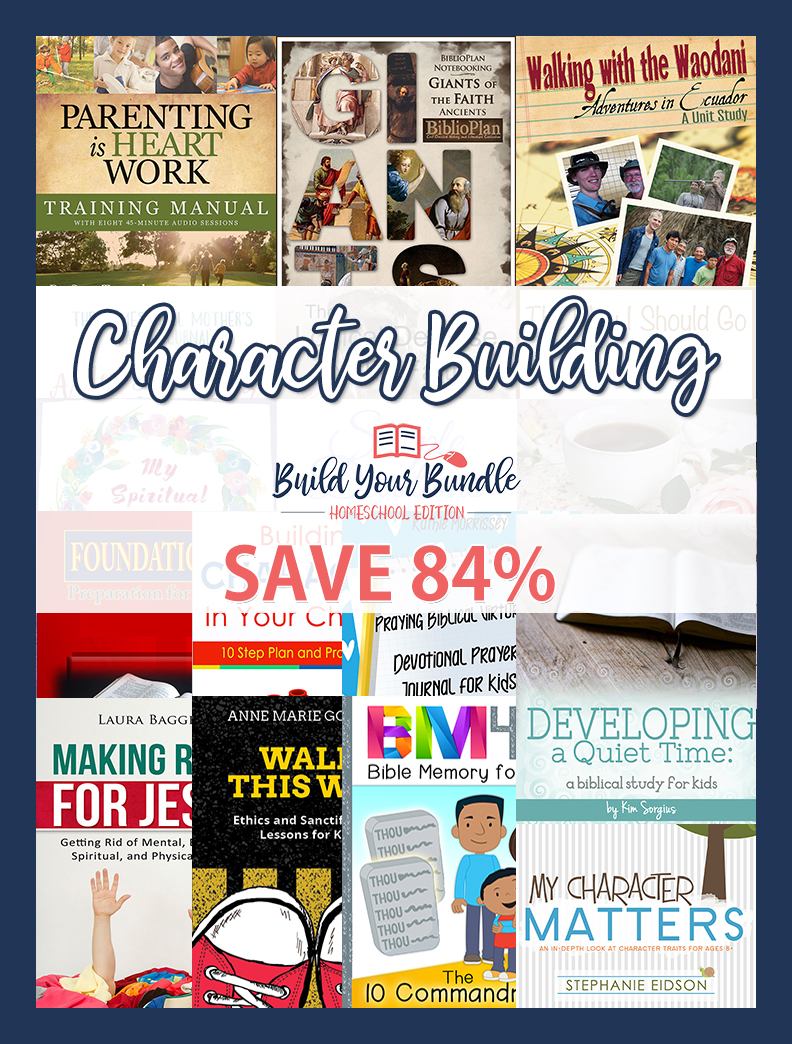 Buy Two, Get One FREE!
This is where the build your bundle deal gets awesome! If you buy two bundles, you get one free!! Buy four bundles, get two free and so on. This is where the savings really start to stack up. Find out more about the buy 2 get 1 free deal. Are you curious about what I would buy? Here's what I purchased (so far) from the 2017 bundles:

There are just the three I'm personally the most excited about. But head over and check out all the bundles and all the fun way you can buy 2 and get 1 free! This is such a cost effective way to build your curriculum for next year!
Who this bundle is NOT for?
If you HATE digital products and have never cracked open an eBook or printed off a printable file – then this definitely is not for you. This is a 100% digital sale.
And I know that's a bummer. I would prefer physical hard copies of everything. But that would cost thousands of dollars. And when it comes to homeschooling, we just don't have that kind of budget.
So if you can deal with the fact that it's digital stuff (you can always print things out as needed), then it is a fantastic deal. If you could never ever make good use of digital files, then move on, this sale isn't for you. 🙂
Sale Ends May 30th!
This is one of those limited time deals. And they do this sale every year, but the resources are always different! So head over by Tuesday, May 30th

But I'm not homeschooling. Is this sale still for me?
Yes – it might be! I'm not quite into the homeschooling stage either, so a lot of the bundles are irrelevant to me at this point (even though they look AWESOME)! My oldest twins are only four, but we are working on pre-school this year so the Early Learning Bundle is of particular interest to me.
Even if you don't plan on homeschooling, but you have pre-school aged kids, I highly recommend you check out the early learning bundle because it's packed full of helpful stuff! And don't forget to check out the homemaking bundle and the healthy families bundle – this applies to EVERYONE regardless of if you have kids or not.
Like I said at the beginning, I am very protective over giving my stamp of approval to things. I only ever want to recommend the best things to you and will tell you up front on what things REALLY are a good deal or not. And I'm picky.
But I can say without reservation, that I am really excited about the Build Your Bundle sale. I love that they are committed to bringing Christian resources to homemakers for an affordable price. If you have any questions about the sale, please leave a comment and let me know!