My Favorite Podcasts for Christian Women – Hf #70
A secret weapon in my homemaking is listening to things out loud during my day while I work around the house. It helps motivate me to get to work, helps me stay energized while I work, and becomes an incredible opportunity to learn and grow.
I regularly listen to the Bible, many good podcasts, and audiobooks. Because I talk about this so often, people always ask me what podcasts I listen to. Today I'm sharing all my favorites.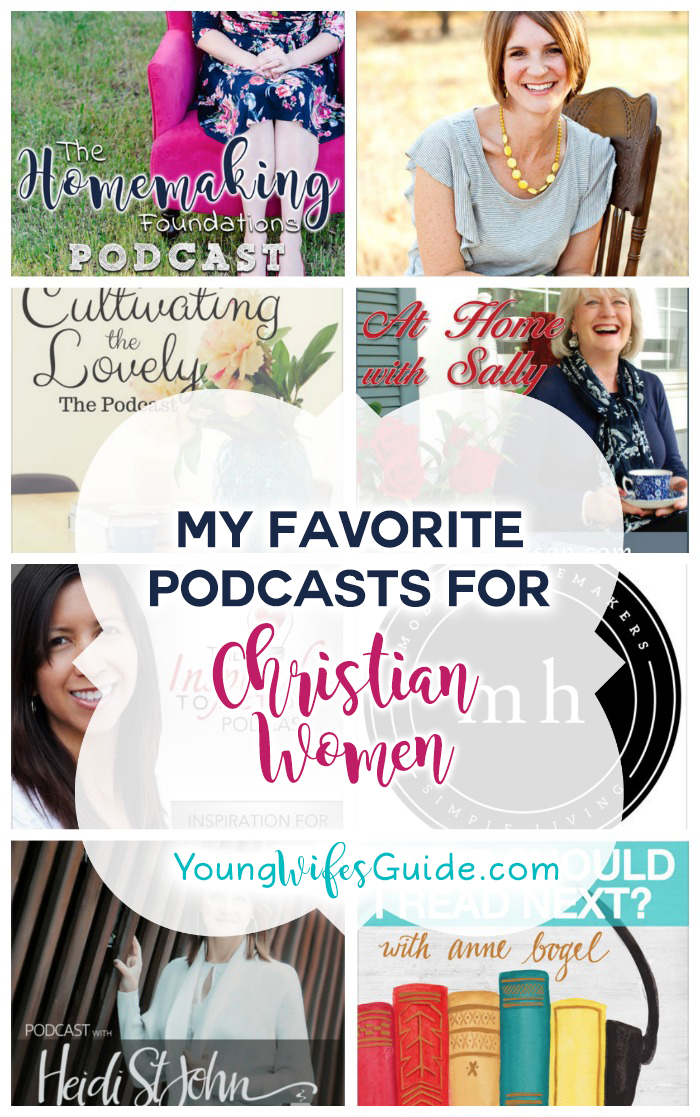 Listen to the Podcast:

We also recorded this blog post as an audio podcast. If you want to listen in instead of reading, click play below or do a combination of both

And don't forget to subscribe to the podcast in iTunes.

Right click here and save-as to download this episode to your computer.
When I Listen to Things:
The more you get into the habit of listening to things out loud, the more you want to listen to things out loud. I love finding pockets of time in my day. Here are my favorite times to listen to books and podcasts throughout my day:
Cooking & Cleaning
I do probably 50% of my Bible reading while I'm making breakfast. If I didn't get up early enough to do my Bible reading before the kids get up, then I love to listen to the Bible out loud while making breakfast. I also love to listen to podcasts and audiobooks out loud while I do other meal prep, clean the bathrooms, do the dishes, etc.
Driving
We live in the woods so we are a good 20-45 minutes from anywhere. I love to use this time to listen through some things…driving becomes one of my favorite things. In fact, sometimes if I am having a particularly rough day (if the kids woke up at night, someone's not feeling well, or so on) then I will throw everyone in the car and go for a drive. It helps!
Projects at Night
Before bed, I like to do a good 15-30 minute pick up around the house. This is a great time to listen to stuff. OR Jason will read out loud to me while I work or we will listen to an audiobook together. We will also do this if I'm doing things like working on a painting project, decluttering, etc.
All My Favorites:
The Bible
I use the YouVersion Bible App. It's a free app that gives you access to hundreds of Bible translations. Several of the translations allow you to play the audio version of the Bible as well as read it. I listen in the ESV and the guy who reads it does such a good job!
Like I said, probably 50% of my Bible "reading" is actually done while listening to it out loud. If you are really struggling to establish a good Bible reading habit, then this is a great thing to add into your day!
Podcasts for women:
Homemaking Foundations Podcast with Jami Balmet
What is this podcast doing here?? 😉 I wanted to include my very own podcast just in case you are not familiar with it yet. If you are looking for something to listen to for Christian women, I encourage you to check it out!
Flower Mound Women's Bible Study by Jen Wilkin
I adore Jen Wilkin and love her advice! I've read two of her books and plan to read the rest of them. I'm just starting to go through her Bible study podcasts and highly encourage you to do the same!
Cultivating the Lovely Podcast
My friend MacKenzie's podcast is probably top of my list right now for favorite podcasts for Christian women! She's always so encouraging and motivation and I love the guests she brings on the show. And hint hint: You might just see MacKenzie popping up on my very own podcast very soon 😉
Inspired to Action with Kat Lee
I would say that this podcast is definitely geared more towards moms but it's very encouraging and inspiring for anyone! I find that I get a lot of good, practical take aways from this podcast.
I've honestly not listened to a ton of this podcast but I do love Sally Clarkson and have loved what I've heard!
Modern Homemakers by Donna Otto
I love and appreciate Donna Otto's wisdom. Her book Finding a Mentor, Being a Mentor is one of my very favorite books on the topics of mentoring and relationships. Donna covers all kinds of topics in her podcast, you will love it!
NOTE: This podcast used to be called Homemakers by Choice.
The Busy Mom by Heidi St. John
This podcast is one that is aimed towards moms (obviously). But Heidi brings so much Biblical wisdom and insight into this podcast. I try to listen to as many of her episodes as I can!
What Should I Read Next? With Anne Bogel
If you love reading, especially if you love reading classics like Pride and Prejudice, then you will love Anne's podcast. It's a really fun podcast! But I don't tend to read the same kinds of books that she does. You might love it though!
*NEW* Raising Arrows Podcast
Amy is the mom of 9 kids and she has so much wisdom and advice for juggeling all the day to day demands. I love Amy's heart and her practical, no-nonsense advice!
*NEW* Embracing a Simpler Life
Katie is a sweet friend who will encourage you and convict you to keep your eyes on eternity in the midst of everyday life. She will also encourage you to get to the core things of life while simplifying!
*NEW* Thankful Homemaker Podcast
Marci is amazing and you need to go listen to her podcast RIGHT NOW! She is sweet, encouraging, and will hold you to God's Word! I love the truth and conviction she brings in these episodes while still being encouraging and motivating!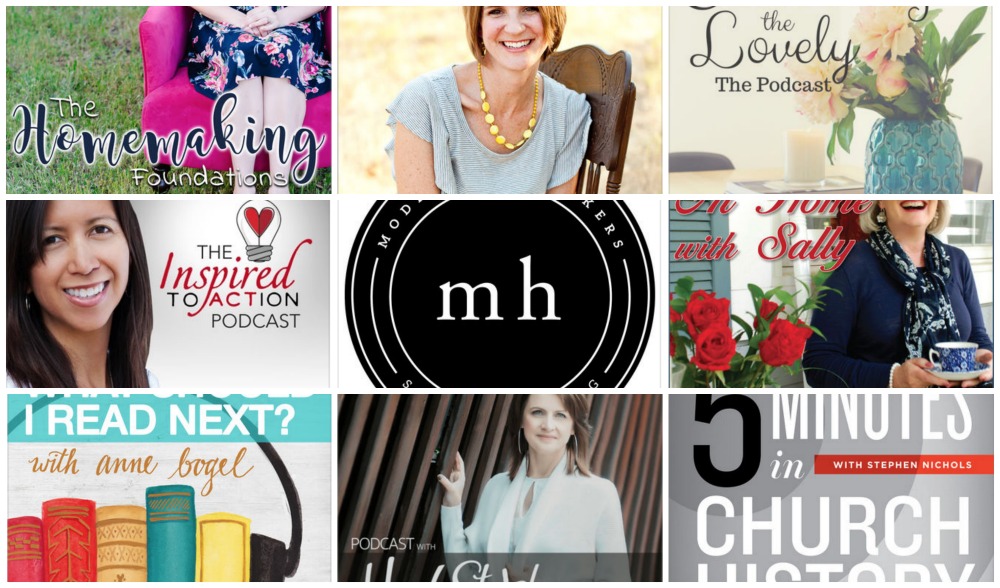 Podcasts for Christians:
These are some of my favorite podcasts that are not geared specifically towards women but also rock!
This is kind of a random podcast that covers all kinds of different topics. I don't listen to every single podcast but I love the ones I do listen to! I really love the female co-host in particular, Amiee Byrd.
This is a fun podcast that Jason discovered! It's a quick, 5 minute podcast on Church History. It's an easy but informative one to listen to. This one would work well to use in your homeschooling as well!
This has become one of my newest favorite podcasts! This recent episode from Jen Wilkin and this episode from Tim Keller in particular have been incredible!!
Podcasts for Business:
Jason and I owe a LOT of our current business and business knowledge to listening to these podcasts. If you currently have a side business, run a blog, or want to make an income from home, these podcasts will be so so helpful!
Smart Passive Income with Pat Flynn
This was the first business podcast I really started listening to. Jason and I owe SO much in our business to Pat and his podcast. If you want to learn how to make an income online, I highly recommend you start here.
Online Marketing Made Easy Podcast wit Amy Porterfield
I listen to every single one of Amy's podcasts! It has become one of my favorites and contains so much practical insight into running a business, Facebook advertising, launching products and more!
If you have a business that involves physical products (t-shirts, an Etsy store, etc.) then this podcast will teach you all kinds of stuff for producing, launching, running a store, and more.
I've been listening to Chris Ducker's podcast for a long time. If you are building a personal brand (like a blog or website) then his podcast is incredible helpful!
Social Media Marketing Podcast with Michael Stelzner
I try and listen to every one of Michael's podcasts. He is the go to guy on anything social media!
Brilliant Business Moms with Beth Ann Schwamberger
This is my newest FAVORITE podcast. Beth Ann took a break for a while in her podcast and just came back in January. I make sure to listen to each and every one of her podcasts!!
Christy Wright's Business Boutique
Christy's podcast is great for any female entrepreneur but is especially helpful to those who run other businesses like coffee shops, run a day care, own an Etsy shop, and more!
Audiobooks:
The last option is to listen through audiobooks! I don't listen through as many audiobooks as I do podcasts because it's harder for me in a book if I miss a thought or something because the kids are loud. But audiobooks work especially well at night or in the car!
We don't own a membership to Christian audio but I have purchased several books when they run some of their deals for $4.95 or $6.95 for an audiobook. And I usually download their free audio book of the month!
Jason and I have a membership to Audible and have for a long time. Audible is owned by Amazon and they have the very best selection of audiobooks from what we've seen including a huge selection of Christian books. Most of our audiobooks are from Audible.
Try Audible and Get A FREE Audiobook <— If you are thinking about trying out audiobooks, you can sign up for a free trial of Audible and get any book that you want for FREE!
Check Your Local Library
Don't forget to check your local library! Most libraries now have apps and programs where you can borrow eBooks and Audiobooks!
Now it's YOUR turn!! I am always on the lookout for new podcasts to listen to. What are YOUR favorite podcasts??
Meal Planning Help:
I am really excited to share with you the sponsor of today's podcast episode: PrepDish! If you ever feel like you wish you had a little help in your meal planning, then I highly encourage you to check out PrepDish. They offer gluten-free meal plans and paleo meal plans.
But you don't have to eat a gluten-free or paleo diet in order to take advantage of all that PrepDish has to offer! In fact, almost half of their customers don't eat those diets. The meals are healthy and non-processed and work well for anyone who is trying to eat a healthy diet. And PrepDish is offering a super special TWO week free trial when you sign up through this link (how awesome!!)
When you sign up, you'll receive an email every week with a grocery list and instructions for prepping your meals ahead of time. After only 1-3 hours of prepping on the weekend, you'll have all of your meals ready for the entire week. I absolutely love how easy they make it.