Finding Hobbies You Love as a Busy Mom (or Homemaker)
I used to do so many things that I enjoyed. In high school and college, I felt like I was busy but I always had those extra moments to pursue passions and hobbies.
Along the road my days spent working on papers for my theology classes turned into days spent with my four (almost five) munchkins. No longer was a quick trip to the local coffee shop on my way to the scrapbook store or thrift store a typical way to spend a Saturday afternoon.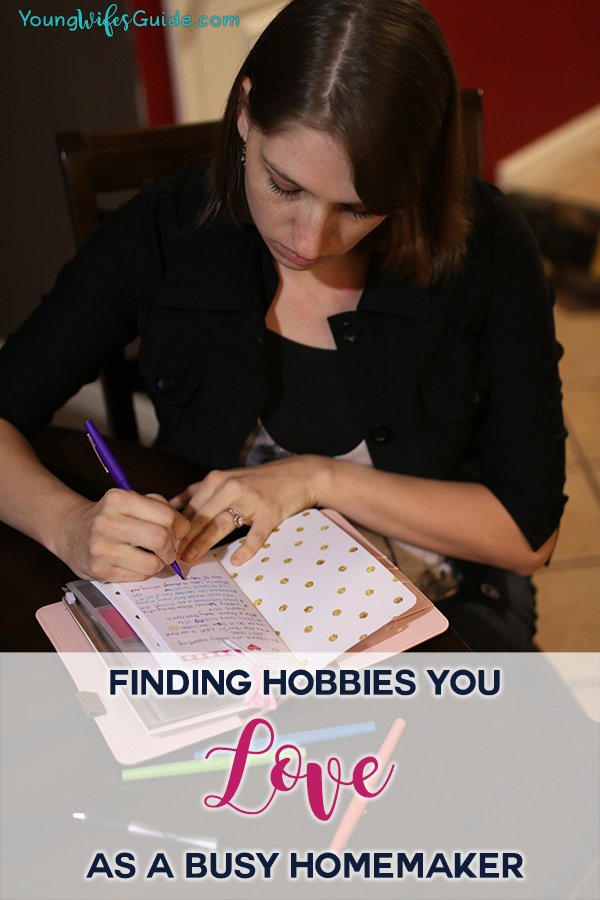 Now my days are spent wiping noses, changing the crib sheets from a diaper explosion, pushing the boys on the swing, and enjoying big slobbery open mouthed kisses from my 15 month olds.
Somewhere along the way, it was a slow progress, I turned into a mom. And it's a journey I would never change for anything in the world. Wiping noses and cleaning up toys is how I happily spend my days because there is so much joy in serving my family and knowing I am doing it all for God's Glory.
Plus, I just need to look into the face of my husband and kids and be on the receiving end of anyone's bear hug, and I know beyond a shadow of a doubt that it's all worth it.
But if I'm honest, some days can get boring and bit monotonous. I've shared before that cleaning is.not.my.thing. That's an understatement really. I detest cleaning and have had to work really hard in the past few years to come up with cleaning routines and schedules that work for me.
I love cooking but the endless cycle of cooking, cleaning up, cooking, cleaning up can wear on me. Over the days and weeks, if I'm not careful, I can recognize within myself that I am not facing my days with as much joy as I should.
"Rejoice always, pray without ceasing, give thanks in all circumstances; for this is the will of God in Christ Jesus for you." – 1 Thessalonians 5:16-18
My word for 2016 is "Joy" and has been a huge driving force for me this year when I've been picking my priorities and planning my time. Now I feel like I must say that the source of all of our joy and peace in this life comes from the Lord.
But there's also something to be said about investing just a little bit of time in things we love to do. Finding those things that spark joy within our hearts and setting some time aside for it, when we can.
Earlier this week I shared a key element of avoiding burn out and feeling overwhelmed is slowing down a little bit to invest in ourselves and I think a key component of that is nurturing passions and pursuing activities and things we love.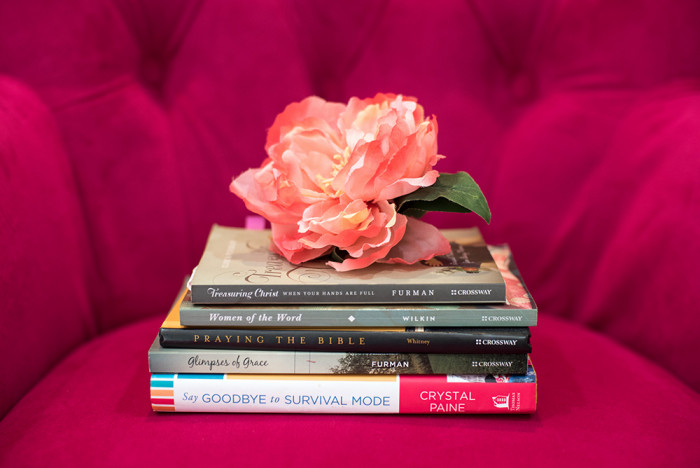 I recently created a 7 part audio series on investing in yourself and one of the lessons is on spending time on the things you love. In creating that lesson, I had to get really practical with myself and think through what those things in my life are that I LOVE and enjoy doing and that spark joy within my days.
And I started thinking through that process that it's not always easy to recognize or even remember what those things are that spark joy in our hearts. Before kids, I had tons of hobbies and the time to freely pursue interests. But now if you asked me what my hobbies are, it would take a while to come up with an answer.
So I've spent some good time this week thinking it through. What are those areas in my life that spark joy? What activities or things get me excited to just think about them? What helps motivate me to get the dishes done early in the evening so I have 30 minutes to spend on something I love?
I'm going to share a simple exercise below that you can use to help you think of these areas or things in your life. But I thought it might be helpful to see my list that I came up with this week. Mind you, passions and interests can morph and change over time.
1) Writing & My Blog
I have been blogging for seven years now and it has become our family's full time income, so I wouldn't normally call it a "hobby". But it is.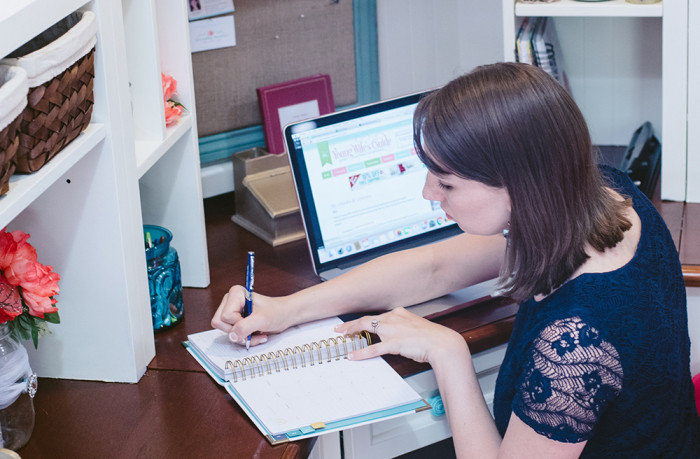 Writing is how I process the world. It's how I think through the things I'm struggling with. Writing helps me pursue Christ and Gospel-Centered living. And writing helps me to use the talents and gift that God has given me in this ministry that He has called both Jason and I into.
Running a blog and ministry is utterly exhausting at times. But also so incredibly filling. I feel a sense of accomplishment and JOY when I finish a blog post or podcast episode. I'm thankful this week for this little reminder that while it's a ton of work, writing is also something that brings me immeasurable joy.
2) Reading
No surprise here. When I started thinking of my "hobbies", reading is the first thing that popped into my head. I love reading and even spending 5 minutes in a book can help lift me up and encourage me like nothing else.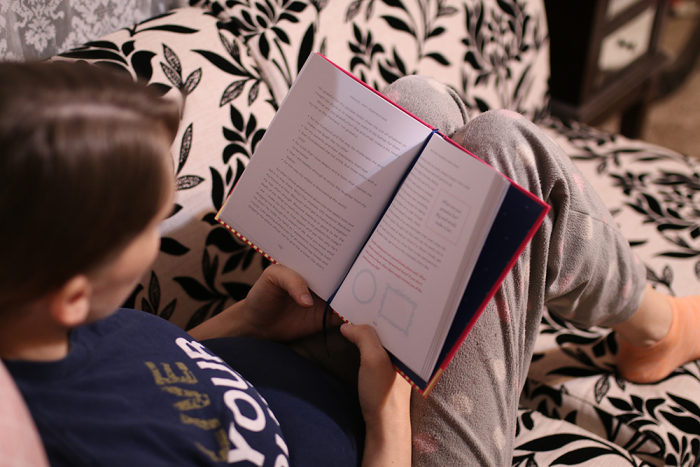 I love reading fiction books and spend many vacations with my nose buried in a good series. Jason and I love reading fiction books out loud together at night when the kiddos are in bed.
But my real heart and passion lies in non-fiction books. In reading biographies, books that point me back to Christ, books that encourage me in my pursuit of crafting a Gospel-Centered home…books that help me remember the ultimate source of joy in this life.
If I want to pursue an activity that brings more joy and peace into my life, it would be adding in more reading time throughout my days.
3) My Traveler's Notebook
Okay, this is a BRAND new passion and excitement of mine. Like, it's a couple of weeks old! MacKenzie from Bold Turquoise is one of the speakers for this year's Homemaking Ministries Online Conference and her session is on Cultivating the Lovely in the Everyday.
The conference starts next week but I was able to watch her session in advance and it was so so encouraging! In her session she briefly shares her planning routine and the planners she uses. In it, she introduced me to this idea of a Traveler's Notebook.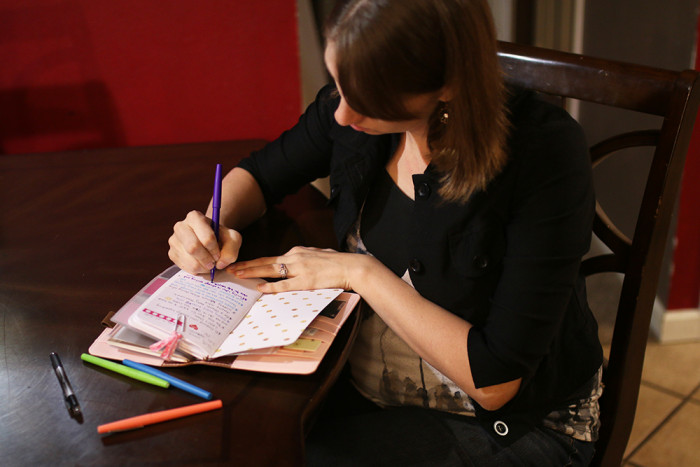 After seeing her passion and excitement, I went down the rabbit hole of Pinterest to discover what these Traveler's notebook are. Basically, it's a leather portfolio that you put little mini notebooks in and then use however you want.
Some people use it essentially like a scrapbook to record memories, others use it to draw in and doodle, still others use it as a day planner. I'm using it as a combination and am setting it up to have a weekly gratitude journal, keep track of my Bible reading and prayer, my daily to do lists and more. I hope to start posting more about it as I get it set up.
But the point is, it has sparked joy and reminded me of a long ago passion: scrapbooking. I used to be really into scrapbooking and so enjoyed working with my hands doing a paper craft like that. But it's a hard hobby to keep up on right now and in our house we are very tight on space. All my old scrapbooking stuff is buried somewhere in the shed awaiting the day we have a garage and easy access.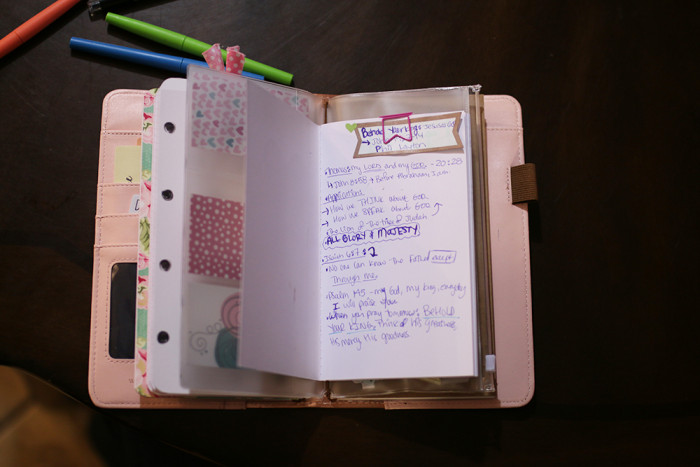 If you are curious, after hours of research I finally landed on this traveler's journal and notebooks:
If I dug in deep, I could think of other things that bring me joy such as baking fresh bread, shopping, going to thrift stores, etc but in this busy busy season, I don't have time for a ton of things.
I can however, find the time to read for 10 minutes a day, use my new planner to help set up my days for success and squeeze in a little early morning time to write. Making these things a priority and fitting them into my schedule brings me so much joy and fills me up so that I can better pour back into my family!
How to find your hobby
I hope I gave you some ideas throughout this, but if you are still struggling to find those things that bring you joy and that you can spend a little bit of time on each day, I want you to do this exercise.
Get out a piece of paper and do a brain dump. Don't stop to think or filter your responses, just write down everything that comes to mind. What are some activities or things that excite you? What did you used to love doing or spending your time on? If time wasn't an obstacle, what would you fill it with?
There are no right or wrong answers here, you might do this and realize that in high school you LOVED art class and drawing. Did you know they have Scripture based adult coloring books you can get?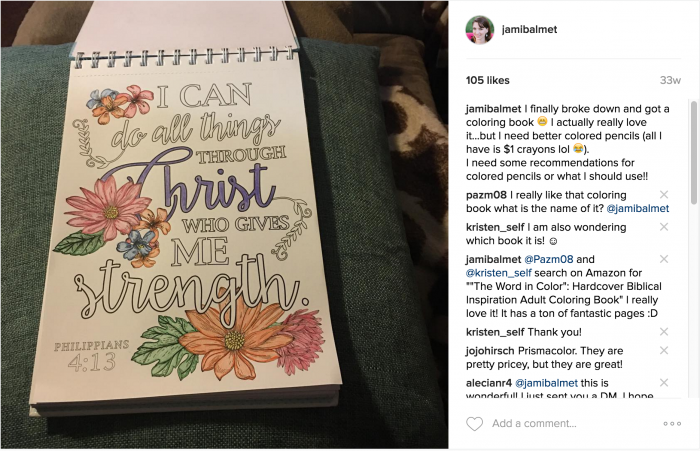 Were you really into biking in college? Do dig your bikes out of the garage and make a family time to go biking this week.
Get creative and think within the confines of the season of life you are in. I hope to pick up Scrapbooking again one day, but it's just not feasible this year, in this season. So my traveler's notebook is filling in that gap for now.
I think we could all use the inspiration, so please leave a comment after you do this with YOUR top hobbies!
Want to Dive Deeper Into This Concept?
Next week kicks off the 3rd annual Homemaking Ministries Online Conference! We have 20 incredible conference sessions lined up that you get access to forever. Which means you can watch along live October 25-28th and/or watch the sessions any other time that works for you!
If you want to start investing in yourself, taking a little time for something that sparks joy within you, and interacting with all the attendees and speakers then come on over and find out more about the conference.
The theme for this year's conference is Finding Balance in Your Home so each speaker covers different aspects of this including:
Balance in motherhood
How to Create a Lasting & Loving Marriage
Balance in spending time online
Balance in meal planning
How to find greater balance and purpose in your home
and so much more!
You can find out more about all the 17 speakers, more about their topics, and the fun bonuses you get when you sign up! But I wanted to share this one sneak peek with you because MacKenzie inspired me so much (She's the one who gave me the idea for the traveler's notebook above)!
She's sharing about how to cultivate loveliness in our everyday lives and is so encouraging and inspiring!! Her's is just one of 20 sessions included in this year's conference.
The conference kicks off officially Tuesday, October 25th but you can jump in anytime (you get lifetime access to the videos to watch anytime you like)! So don't wait too long to snag a ticket to the homemaking event of the year!
Plus, register before 25th because the price will go up by $10 then!

When you purchase a premium ticket to the conference you will also get a brand new goal setting course and workbook that I created. It's not even been released yet and you can get early access to it. It's a course all about how goal setting and planning can help you be more intentional in your life and in your home. And you can get it as a free bonus when you pre-register this week.