Glimpses of Grace Book Club + Homemaking Facebook Party!!
April is the month of exciting things happening!! On Monday night we hit our funding goal for our brand new academy, I've got a new book club starting next week and a homemaking Facebook party! So read on to find out how you can jump into the fun: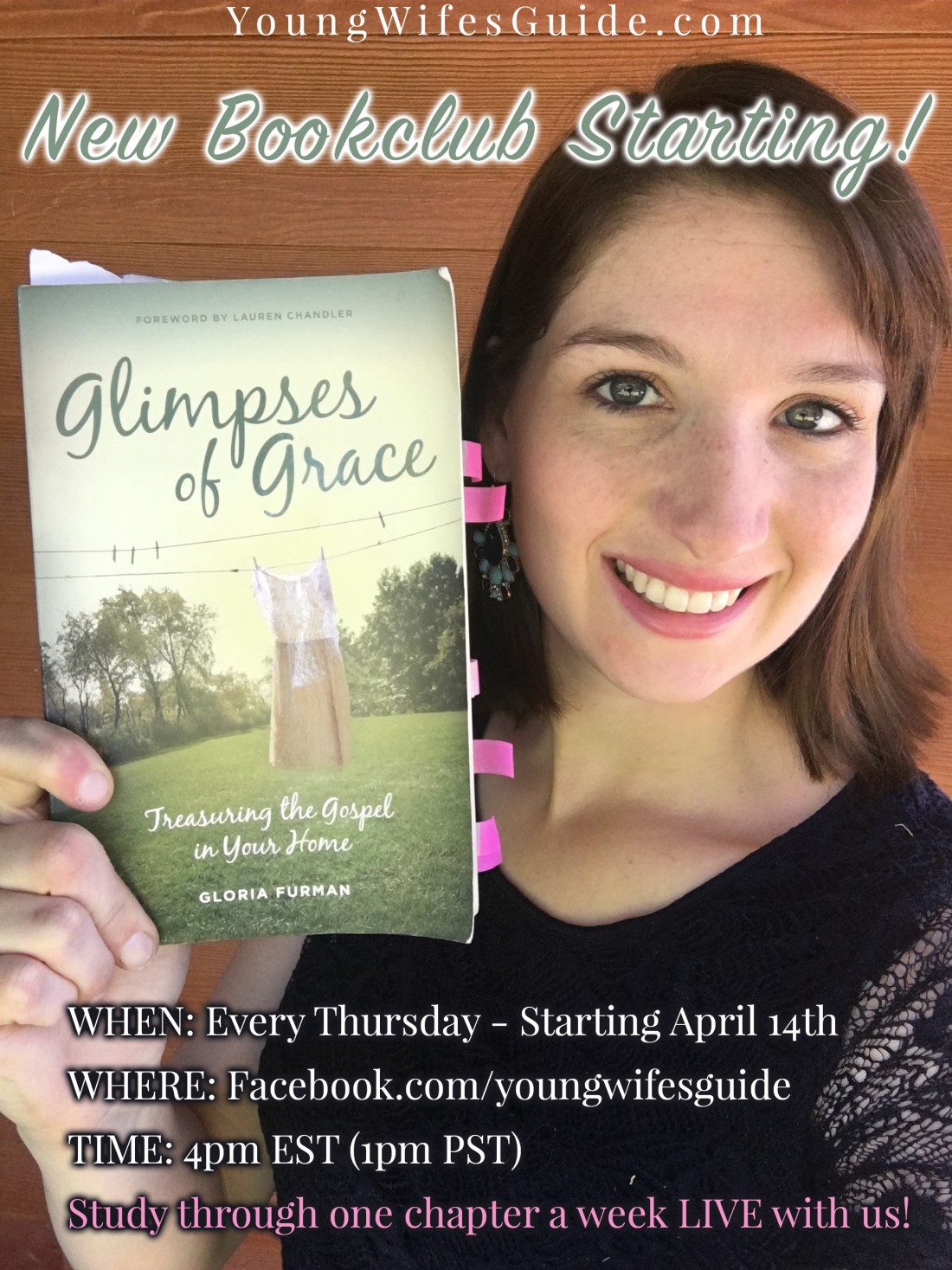 Glimpses of Grace Book Club
Starting Thursday April 14th, we are going to be going through one chapter a week of one of my all time favorite books Glimpses of Grace: Treasuring the Gospel in Your Home.
We will read one chapter on our own and then come together for a one(ish) hour live video on Facebook to chat, discuss, and sit down together to go through the study (don't worry – I will be the only one on the camera)!! But you will be able to chat, ask questions, and interact right into the LIVE Facebook video.
You can watch the five minute quick intro I did announcing the book club to see how the Facebook live videos look:
The Book Club:
When: Each Thursday at 4:00pm EST (1:00 pm PST)
When: Over on my Facebook page
What: One chapter a week through Glimpses of Grace. Simply read the chapter for that week and show up to discuss.
RSVP: You don't have to rsvp, but come on over and join our Facebook group so you can chat, share resources, and get reminders of the study each week. We are forming a really amazing community over there so come join us 😀
What if I can't attend live? 
No problem! All the videos, conversations, and resources will be there for you to go through at your own pace, when you have the time to go through it. Join the private Facebook group and you will get all the updates and links so you don't have to hunt it all down.
On Thursday April 7th, I'm going to be hopping on Facebook to do a live show all about gathering your materials for the book club, how to find the best price on the book, and steps for getting started. So tune in on Thursday for the introduction to our book club. 
Join Our Homemaking Facebook Party
Are you ready for this? We are having our first homemaking Facebook party of 2016!!! If you've attended our Facebook parties in the past, you know how extremely fun and exciting the parties are! And I think this party is going to be our best one yet.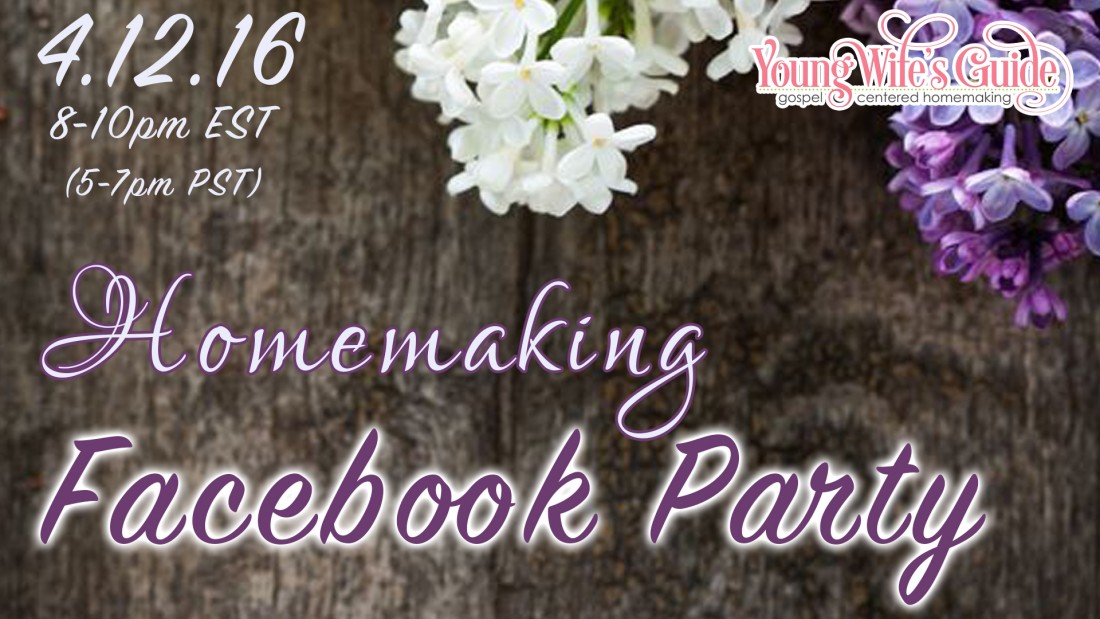 You can head over and join our event so that you get reminders about the party right on your Facebook page. Our Facebook parties are always a BLAST! We spend two hours hanging out, chatting, sharing resources, I share a bunch of free homemaking resources, and we will have over $560 in homemaking giveaways going on!!!
Here's a sneak peek at what we are giving away: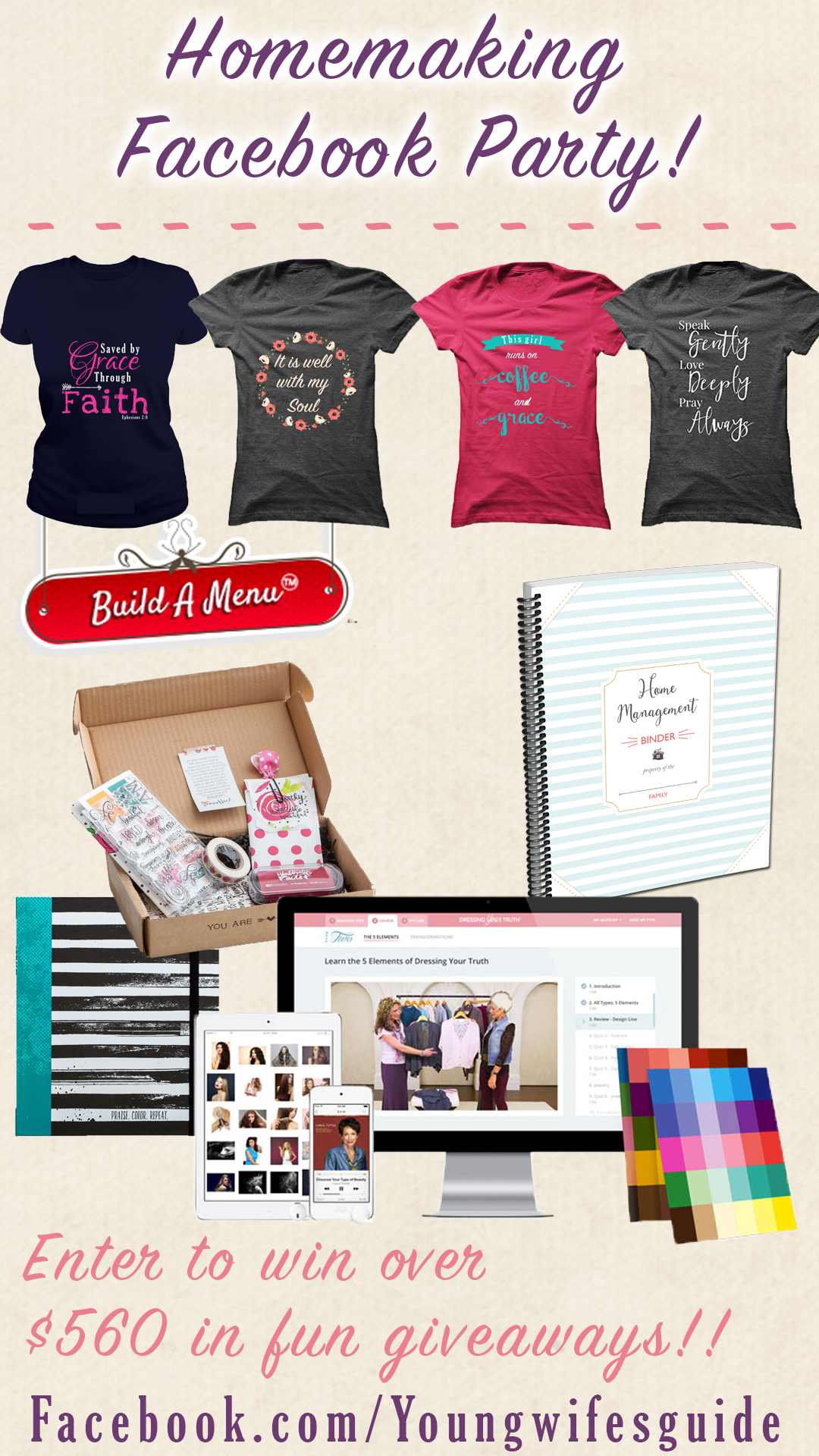 When: Tuesday April 12th from 8-10pm EST (5-7pm PST)
Where: Over on my Facebook page <— sign up here to be notified when the event is live!
What is it: A Facebook party is just a fun gathering where we hang out for 2 hours chatting, sharing resources, and entering to win some fabulous prizes! Simply show up to my Facebook page a few minutes before 8 and then jump into the discussion. I have some fun new things planned for my Facebook party this time – so don't miss out on the fun! 
Information Overload?
Okay wow, I just gave you a lot of information. Are you a little overwhelmed? No worries, to make this simple as possible and to join our book club and get reminders of this Facebook party….simple join:
This is my main hub on Facebook now where we will be doing the book club and I'll share updates and reminders about the party and other fun things. So if you join that group, you will get all the updates and details on everything!!