The Goal of Our Christian Life (Practical Theology for Homemakers, Part 2) – Hf #74
It seems like we are always working. Always striving. Always doing and always trying. As Christians, we can easily feel pulled in a million different directions as we try and figure out what we should be spending our time on.
What's the ultimate purpose and goal? What is the goal of our Christian life?
Last week we covered Why Theology Matters for Homemakers and covered the introduction to our new series: Practical Theology for Homemakers. In that episode we talked about what theology is, why it matters, and why we need theology in our life.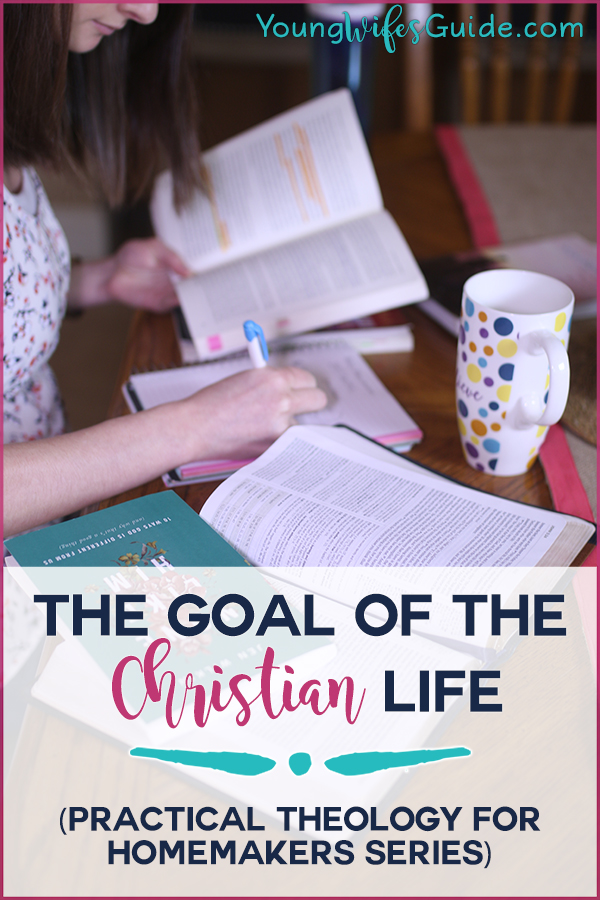 Listen to the Podcast:

We also recorded this blog post as an audio podcast. If you want to listen in instead of reading, click play below or do a combination of both

And don't forget to subscribe to the podcast in iTunes.

Right click here and save-as to download this episode to your computer.
As we move through the practical parts of learning theology, the first thing to cover is our ultimate goal of our Christian life: to Grow in Godliness. We are on a continual process as Christians of growing in our faith and of growing closer to the Lord. But it's not always easy is it?
"As housewives, we often add to our job titles cook, chauffer, accountant, nurse, maid, and many other things. But have you ever considered being a theologian as a necessary part of your vocation? I have heard many people tell me, 'I know that I am a Christian. I have faith, and that is good enough for me. I don't feel the need to make it all complicated with theological stuff.' It is heartbreaking and shameful that theology has such a bad reputation. Because of this, I am compelled to investigate such a profound misunderstanding.

Faith is a gracious gift from God, and this faith has content. It is not just faith in faith. When you fall in love with your husband, are you satisfied at that moment to learn nothing else about him? Of course not, the opposite is true; you want to know more and more of him. And your love grows in this way. Now think of our all-knowing, all-powerful God. Can we ever exhaust our learning of him? What a privilege and an honor to be able to know our God!" – Housewife Theologian, page 13
Studying theology simply leads to growing in our faith which then means growing in our relationship and love of the Lord!
We are no strangers to growth. Growth is all around us. We are continually growing; our kids sprout up before our eyes, we are growing in our careers and knowledge of the world. We sense it in the seasons and the changing of the year. We are always growing and changing and being molded.
But what are we being molded into? What image are you reflecting? With each passing day are you becoming more and more like the world? Or more and more like Christ? You are always growing – so the question becomes: What are you growing towards?
The Bible assumes that we will always be growing and Peter in particular urges us to be growing in the Lord.
"But grow in the grace and knowledge of our Lord and Savior Jesus Christ. To him be the glory both now and to the day of eternity. Amen."- 2 Peter 3:18

"Rather, speaking the truth in love, we are to grow up in every way into him who is the head, into Christ," – Ephesians 4:15
We are not meant to be stagnant in our walk with the Lord. We are called to always be learning and growing and drawing closer to God.
We grow in our faith in two ways:
1) When we are intentional
God calls us to be intentional with our Spiritual walk. This is where our obedience is expected in reading God's Word, prayer, and being active in our faith.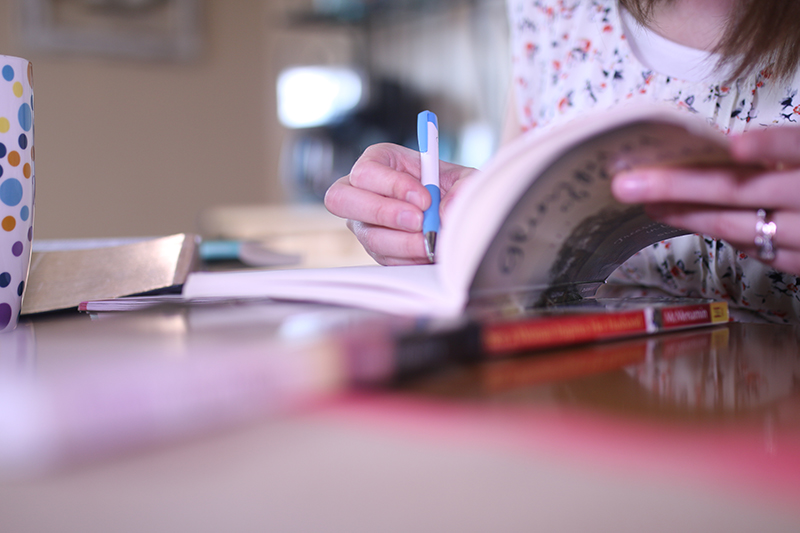 2) The Holy Spirit Working in Us
While we are called to obedience, we also must recognize that nothing we do is of our own effort. God is the one who initiates our relationship with Him and it's the Holy Spirit who works in and through us.
"Likewise the Spirit helps us in our weakness. For we do not know what to pray for as we ought, but the Spirit himself intercedes for us with groanings too deep for words. And he who searches hearts knows what is the mind of the Spirit, because the Spirit intercedes for the saints according to the will of God."- Romans 8:26-27
This is where the word Sanctification comes into play. This is one of those big theological words that is easy to misunderstand. We use the word Sanctification to describe our Spiritual growth in the Lord.
"Sanctification is the act or process of acquiring sanctity, of being made or becoming holy. To sanctify is to literally "set apart for particular use in a special purpose or work and to make holy or sacred."
We call this continual growth – progressive sanctification. Because we are on a lifelong journey of becoming more like Christ.
The other word this one gets confused with is "Justification".
"Justification is the declaring of a person to be just or righteous."
It's a legal term of aquital that signifies that we are not longer at fault. If you can guess, Justification is what occurs at the moment of our salvation. When we turn to christ and turn away from our sinful ways and repent, then Christ's own righteousness covers us. We are justified before God and stand as his holy and set apart children.
We are no longer condemned to hell, we stand justified before God. And the important thing is that this is through no work of our own. It's a gift that God has given his children:
"For the wages of sin is death, but the free gift of God is eternal life in Christ Jesus our Lord." – Romans 6:23
If you want a deeper discussion, The Gospel Coalition has a good article to read (you can also read this one from Ligonier Ministries).
"Justification is simply the divine declaration of the sinner as righteous in God's sight. It is done one time and is occurs through the imputation (or crediting) of the righteousness (merit) of Jesus Christ. We are justified by grace through faith.

On the other hand, sanctification is the continual process of being made more holy. It is the progressive conformity of the justified sinner into the image of his Savior." – The Gospel Coalition
Okay so why is this all important? Aren't we just getting into the weeds here?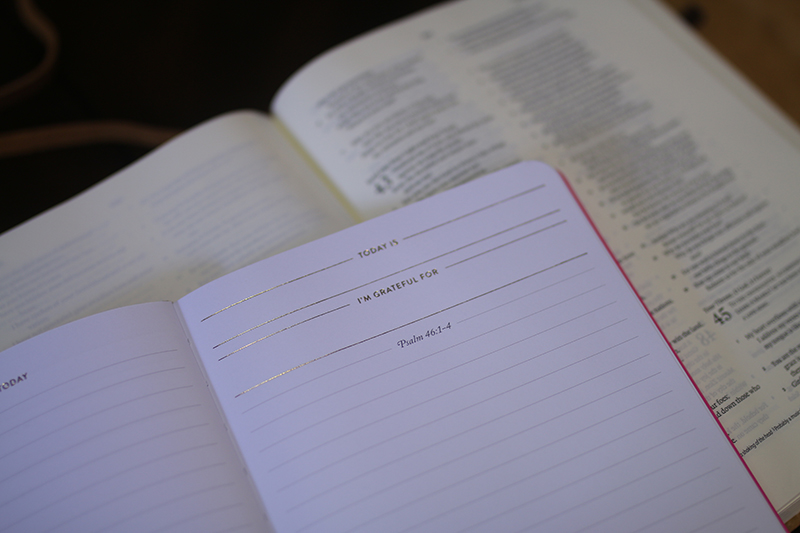 No, it's important to understand because it affects how we approach our Christian life. You see – we come to saving faith through no causation of our own. God took it upon Himself to save us, not through our good works or merit.
"A couple of helpful things to remember about the two: Justification happens outside of you, you are 'declared' righteous. Sanctification happens inside of you, you are made righteous. Justification is a one time event and sanctification is a continual process." – The Gospel Coalition
In justification you are declared positionally righteous and in sanctification you are being practically and continually conformed into Christ's likeness. When does this stop? When you are completely sanctified; this will happen when God finally conforms you completely into Jesus' image (glorification)."
So this spurs us on and motivates us to live for Christ! To take 2 Peter 3:18 seriously and strive to grow in the Grace and Knowledge of our Lord.
The point of our Christian Life is to glorify God and enjoy him forever – and we learn to do that by growing in our faith which is the continual process of sanctification.
You see? This becomes of utmost importance to our lives as believers, as women, and as homemakers.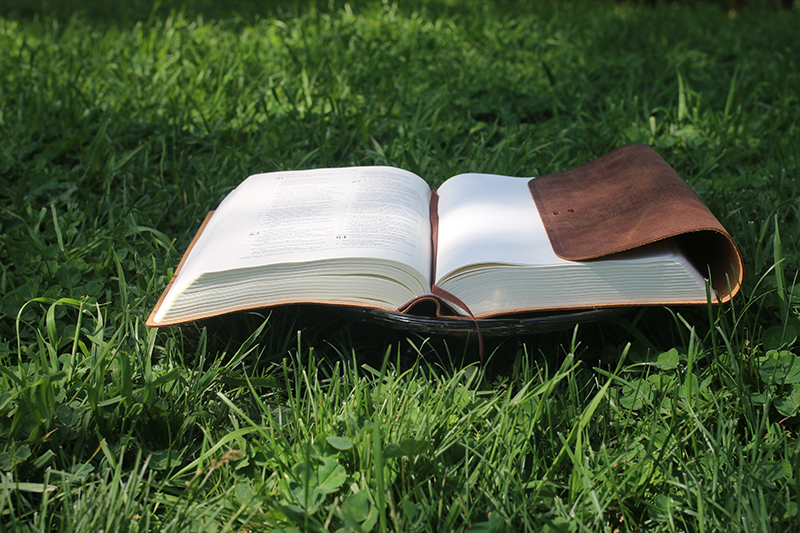 It's all dependent on God's Grace
A discussion of growing our faith and our continual process of sanctification must ultimately lead us to a discussion about God's Grace. We throw this term around often in many different capacities. We should give grace to others, give grace to ourselves, it's only by God's grace, God gave me the grace to…and so on.
But do we truly understand what that grace is? And even if we know the true definition, are we daily dwelling on the beautiful Grace that God has given us?
So often we talk about the fact that grace means that we are loved and accepted by God just as we are and that God's favor or merit doesn't need to be earned. In some senses, this can be true. But on a larger scale, it's simply not true.
Jerry Bridges says,
"God's approval does have to be earned. But the gospel tells us that His approval was earned for us by Jesus Christ and His sinless lie and sin-bearing death. It is true that God's favor does not have to be earned by us. In fact, it cannot be earned by us. But it comes to us without earning because Jesus paid for it in our place as our substitute." – Growing Your Faith, Page 18
So what is God's Grace? What's a good way to understand it? Bridges succinctly puts it: "Grace is God's favor through Christ to people who deserve His disfavor."
This concept becomes so incredibly important because it is, in essence, the Gospel. And that is what we should be basing our homemaking on. We should be meditating on the Gospel ourselves, teaching the Gospel to our children, extending hospitality and serving in light of the Gospel and so on.
"Remember our definition of grace. Jesus has already earned God's favor for you. Just as you can do nothing to earn your salvation (the most important blessing of all), so you can do nothing to earn God's favor in your daily life. If you do not grasp this truth, the spiritual disciplines that are intended to help you grow will become burdensome duties you think you must practice in order to maintain God's favor." – Growing Your Faith, page 20
And can invest in this growth and be intentional in our spiritual growth by practicing those Spiritual disciplines, most notably Bible reading and prayer. We are called in obedience to put forth the effort and the discipline to be in God's Word but we also know that it is all of God's strength that any growth occurs.
"Only when we are thoroughly convinced that the Christian life is entirely of grace will we be able joyfully to practice the disciplines that help us grow." – Growing Your Faith, page 28.
In the next lesson we are going to be talking about the Sufficiency of God's Word. Can we really trust the Bible and does it really contain everything we need to address the problems in our life? Then we are going to move on to the attributes of God and how to be more discerning with the sermons we listen to and the books we read.
Meal Planning Help:
I am really excited to share with you the sponsor of today's podcast episode: PrepDish! If you ever feel like you wish you had a little help in your meal planning, then I highly encourage you to check out PrepDish. They offer gluten free meal plans and paleo meal plans.
But you don't have to eat a gluten-free or paleo diet in order to take advantage of all that PrepDish has to offer! In fact, almost half of their customers don't eat those diets. The meals are healthy and non-processed and work well for anyone who is trying to eat a healthy diet. And PrepDish is offering a super special TWO week free trail when you sign up through this link (how awesome!!)
When you sign up, you'll receive an email every week with a grocery list and instructions for prepping your meals ahead of time. After only 1-3 hours of prepping on the weekend, you'll have all of your meals ready for the entire week. I absolutely love how easy they make it.