Going deeper with Bible study when you have no time! – Hf #115
It can be so tough to find the time to study God's Word, and dig in deeper, when you feel like you have no time!
You might be in a season of little kids, you might be suffering through a sickness, you might be working long hours, and/or you are just finding it hard to focus in busy times. In today's episode we are going to chat all about how to go deeper in God's Word…even when you have no time!
Listen to the Podcast:

We also recorded this blog post as an audio podcast. If you want to listen in instead of reading, click play below or do a combination of both

And don't forget to subscribe to the podcast in iTunes.

Right click here and save-as to download this episode to your computer.
Deeper Bible Study with Little Time
Where do you start?
If you have never done so – read the entire Bible cover to cover. It can be in 90 days, it can be in a year. But start in Genesis and read through to Revelation.
A neat way to do this is by reading it chronologically. The You Version Bible app has a chronological plan you can select which will give you your readings each day. You can also download a PDF here that you can print out and keep in your Bible.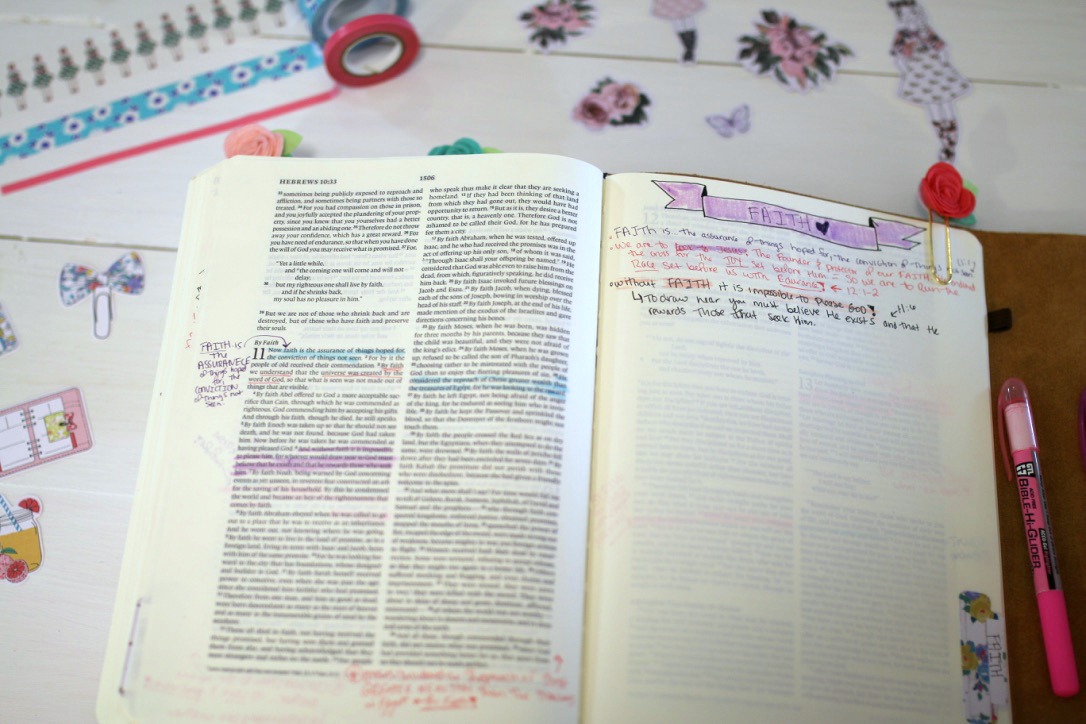 First Reading, then Interpretation
We can't just skip straight to the application because often, we will be misunderstanding what the text actually means. We can't apply the text and the meaning to our own lives until we know what God originally meant to the original hearers of the Word.
We need to remember that the Bible is a book about God, not about ourselves. When we read looking for ourselves in the text first, we are missing the most important point.
"If I read the Bible looking for myself in the text before I look for God there, I may indeed learn that I should not be selfish. I may even try harder not to be selfish. But until I see my selfishness through the lens of the utter unselfishness of God, I have not properly understood its sinfulness. The Bible is a book about God. As Moses would learn during the Exodus, who he was bore no impact on the outcome of his situation. Who God was made all the difference." – Women of the Word, page 27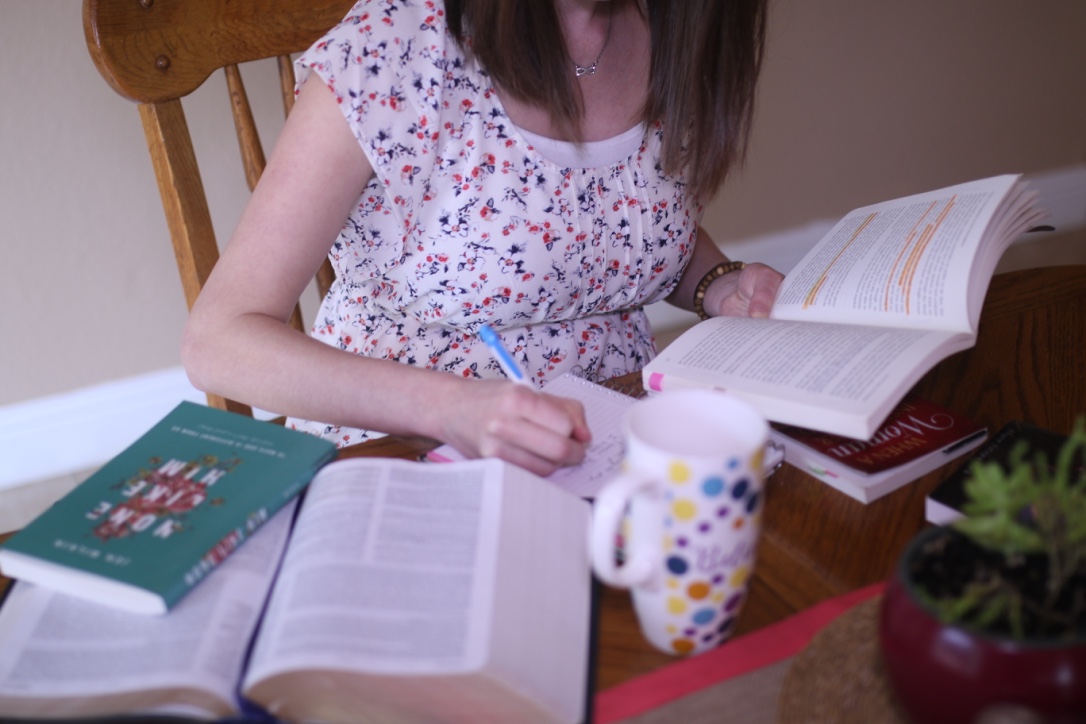 Getting Started:
1) Look at the bigger picture
"Our purpose in studying must be to look for that Big Story each time we go to the Scriptures. We must study asking not just what a particular portion of Scripture wants to tell us, but how that portion of Scripture is telling us the Big Story of the Bible as a whole. Studying the Bible with purpose means keeping its overarching message in view at all times, whether we are in the Old Testament or the New, whether we are in the Minor Prophets or the Gospels. In order to do this, we must "zoom out" from any one particular book or passage and gain an appreciation for how it plays its part in unfolding the Big Story."- Women of the Word, page 51
2) Study with perspective
Questions to ask when studying:
Who Wrote It?
When was it written?
To whom was it written?
In what style was it written?
Why was it written?
5 Steps to Deeper Bible Study
1) Read the text
Jen recommends you print out the passage so you can mark it up, write question marks, and even write "WHAT DOES THIS MEAN?!?"
2) Read repetitively
"The historical, cultural, and linguistic gap that exists between the Bible and its modern-day reader makes repetitive reading a critical tool in our attempts ot build comprehension. Simply put, we are probably not going to catch what the author intended to communicate in one reading. The first step in comprehending a text is reading it several times from start to finish. We wouldn't expect to read once through a scene in Shakespeare's King Lear and come away with a clear understanding of what it says. Nor should we expect to be able to do so with the Bible." – Women of the Word, page 91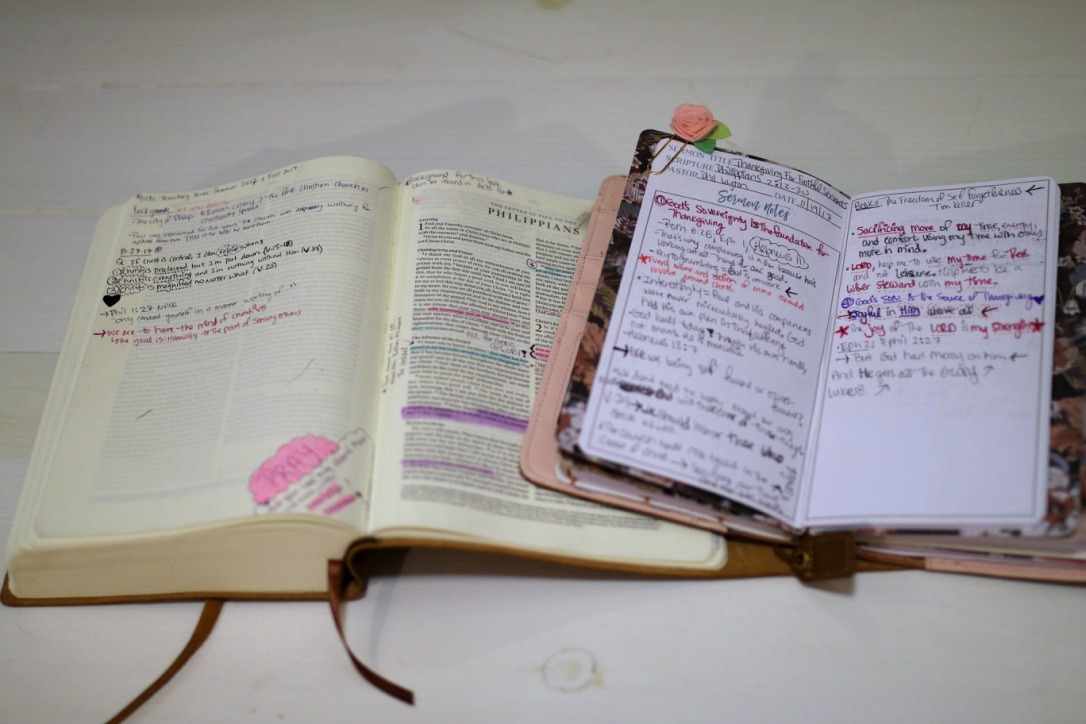 3) Read once and then begin annotating the text
Jen suggests that after your first read through, you then begin marking up the text. Do you see repetitive words or themes? Circle them. Is a particular attribute of God being illustrated? Write it in the margin. Are there words or phrases you don't understand? Highlight them and write a question mark.
This is your time to start interacting with the text. But keep reading and keep writing. You don't want to first skip to commentaries and dictionaries or you will quickly stop interacting with the text itself.
4) Look up words in an English dictionary
You could use a Hebrew-Greek Lexicon but most of us don't know what we are doing and it's not usually going to profit us very much. Jen recommends using a plain old English dictionary to look up the words like propitiation, holy, sanctification, etc. If you are using a good Bible translation, then looking up the original Greek and Hebrew won't do us much good without futher understanding of those languages.
5) Then consult other things if/when needed
And then last and finally, you can consult outside resources: commentaries, sermons, etc. This can be really helpful when we reach difficult passages or hard to understand doctrine. So it's important to consult other resources to help figure out what the resources mean but we need to get into the habit of letting our brains do a little work first before consulting these resources!
God will meet you where you are:
"If a life stage is making it difficult for you to set aside regular time for study – either with a group or in your own personal efforts, please hear me say this: That's okay. Give the Lord what you can and trust that he will honor your faithfulness in the small things. Trust that the Lord knows your circumstances better than you do and that he sees your desire to learn and grow. And trust that those times are being used to mature you – to teach you that it is a privilage to be able to devote yourself to learning and studying, and to write more deeply on your heart the truths you have already learned." – Women of the Word, page 83.
Learning and growing take time! So take heart!!
"Be patient as you practice the discipline of sound study. Allow the seed of the Word to germinate and grow according to God's good timing, trusting that a miraculous harvest will yield in due time." – Women of the Word, page 84.
Links & Resources:
Enjoy the Word Online Bible Conference!
I am over the moon excited to announce the very first Enjoy the Word Online Bible Conference! Tickets officially went on sale today and the live conference will run May 2-4, 2018 (but you don't have to participate live, you can watch all the replay videos)!
We have 20 incredible speakers lined up this year! You can find out ALL about the conference, read more about the speakers, and read about all the breakout sessions.
Find out more about the conference here!