Our homeschool plan for Kindergarten/First Grade – Hf#150
We are officially (for the second time) entering into Kindergarten this year with a strong likelihood of moving on to first grade in the new year. We are excited for the resources and curriculum that we are using! Here's what we are planning for 2018-2019 school year for K and 1st:
Listen to the Podcast:

We also recorded this blog post as an audio podcast. If you want to listen in instead of reading, click play below or do a combination of both

And don't forget to subscribe to the podcast in iTunes.
My review of Sonlight:
For last year, we used the full Sonlight curriculum which was perfect because I had no idea how to piece together a Charlotte Mason style literature based approach to homeschooling. I was overwhelmed and getting one big box of stuff in the mail was exactly what I needed.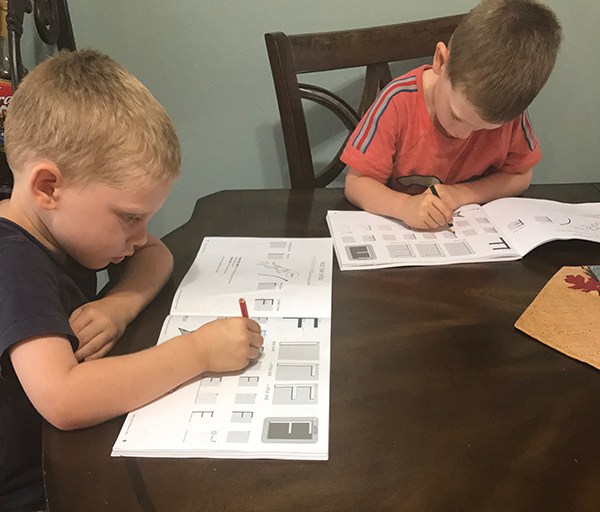 What we loved about Sonlight:
A literature based curriculum that you don't have to piece together yourself!!
Everything out of the box and ready for you
The schedule is completely done! You just use it you are good!
We absolutely adore the books from Sonlight
Here's what didn't work for us:
We did not care for the Bible curriculum. The Bible itself was fine. But it was extremely dry and the allotted time they had for K-2nd grade was far too long. Especially with all the other reading.
It was hard for us to stick to the schedule. It became hard for us, even when we were trying to be flexible.
We found that we never used the discussion guides and leaders guide. This is supposed to be a huge benefit of Sonlight. but for these grades, we found it entirely unnecessary to look up discussion questions. It was far more trouble than it was worth. We just naturally discuss the books with the kids. (this would be a lot more helpful I think as they get older)
So while we won't be doing the full sonlight curriculum, we WILL be using their books each year but then doing our own thing. Overall, we still highly recommend Sonlight! And I have a few friends who are looking for more structure in their homeschool day. For them especially, I think it's 100% worth it!
Our Approach to Kindergarten:
As I shared in our podcast last year at the beginning of the year, our educational style is very Charlotte Mason inspired, especially for these young ages. So that includes a TON of outdoor and unstructured play. Our actual homeschooling doesn't take very long.
Typically it looks like 15-30 minutes of sit down at the table doing their math and hand writing. The rest of our subjects are done through books at the couch, outside, on the boys bed, etc.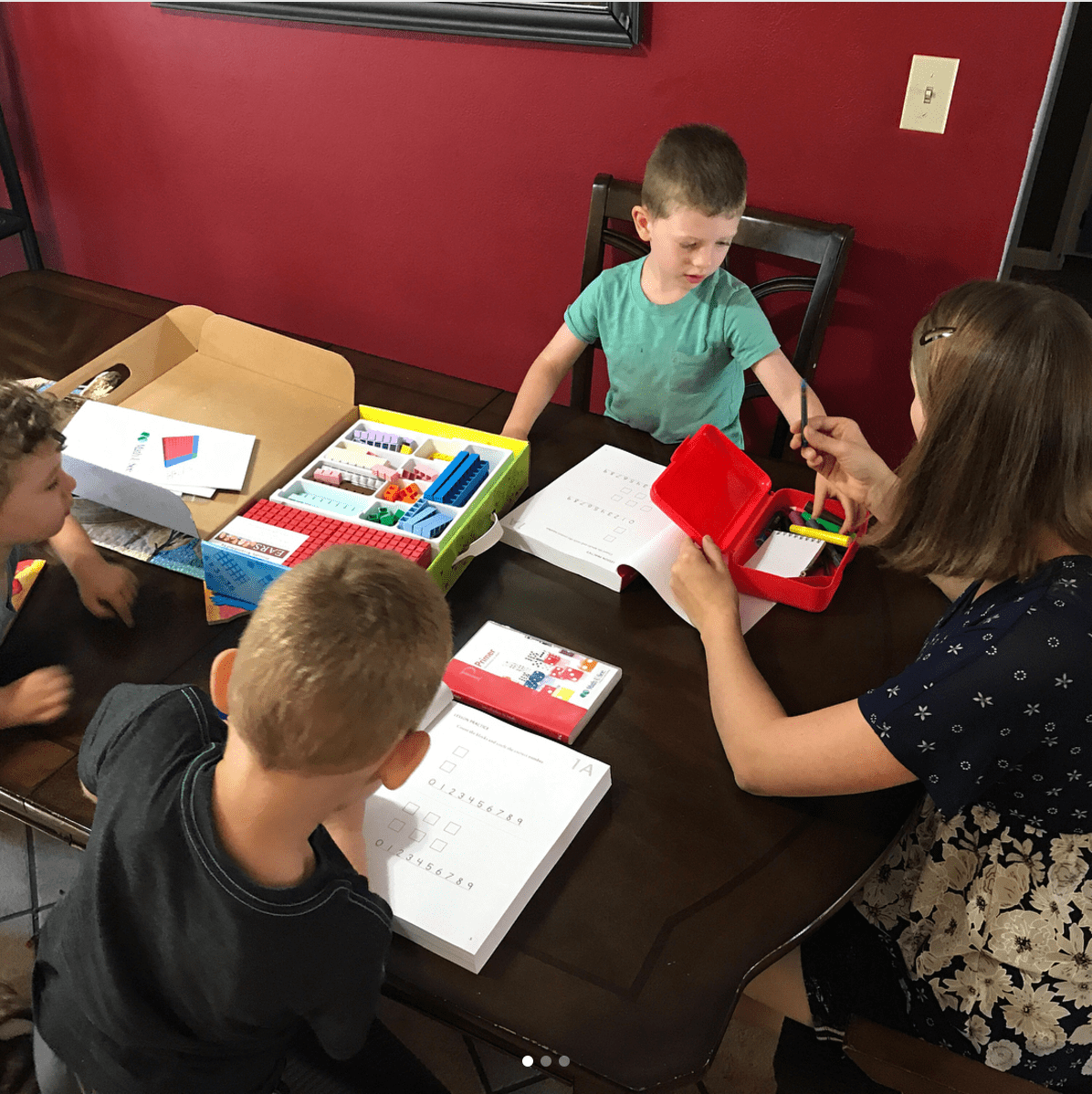 What we are using:
100 Easy Lessons to Teach Your Child to Read (we LOVE this handbook! And you can use it again and again!)
New handwriting books we are trying for $4.99
Math U See Kindergarten
Then our science, history, and everything else will be mainly through reading.
Masterbooks: Their living education math, writing, and more. They have a full preschool and kindergarten curriculum, creation science materials and more!
Usborn Books: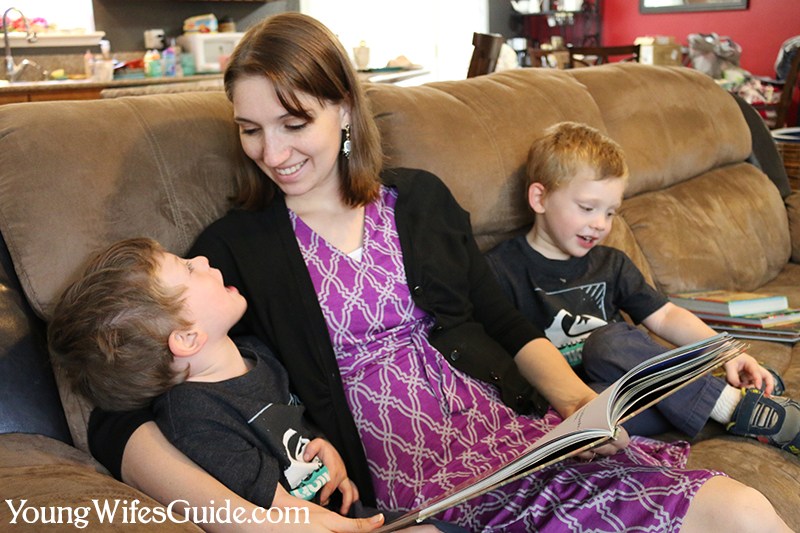 Amazon Things We Ordered:
Bible and devotional books:
How we will do school this year:
In the last 6 months, we've fallen in love with doing morning basket time. This means that we have a basket with about 10 different books in (alternating subjects) and we pick 4-5 each day to read. This is how we get through the majority of our subjects. We do it on a loop schedule. So we read a few books each morning and whatever we didn't get to, we pick up the next day!
My #1 goal with this is to sing a hymn or two with the kids (and get them to memorize more songs) and do our Bible reading together. And then we go into our school work. We also have a poetry book, a book about how things work, some fun chapter books, and more in it.
The goal is to cycle through a couple different books each day (but not all of them each morning)! We are implementing this right after breakfast and it's been a fabulous habit to start cultivating.
You can check out a great podcast on the topic: Your Morning Basket episode #1. And my friend Victoria does this for herself with a Bible basket.
Simplify Your Meal Planning!
I want to give a huge shout out and thank you to the sponsor for this week's podcast: Prep Dish! A fantastic meal planning solution that makes it EASY to plan out and execute an entire week's worth of meals.
Here's how to works each and every week:
PrepDish sends out the COMPLETED meal plan
Print it out (or view on your phone)
Head to the grocery store with the grocery list already done
Spend 2-3 hours one day a week to do all the prep work
Then with just 5-20 minutes each day you put the meals together!
They've made it was easy as possible! So if you are going crazy in your kitchen, or you just need a little extra help, then PrepDish makes it extremely easy. And PrepDish is offering a super special TWO week free trail when you sign up through this link (how awesome!!)