Hf #42: What to do when your routines & schedules vary from day to day
Guys! My podcast is back after a very long, unscheduled break. Every week Jason and I had it in mind that we would sit down and do the next episode…and things have just been nuts.
My Homemaking Mentor officially launches in one month and every spare second has been spent developing this amazing brand new online training academy. It will be well worth it, but it also meant we had to divert a little of our attention away from the podcast.
But I know from all the emails and comments, that you guys have been missing the podcast! So we got organized this week and have a podcast episode ready for you! Lord Willing, we will be back to our weekly schedule.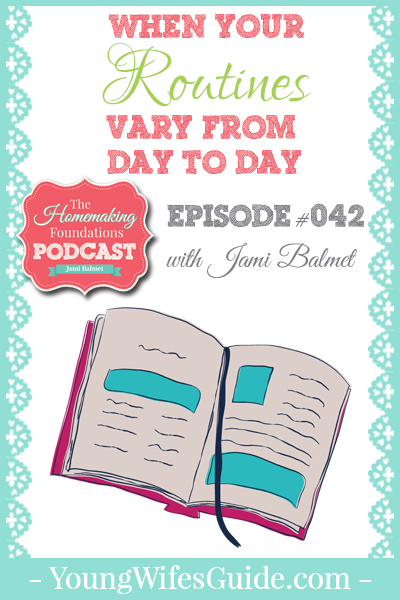 In today's episode I am going to be answering a question from Ashlee, who asks about routines and schedules. She wants to know how to handle it when routines and schedules vary from day to day, how much planning is involved, and what should become second nature.
Ready for episode #42? Let's jump in!
Right click here and save-as to download this episode to your computer.
In This Episode, You Will Learn:
My typical schedule (including how it varies every single day)
How to handle unexpected things that come up
The importance of planning
The importance of spontaneity within our routines and schedules
Links & Resources Mentioned in This Episode
Book of the Week:
52 Things Husbands Need From Their Wives by Jay Payleitner
This has nothing to do with the topic at hand, but I am just finding that this book is on my mind. The book has 52 short chapters on little (and big) things you can do for your husband, or to understand him better, or to learn how to love him better. I've been reading a chapter here or there as I have time and I've really been enjoying it. I love that each chapter is a small bite sized idea that I can think about as I go about my day. I've really been enjoying it. So if you are looking for a new book to read for your marriage, I encourage you to pick it up. They also have a book for husbands called
52 Things Wives Need From Their Husbands
. So if your husband is up for it, you can order both books and each read one! Jason ordered that one, but he hasn't had time yet to start it. I think he will be starting it soon.
Thanks for Listening!