Hf #50: Choosing to be Thankful in Troubled Times
Today we are talking about thankfulness. But I don't want you to tune this message out just because it's a thing we tend to talk about this time of year. This message today goes far beyond the week of Thanksgiving and goes far deeper than uttering off a few quick "thanks for…" lists.
Choosing to put on gratitude and thankfulness is an essential element of the Christian faith and it's vitally important to the life of the homemaker.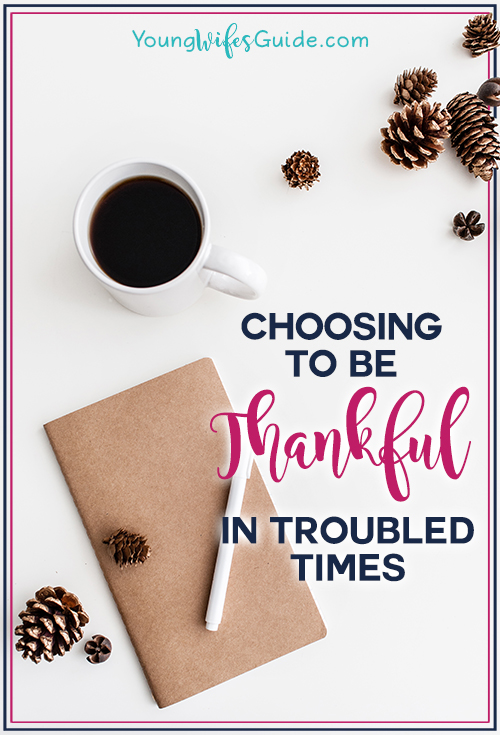 Listen to the podcast: I've recorded this blog post as an audio podcast. You can read it here, or if you prefer, listen to it as a podcast below! And don't forget to subscribe to my podcast in iTunes.

Right click here and save-as to download this episode to your computer.
This is an especially important topic in our chaotic, crazy, and fearful world we live in today. Everywhere I turn there is more bad news of a couple I know getting a divorce, my heart is heavy for a family who is struggling to get by, there are new reports of child abuse and terrible things happening around the globe.
It's enough to make anyone fearful, worried, anxious, or over burdened. So as head wade through the bad news, pray for those who are hurting, and try to piece together a response, where do we turn for HOPE? How can we focus on Christ throughout all of the turmoil, bad news, disappointments, and the everyday heart ache of life?
By choosing thankfulness.
November is a hard month for me personally as my mom died suddenly three November's ago. It's a time that brings up a lot of grief, anger, and even resentment. Whether you are struggling with a loss, battling anxiety over a new situation, or just wading through the every day struggles and the ups and downs, you desperately need this message.
Now of course, our natural tendency is to often sit in worry and anxiety. To wonder why God allows certain things. To stew in anger or bitterness. To get so consumed with the small details of today that we can't look forward to the future with joy and hope. That's where I am coming from today. I'm looking at this concept of thanksgiving through a lens of troubled times and anxious hearts.
So we need to recognize that thankfulness and putting on a grateful heart is a choice and that it can have a profound impact on our lives.
5 Reasons We Need to CHOOSE to be Thankful Today
1) Gratitude is a matter of obedience
Thankfulness and gratitude are not simply good ideas, God commands us to have gratitude. And the kicker is, we are to be thankful in ALL things! Not just the happy things and the things we often think of as blessings. We are called to obedience and that means learning how and choosing to be thankful in our life.
"Rejoice always, pray without ceasing, give thanks in all circumstances; for this is the will of God in Christ Jesus for you." – 1 Thesselonians 5:16-18

"And above all these put on love, which binds everything together in perfect harmony. And let the peace of Christ rule in your hearts, to which indeed you were called in one body. And be thankful. Let the word of Christ dwell in you richly, teaching and admonishing one another in all wisdom, singing psalms and hymns and spiritual songs, with thankfulness in your hearts to God. And whatever you do, in word or deed, do everything in the name of the Lord Jesus, giving thanks to God the Father through him." – Colossians 3:14-17
If you really want to study praise and thanksgiving to God, then study through the book of Psalms. There are countless examples of turning back to God over and over again in praise and thanksgiving.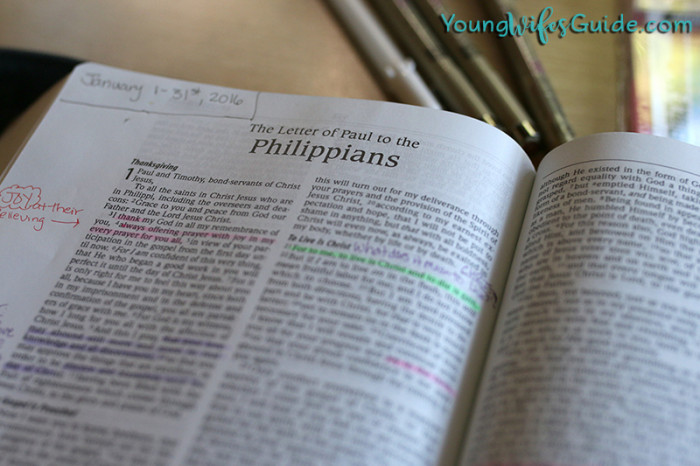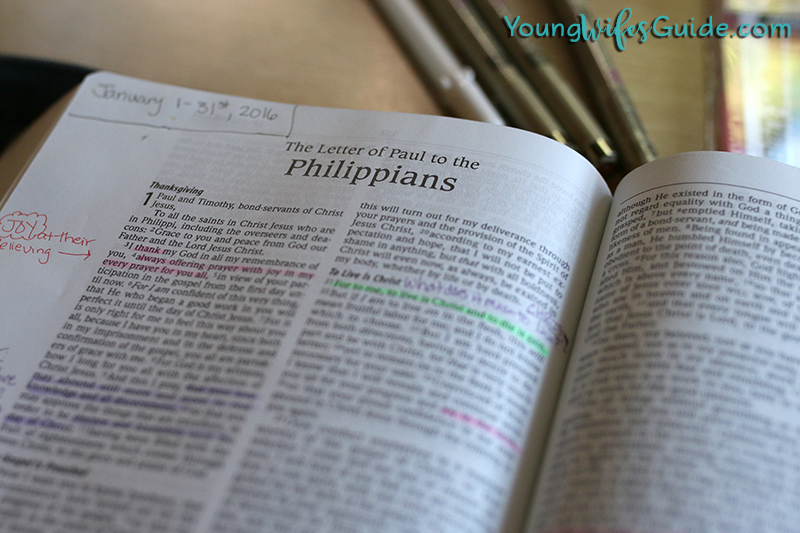 In her book, Choosing Gratitude, Nancy Leigh Demoss discusses the idea of finding God's Will. She says:
"Sure, details matter to God. The specifics of what church to attend, what house to write a contract on, what position to apply for, and maybe even what hotel to stay at on vacation, are decisions He gives us wisdom to make, as we seek Him and walk in line with the principles of His Word.

But live long enough, and you find that the choices only change by year and color. A decision that's huge today usually shrinks in hindsight, replaced by yet another batch of options that fit whatever stage of life we're currently in. That's when you discover that the will of God is a whole lot bigger and broader than fine-print details and exact measurements. Instead, it's characterized by a handful of simple constants that overshadow our specific questions and our appeals for direction.

In other words, you may find yourself a lot closer to hearing God's heart on a certain time-sensitive matter, not by making pro and con-lists or anguishing between multiple options, but simply by doing what you already know to be His will.

'Give thanks in all circumstances; for this is the will of God in Christ Jesus for you.' When faced with perplexing circumstances, when you don't know what to do or which way to go, be grateful-and you'll find yourself right in the middle of his will."
God's will is for you to learn to be thankful in your life. And in obedience to God's Word and His will, we need to recognize that and make it a priority. We choose to be thankful, not because of the benefits it gives us, of which there are many, but because God commands us to. We are submitting in obedience to Him when we learn to put on thankfulness and gratitude, especially in tough times.
2) Gratitude draws you closer to God
"Enter his gates with thanksgiving,
and his courts with praise!
Give thanks to him; bless his name!" – Psalm 110:4

"Let us come into his presence with thanksgiving;
let us make a joyful noise to him with songs of praise!" – Psalm 95:2
When we come to God in praise and thanksgiving, instead of grumbling and complaining, it helps us to draw closer to Him and to understand His heart and character more.
Nancy Leigh DeMoss says:
"Yes, see if expressing gratitude to the Lord doesn't "magnify" Him in your eyes, increasing your depth perception of this One who knows your name, counts the hairs on your head, and manifests His love for you with one blessing after another. See if the practice of intentional gratitude doesn't transport you even nearer to Him – not just where your faith can believe it but where your heart can sense it. Thanksgiving puts us in God's living room. It paves the way to His presence."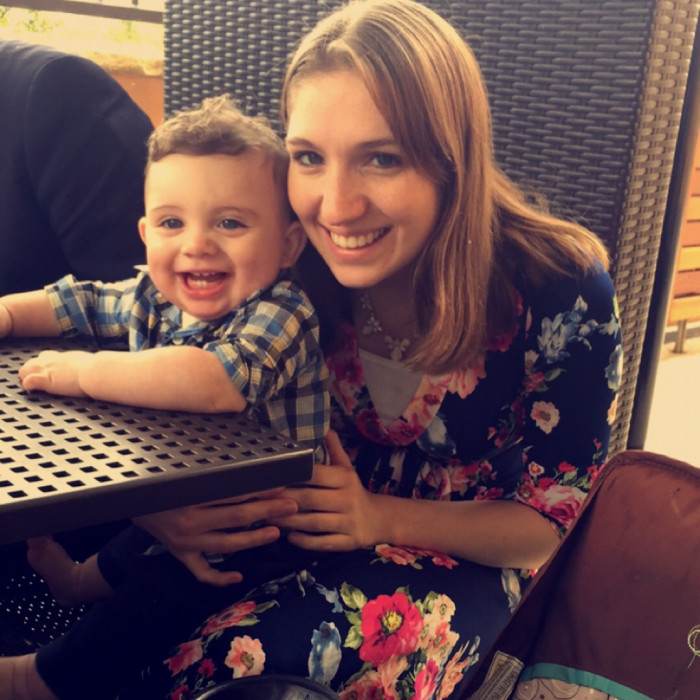 3) Gratitude helps guard against stress, worry, and anxiety
Like I said in the beginning, stress, worry and anxiety are all around us. From the small, common everyday stresses to these big life altering tragedies, it's so easy to turn to stress, worry, and anxiety. Especially when it creeps in slowly and tangles it's ways around our heart. We don't even realize it's there for a long time sometimes.
It sometimes takes my husband looking me in the eyes asking what's wrong for me to even realize that the stress and worry has effected me. But choosing gratitude, and choosing it as a daily habit, helps guard our hearts against worry and anxiety.
This is another long quote by Nancy Leigh Demoss but she says it so much better than I can express:
"If you find discouragement, depression, fear, or anxiety among your frequent companions, you may tend to attribute them to difficult or painful circumstances that surround you. But I want to suggest that as challenging as your situation or your season of life may be, your frame of mind likely has less to do with your distressing circumstances than with your need to develop a thankful heart.

How else can you explain those believers around the world – spanning from ancient times to the present day – who scrape by with less than most of us can fathom, and whose days are perpetually beset with trials and tragedy, but who nonetheless manifest irrepressible peace and joy?

I was struck by a comment made by theologian and author Dr. Wayne Grudem in an online interview. When asked by C.J. Mahaney about areas where he was vulnerable to discouragement in ministry, Dr. Grudem responses, 'Honestly, I don't often become discouraged. I continue to see evidence of God's work in my life and the lives of those around me, and I am simply overwhelmed with thankfulness to Him."
Instead of letting the circumstances of this life overwhelm us, we should be simply overwhelmed with thankfulness to God. Of course, that is much easier said than done, but choosing to put on thankfulness day by day is the first step in that process.

4) Thankfulness is a sure path towards humility
I struggle with pride. But I don't think I'm that unusual. I think most of us struggle with pride on one level or another. It just manifests itself in different ways. But wow, what a destructive sin pride can be. Its something that each of us should be constantly trying to guard against.
"A grateful person is a humble person, while ingratitude reveals a proud heart.

When a friend tells you something she's thankful for, she's revealing a lot more than just the way she feels about a specific person or circumstance. she may tell you how thankful she is for her family, or for relief of being spared from a certain danger, or for the peaceful place she finds herself in at the moment. But a person who's consistently grateful – and quick to express it – is actually telling you a lot more than that.

That's because gratitude is a revealer of the heart, not just a reporter of details. And among the things it reveals about us most is our level of humility." – Choosing Gratitude, Nancy Leigh Demoss
She then says, "Do you more often manifest a humble, grateful spirit, or a proud, self-sufficient, ungrateful heart?"
Wow, what an important lesson to remember. Cultivating a grateful heart forces us to take our eyes off of ourselves and instead fix them on the eternal glory of God. Are you more focused on your own wants, needs, and often selfish desires than you are focused on your glorious savior? It's so important to examine our heart closely on this topic.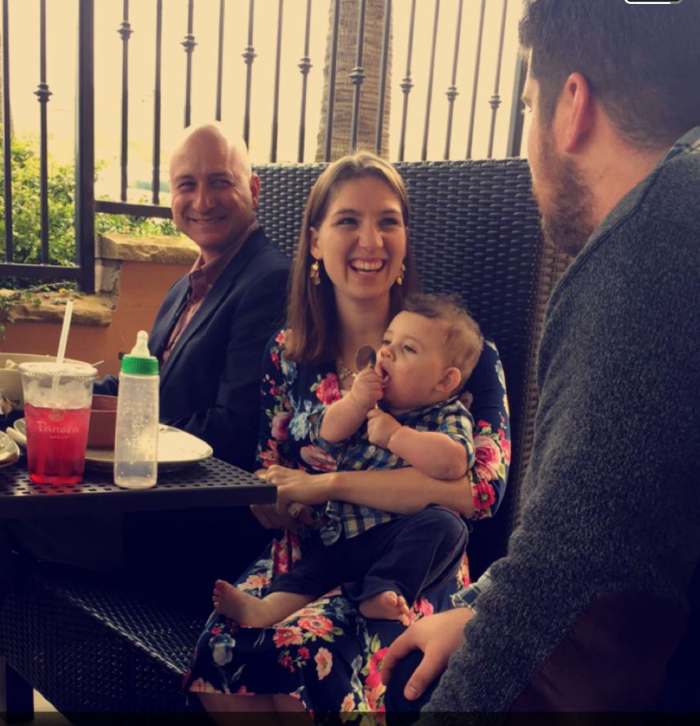 5) Your Attitude has a direct impact on your home and family
This is where it gets personal for your homemaking. Our view of gratitude and whether we spend time cultivating and choosing gratitude in our lives has a huge impact on our homes and those living within it's four walls.
Our attitude has an effect on our testimony and witness for Christ:
"I've acknowledged that my natural 'bent' is to react to people and life's circumstances in a negative way. When I'm asked how I'm doing, the first thing that pops into my head is often a burden I'm carrying, a hurt I'm harboring, or a deadline I'm working under. As a result, I'm afraid people who hang around me for any length of time may find themselves thinking how difficult and wearisome it is to be a Christian and serve the Lord. Matthew Henry's testimony challenges me deeply an causes me to want what he has – to have the kind of disposition that causes others to feel 'how happy a thing it must be to be a Christian!" – Choosing Gratitude, Nancy Leigh Demoss
1 Peter 3:15 says: "But in your hearts honor Christ the Lord as holy, always being prepared to make a defense to anyone who asks you for a reason for the hope that is in you"
This then is of course played out in our homes with our husbands and kids:
"As I said before, its a difference you can see. And feel. Ingratitude is toxic. It poisons the atmosphere in our homes and workplaces. It contaminates hearts and relationships. Moms and dads can break the spirits of their children with it, and husbands and wives can deaden every sensitive emotion in the mate they once swore at a church alter to love and to cherish from that day forward. We can be obsessive about spritzing away the disease-carrying, oder-causing bacteria from our tables and countertops, but nothing is more contagious in our homes than an ungrateful spirit.

Well maybe one thing is.

Gratitude, I'd say, is equally as contagious as its evil twin. If you're sick and tired of living in a home where all the joy and beauty has been sucked out through negative, unappreciative words and attitudes, you can make a change. You can become the kind of person you've always wanted to be around. The kind of person makes Jesus and His gospel winsome to all who come within the reach of your grateful, 'happy spirit.'

What impact does your spirit have on those around you? Are they refreshed and encouraged by your thankful spirit? Or are they weighed down by your negative ungrateful words and attitude?" – Choosing Gratitude, Nancy Leigh Demoss
The wife and mom in a family has a very real opportunity to set the atmosphere in the home. It can be an atmosphere of thanksgiving, of pointing your family back to Christ, even in tragedy and hardship, or it can point and steer your family away from Christ. Think very carefully about how you conduct yourself in your home.
Often I think our homes become some what of a safe haven for ourselves. We wouldn't dream of screaming at our kids or sulking around all day at Church. But at home? It's safe, no one's watching and we indulge in ungrateful attitudes. We need to carefully examine our own hearts and attitudes, especially as it effects our husband and kids. And for me, that is incredibly convicting and gives me a great deal to think and pray about.
"Thankful people are refreshing, life-giving springs, while unthankful people pull others down with them into the stagnant pools of their selfish, demanding, unhappy ways." – Choosing Gratitude, Nancy Leigh Demoss
Links & Resources From This Episode: