How to make Over your mornings WITHOUT getting up early
Every couple of weeks I've been coming across someone new recommending the importance of getting up early and establishing a morning routine. First it was mommy-inspiration from Kat Lee of the Inspired to Action podcast then business advice from Pat Flynn and now a super awesome course from Crystal Paine of Money Saving Mom. All of them sharing the benefits of getting up early and developing a morning routine and how beneficial it can be to your household.
I believe them. I really do. I crave a morning routine. I long for quiet hours before the sun rises and my four boys are awake to sit with a cup of coffee and read my Bible and pray for my household. But I'm just not in the season for it right now.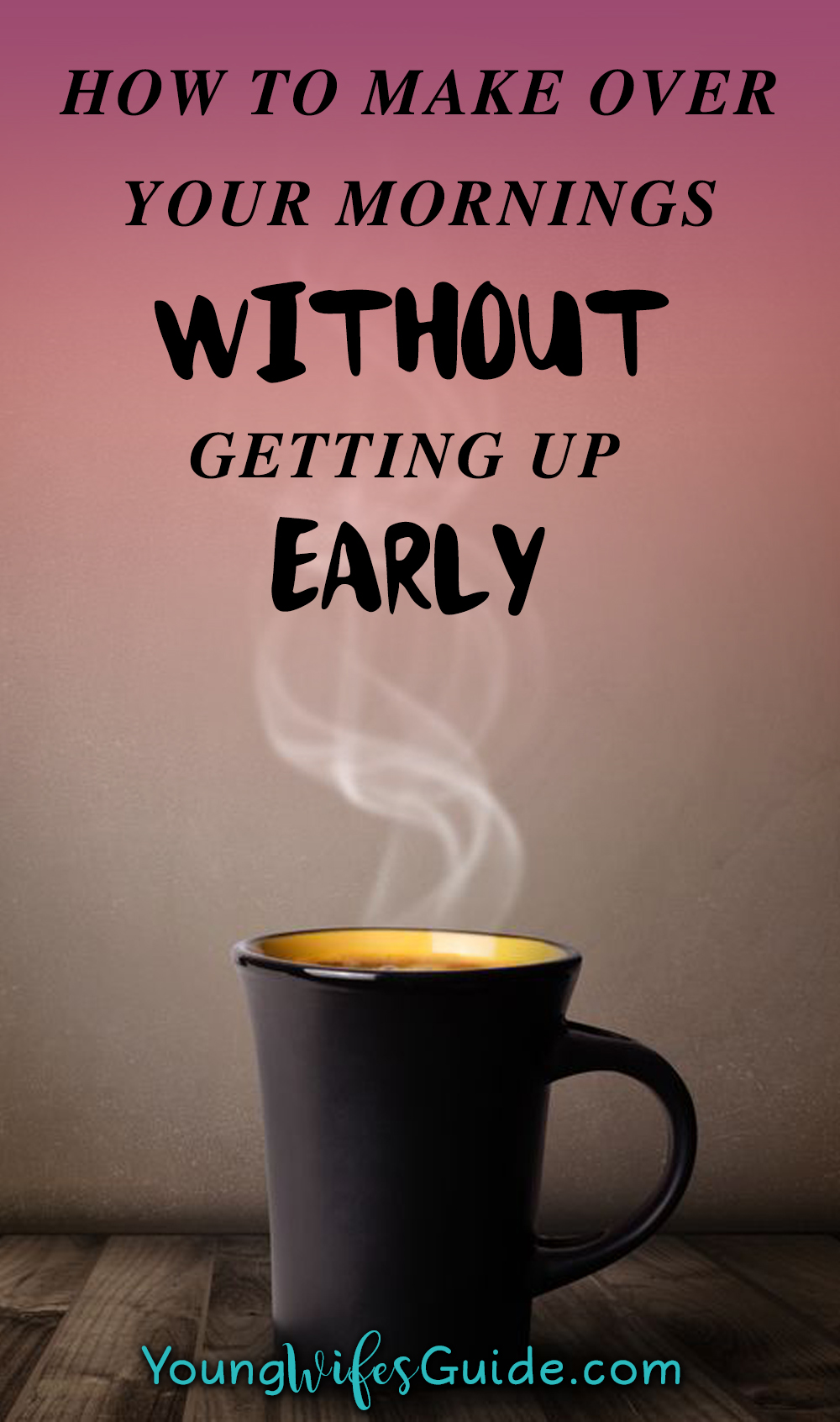 Pssst: Jami here – popping in from the future to let you know that we are getting ready to start a new morning challenge! We will be doing a 14 day challenge to go along with the Make Over Your Mornings course if anyone wants to follow along starting August 22nd. Find out more and join my challenge HERE!
I hope to get to that season soon. I can almost taste the days coming when all four of my boys sleep through the night and sleep in a little in the morning. But for now, I'm still up several times each night with my little twin nurslings who are now seven weeks old and I still have to rise when my twin two year olds decide it's breakfast time.
One day I plan to implement a full morning routine before my kids wake up and we are thrown into a chaotic day. But I have to be content as well that this is just not the season for it right now. One day hopefully, but not now.
So why am I bringing this up? 
Because recently I had the opportunity to go through a new eCourse from Crystal Paine called Make Over Your Mornings and I loved it. I went through the course just a few weeks before my new twins were born and went into the course with the mentality that I would need to store all this info away for much later when I had four kids all old enough to sleep long hours at night and allow me to do the same.
I thought this course was going to be all about getting up earlier than your kids so you could start your day off on a calm and planned foot. And while there is an element of this, it's not what the course is about. It's about creating small little routines into different parts of your day so that you can use your time wisely and efficiently. 
On my podcast, I've recently been sharing about how we can determine how to spend our time as homemakers and creating realistic routines for our households. This course fit in perfectly with what I've been trying to do in my household already: Use my time well for God's glory!
Here are just a few ways I've started realizing that I can make over my mornings and use my time well, even though I'm not in a season of rising up before my kids.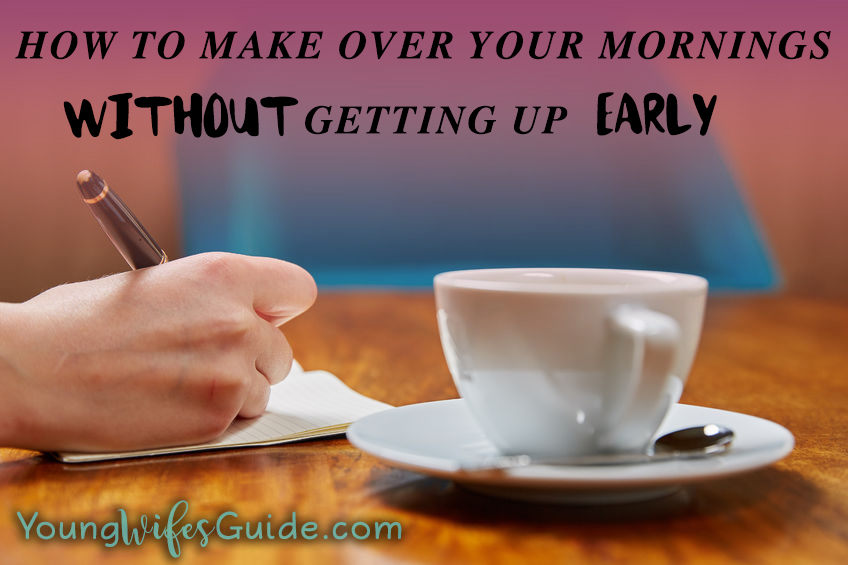 Establishing Good Routines
It starts the night before
My husband tends to be a night owl and my twins usually want to nurse at this stage around 11 – 12am right before bed. So we are often up late and one huge thing I'm trying to do in this season is establish a strong evening routine before going to bed.
This includes loading the dishwasher, wiping down the counters, doing a quick clean up of the clutter in our main living area, and making sure I have a game plan for breakfast. This makes such a huge difference for my morning. So while I'm not getting up earlier than my kids, I still feel like I'm getting a jump start because my kitchen is clean and ready to go. There's nothing more discouraging than dragging yourself out of bed to the sound of hungry toddlers and walking into a kitchen that's a mess!
This one little routine already sets me up for a more successful day!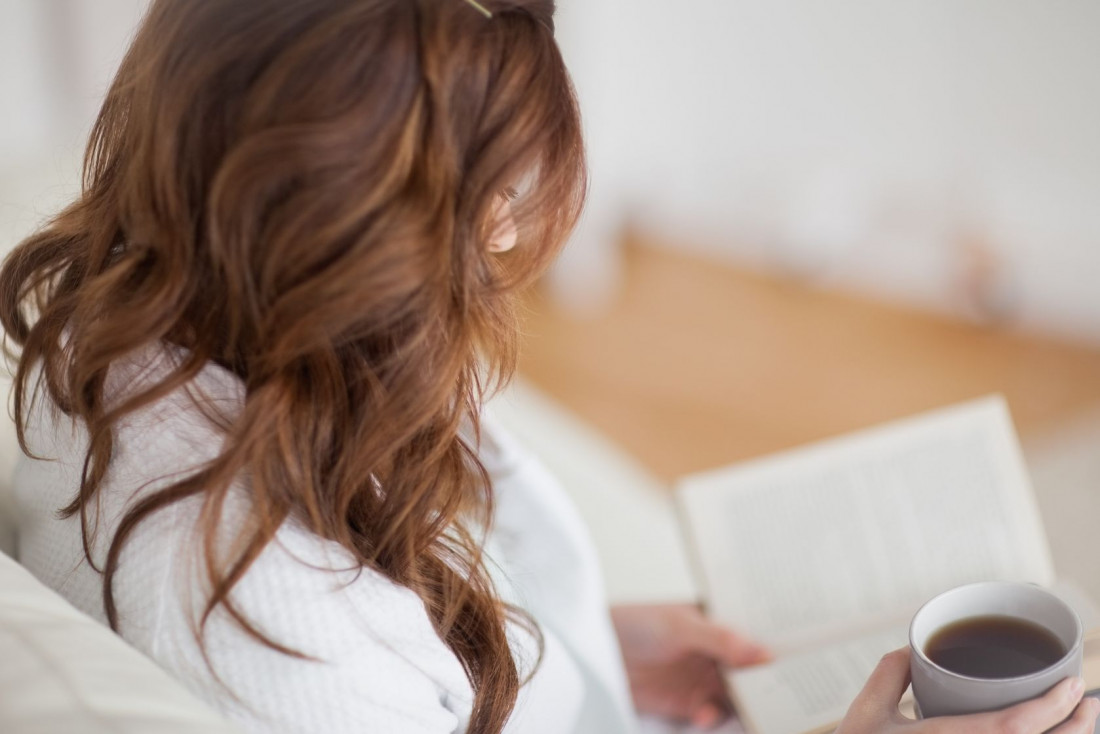 Prioritize my day accurately
I'm a list maker and a planner lover – but I'm also notorious for over-scheduling myself. I sit down to make a to-do list and it ends up a mile long. I go to bed at night feeling like a failure because I only accomplished a few things off my list and missed some important things I needed to do.
One thing this course taught me, is that I need to remember to put the big things FIRST on my schedule. Especially in this season with newborns, it's hard to really get much accomplished in the course of a normal day at home alone with four kiddos. I need to remember my limits and that I can realistically only get one or maybe two big things done per day.
So now, when I create my schedule or to-do list for the day, I'm trying to prioritize that one important thing for the day and do it FIRST! This means, right after breakfast I usually have some sort of project to work on. Maybe it's to clean out the toys in my toddlers' room and organize. Or maybe I desperately need to sweep and mop the floors in my house. Whatever my important task for that day, it gets done first and is my focus. If I can get that one thing done, it frees me up to focus on playing with my kids or even sneak in some reading during nap time without guilt.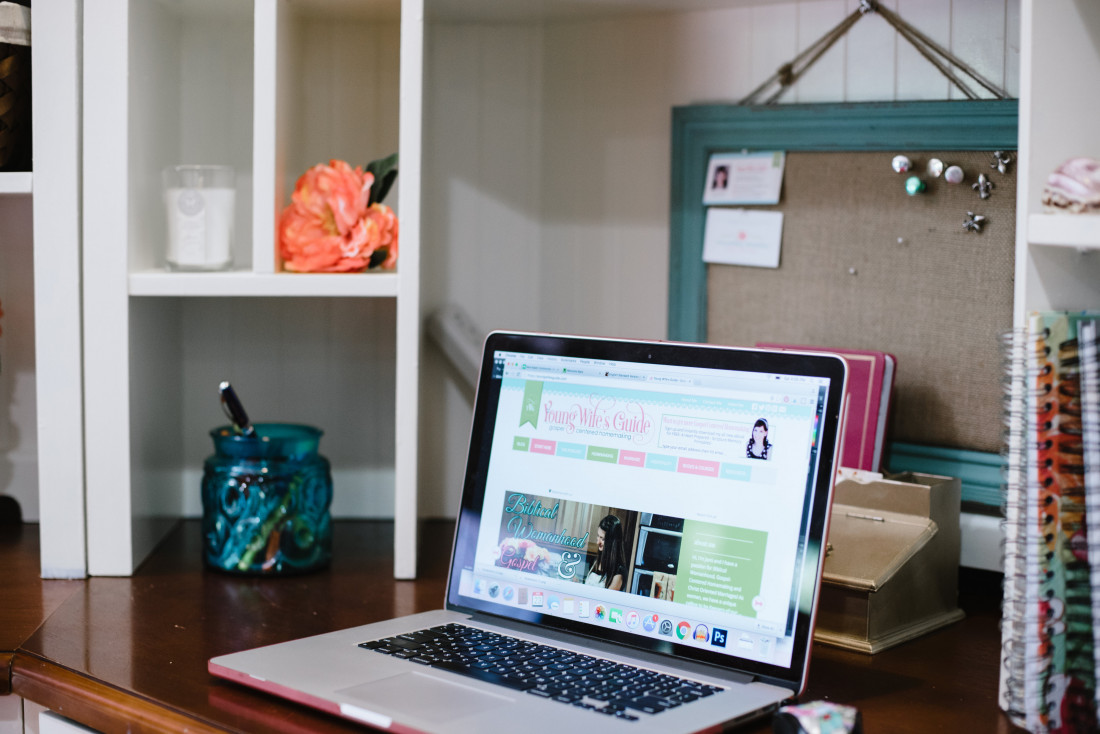 The importance of getting enough sleep
Enough sleep? I almost laugh as I type this one out because it seems near impossible to get enough sleep when you have newborns. But the fact remains, I often don't make sleep a priority like I should. I so desperately need to take care of myself so that I have the energy and the passion to care for my household.
I believe I read it in Say Goodbye to Survival Mode, that we should actually write sleep down on our daily schedules. We should actually pencil it in and plan beforehand how much sleep we are going to get. Ever since I read that, my mind set about getting enough sleep totally shifted.
My normal aim is to get 7 hours of sleep at night and that's a bit trickier to make happen with newborns. So for now, that sometimes means going to bed far earlier than I would like and sometimes that means my husband takes all four kids for a little while on the mornings he's home so I can get some more sleep. I have to sometimes get creative with this one, but it makes a huge difference in my day!
Where do I go from here?
There is actually a lot more I gleaned from my first time going through Make Over Your Mornings and I'm excited to go through it a second time. This time I want to sit down and actually take notes while I go through it.
But because a lot of the course consists of videos, I was able to listen to them on the go while driving and doing things like cooking and cleaning. It's been a blessing already to start implementing the things I've been learning and more than anything, it's given me the encouragement to be intentional in my daily routine.
Even though my routine right now is broken up by many nursing sessions, blow out diapers, spit up, and boo boo's that need kissing, that's okay! That's the season of life I'm in right now and I am so thankful for where God has placed me.
So if you are like me and are in a difficult season of getting up super early (you have newborns, older kids who have a hard time sleeping, a job you have to get up early for already, husbands who have a hard work schedule, toddlers who wake up incredibly early anyway, etc.) I want to encourage you that there are still things you can incorporate into your daily routine to give yourself a little more structure and lot more peace and intentionality within your home!
I wanted to share one of my very favorite resources for simple and effective homemaking: It's called the 
Make Over Your Mornings eCourse
 from Crystal Paine of Money Saving Mom and it ROCKS!
Join Me For a Challenge!

Because Summer is winding down and schedules are picking back up, I decided to go through a fresh challenge of Make Over Your Mornings! For 14 days we will go through Crystal's course as a group providing encouragement and accountability along the way.

The course itself only takes 5-15 minutes a day to complete, so it's perfect to fit into an already busy schedule! Get all the details & join in here!
Crystal's grace-filled and simple approach to forming daily routines and rituals is a breath of fresh air. It doesn't have to take a huge amount of time to transform your homemaking – in fact, if you can commit just 10 minutes a day, you can see a HUGE improvement in your homemaking. Check out the course today!
P.S. Crystal offers a 100% money back guarantee in case the course isn't what you expected or wasn't helpful. Now you literally have no reason not to go check it out!