How we are using unit studies this year (2020-2021 school year)
I'm very excited to show you a peek inside the unit studies we are doing this year. But the best way to really see what we are doing is on Video. So if you head over to my Instagram profile, you'll see my highlights down below. You'll see a highlight named Gather Round which explains the unit studies and then a highlight named Oceans unit which gives you a walkthrough of the books I share at the end that we are adding in.? (Depending on when you read this article, you might need to scroll through my highlights to find them if you are reading this later than August 2020.) 
In May, I thought I pretty well had my upcoming school year all planned out and I just needed to get my materials ordered. But in June I started looking at a new curriculum that I hadn't really considered before. By mid-July, I had completely reworked our entire school year plan ?
Today I'm going to share one piece of that new plan: The new unit studies we are using. Then in my next post, I'm going to share our full curriculum picks from for the 2020-2021 school year. Stay tuned!
This year we officially have two 2nd graders, two kindergarteners, a VERY eager preschooler who wants to do EVERYTHING her big brothers do, and a 4 month old. It's a busy but exciting year for school. What I need as a mom with lots of kids, is a way to make it all a little simpler.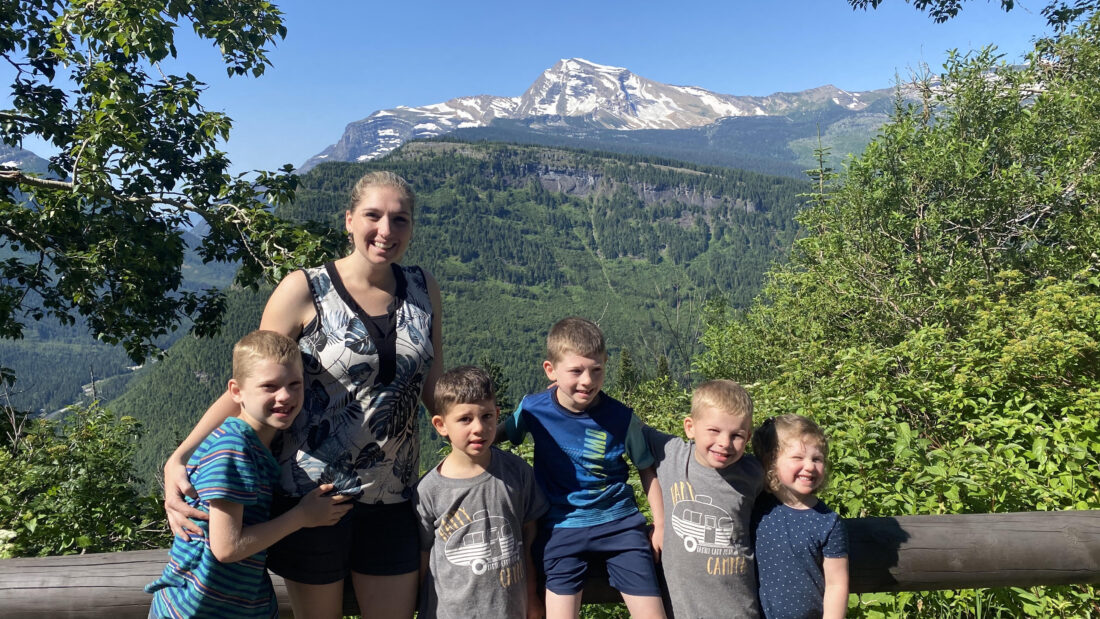 Enter: Unit Studies
I've always been drawn to the concept of unit studies, but it's either extremely time intensive to put together or the premade ones just didn't look appealing to us. So I've pieced together little make shift units in the past with printables off Etsy and reading books.
"Unit studies are a popular homeschooling method because they can be hands-on, literature-based, or even geared towards the Charlotte Mason method. Unit Studies typically encompass all of the scholastic subjects through the study of one topic, although they can be specific to a specific subject. Since it is easier to teach different ages the same topics with multi-level unit studies, they are popular among homeschoolers wanting to keep all of their children on similar topics at the same time." – The homeschool Mom
Instead of each grade having separate workbooks and textbooks for each subject (i.e. Kindergarteners having an animal science workbook, 2nd graders doing a marine biology or space workbook), we all study the same subjects together as a family that ties in ALL their subjects (except math).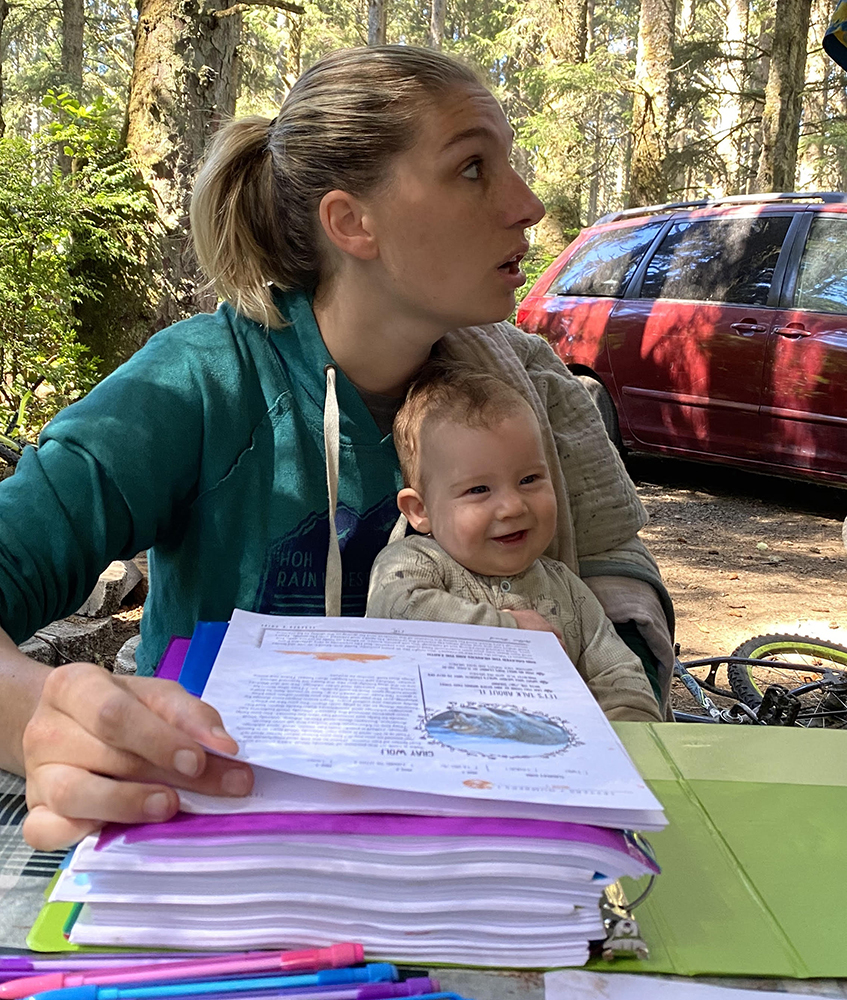 So this way, I am teaching one main subject each day to all the kids and then they have worksheets and reading that is appropriate for their grade level.
This year we are trying out Gather 'Round Homeschool's new unit studies. We are wrapping up our very first unit this week and are so in love!! ?
Gather Round Homeschool Units
I'll share and explain how we are using them, but here's a few quick reasons why I chose to dive into these unit studies.
1. They are absolutely gorgeous. 
The teachers guide is incredibly beautiful. The artwork, the design, the clean lines. It's all fabulous and beautiful. This makes everyone want to pull it out and use it. I have trouble as the teacher to pull out very messy curriculum that looks like one big boring word document (and sadly, so many homeschool curriculums look like that).

2. It combines all your subjects – except for math 
They have skillfully brought together 9 subjects all into one unit study. You don't cover every subject each day, but over the course of each 4-5 week study, you end up hitting it all. The subjects include: grammar, spelling, writing, art, reading & comprehension, geography, science, social studies, history, and Bible.
3. So easy to teach all your kids at once
This is the true beauty of this curriculum. Each day, I read for 10-15 minutes out of the teacher's guide for that day's lesson. They are very well written and engaging with great pictures for the kid. Everyone studies the same subject for that day. For example, today was coral habitats in our first unit on Oceans.
While I read the lesson, the kids all have art pages for that day to color while I read. All 5 kids do this (and usually the baby is on my lap)!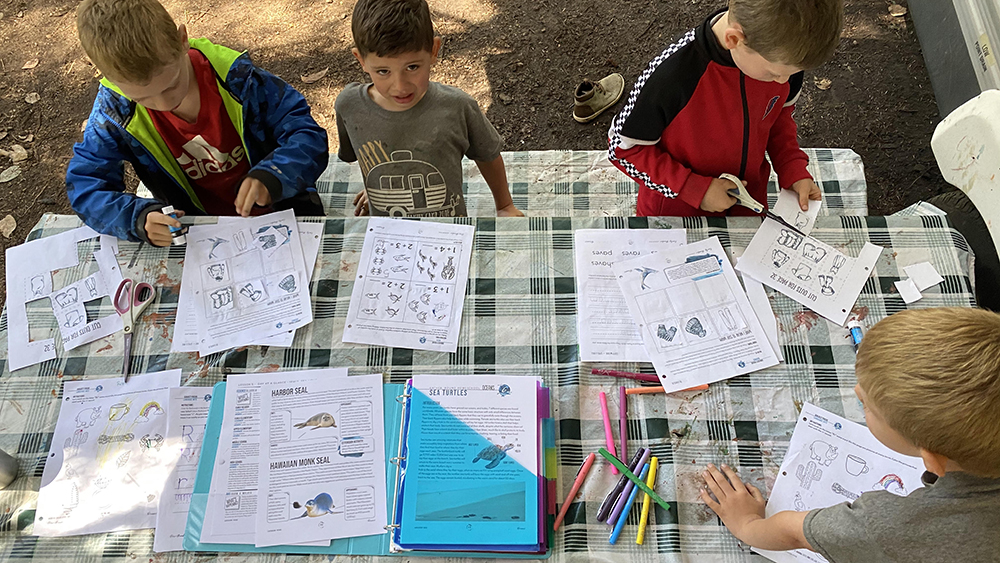 Then we get the worksheet pages out. The 3 littles are all doing the pre-reader pages and two oldest are doing early reader. In the next unit or two, I'll move them up to early elementary workbooks.
How it works so well: When you purchase the digital copy of the unit ($50), it comes with your teachers guide AND all 6 aged notebooks. With other curriculum, you normally purchase each age separately which can get very expensive.
This way I can download the files and look through to see where to place the kids. Then halfway through the year, I can move them up into more advanced workbooks if I want.
So the beauty is that we are ALL studying coral habitats today but each kid then does their work at their own level. The work pages then incorporate all those other subjects that tie back into the main unit: Oceans!
4. Very affordable 
For how beautiful and how comprehensive this curriculum is, it's very affordable! You CAN do the print option from their website if you would prefer just to order physical workbooks and be done with it (I totally get that)!
But buying the digital version for $50 allows me to really save a lot of money in the long run and is very flexible then. I then print it out myself (I've got some tutorials on all of this coming soon to my homeschool course – see below!)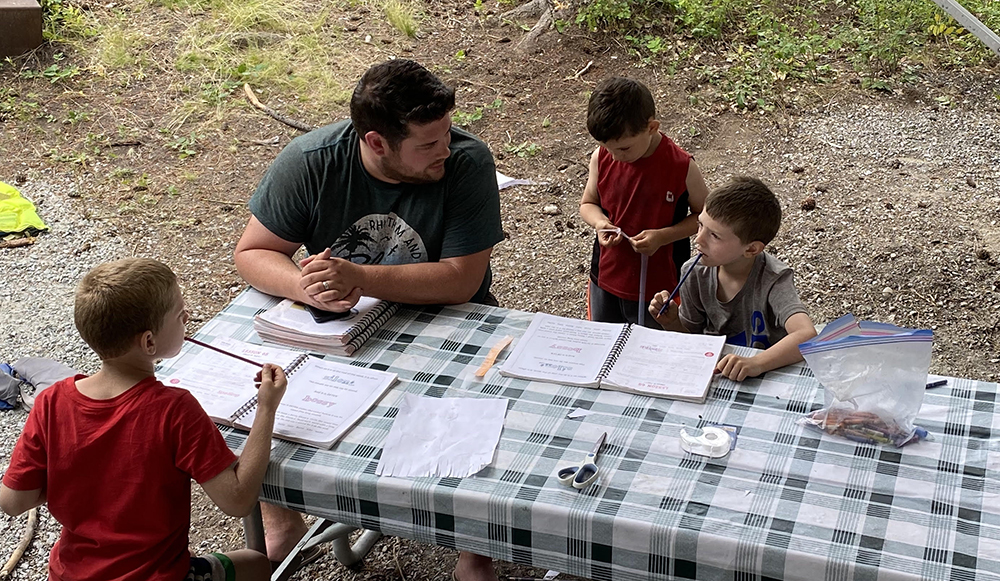 Even just using this unit ONCE, it saves me a lot of money since I'm printing 6 books (the teacher's guide and 5 student notebooks). But the real savings is in reusing this same unit in the future.
Like many curriculum (i.e. Sonlight for example), Gather Round is made to cycle back to the same subjects every four years. So in four years when I have two 6th graders, two 4th graders, a third grader, and a kindergartener…we will do this unit on oceans again. Only this time, everyone will be in more advanced workbooks!
I'll already have the teacher's guide all printed off and ready to go and won't need to buy anything digital again. Just print out the right workbooks and we are good to go.
Our First Unit: Oceans!
Like I said, we are nearly done with our very first unit on Oceans. We were going to follow the regular schedule (you don't have to, we just like the idea of working through them in order) but since we've been staying along the Oregon Coast for the past few weeks, I decided to jump in early with the unit on Oceans.
In fact, one night we went for a walk from our campground and came across this gigantic sunfish on the beach. The kids thought it was SO cool. The next week we came across sunfish in our study and the kids thought this real life connection was THE coolest thing ever. It's been an amazing study.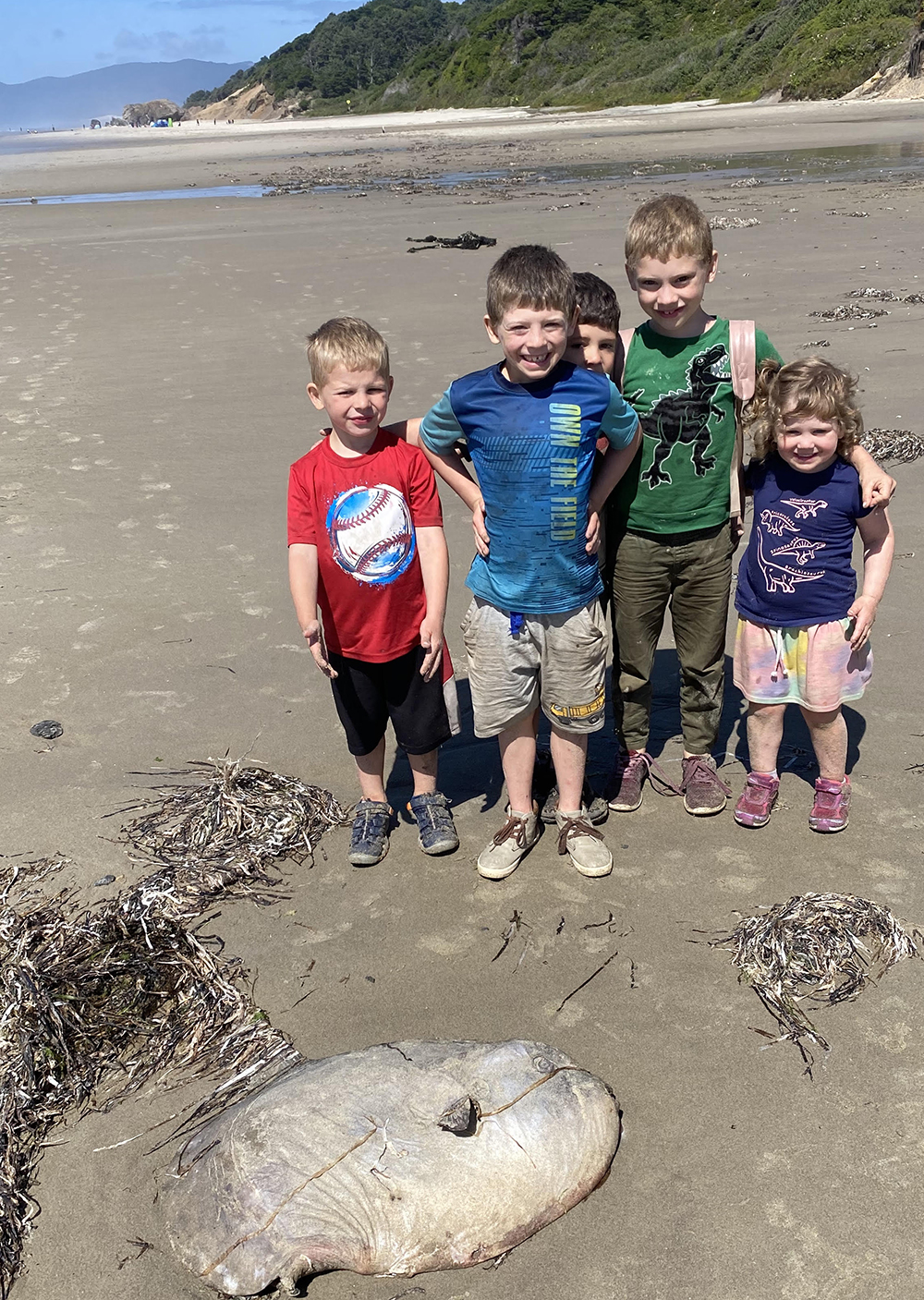 What we are adding:
This curriculum is beautiful in that you don't NEED to add anything in. Some curriculum's like this require you buy a bunch of extra books to complete the curriculum. Gather Round is self contained but they do provide EXCELLENT additional resources you can add in if you want.
Here in Oregon where we currently are, libraries are not open again yet. But as soon as we are in an area with in person libraries, we will be getting a ton of resources for each unit from them.
But here's what I ordered to go along with our Ocean unit: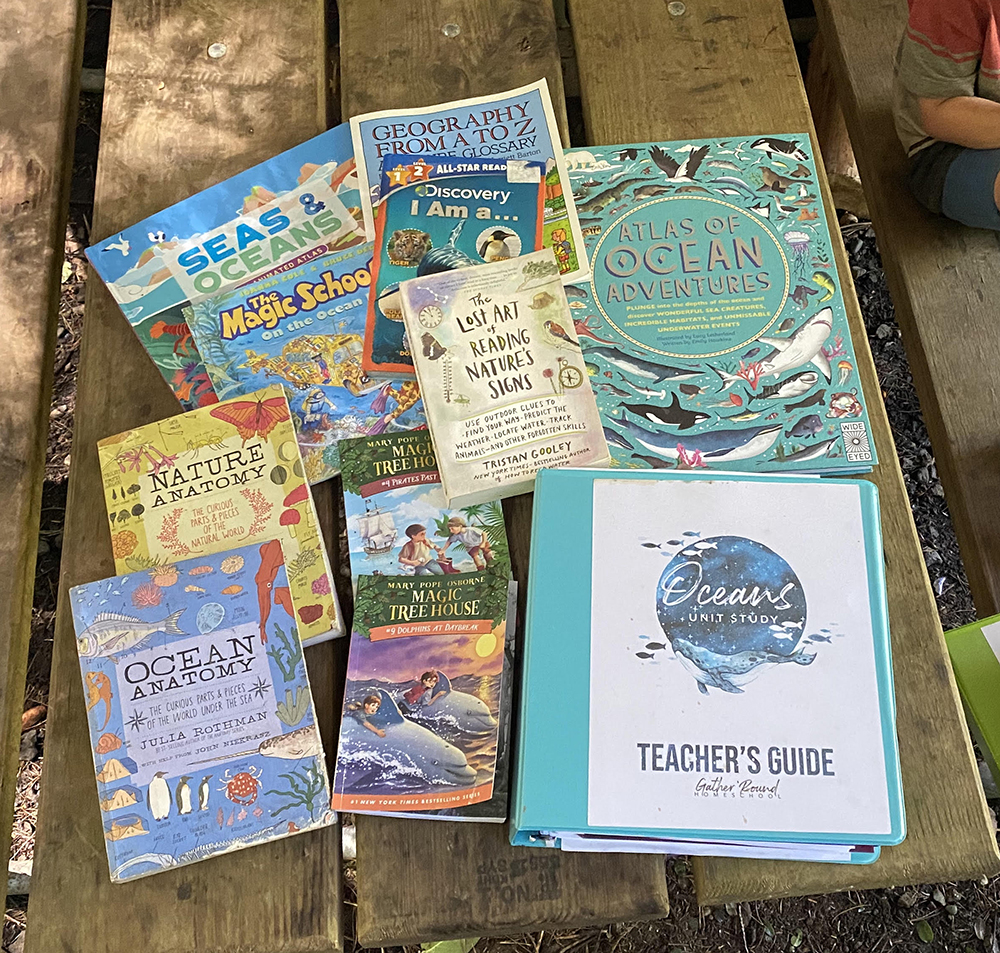 So is it enough?
To be honest, I don't really have any complaints about the curriculum so far.
We will be adding in math for the school year starting next week. And we will be doing some online music and possibly starting foreign language. Plus lots and lots of reading! I'll update you next week with all our final picks for the school year. 
But people often ask me if I feel like Gather Round is "enough" since it doesn't grammar, spelling, language arts, etc as separate workbooks. So far, yes, I think it's very comprehensive and is enough. Each year is meant to cycle through all those different points.
Plus, I'm a big believer in just reading books for those extras. I think getting kids to READ is the best thing for learning spelling & grammar. BUT it would also very easy to add in a $10 workbook here or there if your child was struggling with something in particular.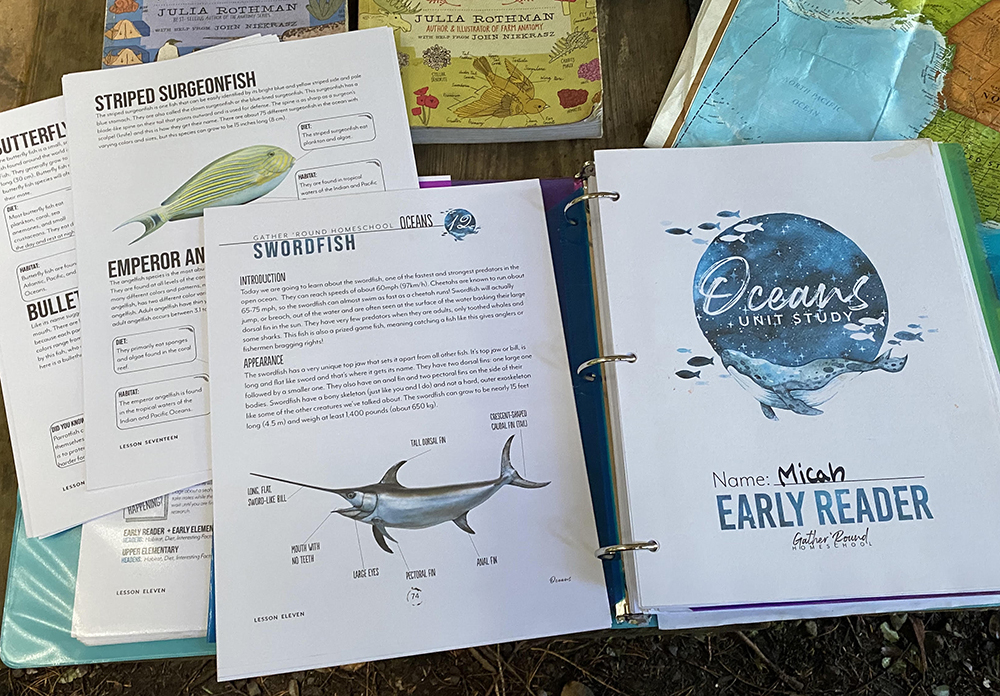 I'll do a year end cap at the end of the school year once we've gone through all 10 units for this year. So far, the ENTIRE family loves it.
It's a perfect fit for ME as mom (I find it interesting and I'm highly motivated to start school each day which is awesome) and my kids are loving it so far. The Oceans unit has been amazing. We've got 3 days left and then we will be finishing it up and starting our next unit.
Here's what units we will be doing for year 1 of Gather Round (this is the publish order which we will most likely follow – other than Oceans):
North American Birds – NEXT! 

Connecting continents (Asia)

Space

Connecting Continents (Europe)

Oceans – DONE! 

Connecting Continents (Africa)

Earth Science 

Connecting Continents (North America)

Human Body

Connecting Continents (South America)
Mini Units: Christmas – (Will start end of November), Indigenous Peoples and US Government (starting alongside North American Birds)
Here's what year 2 will cover (it's currently being published one month at a time right now): I think I'm even MORE excited for the year 2 units!!
August: Antarctica
September: Australia and Oceania
October: Artists
November: Ancient Civilizations
December: Inventors
January: Transportation
February: Botany
March: Career and Trades
April: Creepy Crawly Things
May: Farming and Food
Mini Units: (3) US History, Canadian Government, Easter and The Underground Railroad
Are you new to homeschooling?
I know this year is bringing with it a TON of new challenges and many of you are finding yourself brand new homeschoolers without a lot of time to prepare.
I would love to help you! Jason and I have worked tirelessly to put together an amazing resources for you this month called My Homeschooling Mentor: An Introduction to Grace Filled Homeschooling
In this brand new course, we cover 3 main modules. Module #1 is all about the logistics (legalities, the goal of homeschooling, etc). Module #2 covers ALL the different kinds of curriculum to help you find the best fit for your family. Module #3 covers the ENCOURAGEMENT! <– This is the fun module that cheers you on and helps you feel like you can do it!!
Grab the course right now on preorder to save $20! You will get instant access to 10 lessons with the rest being released over the next 2 weeks.
But hurry, preorder ends soon! Save $20 🙂