Introducing my brand new Spiritual Disciplines Notebooks!
A few years ago, I stumbled upon this idea of Traveler's Notebooks and it has changed the way I plan in my home and my business.
When I discovered this method of planning, I just knew I had to apply this to my Spiritual Disciplines (things like prayer, Bible reading, Scripture memorization, and more).
So I shared a video about how I plan on using my Traveler's notebooks for various areas of my life. In it, I mentioned that I will be eventually setting up a Spiritual Disciplines notebook. The feedback from that video has been overwhelming, it's my most viewed video to date, and I have people asking me every week if I ever created my Spiritual Disciplines Notebook…
….well guess what? It's finally done and I've been using it now for several months and I am in LOVE!!
Want a Peek Inside?
I'll share the details and pictures below of what is inside each of my notebooks. But first I want to let you know WHERE you can find the notebooks!!
You guys have been asking me for MONTHS to release these (they were done in October ?). But I just haven't had the time to get these all ready. But they are ready now!!
And because you were so patient in waiting, I am launching them for one week for a super special price!
SALE Ends Monday Feb. 5th!
You can buy each individual notebook for $7.99 a piece. The fabulous thing is that once you own the digital file, you can print the notebooks again and again as you want. If you want all 5 notebooks (which you should) then you can get them all for $29.99.
But in celebration of the launch week, you can get ALL 5 notebooks for just $24.99 making them all about $5 each. And you can print them again and again for personal use. So once you fill up a notebook, print out a new one and you are good to go.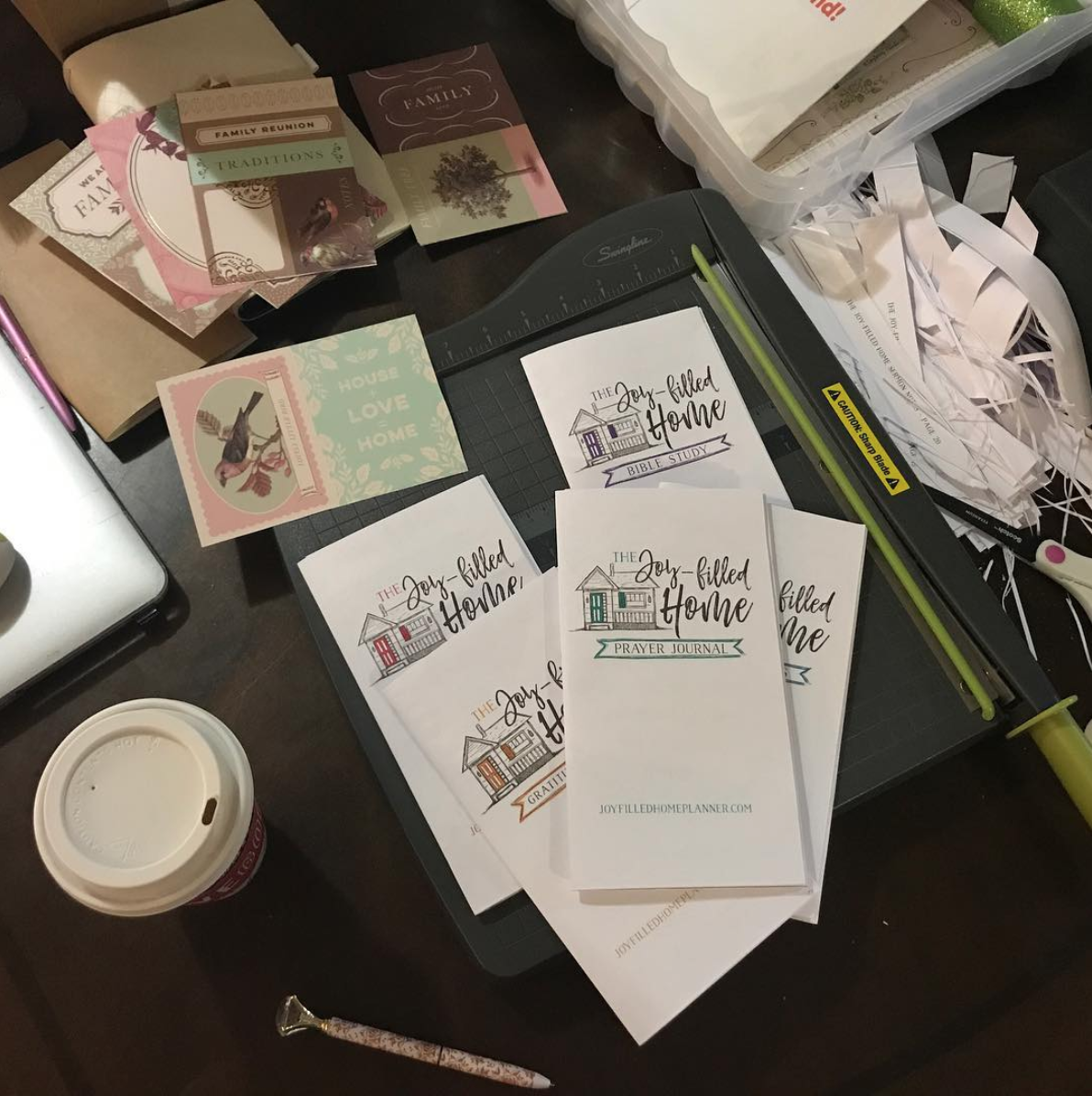 So with one initial investment up front, you get to use them again and again for life!
Find out more and grab your notebooks here!
But hurry – the sale ends Monday February 5th!

Gratitude Journal Notebook
This was the very first notebook that I decided I needed. I knew that I needed to be more thankful and turn that praise back to God more. But I was struggling to do that.
So I found the idea of creating a Gratitude Journal. You write down one thing each day that you are thankful for. The amazing thing is when you look back a month later, or a year later and you find things written that you don't even remember.
It becomes to easy to turn our heart and our praise to God when we see these laid out week after week.
Bible Study Notes
This is one notebook that I didn't even realize I needed. My Bible Study notebook has become one of my most used notebooks as I use it day in and day out. The blank format of the notebook allows you to use it with whatever Bible study you use.
You can use it once a week or daily as you read and study God's Word! You can use it to write down one key take away each day that you read (like I do) or use each page as an in depth Bible study page.
You can fill out a whole page a day, use one page per week (like I do), or set aside a few quiet evenings a month at your local coffee shop for some more in depth study.
Prayer Journal Notebook
How often have you told someone, "I will be praying for you" but then you go on your merry way and never remember to pray for them again? Sadly, this happens a whole lot more than I want to admit.
So this year I decided I was going to keep track of prayer requests more and get more serious with my prayer time. Using a prayer journal has changed the way I do this and has caused me to be deeper in my prayer than ever before.
You can use the sheets however works best for you. You can use one sheet per week to keep track of weekly prayer requests. Or use a single sheet for one person or family to keep track of prayers.
So I usually use a page per family/person/bible study. For example, I keep one page for my immediate family where I write down one prayer request for each person for that week/month. I also use a different sheet to record the prayer requests given at my bi-weekly Bible study.
This has allowed me to be more consistent and deep in my prayer life and it allows me to follow up and remember all those prayer requests that I want to follow up on!
Scripture Writing Notebook
One of the best ways to meditate more on God's Word is through Scripture Memorization or writing out passages of Scripture. With the Scripture Writing Notebook, you can do both easily!
The notebook comes with lined pages so you can either write out passages of Scripture or use it to write out and memorize passages (or both)!
I like to take key verses from my Bible Study time and write them out/memorize them in this notebook.
Sermon Notes
This notebook has taken me by surprise with how handy it is! I bring my journaling Bible and my Spiritual Disciplines Notebook with me to Church. I love writing out my notes during the sermon but it's so easy to then lose those notes.
I love being able to review week after week of my sermon notes, I can reference something my paster said or a passage we covered from weeks before. I can flip over to my prayer requests during the sermon to write something in.
It has helped me to stay focused and go deeper with my sermon notes.
On Sale for a Limited Time!
I started playing with these Spiritual Discipline Notebooks myself about two years ago. I got blank notebooks and tried to make my own with a ruler and a pen. But it quickly became too much work and I would abandon a notebook in the middle because I didn't have the time to create them again and again.
So that's when I decided that we needed to make a digital file that I could just quickly print and use! And that's how these beautiful notebooks were born. I've now been using this system for months and will never go back!
And because so many of you have been asking for these files as well, I decided to launch when with a super special SALE to celebrate! So for those of you who have been waiting for these notebooks, now is the time!
The sale ends at 11:59pm EST on Monday February 5th.
Find out more and grab your notebooks here!

FAQ's
Q: I don't know the first thing about Traveler's Notebooks. Can I still use these?
Absolutely! Included with your notebook files, I have also given you a few tutorial videos to help you print out the notebooks and assemble them. It's not hard at all to start using them. I even give you links to all my favorite traveler's notebook covers if you want a new one (They are usually around $15-30 but you can use the cover again and again forever!).
Q: Do I have to use these as traveler's notebooks?
Nope! The files you are getting simply make these into mini notebooks. Feel free to make the notebook, carry it in your purse, stick it in your Bible, or put them all in a box. There's nothing magical about using the covers, other than it keeps everything in one spot.
But feel free to get creative and use these notebooks in any way you want!
Q: Do I need any fancy materials for these?
Nope! All you need is access to a printer and a pair of scissors! Seriously! There are a couple of tools that can help (like a paper cutter) but they are not essential. So as long as you can print these (which you can do at an office suply store) and a pair of scissors, you are good to go.
Q: What happens when I fill up a notebook?
This is the beauty of the system – when you fill up a notebook, all you have to do is print out a new one and swap them out. You will fill up and end all your notebooks at different times, and you can easily replace one at a time. This means you will never waste any paper or space and you will always have everything in one spot!
Q: Will anything be shipped to me?
No, this is a digital only item. You will receive access to download all the notebooks and a few tutorial videos on how to assemble your notebooks. I have also included some links for optional tools you can buy and where to find the TN covers.
Q: How many times can I print the notebooks?
The digital files are for personal use only. So if your friend, or sister, or mother wants some notebooks of her own, please direct her to JoyFilledHomePlanner.com where she can print her own!
But when you use it for personal use, feel free to print it as many times as you want! That's the beauty of this system! Once you fill up and use one of the notebooks, simply print it out again and replace it.
So with a one-time investment in the notebooks, you will have them forever to print again and again!