Join me for a FREE Live Workshop March 31st!
I am over the moon excited to announce a brand new LIVE workshop I will be hosting on Friday, March 31st! The best part (other than the incredible workshop itself you mean?) is that it's FREE!
Join me at 9pm EST (6pm PST) for a brand new live workshop called 5 Ways to Organize Your Time So That You Can Be a Rockstar Homemaker. And you can sign up for FREE here.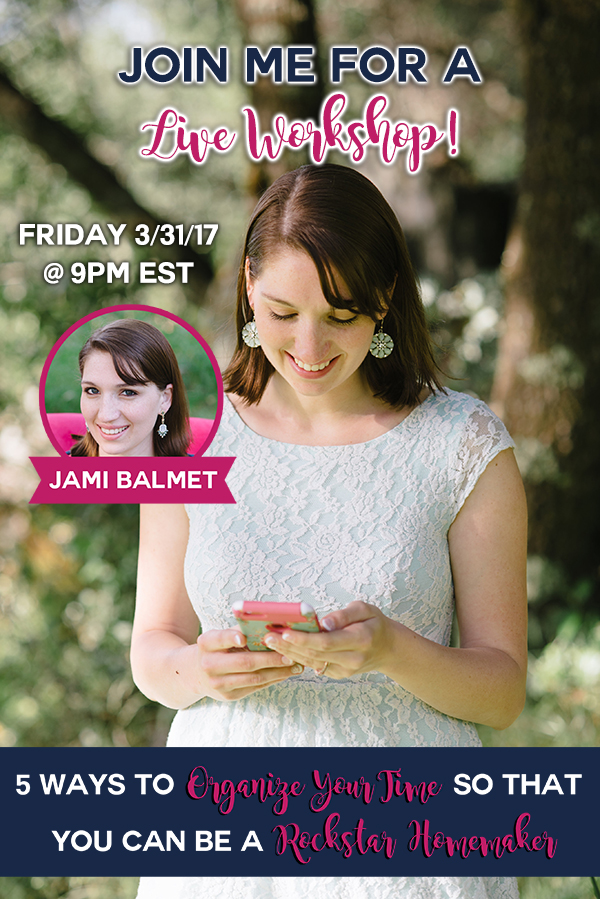 This live workshop is going to combine two of my very favorite things: learning how to prioritize and use our time better…so that we can find more joy in our homes!
It can be TOUGH as a busy wife, mom, and homemaker to find the time for all the things that are put on my plate every single day like the cooking, the cleaning, making my husband a priority, teaching my kids to read and potty train the younger ones, nurse multiple times a day, read my Bible, find a minute or two to prayer…and the list goes on.
Forget trying to do anything enjoyable like reading or scrapbooking. Often, my time feels so limited. And yet, I can run around doing twenty million things every single day…and still feel like I'm getting nothing done.
Am I alone? Or do you ever feel that overwhelming, crushing tick-tock of the clock? Do you get stressed out and frazzled at all you have to get done? Do you ever wonder how you can go from simply surviving in your home to actually thriving? Do you want to find a little more joy in your everyday?
Finding More Joy in the Everyday
That's exactly what we are going to be digging into and exploring in my live workshop coming up on Friday!
Together we are going to learn how to prioritize your time to put God and your family FIRST for greater joy and peace in your home. You guys – I am SO excited about getting to hang out live together and chat our way through these incredibly important topics.
In the live workshop we are going to cover:
How to set clear priorities for your day
The key to getting on the same page as a family
How to get more done and feel less stressed (Yes, please!!)
5 Tips for creating housekeeping routines that work
How to find more joy in the everyday
So come on over and join me on Friday March 31st at 9pm EST (6pm PST). And don't worry, if you can't join live, I'll be sending out a replay video for you to watch. So sign up anyway 🙂
(But try and get there live, we are going to be giving away some fun prizes!!)