Join me for a Facebook party? (And How I'm Growing in My Homemaking)
My next Facebook party is scheduled for Sunday night (woohoo!) These parties are always a blast filled with fun fellowship, free resources, and hundreds of dollars in homemaking giveaways. Read on down below for how to participate in the Facebook party…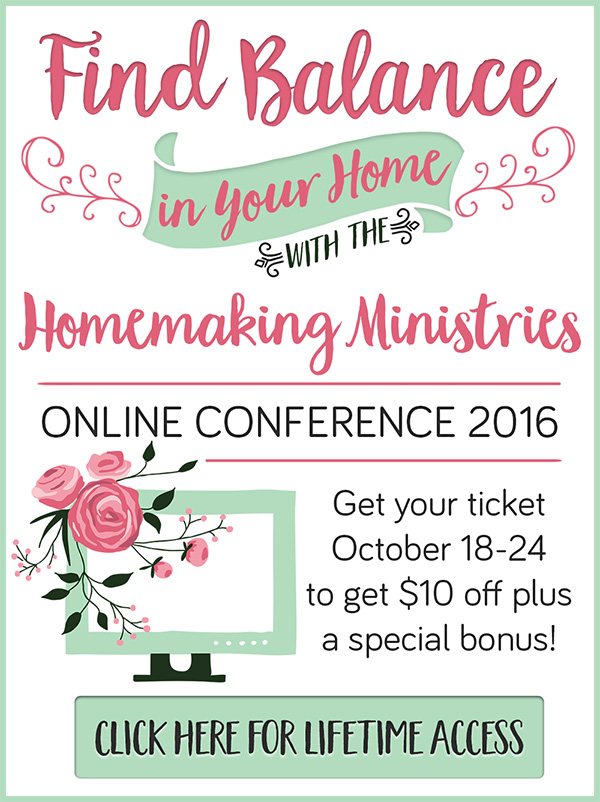 Before I jump into the Facebook party details, I want to remind you that you only have a few more days to pre-register for the third annual Homemaking Ministries Online Conference. When you pre-register you will get some amazing bonuses including my spiritual disciplines binder and a goal setting course and $10 off the ticket price! CLICK HERE to find out more.
Finding Balance in Your Home
Do you ever feel like you can't keep up with your housework? Do you struggle to find time for God's Word in your busy day?
Are you curious about healthy homemaking, natural cleaning, and how to fit it all into a busy schedule?
Or perhaps you simply want to learn a little bit more about what it means to be a homemaker who brings glory to God from within her home?
These are just a few of the sessions covered in the 2016 Homemaking Ministries Online Conference!
I have partnered with 16 incredible homemaking blogger and authors to bring you this life changing conference. If you want to become a more efficient and/or effective homemaker (or perhaps you just want a little encouragement and fellowship), would you pray about joining us for this 4 day, live event? (But all the sessions are pre-recorded so once they are posted, you can listen to them anytime, anywhere…forever!)
The conference is live October 24-28th, so don't wait to jump right in!
Find out more and sign up here >>

10 Reasons Why I Can't Wait for the This Conference
Because I've organized this whole conference, I've had the privilege to watch through all 20 conference sessions as the speakers have sent them in over the past few months and I was able to hand select the fun homemaking bonuses that you get if you pre-register for the conference!
Yes, I organized this conference, but every time I see one of the new features of the conference, I get all giddy and excited for it to start next week! Here are just a few things I'm really excited about.

1) A reminder to cultivate loveliness in the everyday
On the first day of the conference, MacKenzie from Bold Turquoise is helping remind us to cultivate a little lovely in every single day in her session. It's an encouraging and uplifting session and so inspiring. I can't wait to watch it again!
"Cultivating loveliness in our days is a work, mindset and pursuit to create a beautiful, splendid atmosphere within ourselves as well as the places that surround us. It is a way of interacting with others and creating a life that draws us closer to God along with our families, friends and others we encounter."
2) Private Facebook Group for Encouragement
Throughout the conference (and starting now in our pre-party) all the attendees and speakers have access to a private Facebook group. When each conference session starts (you can see the full schedule HERE) the speaker will be available in the Facebook group to chat, share resources, give encouragement, and answer questions! This group is going to be such a source of encouragement – I can already feel it and gives the conference a really nice "live" feel to it.
3) Access to my brand new course
This is where things get exciting! When you purchase a premium ticket (see the ticket differences below) you will get immediate access to my brand new course: Goal Setting for Greater Balance and Purpose in Your Home. It's a new course I developed to help you better set priorities and goals within your life and homemaking.
And it's my very favorite course I've ever made! Here's a little sneak peek into the course:
This course will normally sell for $30 on it's own!
But you can get it for FREE when you purchase a premium ticket to the conference. You will also get access to the goal setting workbook. It's a pdf guide you can download to walk you through the five main lessons:
Designing a life you love
Developing your priorities and creating a family mission statement
Setting SMART goals
Breaking down those priorities and goals into bite-sized pieces
Planning and goal setting with grace.
The workbook also contains printable worksheet pages to help you set goals, plan priorities, track habits, and more!
4) It's fully online
I designed this conference with bus homemakers in mind! So each and every session is online and you can view it from your living room, office, kitchen while you cook dinner, where ever.
And once each session goes live October 25-28th, you have access to it forever! So if you can't watch live with us, or miss some sessions in your busy day, no worries. Come back and listen whenever you can. Even if that's in 6 months!
5) Biblical encouragement and wisdom
Okay, I am really really picky when it comes to the speakers for these conferences. I hand select each speaker and am very careful about how I pick. I want to make sure that each speaker is going to bring practical and hands on help…but more importantly, I want to make sure they are treating God's Word accurately.
I want to make sure that the conference is a safe place to get built up and encouraged and that we are all pointed back to Christ with each and every session, conversation, and throughout the week. And the speakers, themes, and sessions for this year are no exception!
Yes, some of the sessions are more practical (such as balance in meal planning) while other sessions are more spiritual in nature (like balance in memorizing Scripture) but the whole conference overall is geared towards helping all of us glorify God more and more within our days.
6) Start with Baby Steps
If you are feeling overwhelmed in your home or just need a little encouaragement or direction, then this conference is for you. Each and every session will address different aspects of finding balance in your home and it all comes back to glorifying God within our homes and making sure that we are focusing on the right things in our days.
In her session, Kelly Smith from The Nourishing Home shares 10 baby steps you can take for healthier eating. Here's a sneak peek of her awesome session:
7) Spiritual Disciplines Binder
As an awesome bonus, when you purchase a premium ticket to the conference by October 23rd, you will get access to my digital spiritual disciplines binders.
You get to pick from two different designs. The binders have everything you need to keep track of your daily Bible reading, prayer requests, sermon notes and more! Just print out the pages you want (or the whole thing) and use this powerful tool to help you draw closer to the Lord.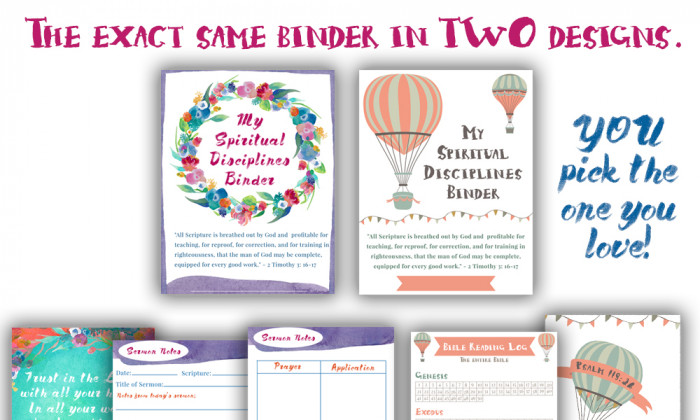 8) The Encouragement to be "real"
It can be really discouraging sometimes to browse through Pinterest and Facebook and see all those other homemakers who seem so perfect. Those homemaker's who seem to have it all together – the perfectly clean house, the well behaved children, perfect homemade brownies…and she's in a beautiful dress and heels to boot!
Deep down I know this isn't realistic. And I'm working on being more real in my homemaking, but it can still be discouraging. So come join our conference and private Facebook group. We don't have it all together…we don't have all the answers…and we are definitely far from perfect. But in our imperfections, we can encourage one another on to glorify God in our homes…even if the sink is full of dishes and you just don't have it all together. In fact, if you do have it all together, this probably isn't the conference for you!
9) A Conference Notebook with Outlines & Notes
I'll be honest, as a busy homemaker, I don't have hours to sit down, watch sessions for hours on end, and take beautiful notes. So we've made it easy for you! Included in your conference ticket, you will get a PDF conference binder that you can print out or pull up on your computer, phone, or tablet that has outlines for every single session as well as places for notes. The notebook makes it so easy to follow along and remember key points and resources for later!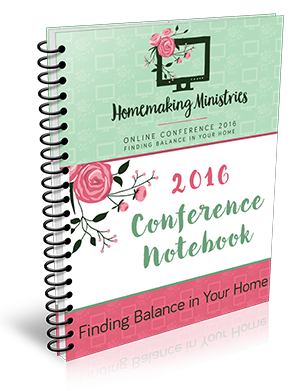 10) The Opportunity to Hone My Craft
If I am going to grow in my homemaking skills, I know that I have to be really intentional. If I don't choose intentionally invest time and resources into growing as a homemaker, I never will! It doesn't just happen by accident, it takes forethought, planning, and hard work!
"Caring for your home and meeting the needs of your family are ministries. If you choose to marry, God has given you a special assignment. Keeping a home not only requires time, energy, and creativity, but it also calls for skills and experience. I believe homemaking is an art, and to pursue the development of any piece of art demands time and talent." – Kelly Patterson
In this busy season of having little kids, I really don't have any extra time to develop a homemaking plan on my own. I have every intention of getting housekeeping schedules down, practice hospitality, and teaching my kids how to do chores…but it just doesn't seem to happen. Anyone else ever feel like this?
Maybe I should have done this top 10 list backwards because I think this is the most important one! This conference gives me the opportunity – and all the tools I need – to transform my homemaking starting today!!
So I ask once again, will you pray about joining us? I don't want you to miss out!
You can find out more about the conference HERE and pre-register before it's too late! When you pre-register by October 23rd, not only will you get $10 off your ticket, you will also get my spiritual disciplines binder and other bonuses!! But hurry…pre-registration is only open for a few more days!
Find out more and sign up here >>

Join me For a Facebook Party!
In celebration of our homemaking conference, I'll be hosting a Facebook party on Sunday night (October 23rd) from 8-10PM (EST)!! If you haven't participated in one of my Facebook parties in the past, it's a BLAST! It's 2 fast paced, fun packed hours with fellowship, free resources, and $100's in giveaways!!
All you have to do is come on over to RSVP and mark your calendar for October 23rd at 8pm EST. The party will be hosted over on my Facebook page and all you have to do is show up with a cup of coffee and get ready to party! Sit in your jammies, grab a cup of coffee, and get ready for a girl's night party!