How to Make Homemade Elderberry Syrup (A Video Tutorial)
My favorite go to item for cold and flu season is homemade elderberry syrup! It takes just a few minutes to make and then you will have a new best friend for battling the flu and for daily preventative measures.
Today I'm going to share how to make elderberry syrup, where to buy your ingredients, and how it can help!
"This easy elderberry syrup combines the powerful antioxidant properties of elderberries with the warming spice of cinnamon and ginger. Add a dollop of raw honey and this syrup will help give your immune system the support it needs." – Bulk Herb Store
An Elderberry Syrup Tutorial
I have a brand new show on YouTube called Baking with Jami and this is my second episode. Watch my video below for the full tutorial! Don't forget to subscribe to my YouTube channel so you never miss an episode.
Where to buy pre-made syrup
If you have already been hit with sickness and need something right now, or elderberries are sold out, or you just don't have the time…then there are some good pre-made options for you that I have utilized in the past. When looking at your local stores, just make sure to check ALL ingredients! Many of them contain sugar (horrible for your immune system) or other icky ingredients:
Where to buy whole elderberries
This has been the trick the past two years – finding whole elderberries. There has been a shortage and they've been scare. I ordered mine in August this year so in preparation for next year, I advise that you order EARLY! Here's where you can find them:
Azure Standard (cheaper per pound! My personal favorite place to shop)
How to make elderberry syrup:
Ingredients needed:
4 cups water
2 cups dried elderberries
1 cinnamon stick (or 1 tsp ground cinnamon)
5 whole cloves
1 tsp dried ginger root
Raw honey (about 2 cups)
Directions:
1) In a small pot over medium heat, stir together all ingredients except honey and bring to a boil.
2) Reduce heat to a simmer for 40-50 minutes.
3) Remove from heat and mash berries with a potato masher to squeeze out all the juice.
4) Strains the berries and herbs out with cheese cloth or a very fine mesh strainer.
5) Measure the liquid left and then add equal parts honey. If the liquid is still warm, stir the honey in until it dissolves. If the honey won't dissolve, put the liquid back on the stove and gently heat until honey dissolves (don't boil).
6) Store the syrup in a glass air tight jar in the fridge. It will last several weeks to a few months if stored properly.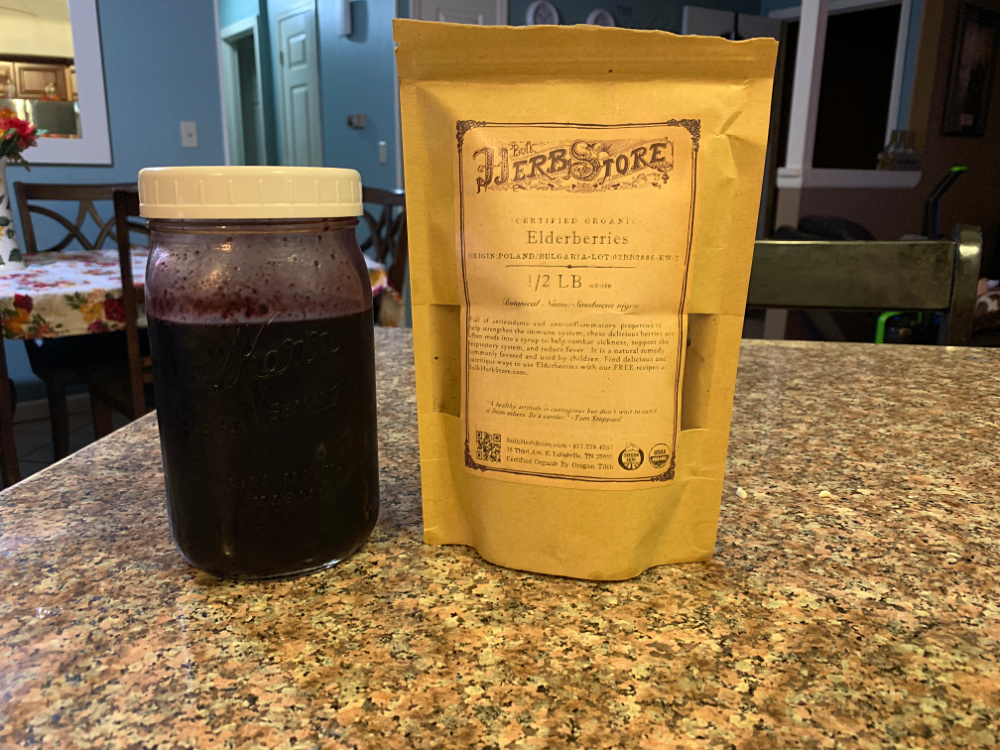 The Dosage:
During the flu a conservative estimate would be to take 2-3 tsp up to four times a day. For preventative measures, we take 1 tsp a day throughout sickness season. You can find out more about Elderberries and the dosage here.
*DISCLAIMER: This is for educational purposes only. This information has not been evaluated by the Food and Drug Administration. This information is not intended to diagnose, treat, cure, or prevent any disease.