Making our child's education FUN & exciting (not just for homeschoolers!) – Episode 37
This is a fun and (hopefully) inspiring episode. Whether you find yourself homeschooling or supporting your child's education while they attend another form of school, one thing is certain, moms play a vital role in their children's education. I want to inspire a love of learning in my kids that lasts a lifetime. So in this episode, we are going to talk about ways we can make their education fun AND exciting. Instead of chiding you to do more, I am going to encourage you to approach it all from a place of rest. Let's jump in!
Listen to the Podcast:

You can find all the links and notes for this episode below!

Right click here and save-as to download this episode to your computer.
How to make school so much more fun and exciting
1. First thing to remember – you don't have to be a crafty Pinterest queen mom to accomplish this.
2. Ditch the Textbooks that aren't working
Education is so much more than a textbook
think outside the box with things like math. (Simple Charlotte Mason offers a really cool 1 year math program that teaches math through the kid running a fictional pet shop! So cool!!) They offer a pet store edition, book store edition, and sports store edition. Grades 3-6
Ideas: Ditch the science textbook and drive four hours and spend time at the tide pools.
Ideas: Buy the kids some kites ad spend time learning about real world gravity and how things fly.
Ideas: Ditch the astronomy textbook, let the kids stay up late, make some popcorn, and lay out under the stars identifying constellations.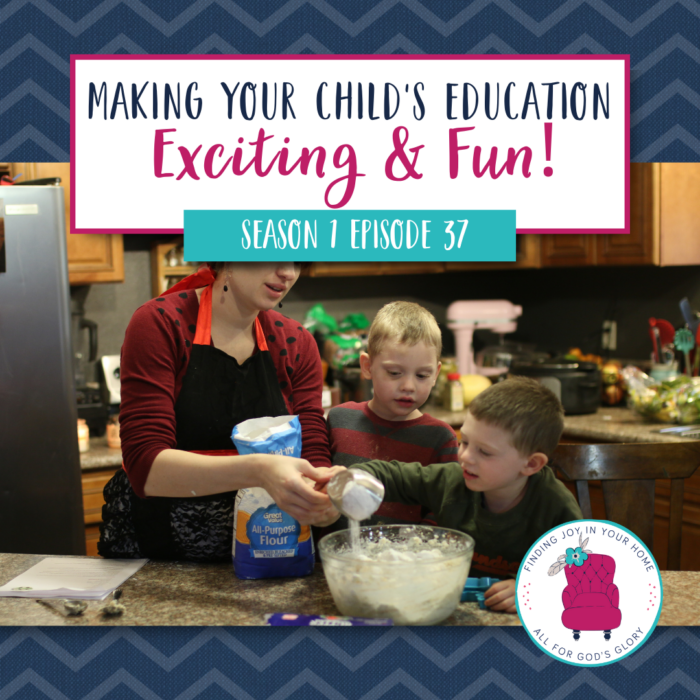 3. Let each kid choose an area of interest
This year I have a kid who wants to learn all about wood working. And another child who wants to learn how to fly a plane.
4. Other good skills are educational too
Our cooking experiment
A dad taking his kid along on his construction sites
Our Christmas present to the 4 older boys this year: their own tool sets to build a playhouse with their dad
Links & Resources:
Our sponsor: Need help with your meal planning? Let PrepDish do it for you – they are giving you 2 weeks for FREE. That's 2 full meal plans for free. Sign up here.
Our sponsor: Get $130 off plus free shipping at GreenChef.com/homemaking130 and use coupon code: homemaking130 at checkout!
Join our FREE community here: FindingJoyCommunity.com