Does my "Quiet time" need to be first thing in the morning? – Hf #83
Most of us know that we should be reading God's Word. We want to work it into our schedule, but some days it just feels so overwhelming.
Maybe you don't even know where to start. Or maybe you are asking "does my Bible reading time reallllllly need to be first thing in the morning?" Someone else had that same question as well. Today on the podcast I'll be covering that – as well as other tips for your Bible reading time.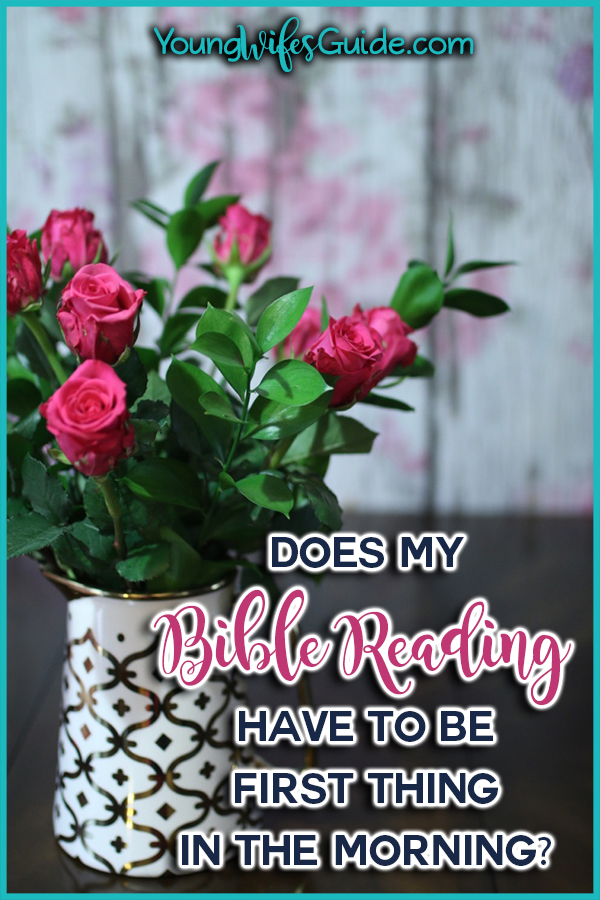 Listen to the Podcast:

We also recorded this blog post as an audio podcast. If you want to listen in instead of reading, click play below or do a combination of both

And don't forget to subscribe to the podcast in iTunes.

Right click here and save-as to download this episode to your computer.
A couple of weeks ago I got this question from a reader. As I started writing her back, I was thinking about how much I can resonate with her feelings on this topic. And I realized that I am probably NOT alone (and neither is she) in this. So I decided to address it here on the blog and podcast. Here's what she asked:
"Hello! I am a mother to a one year old and currently pregnant again. I was 27 before I had my 1st child so I had many years of working and time prior to around the clock responsibility (children). So I had many years with morning quiet time with God almost daily and of course I walk with him through my day. I just have this perfectionist gene in me that says I must have 1st thing in the morning quiet time with God before all else. I just do not know if I should be attempting to get up before my son to have quiet time or continue to do it during his nap time.

It's been a difficult adjustment for me because I do feel like it has to be done 1st thing in the morning. I can't seem to feel like I ever have enough time with Him now though and it's always interrupted or while strolling a baby etc. It's been such a hard adjustment. I'm terrified of what it will be like when I have the next baby. My one year old just started sleeping. I don't know if I need to make different efforts or need to stop being a perfectionist but I don't want to not grow in my faith and knowledge of God or be stunted by the motherhood season as I need him even more during it. Any advice??? I'm a horrible multitasker!"
Most of us have a picture of what the "ideal" Bible reading time and place is. We might picture first thing in the morning with a cup of coffee and an hour and a half devoted to deep study. Others might picture the ideal place being out in nature, hearing the birds chirp as you dig in. For me, it would be in a huge leather chair by the fire in my own personal library with hours of time to dig in, study, and take notes. Aaah – that sounds so lovely.
While we may every once in a while get time like these "ideal" situations, it doesn't happen often. In fact, I've been no where near any of these ideals since having kids. So what's a busy mom to do? What does our Bible reading time need to look like?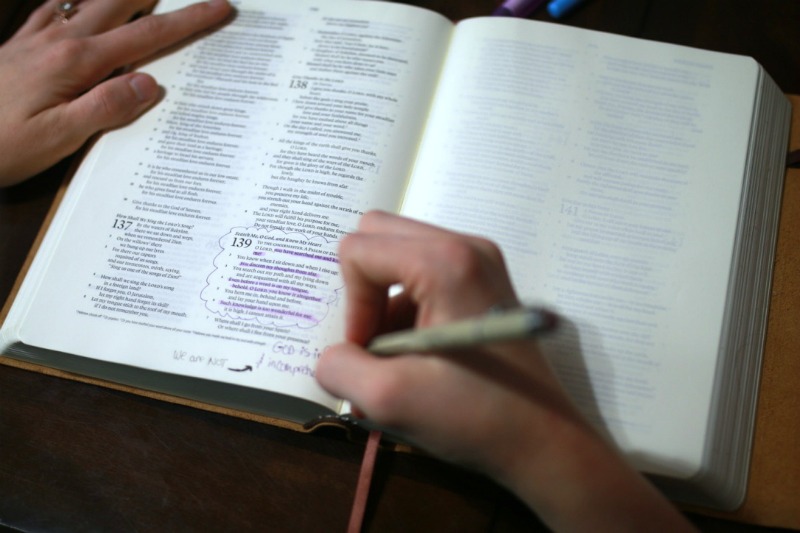 What Does God's Word Say About Reading God's Word?
I know you might be tempted to skip over these verses – especially if you've read them before. But I encourage you to keep reading through them because they are going to establish our basis for our conversation today. (PLUS this talk today is about how to get in God's Word more – so here you go!!).
"This Book of the Law shall not depart from your mouth, but you shall meditate on it day and night, so that you may be careful to do according to all that is written in it. For then you will make your way prosperous, and then you will have good success." – Joshua 1:8
"But he answered, "It is written, "'Man shall not live by bread alone, but by every word that comes from the mouth of God.'" – Matthew 4:4
"For whatever was written in former days was written for our instruction, that through endurance and through the encouragement of the Scriptures we might have hope." – Romans 15:4
"With my whole heart I seek you; let me not wander from your commandments! I have stored up your word in my heart, that I might not sin against you." – Psalm 119:10-11
"But his delight is in the law of the Lord, and on his law he meditates day and night." – Psalm 1:2
"I have not departed from the commandment of his lips; I have treasured the words of his mouth more than my portion of food." – Job 23:12
Did you catch that? Job was saying that God's Word was more treasured, more special, to him than his portion of food for that day. Is God's Word more treasured to you even than your morning coffee? OUCH! That's convicting to me!
"You shall therefore lay up these words of mine in your heart and in your soul, and you shall bind them as a sign on your hand, and they shall be as frontlets between your eyes. You shall teach them to your children, talking of them when you are sitting in your house, and when you are walking by the way, and when you lie down, and when you rise. You shall write them on the doorposts of your house and on your gates, that your days and the days of your children may be multiplied in the land that the Lord swore to your fathers to give them, as long as the heavens are above the earth." – Deuteronomy 11:18-21
"So faith comes from hearing, and hearing through the word of Christ." – Romans 10:17
There are of course other references in Scripture we could study. We could spend a month just studying this topic. But the important thing for today's study is trying to figure out what it looks like to study God's Word. So did you catch that? In those references, did you catch the perfect, ultimate guide and transcript to reading God's word?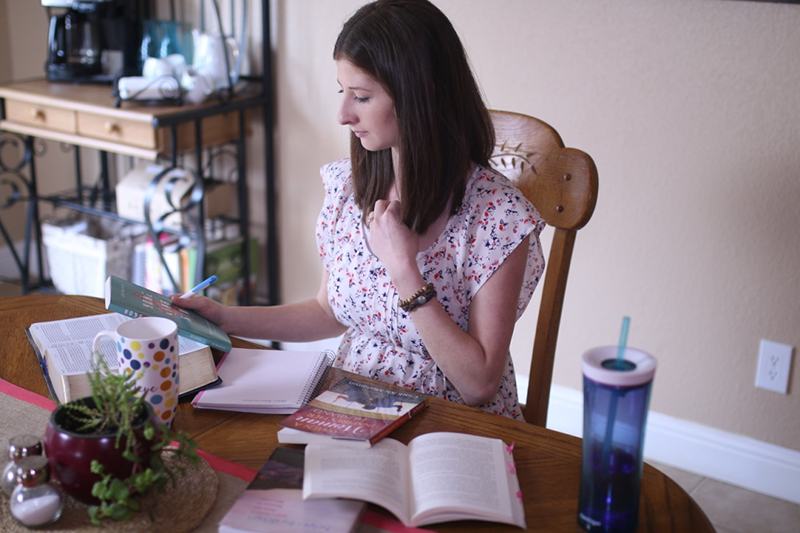 Oh? You didn't? Oh yeah, that's right. It's because God's Word doesn't give us one specific way or method to study His Word. Yes, he commands us to be IN His Word and to learn it more and more with each passing year. We are to store it up in our hearts. To meditate upon it, and to love it.
But there's no specific way to read God's Word. So that's the first thing you have to remember: God doesn't command us to study God's Word in a specific way. It doesn't HAVE to be first thing in the morning, or last for an hour, or follow any specific Bible reading plan.
God gives us the freedom to dig into God's Word however it works best for us. Yes, it's hard work some times. And yes, it always takes discipline. But the goal is to simply hide God's Word in our hearts more and more.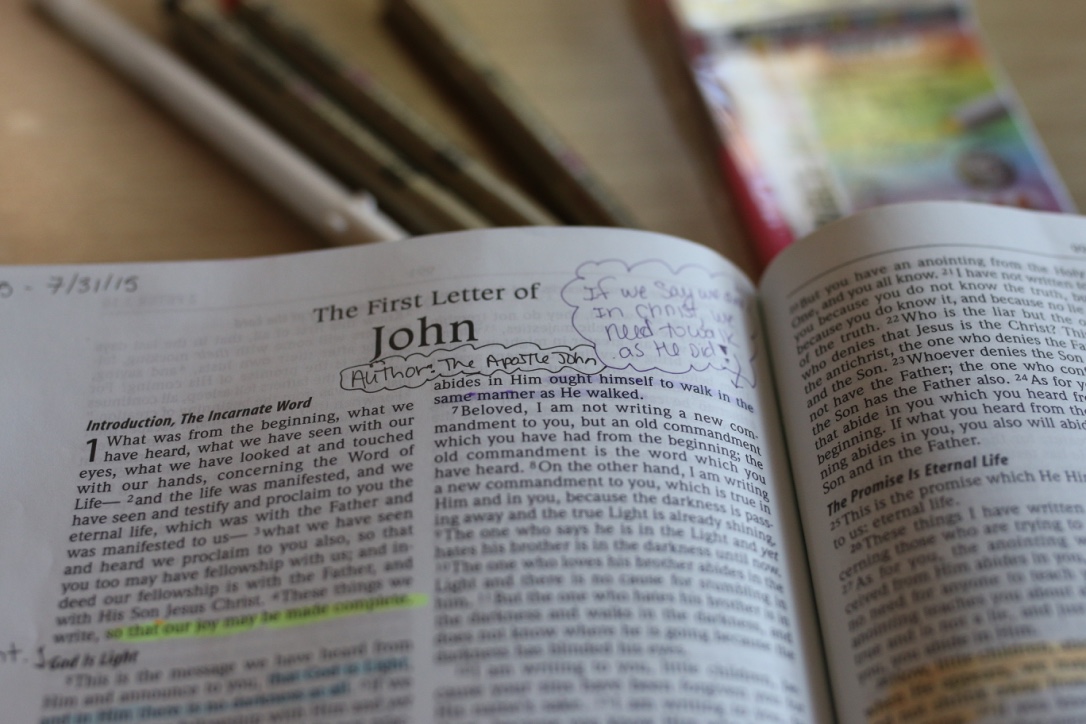 STOP being a perfectionist
Especially as busy moms, we HAVE to kill the perfectionistic tendencies. I know this gets to me as well. I listen to the Bible out loud while I'm half distracted making breakfast. I miss an entire sentence or two while my 2 year old screams at his brother. I lose focus and am too tired to pay attention.
So I wait. I procrastinate. I push off my Bible study time because I'm waiting for that perfect time to come up. Or I delay listening to the Bible out loud on my phone because I would really rather wait until I have my physical Bible open with 4 highlighters and my journal open. So I wait. I procrastinate.
We get it into our head that our "quiet time" has to look a certain way. But all that thinking is going to do is lead us to feeling overwhelmed and defeated.
Do I wish that I had more time in this season to study God's Word? You bet.
Do I miss my college days when I spent hours in the classroom studying God's Word? And all my weekend doing my Hebrew homework, learning how to read the Bible in it's original languages. Yes – often.
But I am also so thankful for the sticky kisses, the snuggles on the couch, the joy of watching my two year olds swing on the swings, and the sheer excitement of my four year olds learning to write their own name. God has blessed me so abundantly in this season – but it sure is a busy one.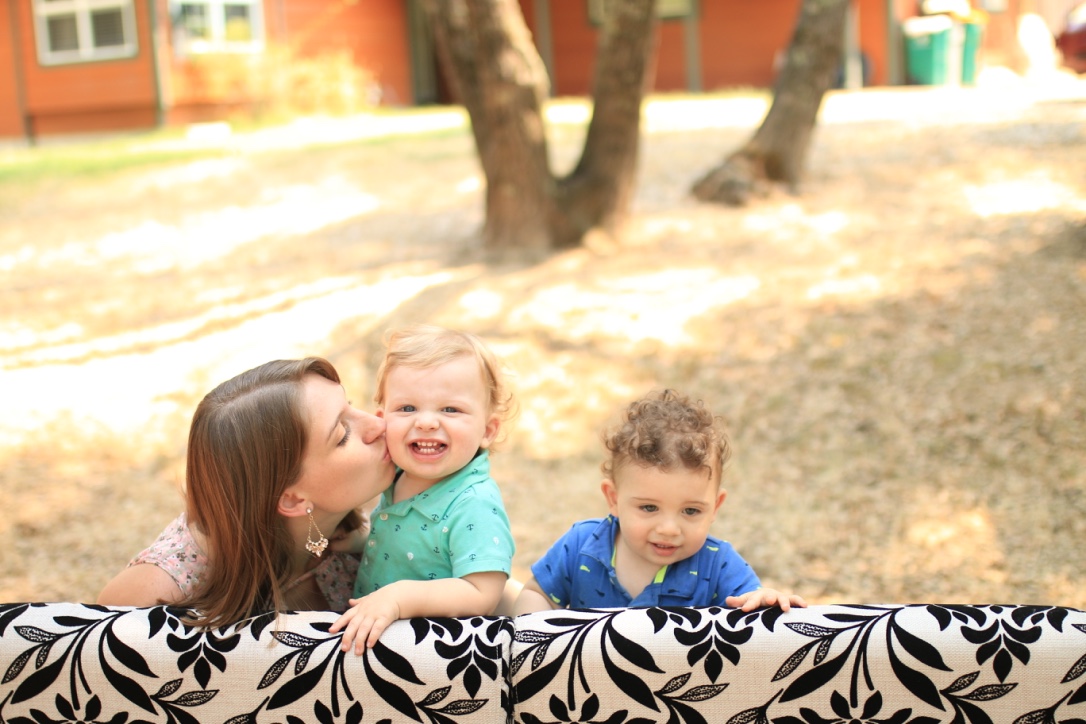 God knows the season I am. God sees the exhaustion. And he's going to give me the grace, the wisdom, and the courage to get through this season. Even if that's one Bible verse at a time or 5 minutes here and there.
Don't fall into the perfectionistic trap that it HAS to be all or nothing. Because, it will end up being nothing. (Side note: I just listened to a great podcast episode by Katie Orr called Say Goodbye to Perfectionism that you should listen to if you struggle with this.)
When You Don't Have Enough Time
Whether you have just become a Christian during this busy time or you used to spend HOURS studying God's Word and now can barely keep your eyes open for five minutes at a time…the struggle is the same.
You might be feeling frustrated that you just can't find enough time in God's Word. Or you feel annoyed that these little people keep interrupting you. I want to encourage you: That's very very normal in this season of life. You are not alone in this struggle at all. ALL of us struggle with this same thing in varying degrees. (See the next point about comparing yourself to others.)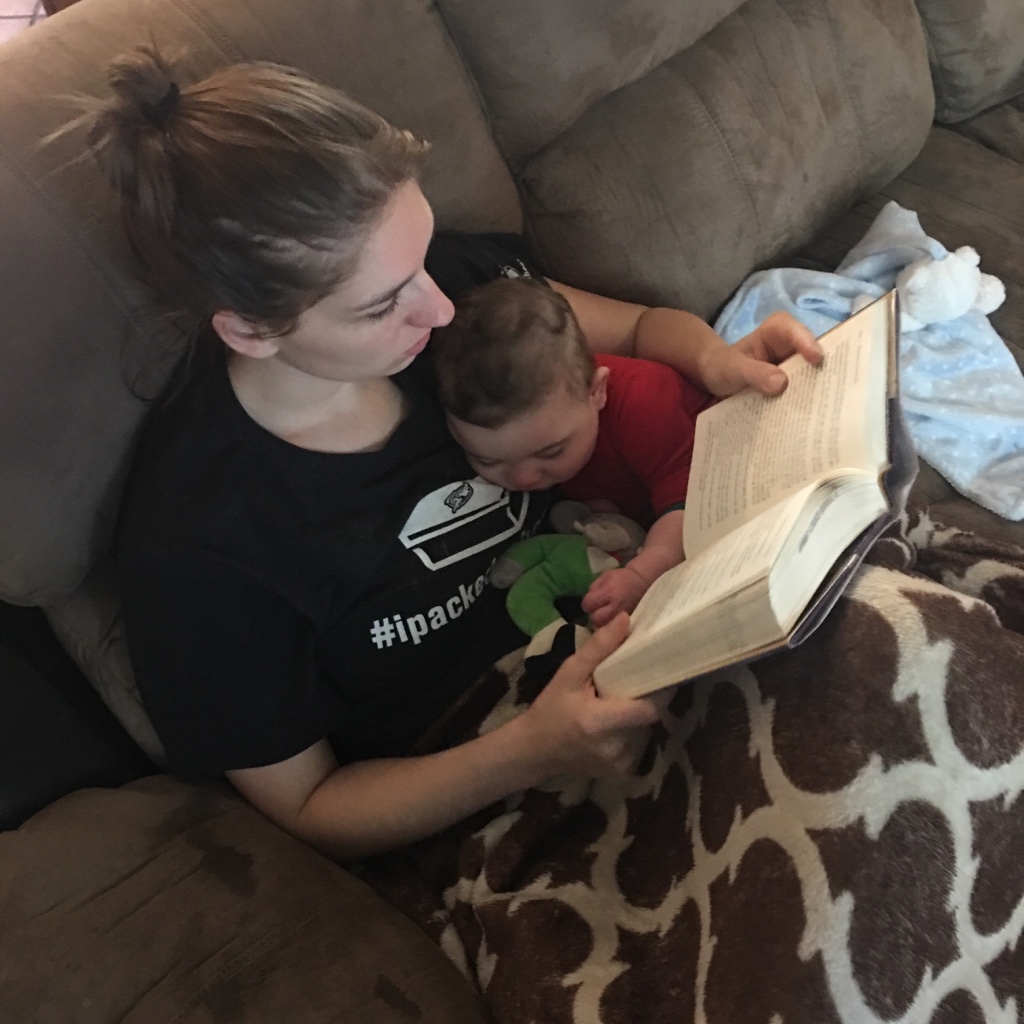 So first, recognize that there is nothing wrong with you. I admit, I do struggle with laziness sometimes when it comes to my Bible reading. So there are days when it comes down to a laziness issue for me and I need to repent of that. Other days though, it's simply the season of life that I'm in.
So cling to Christ in any way you can during these tough days. Did you just have a newborn and you can't keep your eyes open? Play some hymn or worship music. Have your husband read a few verses out loud to you. Soak it in a tiny bit at a time.
And leave the rest to God. He knows and He sees all that you are going through. There is the parable of the old widow in Mark 12. She brings her offering of two small coins, because she literally has nothing else. Meanwhile the rich people were putting in very large sums of money into the offering. And Jesus calls his disciples together and tells them that this poor widow has contributed much more than the rich people because she is giving out of her poverty.
So be like the poor widow. Give God 2 minutes. Give to him out of your poverty of time. Seek Him in these tiny moments because God knows you are giving out of your poverty and he will richly bless that time. God can use those 2 minutes, when done with the right heart attitude more than 3 hours of focused "study" that is born out of a wrong heart attitude.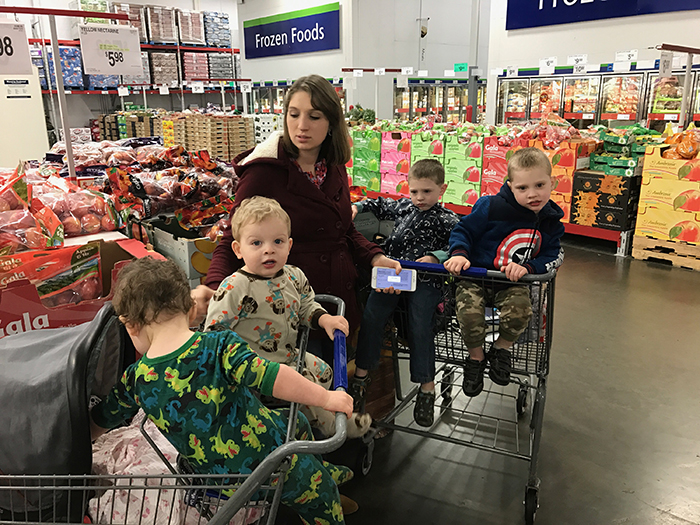 DON'T compare yourself to others
I got a comment from someone earlier this week that has learned the valuable lesson of not comparing herself to other's and their faith journey. She said that she follows several popular Christian bloggers but always feels dwarfed by their faith and knowledge.
And I get that. I really do. It can feel overwhelming and intimidating when we see other Christians who seem so much farther down the path than we are. I sit in my weekly Monday Bible study and listen to women who pour and gush about everything they got out of that week's text and the hours they got to study it. Meanwhile I'm sitting there thinking I was really really lucky to get to read the text through once.
It can make us feel like we are not good enough and that just leads to feeling more overwhelmed and discouraged. So please don't compare yourself to your best friend, or that women in your Bible study, or a blogger that you follow. God teaches us all in different ways and we all have our own unique family situations.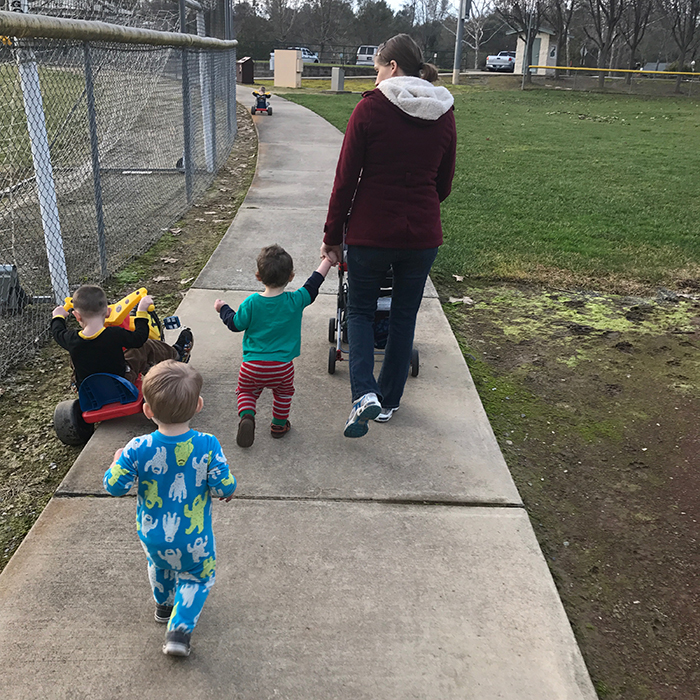 Stunted by Motherhood
The thing that stuck out to me the most from my friends email above, is her last line. "I don't know if I need to make different efforts or need to stop being a perfectionist but I don't want to not grow in my faith and knowledge of God or be stunted by the motherhood season as I need him even more during it."
The Christian walk isn't ultimately about storing up knowledge. Yes, I am a very firm believer that we need to study God's Word and come to know him more and more. But ultimately, the growth comes through no effort of our own. It is the Holy Spirit working in and through us. And we have to remember that.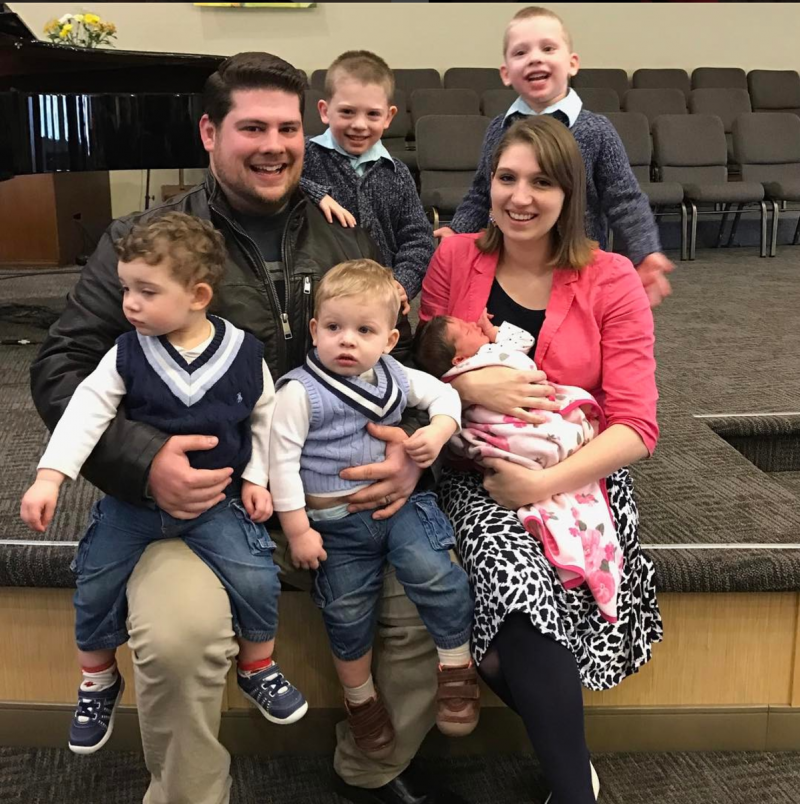 This season of motherhood will only "stunt" us if we are not seeking after God. You may not have an hour to study every day. You may not even have 10 minutes. But you can still seek after the Lord. Whisper to Him throughout the day, asking for strength, for courage, for wisdom.
Leave Bible's open out throughout your home and read one verse at a time. Fill your home "with addressing one another in psalms and hymns and spiritual songs, singing and making melody to the Lord with your heart" (Ephesians 5:19).
Meal Planning Help:
I am really excited to share with you the sponsor of today's podcast episode: PrepDish! If you ever feel like you wish you had a little help in your meal planning, then I highly encourage you to check out PrepDish. They offer gluten free meal plans and paleo meal plans.
But you don't have to eat a gluten-free or paleo diet in order to take advantage of all that PrepDish has to offer! In fact, almost half of their customers don't eat those diets. The meals are healthy and non-processed and work well for anyone who is trying to eat a healthy diet. And PrepDish is offering a super special TWO week free trail when you sign up through this link (how awesome!!)
When you sign up, you'll receive an email every week with a grocery list and instructions for prepping your meals ahead of time. After only 1-3 hours of prepping on the weekend, you'll have all of your meals ready for the entire week. I absolutely love how easy they make it.