The Essential Ingredients of a Thriving Home (NEW LIVE Masterclass)!!
People ask me just about every day how I manage my time. With five kids four and under, and running our ministry full time as a family, it takes a lot of balance and juggling to manage it all.
If you hop on over to YouTube and watch our Week in the Life videos, you will see that we clearly don't have it all together. And I often spend a lot of days in my pajamas, with no make up on, and always one step behind the messy floors and piles of laundry.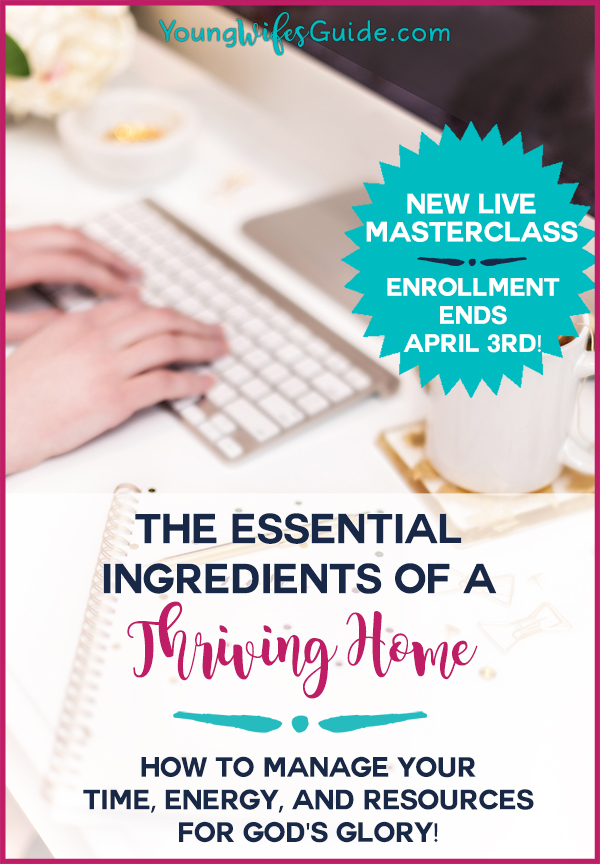 The truth is, life is sometimes messy and all over the place. My days are loud, chaotic, and often overwhelming. But over the years, through a lot of trial and error (and failure), I've figured out some systems and tricks in my home to help me manage this crazy life – and find more joy in the everyday.
Through thousands of emails and weekly discussions with women, I've found that there is a lot that can stress us out and overwhelm us when it comes to our homes. These things include:
Deep cleaning (especially with little kids underfoot)
ALL THE CLUTTER
Feeling so overwhelmed by everything that you get so paralyzed you can't do anything!
Finding balance between getting things done around the house and spending time with husband/kids
Always feeling behind on housekeeping things that are cyclical like laundry and dishes
Making time for ME
Balancing things like: meal planning, finances, organization, meeting my husband's expectations, not feeling good enough, comparing myself to others….
….and the list goes on!
If I'm honest, each and every one of these things has caused me an immense amount of stress in my life and can suck the joy right out of my home.
So, what's a Gal to do?
I've often thought in the past that the secret to getting everything done on my list was to just work harder and schedule my time down to the minute…so that I could fit 700 things into each day.
The thing is – life is unpredictable. Things come up. Kids get sick. Our schedule gets derailed and we are left feeling overwhelmed, defeated, and in utter survival mode.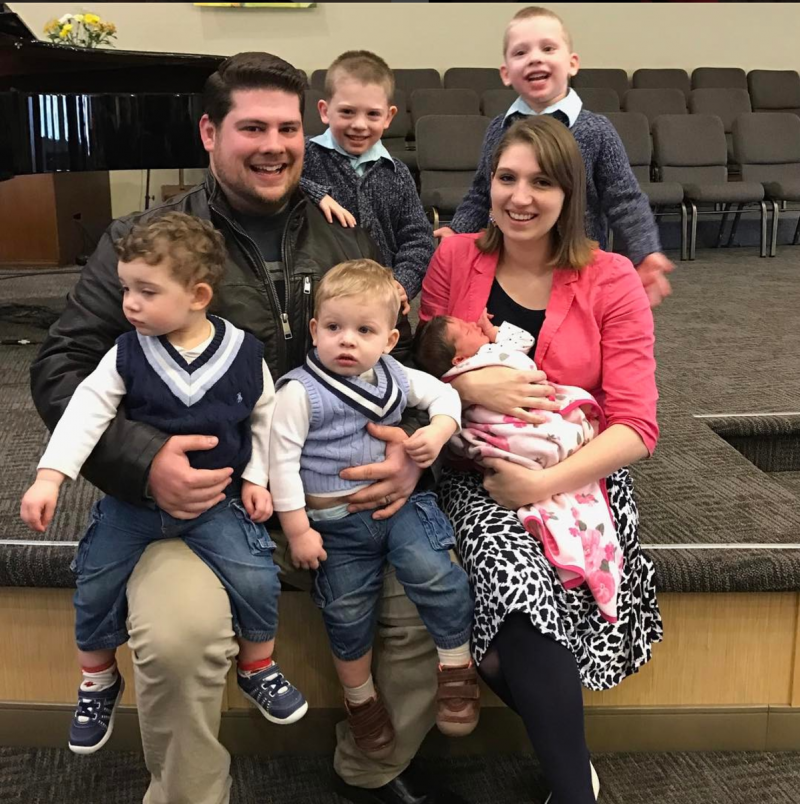 In reality, we CAN'T do it all. We would like to think we can. We would like to think of ourselves as super woman…until we are confronted with the crushing realization that we can't. We can't balance it all, and if we keep piling our plates higher and higher, trying to do more and more…we will utterly burn ourselves out.
Maybe you are already there. After years of piling too much on your plate, you are done. Overworked, overwhelmed, and STRESSED.
I get it. I really really get it. I've been there so often in the last few years. And I know that in the middle of those overwhelmed moments, it can be so hard to know what to focus on next or work towards.
I have so often been left grasping for direction and motivation in my home. Have you ever been there?
I know you have because I get emails every single day from stressed out and overwhelmed women. And so often, I end up repeating the same advice over and over again or sending the same podcast episodes out trying to help.
But what they so often need, is a step by step process for setting better priorities in their day and creating manageable routines. That's why I am SO excited to share with you a LIVE MASTERCLASS that will be happening in April and May in our private community for My Homemaking Mentor.
Join our new LIVE Masterclass
The Essential Ingredients of a Thriving Home – How to Manage Your Time, Energy, and Resources for God's Glory will be a LIVE masterclass inside our community that will take place twice a week.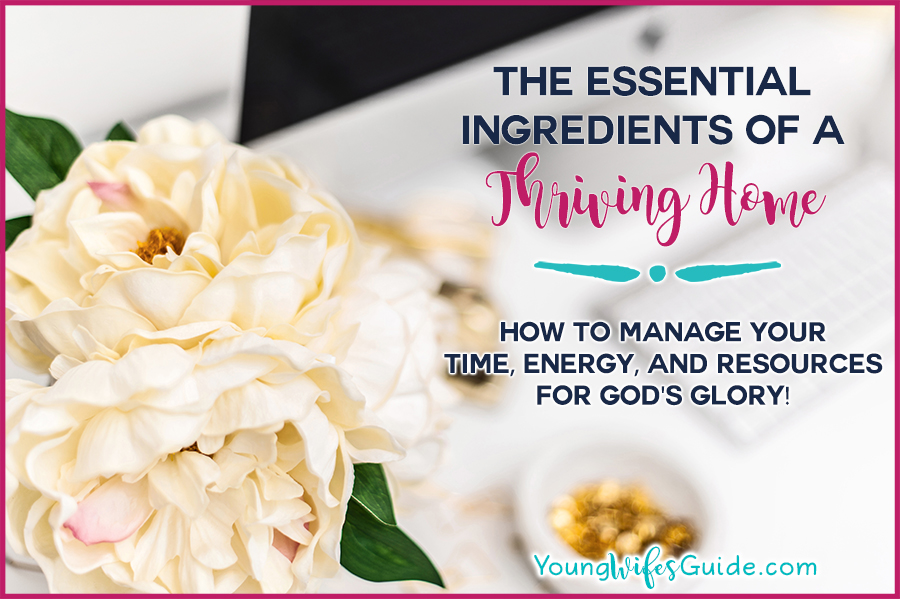 We have a thriving and active community within the academy which is going to make this live masterclass so much fun. Each week we will work through new assignments for crafting a thriving home and will be able to get feedback from the other members. (And don't worry- if you miss any of the live classes, they will all be posted in the academy to watch anytime!)
Throughout the course, we are going to cover:
How to develop a personal priorities list
Step by step process for creating a Scripture based family mission statement
How to create an ideal routine and schedule for YOUR family out of these priorities and mission statement
How to develop a Bible reading plan and routine that ACTUALLY works
Learning how to invest in YOURSELF
Gain inspiration and encouragement from the community
and so much more!
During each class, I will be on live video teaching the material and answering YOUR questions. There are often so many things we want to work on and yet never seem to make the time to do. Now I'm GIVING you the time, the space, and the directions for working through these assignments.
This live masterclass inside the academy is going to be life changing and I'm already giddy over the idea of it!!
Watch my Facebook live announcement about it!
How to Join
You have until Monday April 3rd to sign up! After that, enrollment shuts down until the Fall of 2017.

Sign up here!
To join the LIVE masterclass: Sign for your our online training academy –
My Homemaking Mentor
. The new masterclass is only available to members of the academy and it's going to be a BLAST!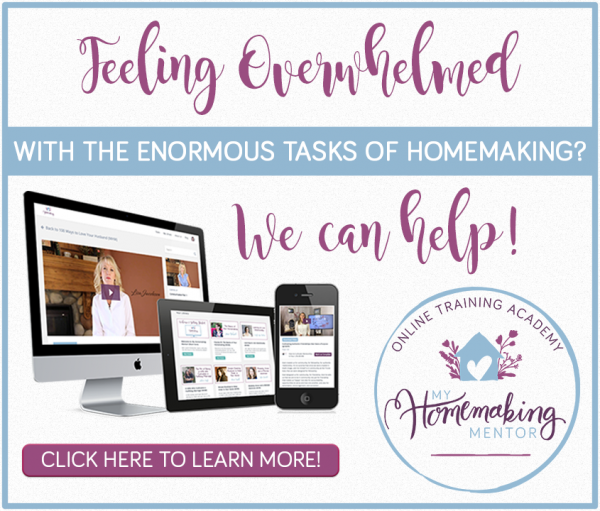 What is My Homemaking Mentor?
Think of the academy as your own private homemaking college. It's full of homemaking courses and videos on a ton of different topics and we are adding more courses all the time!
Once you pay for access to the academy, you have a lifetime membership! This means you can watch through and do the courses at your own pace, anytime. AND you have access to all future courses we release for FREE (We are currently working on a freezer cooking course, balancing homeschooling and housekeeping course, and several courses on cooking that are all coming SOON!)
The academy contains:
15 FULL Courses on Homemaking
50+ Practical Videos
Twelve Titus 2 mentors to guide you through the academy
Printables & worksheets throughout
Instant access to the full academy & lifetime access
The ability to watch & listen anywhere, anytime, and on any device!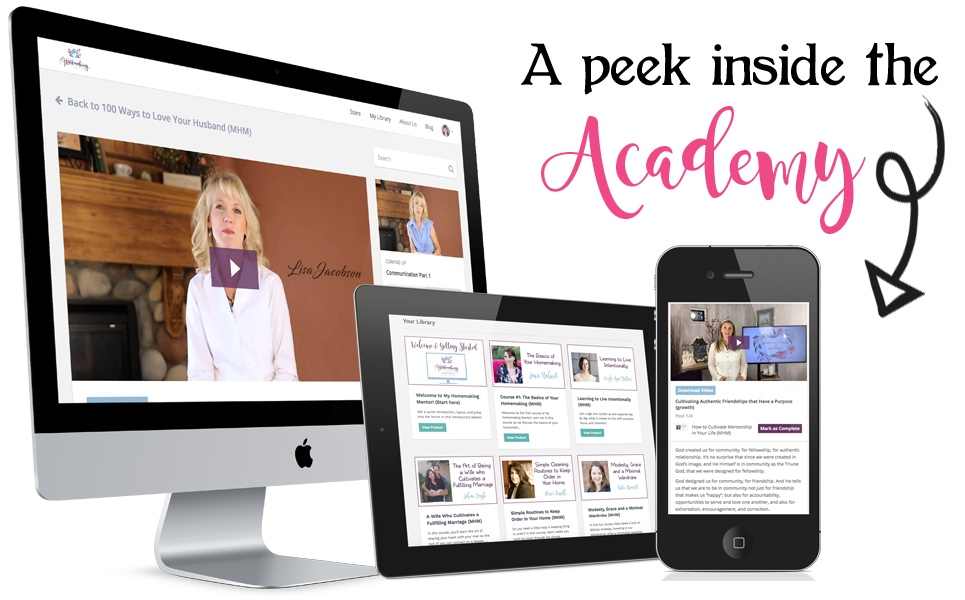 A live masterclass like this would normally cost around $67-97 on IT'S OWN! But you get full and complete lifetime access to the live masterclass for just $99 (or check out our monthly payment plan. You can get the same access for just $29.99 a month for four months if that makes it easier).
So not only do you get access to this live, incredible masterclass but you will also get access to ALL 15 courses currently in the academy. And we've got about 5 more courses coming out in 2017 that you get FREE access to.
>>> Without even including those new courses, that breaks down to just $6.18 a COURSE <— How incredible is that? <<<
Because we are all going to be walking through this masterclass together, we are closing down enrollment on Monday April 3rd. You can still enroll by midnight on Monday. And if it's not in the budget right now, don't stress too much, the academy will be opening up enrollment again in the Fall of 2017.

Enroll in the academy here!