Trusting the Lord with your time & energy (learning to REST!) – S 2, E 3
In the last episode we chatted about having a good work ethic and really working unto the Lord. God calls us to hard, fulfilling work. But that's all balanced out with true, Biblical rest.
Our discussion today is going to start to dig into what this means and what it looks like!
Listen to the Podcast:

You can find all the links and notes for this episode below!

Right click here and save-as to download this episode to your computer.
To the world, a successful life might look like a rich person who never has to work another day in their life. Someone who is waited on hand and foot and has endless leisure time at their disposal. But we know from God's Word, that even the wealthiest among us have a responsibility to use that wealth and honor and serve the Lord and work had at that! We are all called to good, hard, fulfilling work.
In fact, as our world chases endless leisure and pointless entertainment, we know that ultimately that leads to a very hallow and shallow life. We find true fulfillment in the Lord and that pretty much always looks like a hard, fulfilling day of work for the Lord!
But the key to this entire discussion is that our hard work is buffeted by true, Biblical rest. Resting well in the Lord! And while the world doesn't have a good view of work, they also mess up their approach to rest. In fact, most of us don't know what true rest is or how to balance out hard work.
So instead of working hard for the Lord, resting well in the Lord, and finding fulfillment in the rhythms…we do busy frantic work all the time, with intermittent moments of trying to rest but actually just feeling exhausted and busy all the time. You want me to view my work as a blessing and do it joyfully? Well the key piece you might be missing is the REST.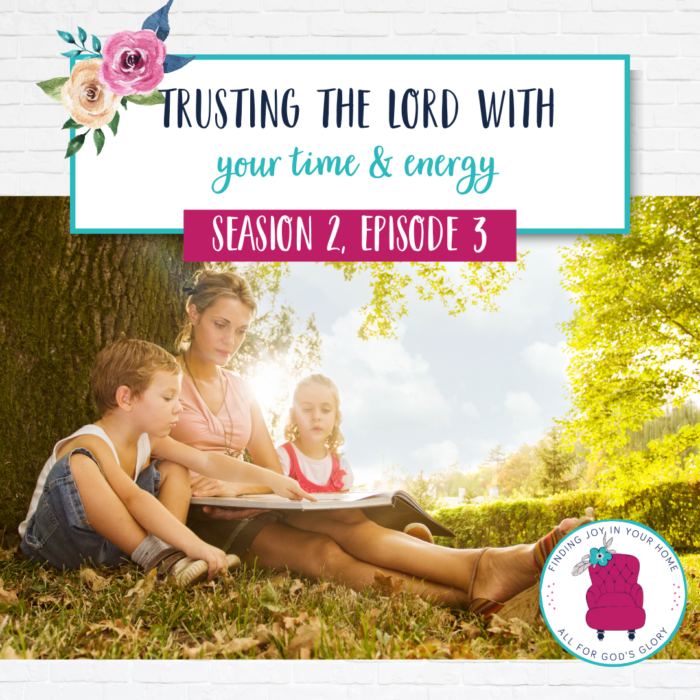 TRUSTING the Lord with your time & energy
So here we come to the very important lesson of trusting God with our time and energy. When I talk to other moms, a very common struggle for many of us is learning how to rest and rest well. We struggle to take time off and refuel.
So first: How are you resting?
If you are a busy mom, you may have lost touch with what those things are in your life. So I encourage you to play and experiment and really pay attention to what you find truly restful and what ends up being a waste of time. I will almost always regret scrolling social media aimlessly for an hour. I have almost never regretted reading for an hour (unless I was ignoring the pile of dishes in the sink and then I might regret it in the morning ;))
Another key piece of learning how to balance hard work with good rest, is giving yourself permission to rest. We struggle so much letting ourselves actually take time off and rest. And for me at least, it has boiled down a lot to not trusting the Lord. I sometimes struggle with a massive to do list that I feel like I have to keep going, I have to run myself into the ground, I have to do it all. But what I'm missing in that moment is trusting the Lord.
I've come a LONG way (and still have to constantly remind myself) to trust the Lord with the work put in front of me that day. So if a houseful of sick kids derails my productive schedule for a week, I remind myself that this is the work that God has put in front of me today and I can trust Him with my time. When finances or work stress overwhelms me and threatens to take over every second of my life, I trust the Lord that I can take time off and rest because he expects us to rest and so I can trust him in that. Example: The sabbath and farmers.