TTM #48: My 10 favorite kitchen tools for a healthy kitchen
In today's episode, I am going to be sharing my top 10 (or 15) tools for a healthy kitchen. Make sure to tune in and then check out my full list below:
Listen to the Podcast:

You can find the notes down below and listen along here! And don't forget to subscribe to the podcast in iTunes.

Right click here and save-as to download this episode to your computer.
1) Grain Mill
I have the NutriMill Plus and it's well worth every penny. The grain mill is my #1 top pick because it has revolutionized my kitchen! If you are tight on space, then the NutriMill Harvest is another excellent pick (plus it's soooo pretty)!
2) Food Processor
I've had my cheap food processor for 7-8 years now and it has served me faithfully. I use my food processor at least 3-5 times a week and it's well worth it. They don't sell my model anymore, but this one is similar. If you are wanting to invest in a better on eventually, I've heard really good things about about this Cuisinart model. This is the crazy expensive one that I have my eyes on but Breville also makes several other incredible looking models that are far cheaper.
3) Vitamix
A high powdered blender is so helpful. We are a smoothie family and do smoothies at least a few times a week and our Vitamix has done well throughout the years. I recommend watching at Costco or Sams Club, they often run great deals on the Vitamix and other similar models. Or check out Amazon.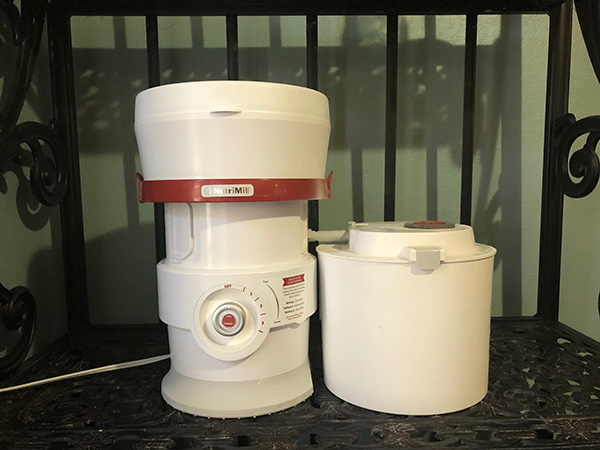 4) Crockpot
My trusty crockpot! This deserves a place on this list because of the sheer amount of time I use it!
5) Spiralizer
Again, I use my spiralizer at least a few times a week and it saves so much time and work (plus we LOVE Zoodles)!! Even a cheap one will do the trick.
6) Popcorn Maker
I don't know where our snack time would be without our amazing air popper! I would check first at your local thrift stores and then check out Amazon.
7) Dehydrator (and mandolin)
I am in love with my Excalibur Dehydrator and it has been worth every penny. I have this 9 try model but they have a ton of others (both cheaper and more expensive to look at). This one is my dream 😉 IF you invest in a dehydrator and want to make things like apple chips, pineapple chips, banana chips, etc then a Mandolin is a MUST! I got mine for $20 at Costco. Here's an Amazon one that looks decent.
8) Berkey Water Filter
I wish that we had invested in this years ago. We have the crown Berkey (the biggest one because of our family size) but you can easily just refill a smaller one more often. Look around because you can sometimes find these cheaper and with and without a "bundle".
9) Tortilla Press
I love my Tortilla press SO MUCH! The one we got is unique because it presses both flour and corn tortillas (most presses are just for corn tortillas) AND you can remove the tortillas and cook on the stove OR just cook in the press! It's amazing 🙂
10) Bread Machine
We have the cadillac of bread machines and it took me so long to pull the trigger on it. But I wish I had done it years ago. I love it and use it about 4 times a week – TOTALLY pays for itself!!
Honorable Mentions:
Our espresso machine (Jason's 30th birthday present!) Hint: Watch the prices and sales on these. I got ours for significantly less.