TTM #66: Welcome back: The Call to Discipleship
WELCOME back to the brand new season of the Titus 2 Minute Podcast! Today we are kicking off season 2 episode 1! 
As Christians, we are called to discipleship. The Christian life is not meant to be stagnant. We are to be continually sanctifying and becoming more like Christ. Listen in as we discuss it today:
Over the course of our life as Christians, we are suppose to become more like Christ day in and day out. And a huge part of this growth is discipleship.
That's what this podcast is all about. It's been a favorite podcast ever since we introduced it in 2017. But Jason and I hit a capacity limit and just couldn't handle this podcast on our schedule anymore. But after many requests, we are so excited to bring it back!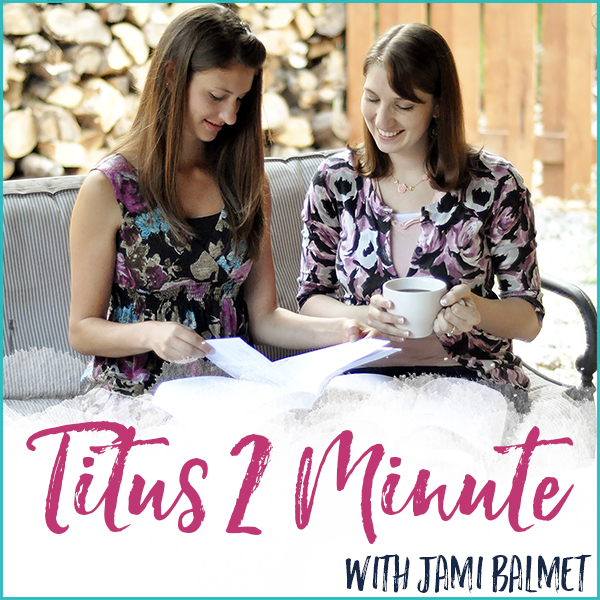 So what is Discipleship?
Got Questions has an excellent answer for this!
"By definition, a disciple is a follower, one who accepts and assists in spreading the doctrines of another. A Christian disciple is a person who accepts and assists in the spreading of the good news of Jesus Christ. Christian discipleship is the process by which disciples grow in the Lord Jesus Christ and are equipped by the Holy Spirit, who resides in our hearts, to overcome the pressures and trials of this present life and become more and more Christlike. This process requires believers to respond to the Holy Spirit's prompting to examine their thoughts, words and actions and compare them with the Word of God. This requires that we be in the Word daily—studying it, praying over it, and obeying it. In addition, we should always be ready to give testimony of the reason for the hope that is within us (1 Peter 3:15) and to disciple others to walk in His way. According to Scripture, being a Christian disciple involves personal growth characterized by the following" – https://www.gotquestions.org/Christian-discipleship.html
The Titus 2 Minute podcast exists to equip modern Christian Homemakers in this task of discipleship. My aim is to provide excellent resources for you to jump into. And to introduce you to some fabulous Titus 2 women along the way.
I know The Titus 2 Minute podcast has been so popular because it's in this short form. You can easily listen in during your busy day. I am so excited to be back with an incredible new season.
We will be publishing new shows every Monday, Wednesday, and Thursday with some fun changes and ideas coming in the next few months. Monday will be a solo episode by me talking on a certain topic (like we did today)! Wednesday will be a guest sharing and Friday will be a solo episode by me pulled from a past conference sessions or some other fun teaching!
We are hoping to bring more elements to the podcast in the coming interviews, answering questions, and more. So stay tuned as we get this podcast relaunched and have so much fun with it! If you have specific things you'd like us to cover, please reach out and let us know.
Join our New Community App!
The other very exciting news I have for you today is that our brand new community app has launched. You can come join our FREE app where you can join in on the discussion of THIS podcast episode and so much more. If you are looking for a safe and encouraging place to hang out online that will point you to Christ…come join us!
You can find all the latest information and join our June Bible study challenge, Meal Planning Bootcamp, and get alerts and sneak peeks of our June shop featuring our Proverbs them!
You can sign up for free here.