Using Essential Oils for Home & Health – Hf #132
Medical Disclaimer: Today we are chatting about essential oils. I use these oils in my home and today I'm sharing how we use them. Please be aware that I am not a doctor, a certified aromatherapist, and have no formal training in aromatherapy. Please always do your own research before using essential oils. This episode today is for entertainment purposes only.
A couple of weeks ago, I did an episode on essential oils 101! If you've never used oils before and you want to dip your toes in, then this is a great class to start with. But since then, I've had people asking for more in depth tips on using essential oils. So tune in today.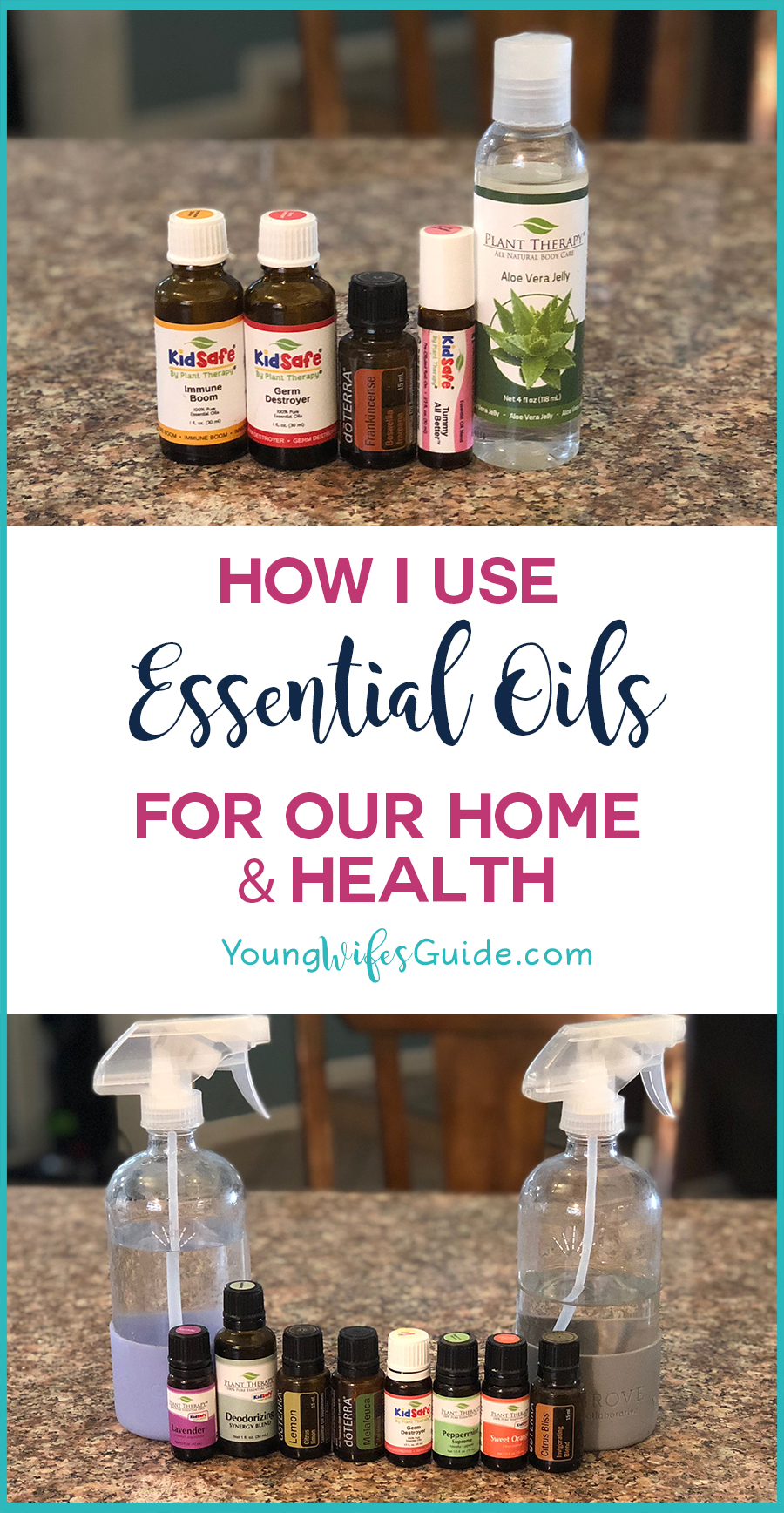 Listen to the Podcast:

We also recorded this blog post as an audio podcast. If you want to listen in instead of reading, click play below or do a combination of both

And don't forget to subscribe to the podcast in iTunes.

Right click here and save-as to download this episode to your computer.
How we use Essential Oils in our Home:
The two main ways I use essential oils in my home are for cleaning and health and wellness. I first began using essential oils in my home to clean with because it seemed like the easiest way to get started. Plus, I was slowly figuring out how to swap out toxic cleaning items with more natural ones in my home anyway!
To start off with: Dr. Axe is a fantastic resource for essential oils. Search essential oils on his website, or for specific concerns or oils and a ton of stuff comes up! In fact, he has an AMAZING book on essential oils that I've been drooling over for a long time. I like the fact that it is NOT brand specific!
Essential Oils for Cleaning:
My favorite oils for cleaning include Tea Tree, citrus oils (especially lemon), a deodorizing blend, and a germ fighting blend. Young Living has their very popular Thieves cleaning line which you can purchase pre-made cleaners with the Thieves essential oil!
I just saw (from searching) that Plant Therapy has their own cleaning kit!! This would be a fantastic way to get started with cleaning oils. It includes: Tea Tree, Lavender, Lemon, Germ Fighter, Peppermint, and Citrus Blend. The only one I would add to this pack is the deodorizing blend for laundry!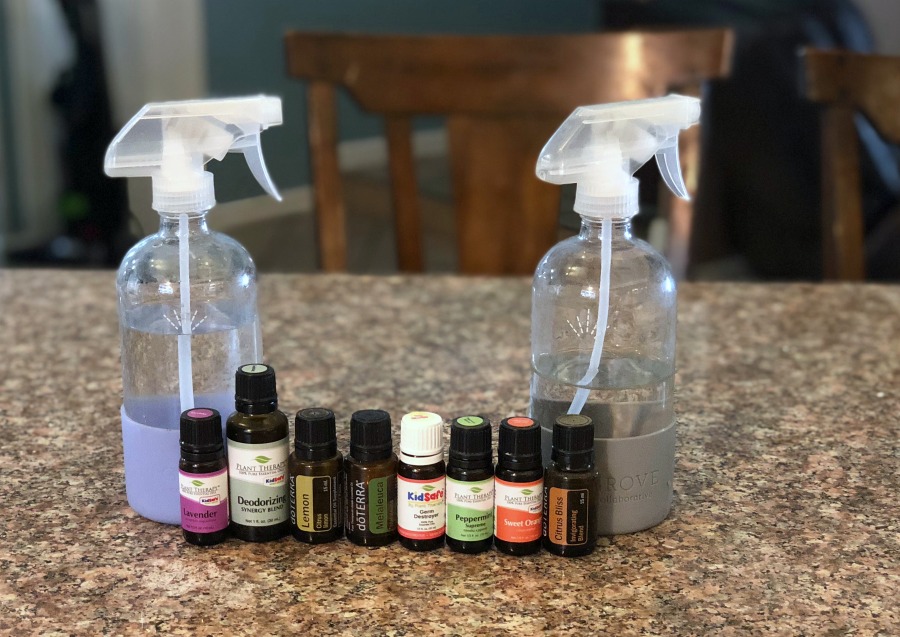 Dr. Axe's Tips for Essential Oil home use from his article 101 Essential Uses and Benefits.

Air cleaner: Diffuse cinnamon essential oil in the air and enjoy its anti-microbial properties.

All-purpose cleaner: Add three drops each of lemon essential oil and tea tree oil (melaleuca) to a few ounces of warm water, then spray countertops to naturally disinfect.

Bathroom freshener: Put a cotton ball soaked in lime or lemon oil behind the toilet for a bathroom refresher.

Bathtub scrub: Mix one-half cup of baking soda, one-half cup of vinegar and five drops of bergamot or lime oil; use as a scrub for a sink or bathtub.

Dishwasher fluid: Add a few drops of lemon oil to the dishwasher before washing for a spot-free rinse.

House fragrance: Diffuse clove, rosemary and orange essential oils when guests come over, and they will talk about how amazing your house smells.

Kitchen odor eliminator: Add a few drops of clove, cinnamon or citrus essential oil to a simmering pan of water to get rid of cooking odors.

Mold killer: Add tea tree oil to your diffuser to kill mold and other pathogens in the air.

Pest killer: Combine orange and clove oils and then spray to kill pests on contact.

Produce washer: To clean fruit and vegetables, add two drops of lemon oil to a large bowl of water, then wash.

Shower scum remover: Using a 16-ounce spray bottle, use four drops of eucalyptus essential oil and four drops of tea tree oil with warm water; spray onto your shower for natural mold-killing action.

Trash can freshener: Put a cotton ball with two drops each of lemon oil and tea tree oil at the bottom of the trashcan to help decrease the odor and detoxify.

Washing machine freshener: Add 10–20 drops of your favorite scent per load.
Essential Oils for Health:
This was the next area of essential oil usage that I wanted to explore. But I felt a lot more intimidated by this!! So my suggestion: is to start small. Pick one health issue you want to figure out, and work on that. Then move to the next one. Like anything else in your house, start with one small baby step and then the next.
For health, we use the oils on the kids a lot! So I'm much pickier about making sure we are using oils that are KidSafe. So over the years, most of our health oils just end up being the KidSafe ones since they are just as effective for adults. Plant Therapy has a great starter kit for KidSafe oils.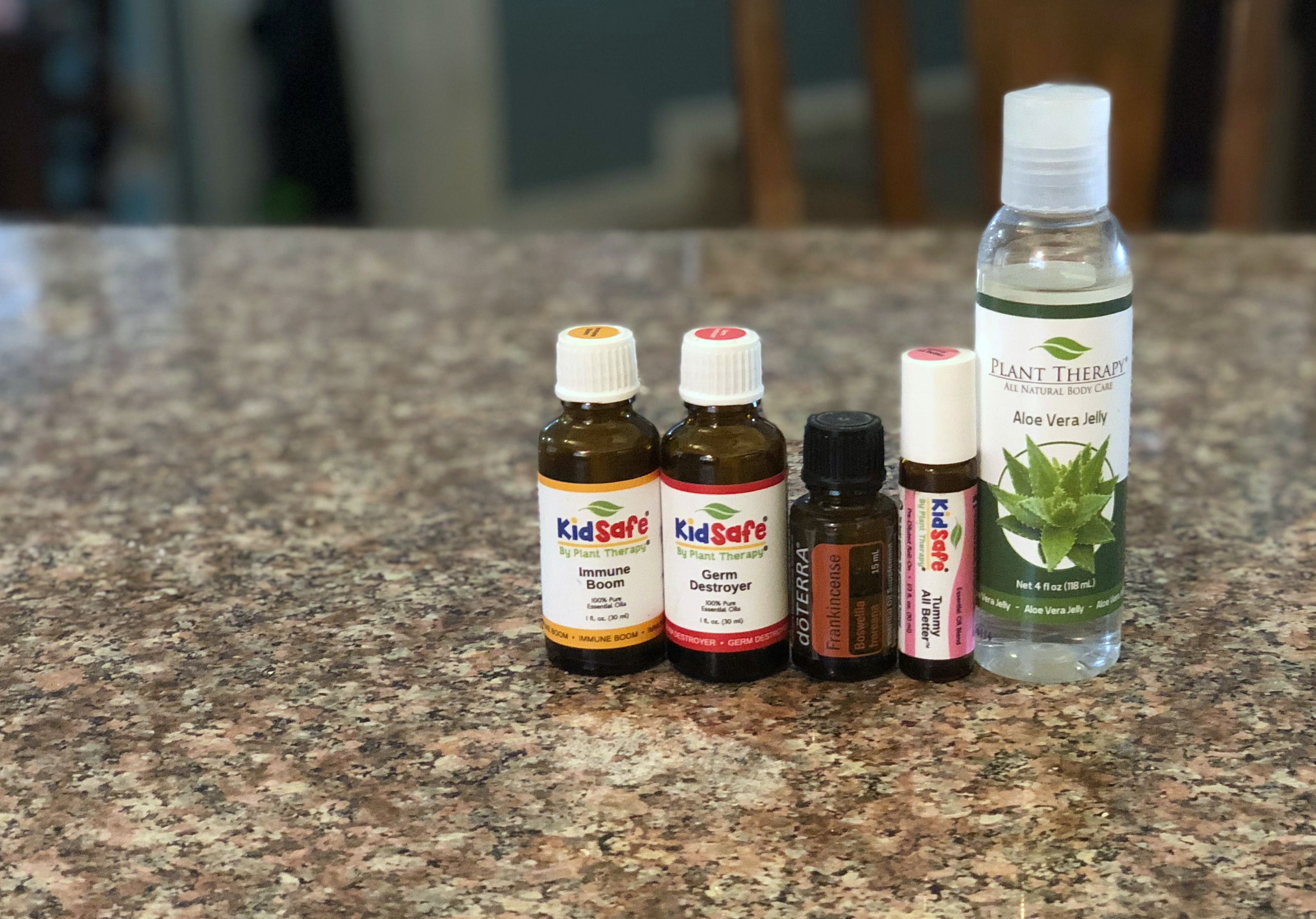 But for health, my far my favorite oils include: Germ Destroyer, Immune Boom, and Sniffle Stopper. They have a small 3 pack you can try of these! My other favorite is Tummy All Better for ANY tummy related issues! It's works amazingly well!!
Dr. Axe's Tips for Essential Oil health use from his article 101 Essential Uses and Benefits.
Achy muscle rub: Mix eucalyptus, wintergreen and cypress oils with an unscented lotion or coconut oil and apply to muscles.

Allergy fighter: Rub frankincense and lavender essential oils on your palms and inhale deeply to relieve itchy eyes and throat.

Immune system booster: Mix one drop of oregano oil with four drops of carrier oil and rub on the bottom of your feet before flying on a plane.

Motion sickness reliever: Use peppermint, lavender and ginger essential oils to reduce motion sickness.

PMS reliever: Mix two drops of sage, basil and rosemary oils, then apply to a warm, moist hand towel and apply to abdomen.
FREE Mrs. Meyers Spring Cleaning Kit!
For all of my listeners, Grove is offering a wonderful Spring cleaning kit for FREE! All you have to do is check out with $20 in your cart (see all of my amazing suggestions above) and your order ships for FREE with your $20 order PLUS the spring cleaning kit.
If you are wanting to try out Grove or you just want to take your first baby steps to healthier living, then this is an awesome deal! Here's what you will get:
Free Mrs. Meyer's Hand Soap

Free Mrs. Meyer's Dish Soap

Free Mrs. Meyer's Multi-Surface Spray

Free Grove Walnut Scrubber Sponges
Sign up for your FREE spring cleaning kit here!