Using Our Homes to Serve – Hf #97
I did an episode back in the beginning of Summer on fun summer hospitality ideas. And I realized that other than that, I haven't covered hospitality here on my podcast since episode #5! So it's time to do a mini-series on hospitality.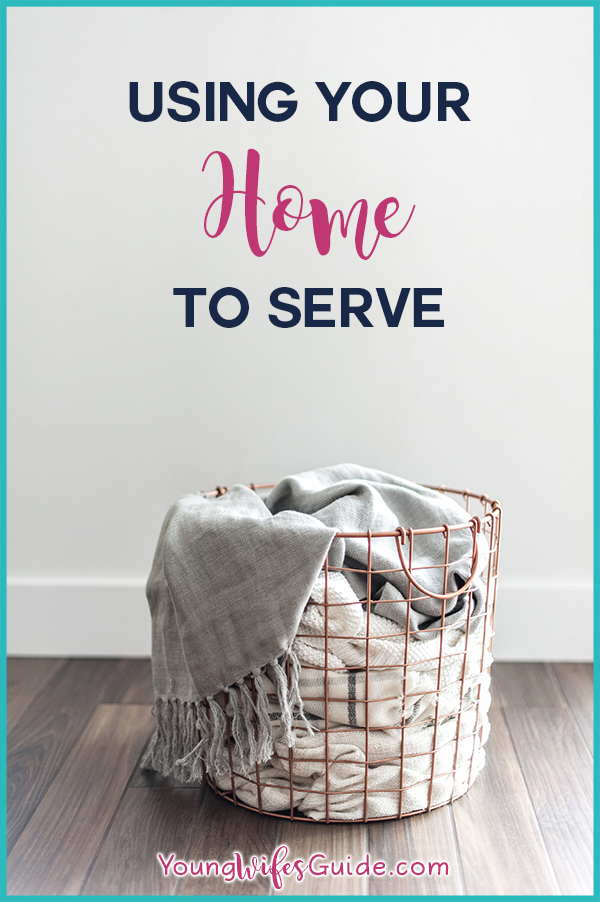 Listen to the Podcast:

We also recorded this blog post as an audio podcast. If you want to listen in instead of reading, click play below or do a combination of both

And don't forget to subscribe to the podcast in iTunes.

Right click here and save-as to download this episode to your computer.
Hospitality is a topic that is very near and dear to my heart. I am very passionate about it and have honestly fallen in love with it over the last several years.
But since starting to practice hospitality I've also had 5 babies, lost my mother, moved five times, etc. Life gets busy and overwhelming and the thought of starting or adding back in hospitality can be daunting!
But hospitality can also be an amazing way to serve throughout the busy seasons! Especially for me in this season of little kids, hospitality becomes the #1 way in which I can realistically serve.
It's really easy in the busy seasons of our lives to feel like there's not a lot of time to serve. We want to serve our neighbors, be good influences for extended family, and reach out and serve within our local churches.
But it can be tough when you are working full time, or you are homeschooling, or you have a house full of littles. It can be tough to find areas to serve.
The importance of serving in every season
As Christians, our lives are one big call to serve. We are to actively seek to die to ourselves and live for Christ. As we will discuss, what this looks like changes from season to season and family to family. But the Bible is clear: Our live purpose is most fulfilled when we seek to serve.
"If anyone serves me, he must follow me; and where I am, there will my servant be also. If anyone serves me, the Father will honor him." – John 12:26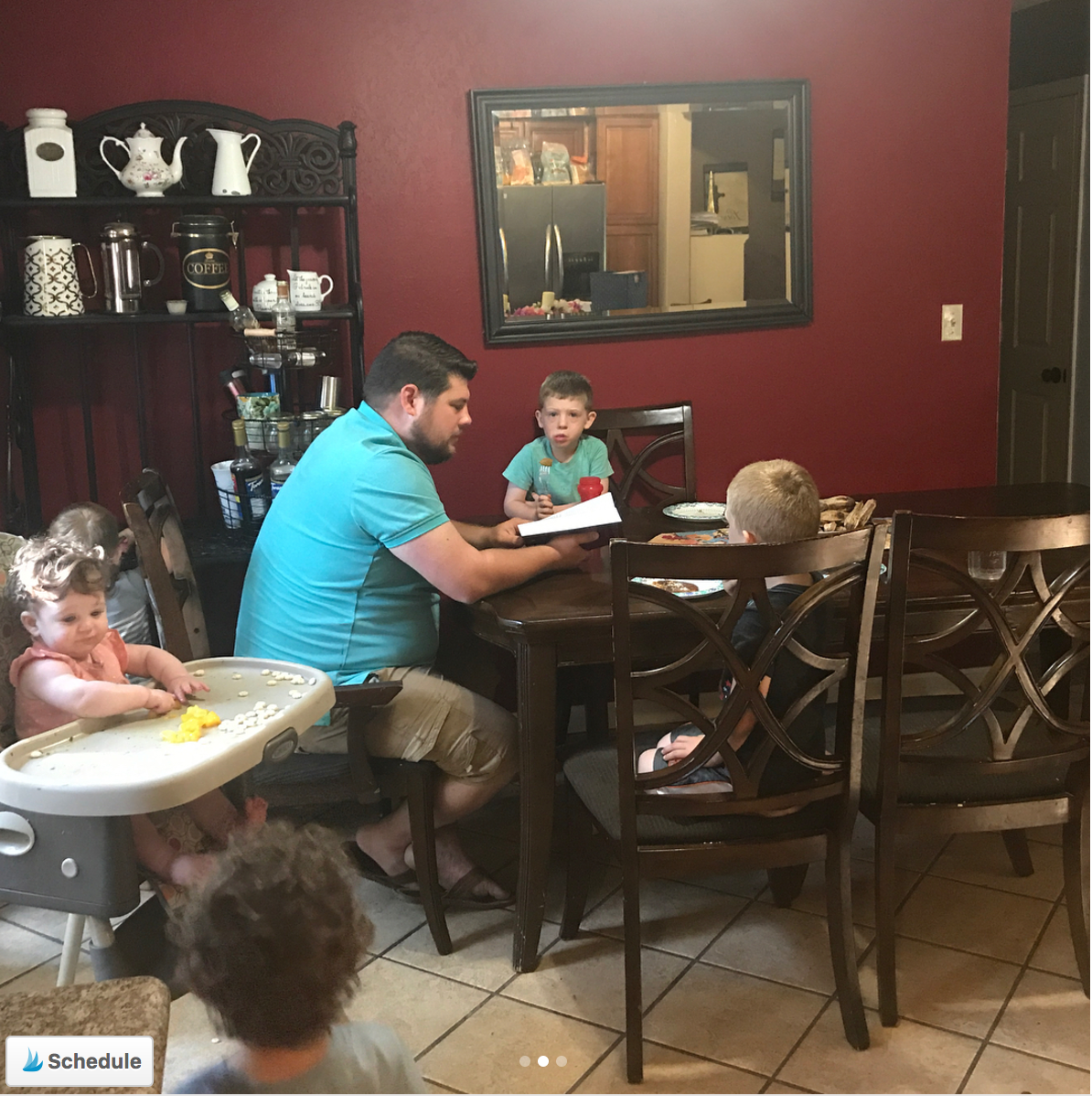 "Only be very careful to observe the commandment and the law that Moses the servant of the Lord commanded you, to love the Lord your God, and to walk in all his ways and to keep his commandments and to cling to him and to serve him with all your heart and with all your soul." – Joshua 22:5

"I have been crucified with Christ. It is no longer I who live, but Christ who lives in me. And the life I now live in the flesh I live by faith in the Son of God, who loved me and gave himself for me." – Galatians 2:20
"And he said to all, "If anyone would come after me, let him deny himself and take up his cross daily and follow me." – Luke 9:23
It's not an easy task, but God has called us to a life of serving. He has called us to deny ourselves and think of Christ. Of course, we will never be perfect in this, but it is what we are to strive for. Serving others and laying aside self.
So regardless of the season, we are called to serve with our lives. We are to serve God and serve others.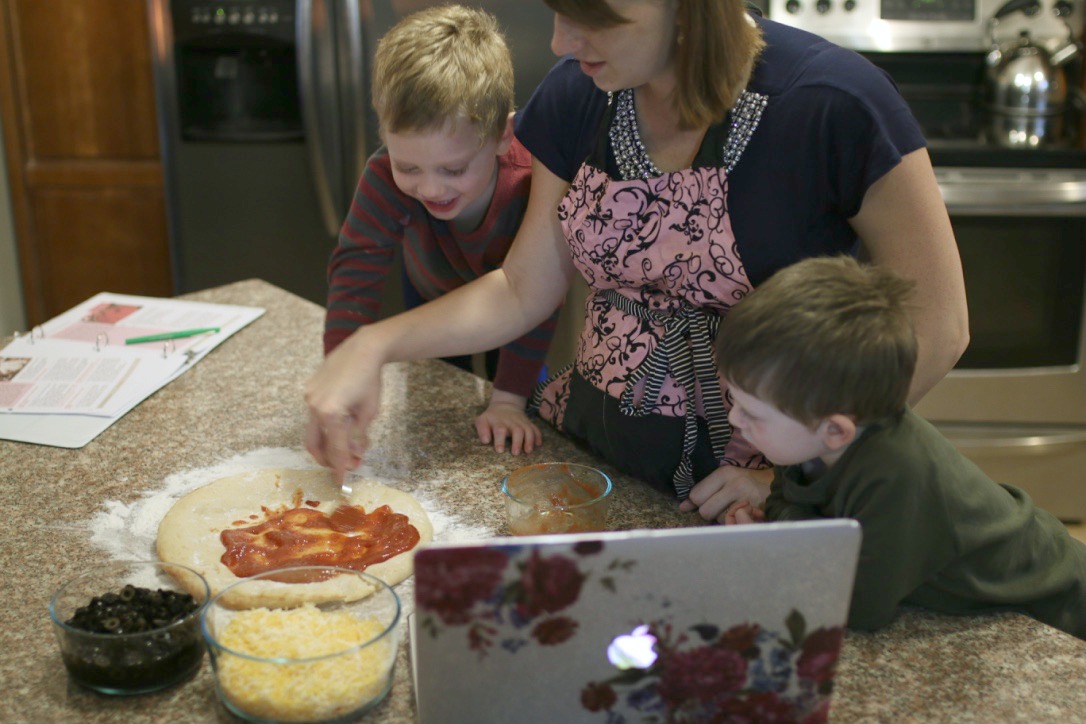 Our service goes far beyond simple good acts
"We'll talk about this much more in due time, but for now, fellow nurturers, know this: When we serve others – discipling, changing diapers, saving lives at a pregnancy resource center, stacking chairs after Sunday School – it is more than human do-goodery. It is holy and acceptable worship done unto the Lord. All of it is possible because our High Priest, Jesus, went before us. His blood speakers for us in our atonement and in our priestly work done here in the outer court of the world. Your service unto God is holy." Missional Motherhood by Gloria Furman
But different seasons come with different responsibilities. As a believer, I am called to use my life to serve. But in this current season, with five kids four and under, it would be irresponsible for me to take on a ton of outside responsibilities. It would be wrong for me to sign myself up for 10 activities a week that took me away from my babies and outside my home too much.
It would be a detriment to my family, even though I was seeking to serve. Likewise, there are other seasons that restrict your outside serving as much.
I know as a young mom, this has been discouraging to me before. I see the good things that are happening at church. We have a meals ministry at our church where women will get together during the day and work on some projects and make meals for people. It can feel discouraging sometimes that I can't partake of those ministries with my very young children.
I know there are women who work full time outside the home who have felt similar longings, or those who suffer chronic illness and want to do more activities like that, or homeschool moms whose time is occupied for large amounts of the day, and the list goes on.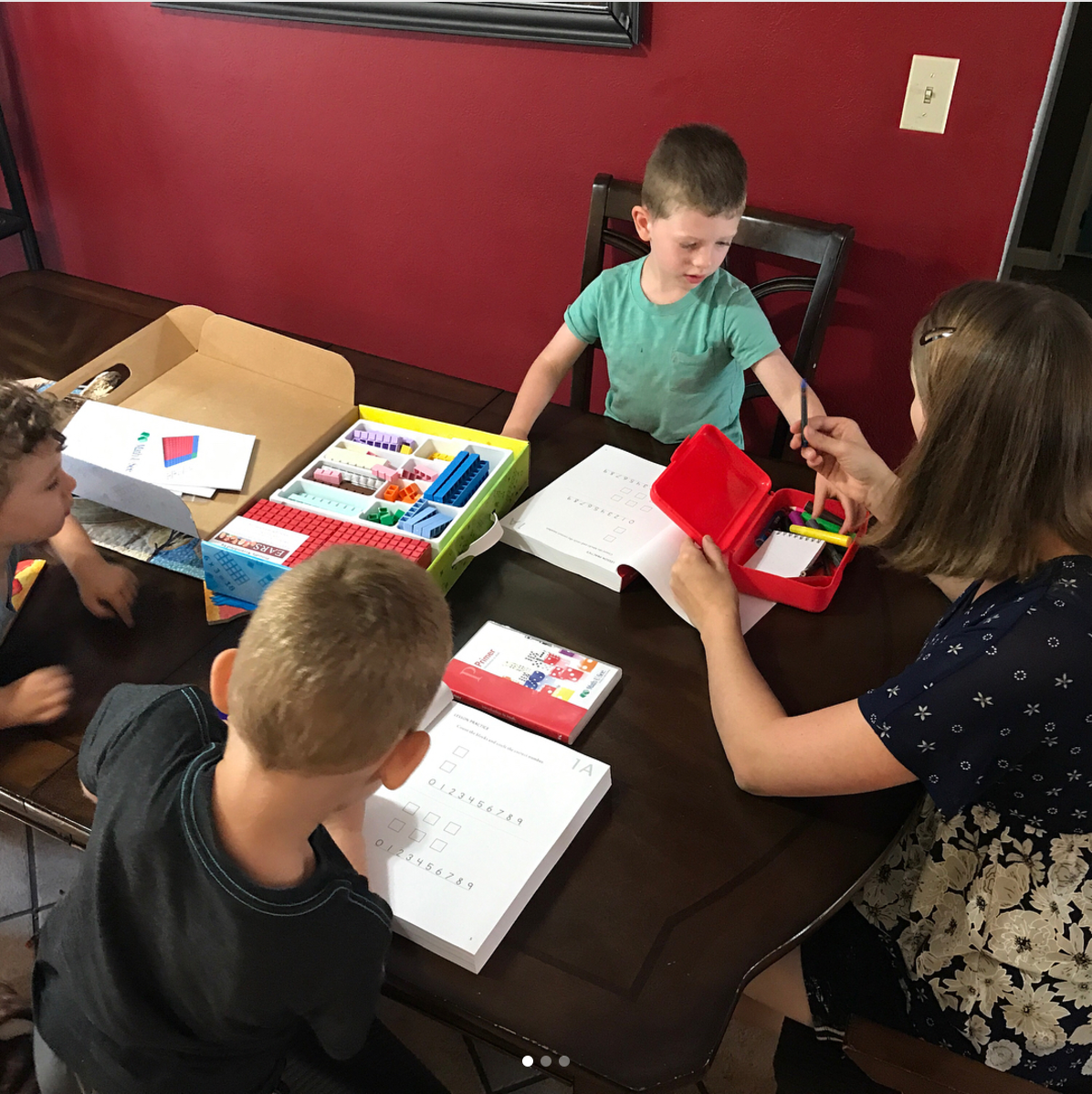 I think sometimes we need to shove ourselves outside our comfort zone. We need to push ourselves to do things sometimes. Because often, serving is hard and does push us outside our comfort zone. Often, the most important serving shoves us into uncomfortable areas and it's there that we grow the most.
But other times, we need to recognize the season of life we are in. So in using your home to serve, I want to touch on one VERY important issue:
You already have a very powerful form of ministry in your home: Serving Your family
Often we put more emphasis and impact on outside ministries. We long to use our time, our talents, and our energy to serve in the Church and serve in other ministries. And we forget that we have an extremely powerful form of service right from within our very home that uses our time, talents, and energy just like any other ministry.
And that's the ministry of serving our family.
It can sometimes feel hard to find the worth in the mundane chores of our day. Often, the things we spend all of our time on don't feel spectacular or extraordinary. We can't relate how scrubbing the toilets and cleaning the dishes can compare with the missionary serving in Africa. How are we serving God's Kingdom when our days feel so ordinary and mundane?
Our work in the home is a powerful form of ministry and service. We are serving God through serving our families and it's a work that no one else can do.
God gave you this family, God gave you this husband, God gave you these specific children for a purpose. It's no accident that you find yourself in the family situation you are currently in.
And this work we do in our home is the work that keeps the world turning. I know it feels insignificant most days, but our work is some of the most essential!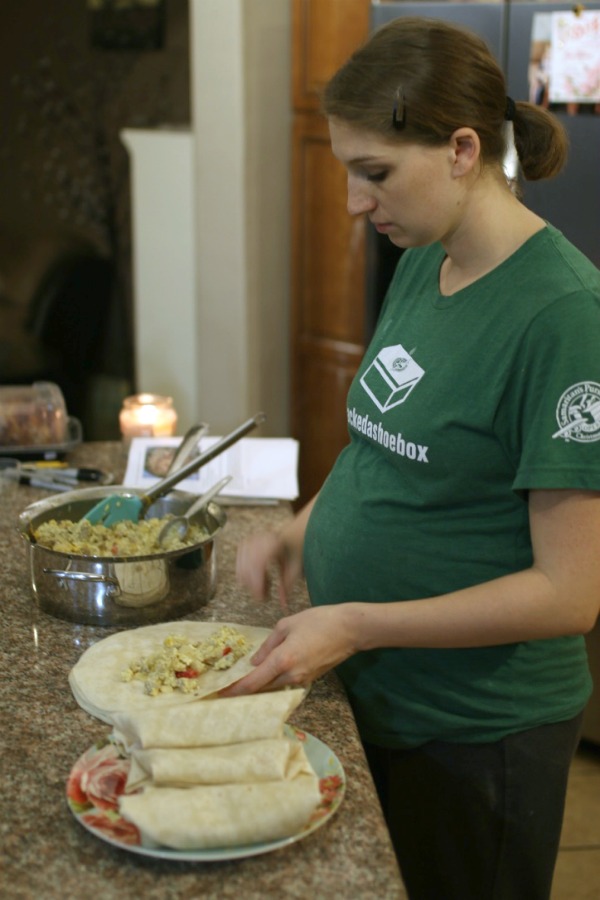 Using Your Home to Serve others
"Most of us wake up every day in our own homes. The home, as we see in Titus 2, is actually not an accessory to display our unique personalities (contrary to western opinions). It is a strategic everyday ministry designed by God to adorn his gospel in this age where the new creation has broken into the old age. Our homemaking, when done in view of the cosmic ramifications of the resurrection of Jesus, is a ministry that can shake the gates of hell.

The classic text that we turn to is Titus 2. I realize that when some readers hear the term "Titus 2", they hear their subculture's standards for the home and feel discouraged. Baggage from our subculture's interpretations can weigh heavy on a missional mom who wants to please the Lord but can't measure up to the worldly standards that exist even in the church. Still, there are others of us who hear "Titus 2" and are encouraged, because we see that we are free. We're free to throw ourselves into the noble, Great Commission work of training up younger women and prioritizing the ministry in our home. We hear an exhortation to remember Titus 2, and it just makes sense, according to everything we know about the Lord and his will for our lives until he returns. We see this as license and liberty to go find creative ways to not compromise our core commitment to nurturing those in our home. Our ministry is manifold. We labor to support our husband in his work and ministry, and we see our missional motherhood as one-on-one (or on-on-____!) discipleship in training up our children in God's ways. We manage our home to be in line with God's truth to facilitate gospel ministry. And whatever else God has called us to do, we do it all for the building up of the body of Christ." – Missional Motherhood by Gloria Furman
Making meals
This is a terrific way that we can serve within in our home! Many churches have meals ministries that let you know when a need arises in the Church like when someone has a new baby, is struggling with illness, or has a death in the family.
But don't wait for someone else to initiate this! Keep an eye and an ear out for people you know who are struggling and could benefit from a hot, home-cooked meal. I love this because I have to make dinner for my family anyway. So if I can plan ahead a little, then I can just make a second meal right alongside the one I'm currently making!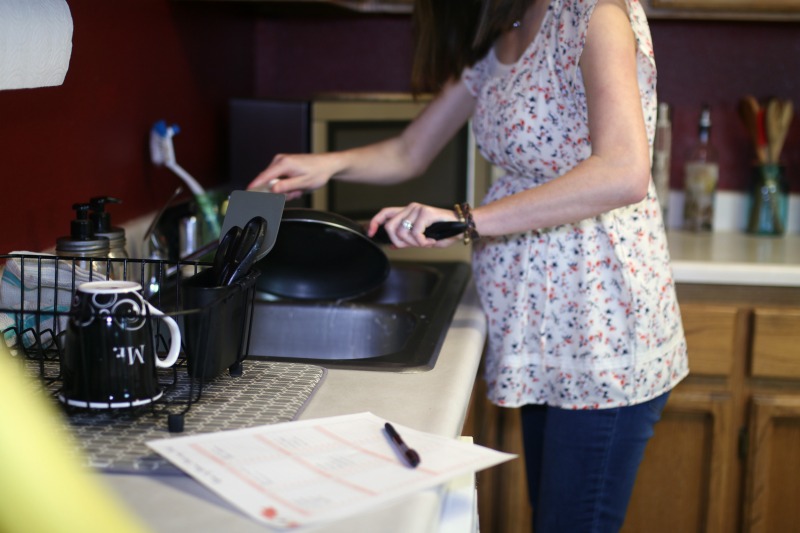 Writing Cards
This is what I want to work on right now. Writing cards of encouragement or prayer is something I can easily do within my home! It takes about 60 seconds to write out a quick note to someone and I can just slip it into my mailbox.
Sending someone a quick note of encouragement or letting them know that you are praying for them can be HUGE and a wonderful way to minister to someone. I want to start carrying note cards in my purse/inside my planner so that when I think of writing a card to someone, I can stop right then and do it!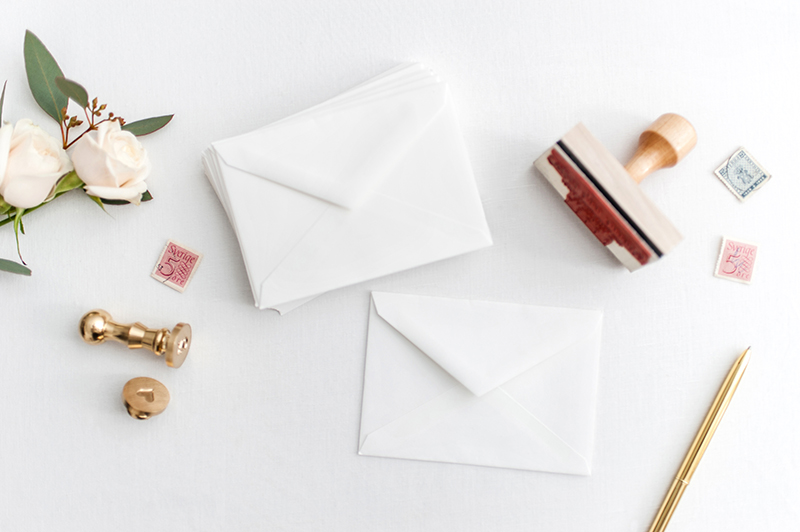 Praying for others
Often we feel like there isn't a lot we can do for others when we are struggling within our home. So I often catch myself saying, "well I wish I could do more for you, but at least I'll be praying for you!" <— I say this as if "just" praying for someone is a second thought, a lesser thing I can do.
But that's the wrong perspective! Prayer is the BEST thing I can do. So I personally want to get more consistent in praying for others and remembering to follow up again and again, day after day in prayer!
Hospitality
And of course, a wonderful way to use your own to serve is through Biblical hospitality! I've already covered this extensively on my blog. So here are some wonderful resources to dig into:
My favorite book on hospitality: Practicing Hospitality by Pat Ennis and Lisa Tatlock.
Links to my articles on hospitality:
"Contribute to the needs of the saints and seek to show hospitality." ~ Romans 12:13
"Do not neglect to show hospitality to strangers, for thereby some have entertained angels unawares." ~ Hebrews 13:2
"Show hospitality to one another without grumbling." ~ 1 Peter 4:9 –
The ultimate purpose of hospitality is to minister to those around us – both believers and unbelievers. Our hospitality is a form of ministry and is a way that we show love, care, concern, and how we can serve others!
"Hospitality from a Biblical perspective is to recognize that God is more interested in caring relationships than the mold behind the shower curtain…It need not matter if we live in a single-room apartment or a split-level ranch, the only real requirement is allowing God to use our lives and our possessions…Our homes and our lives are indeed the most powerful combination of ministry to our world." ~ Hospitality with Confidence, Pg 9
Hospitality is not about showing off your house, your decorating skills, or your cooking abilities.
Hospitality is about investing in other's lives and learning how you can best serve those around you.
Looking for an affordable planner?
I've got an affordable, Christian homemaking planner to introduce you to today! Welcome to our brand new sponsor to our podcast: The Homemaker's Friend Daily Planner! I've used this planner for years and there are several things I love about this planner!
1) It's very affordable! 2) It's spiral bound so it lays flat. 3)It's made BY a homemaker FOR homemakers. 4) It includes a very easy weekly layout format. and 5) It includes tear our shopping lists!! BONUS: It's super cute 😉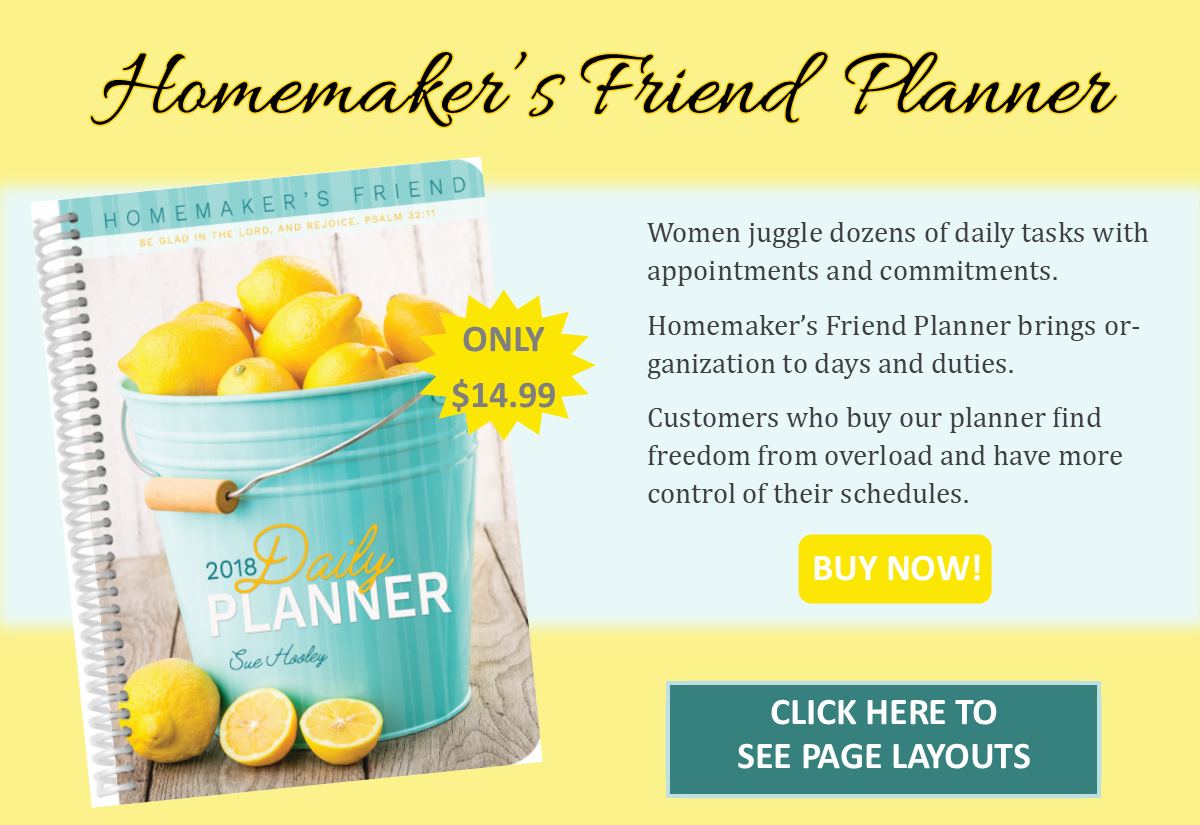 If you are looking for an affordable planner that you can take with you on the go, you need to check out The Homemaker's Friend Daily Planner!
PLUS the creator Sue, is offering you a FREE 16-page downloadable Meal Planning kit! All you have to do is head over and download it for free. 🙂