When you have too much to do and too little time! – Hf #101
It's so easy in the hustle and bustle of busy life to get overwhelmed. To feel defeated. To feel like you are drowning with every day chores and work. So when I got an email from a reader expressed feeling some of this herself, I knew I could identify!
So today's episode is all about that: How do we survive when we feel like we are drowning!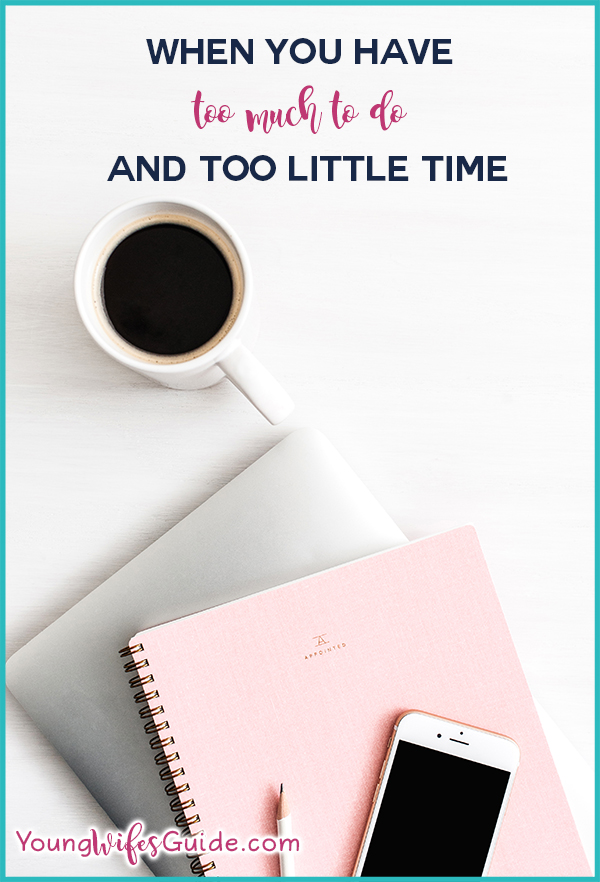 Listen to the Podcast:

We also recorded this blog post as an audio podcast. If you want to listen in instead of reading, click play below or do a combination of both

And don't forget to subscribe to the podcast in iTunes.

Right click here and save-as to download this episode to your computer.
Here's the question I got this week:
"I work outside of the home 40-42 hours a week. I have three kids. I leave early and don't get home until 5-5:30pm. Basically my question is do you have any ideas, tips, tricks, etc on how I can squeeze 10 hours (not really but it feels like it) of home chores into 2 hours? Once I get home it's time to fix supper, then spend an hour with the kids in the floor playing, load the dishwasher and maybe throw in a load of laundry. Bed time for my 2 littles is 8pm. I have to be in bed by 9-930 because I'm up at 5am every morning. I feel like I'm drowning!!!!!!!!!!!!!"
I get it. I have totally been there. And working outside the home throws a whole other element into the mix. So here are some suggestions or ideas to work through:
Freezer Cooking & Simple Meals
I discovered freezer cooking when I was working full time outside the home and it radically changed the way I approach my kitchen. Now, several years later, I still do routine batches of freezer cooking.
Here are some resources for freezer cooking & simple meals: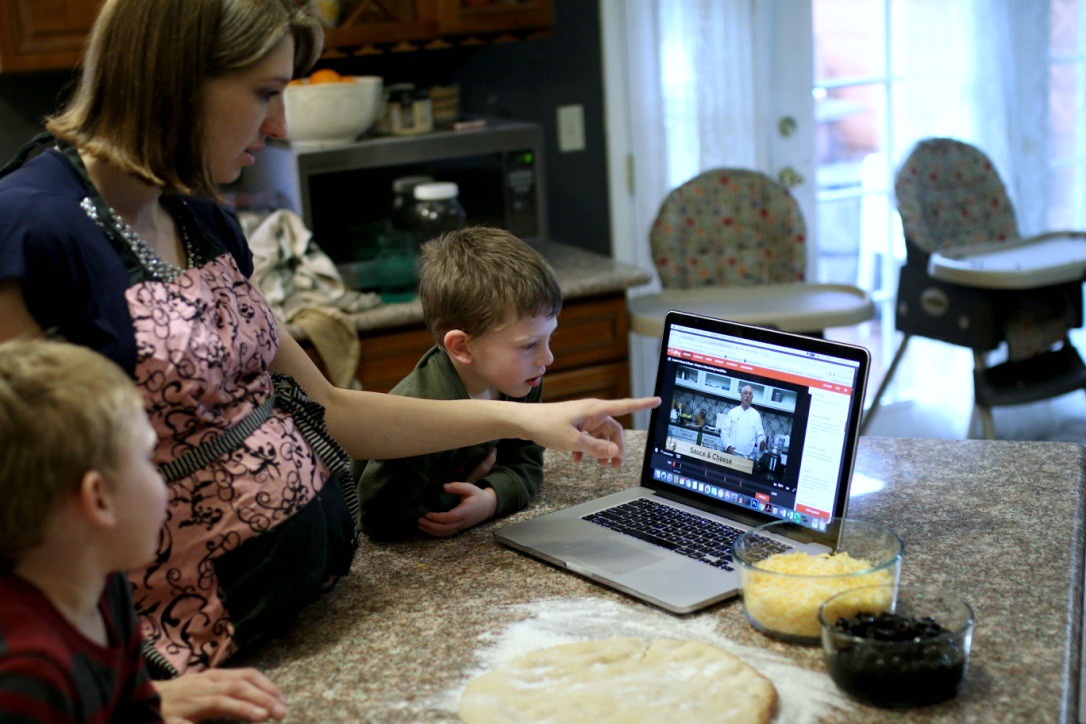 Prep/meal plan on Sunday evenings
Along with simplifying my meal planning and freezer cooking, I usually do a quick prep/meal plan meeting on Sunday nights. I'll quickly review my week, see if I need to stop at the grocery store, etc.
This is the concept that PrepDish does so well! They do all the work for you and then just tell you what to prepare each week!
Have kids do the after dinner clean up
I hear from a lot of moms who get overwhelmed with dinner and clean up. It's easy to let this get out of control and for it to take several hours each day for dinner time and clean up.
If you don't already, get your kids to help or DO the after dinner clean up. If you have older kids you can assign them the tasks of cleaning the kitchen after dinner. Even 2-year-olds can take their plate and fork to the sink or dishwasher. 4-year-olds can do the same, help unload the dishwasher, wipe down the kitchen table, etc. It's all about training them young to help and participate!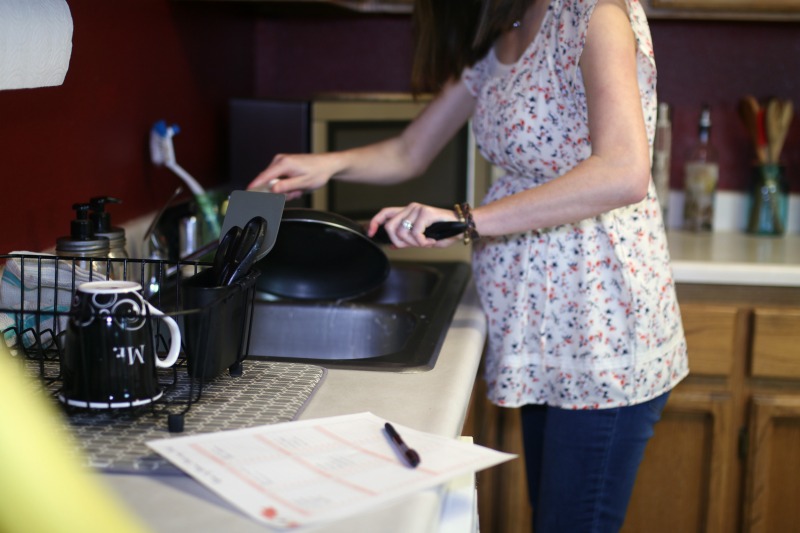 Creating a weekly cleaning list – move through different target areas per day
I love this concept for keeping up on the deep cleaning chores of your house when you don't have a lot of time! You can easily assign different tasks or areas in your home to different days. I.e. Monday is bathrooms, Tuesday is mirros and windows, etc.
Marci from Thankful Homemaker has some great examples of this for weekly, monthly, and yearly cleaning plans!
Getting a solid night time routine down
I think the nighttime routine is one of the MOST important routines you can establish. If you establish a solid evening routine, your morning will be set up so much better and will flow into the rest of the day.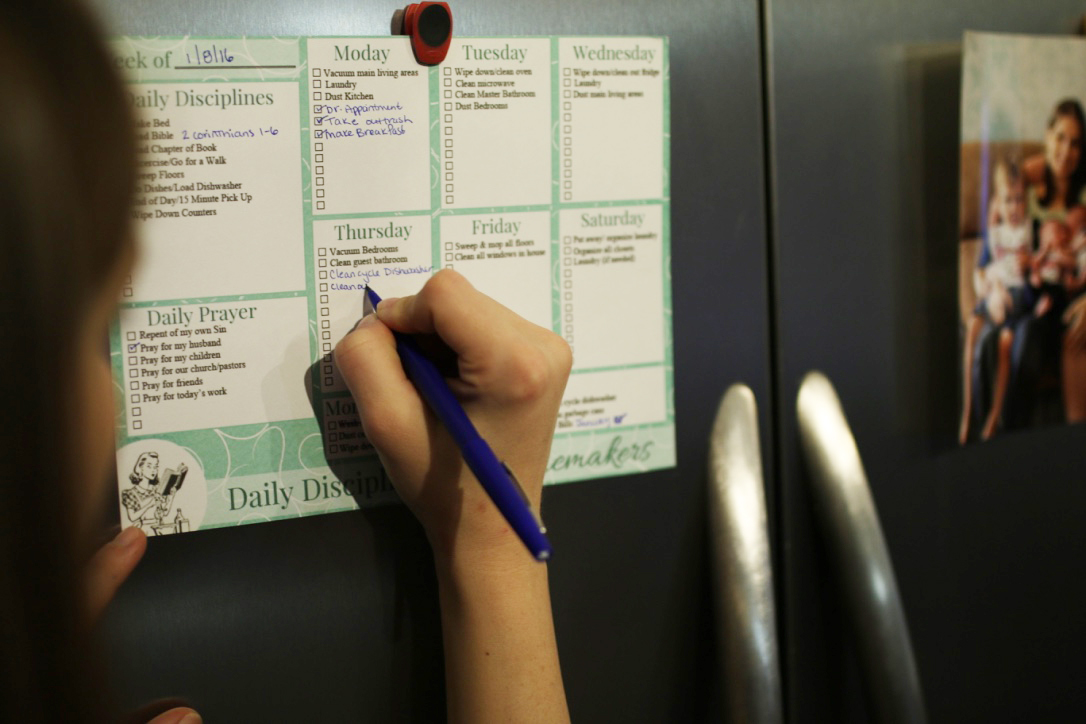 I personally aim for a few things in my evening routine:
A neat and tidy kitchen (notice I didn't say perfect!)
I peek at my schedule/meal plan for tomorrow
Set the timer on coffee for next morning
Marci has a great evening routine article with some more things to think through.
Pair down to the essentials in this season
I think this is a huge lesson to remember: God has each of us in different seasons and each season of our life is unique in what is expected of us. This means that God gives us different priorities in different seasons.
We need to be seeking HIM to determine what's important in this season we are currently in! I LOVE this quote:
"We can accomplish everything God has ordained for us to do in this life. Hint: It's probably not half of what's on your to-do list.)" – Shopping for Time
A book you might enjoy if you are in a similar season: The Fringe Hours by Jessica turner
Need some help with your routines?
I've got an incredible free resource for you called Refresh Your Routines – Getting on Track with Your Daily Disciplines!
It's a FREE kit I've put together for you. It includes 3 training videos on routines as well as a 9 page downloadable kit.
Meal Planning Help:
I am really excited to share with you the sponsor of today's podcast episode: PrepDish! If you ever feel like you wish you had a little help in your meal planning, then I highly encourage you to check out PrepDish. They offer gluten free meal plans and paleo meal plans.
But you don't have to eat a gluten-free or paleo diet in order to take advantage of all that PrepDish has to offer! In fact, almost half of their customers don't eat those diets. The meals are healthy and non-processed and work well for anyone who is trying to eat a healthy diet. And PrepDish is offering a super special TWO week free trail when you sign up through this link (how awesome!!)
When you sign up, you'll receive an email every week with a grocery list and instructions for prepping your meals ahead of time. After only 1-3 hours of prepping on the weekend, you'll have all of your meals ready for the entire week. I absolutely love how easy they make it.