Make Him Room: Writing the Names of Jesus
By Victoria Osborn, Contributing Writer
Perhaps one of the greatest disciplines that have really transformed my faith over recent years is the simple discipline of writing the Word.
It started simply as a way to help my exhausted new Mama brain focus on reading the Bible. My soul was willing but my flesh was weak. Sitting down to read the Bible was an invitation for my tired body to succumb to sleep. To be fair, in those early days of motherhood, it didn't matter what book I was reading, my heavy eyes always won.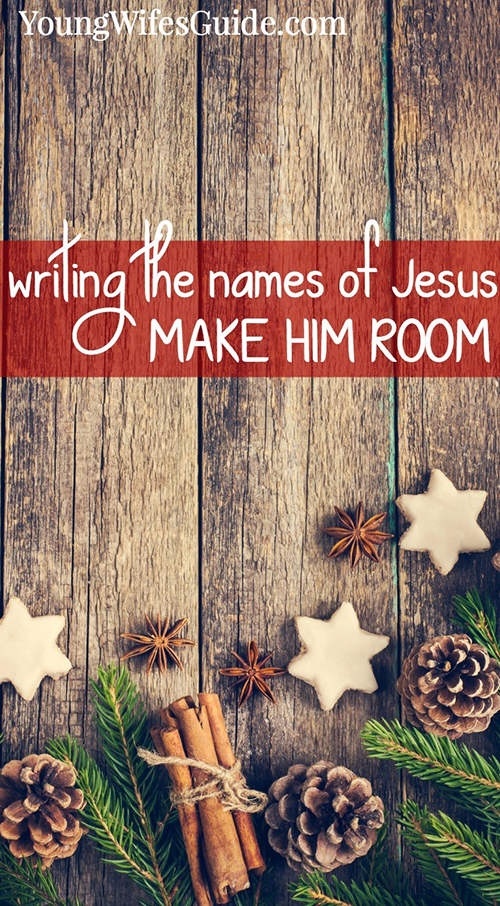 Out of desperation and the knowledge that my weary soul desperately needed to be in the Word, I started to write out a few short passages.
Reading is Passive, Writing is Action.
Writing out the Scriptures began as a practice to help me stay away long enough so I could be in the Word daily but it soon transformed into allowing God's Word to become alive to me in a way it has never been before.
Something happens in the process of allowing His Words to flow from me as I read the words and write them out. I can't really even explain it, except to say that writing out the Word has made God's Word become even more important to me than every before.
Here I am, now, a few years out of the tired baby stage but still exhausted as I run after and wrangle three little ones. The desire to be In God's Word is still there but my eyes are still heavy and I'm still prone to fall asleep in those early morning hours if I'm not actively reading His Word by writing it down.
As I'm preparing for Advent and planning activities for my children, I'm also planning on how I will personally celebrate Advent in my own daily Bible reading time. Since writing the word is important to me, I thought it would be so fitting to spend weeks leading up to Christmas writing out the Christmas story.
This year I'm leading my children through Truth in the Tinsel as well as counting down the days of Advent with a Names of Jesus countdown activity. Both are great ways to not only get my children excited about the Advent season but also are truth planting activities that I pray are planting little seeds of faith in their hearts.
The days of December are busy and I know I want my own devotional time in the Word to be meaningful and just as important so rather than do a separate study, I plan on also writing the names of Jesus Scripture verses in my own Bible journal every morning.
A few minutes is all it takes, yet the impact is so great. Focusing on Jesus, the names He represents as our Savior will give a whole new aspect on celebrating the days leading up to His birth.
Writing The Names of Jesus
What you need:
Bible
Journal or notebook paper
Names of Jesus Advent Countdown
What you do:
Spend a few minutes in prayer every morning (or whenever you get a spare minute!). Ask God to silence your heart so you can really focus on writing out the Word.
Read the small passage in its entirety.
Write it out, letting His words flow from the Bible through you down to the paper.
Read the passage again, exploring the surrounding verses.
If your children are old enough to write, invite them to write out the passage as well. Not only will it help plant the Word in their hearts but it will also help them practice their handwriting skills… multi-tasking at it's finest!
If you have more time, here are some other great Advent reading and writing plans for both you and your family:
Truth in the Tinsel // Write part of the daily Scripture out while your children are working on their craft or coloring their ornaments.
Printable Advent Reading Plan from Not Consumed // This simple reading plan would be perfect to pair with this printable Nativity scene.
December Scripture Writing Plan from Sweet Blessings // A Scripture writing plan that leads you through the Bible as it outlines the Birth of our Savior
31 Days of Adoration from Every Bitter Thing is Sweet // A Scripture plan that focuses adoring who Jesus is
Of course, there are many more December and Advent reading and writing plans out there. A simple search on Pinterest will yield you hundreds!
Regardless of what verses you choose to write this season, remember to really focus on what you are writing and the true blessing of Jesus' birth.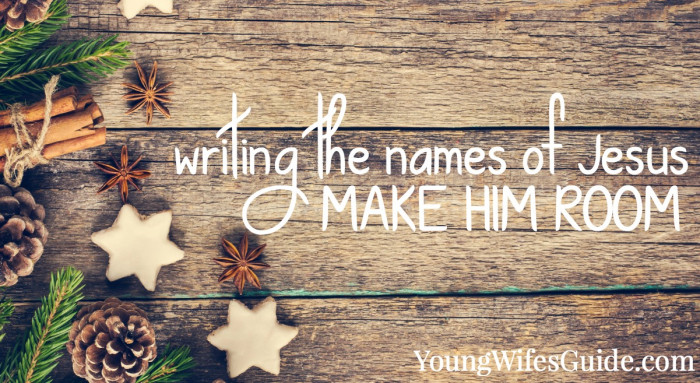 Do you write the Word on a regular basis? How has it impacted your own faith?