2018 Christian Reading Challenge for Women – Hf #103
Pssst: The men's reading challenge is here!! Jason put together the 2018 Christian Reading Challenge for Men and it's fantastic!

A great idea is to do this challenge together with your husband or share with a man in your life looking for new books to read.
When I released my first reading challenge last year, I was excited! I love reading and I was excited to share some great picks for the year. What I didn't anticipate was how incredibly popular this reading challenge would be!
So this year, Jason and I got it all together early so you can jump into the new year with this challenge (or pick this up anytime during the year if you find this later)! Plus we had our baby girl, Magnolia on January 20, 2017 so it was hard to keep up on things.
THIS YEAR – not only do we have the 2018 reading challenges for both men and women, we also have a new podcast launching about reading AND something incredible exciting revolving around reading coming out in January 2018. So stay tuned…it's going to be a FUN YEAR!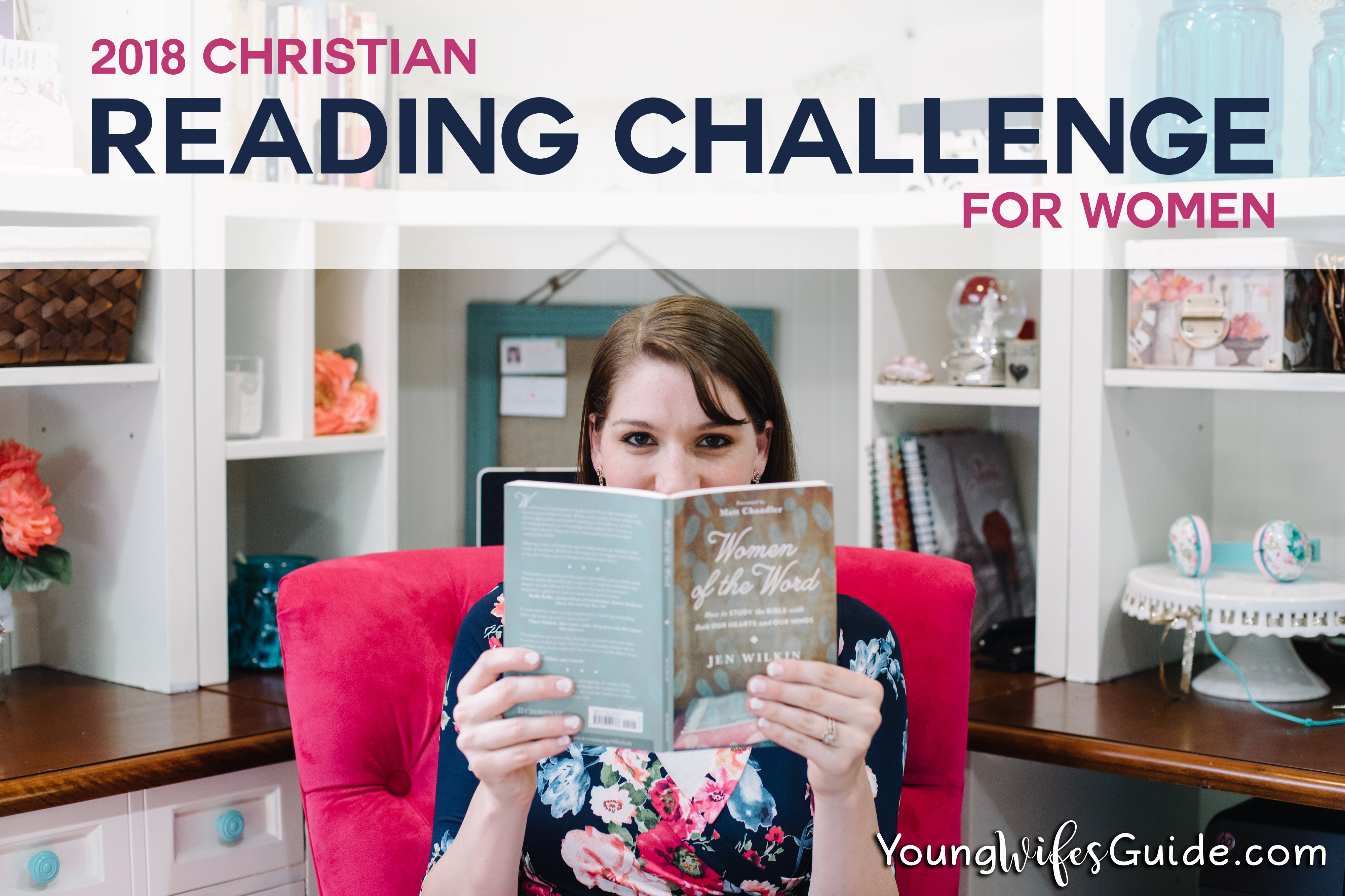 Listen to the Podcast:

Listen in to my podcast episode from this week to find out more about why I developed this reading plan, tips for following along, and the reasoning behind the books and categories I chose. Or skip the podcast and head down below for all the info ?

And don't forget to subscribe to my podcast in iTunes.

Right click here and save-as to download this episode to your computer.
We wanted to make this year's reading challenge even more accessible. So we changed up some of the categories and all books in the challenge are brand new to this year – no repeats! However, we do have categories down below if you want to pick other books to read – or feel free to swap out and put your own books in the categories.
I'm ALL for broadening my reading horizon, which is why I was so excited about this new reading challenge. I think we often reach for the same kinds of books over and over again. But I want to stretch you and challenge you to reach out and pick up books you wouldn't normally.
Plus, doing a challenge like this will make you read more throughout the year. So wanna join us?!?
Grab the Toolkit:
The very best and easiest way to follow along is to grab my toolkit right here! The toolkit includes the full reading challenge for 2018 (for both men and women) as well as tips for finding more time to read (even when you are super busy) and how to find more books for free or cheap.
Grabbing this toolkit will also "flag" you as a "reader" in my email system so you will get a lot of fun additional reading goodies this year 😀 HINT HINT: You will WANT to be on this list!!
2018 Christian Reading Challenge for Women
Here's how it works:
I have given you category suggestions for each book as well as my book recommendation. I personally recommend all of these books and tried to think about the very best books I recommend all women read. If you've already read that book or simply want a different suggestion, scroll down and you will find more book recommendations for each category (OR feel free to choose any of your own books).
Then download and/or print off the reading list to follow along.
A note about fiction: This list does not include any fiction. I LOVE reading fiction and read many fiction books throughout the year. However, since this is for entertainment and relaxation for me, I don't need to add these in as reading goals. When we are on vacation, or I have more down time (like during Christmas), I read a lot more fiction. But I'm already prone to being lazy and reaching for a fiction book more than a book to help my spiritual growth or draw closer to the Lord, so I don't need any extra reading goals to re-inforce that habit ? But I know several of you requested fiction options worked in, so feel free to replace some of the categories below with fiction if you would prefer.
Pick Your Level:
I know each of us has different reading levels and time for reading, so I created two different tracks you can follow.
13 Books a Year – This works out to 1 book every 4 weeks. If you have no habit of reading right now or have no idea you will fit reading time into your busy schedule, then this is a great level to begin with. Pick one book every 4 weeks and commit to getting it down within that time.
26 Books a Year – If you want to tackle a bigger challenge, then this level will get you reading 1 book every two weeks throughout the year. It's still a very doable reading track but will challenge you to stay on track! If you want to follow this plan, read one book from each list every month. So in January, read book #1 and book #14! This way everyone can read through and follow along with books #1-13 together. (Note: This is different than last year!)
Here are the categories:
Christian Living
Biblical Womanhood/Marriage
Parenting/Family Life
Theology
Biography
Practical Homemaking
Money & Finances
Christian Classics
Church History
*If you are not a parent or are not married, then scroll down and fill in those spots with other fantastic book suggestions from the other categories.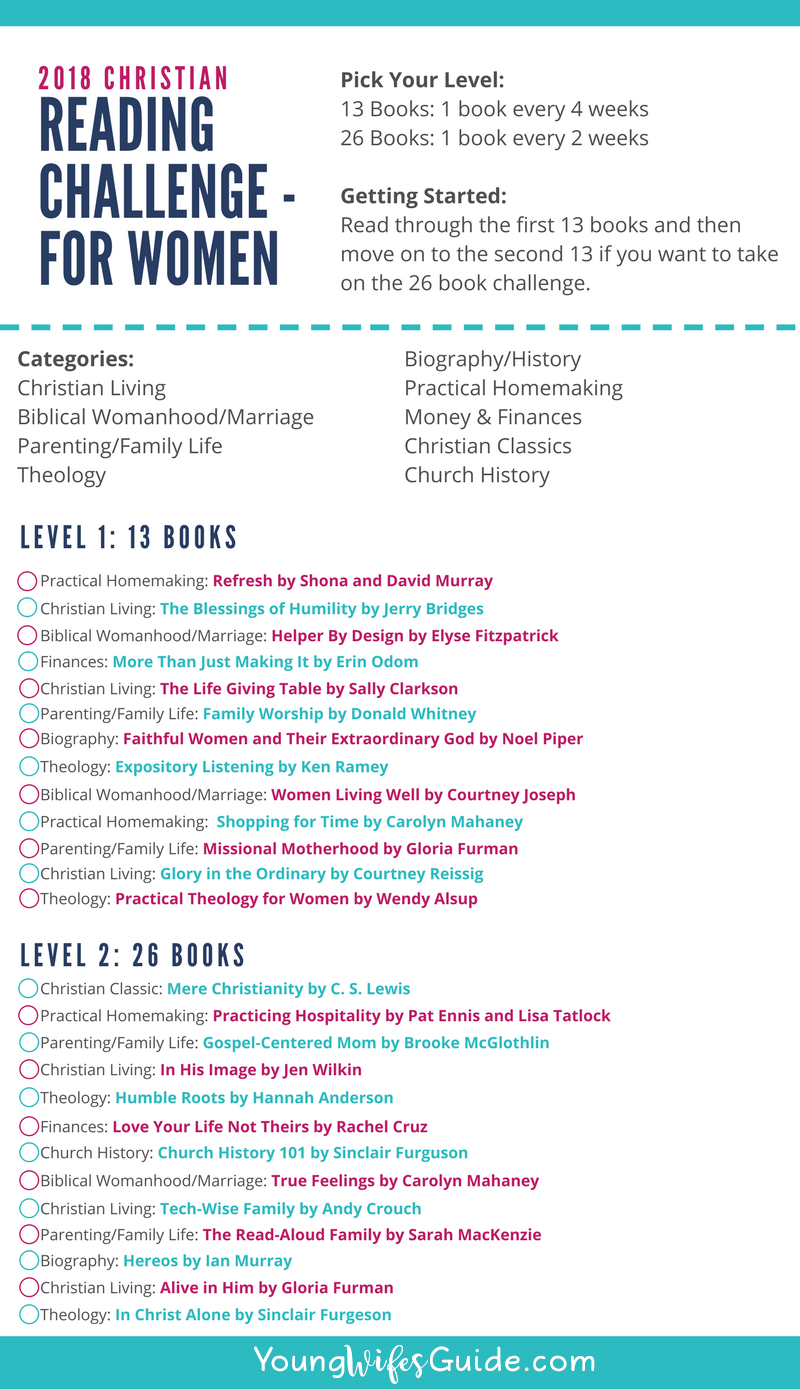 13 Books a Year:
26 Books a Year:
We changed up the order a little bit this year. Instead of just reading straight through the 26 books, we recommend that you pick one book from each list every month. So January you would read books #1 and #14, February is books #2 and #15, and so on. This makes it so that we are all working through books #1-13 together. But feel free to do it however you want 😉
14. A Christian Classic: Mere Christianity by C. S. Lewis
15. Practical Homemaking: Practicing Hospitality by Pat Ennis and Lisa Tatlock
16. Parenting/Family Life: Gospel-Centered Mom by Brooke McGlothlin
17. Christian Living: In His Image by Jen Wilkin
18. Theology: Humble Roots by Hannah Anderson
19. Finances: Love Your Life Not Theirs by Rachel Cruz
20. Church History: Church History 101 by Sinclair Furguson
21. Biblical Womanhood/Marriage: True Feelings by Carolyn Mahaney
22. Christian Living: Tech-Wise Family by Andy Crouch
23. Parenting/Family Life: The Read-Aloud Family by Sarah MacKenzie
24. Biography: Heroes by Ian Murray
25. Christian Living: Alive in Him by Gloria Furman
26. Theology: In Christ Alone by Sinclair Furgeson
Grab the Toolkit:
To make this as easy as possibly for you, I created a toolkit you can download that has all the details (and MORE) that you need to make the most out of this challenge, customize it for YOU, grab the men's companion guide to go through with your husband, and more.
I created this 24 page toolkit because I really want you to dive into reading this year and LOVE it. So I poured my heart into making this over the last two weeks and it's my special gift for you to jump start your new year. All you have to do is sign up for my brand new newsletter all about reading and then you can download the toolkit immediately for free. (Don't worry – you can then unsubscribe from my email list if you don't want to hear from me).
Throughout 2018 I'll be sending out periodic newsletter all about reading, keeping up on the challenge, book recommendations, book deals and steals, AND news about a book club coming up sometime in 2018. SO EXCITED! Download below.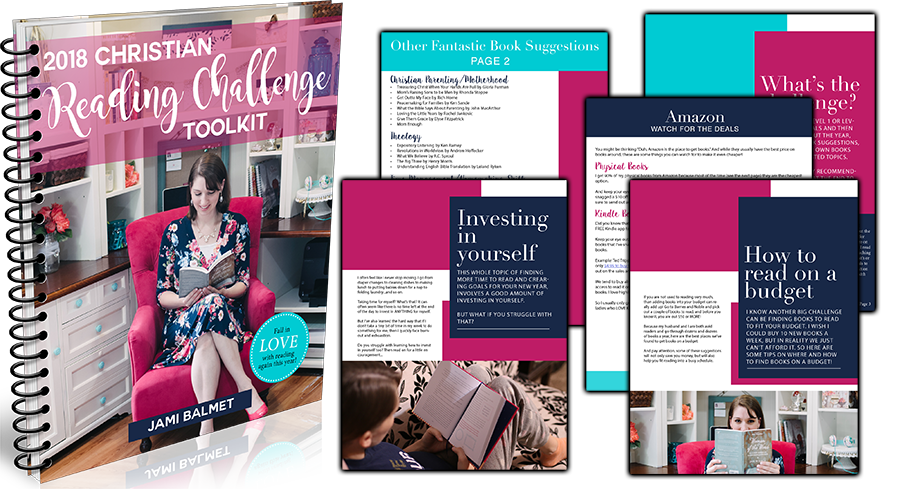 Other book suggestions for your categories:
Christian Living:
Biblical Womanhood/Marriage:
Parenting/Family Life:
Theology:
Biography:
Time Management/Homemaking Skills:
Money & Finances:
A Christian Classic:
Church History:
Download the FREE Toolkit!
Don't forget to grab the free toolkit I've created for this reading challenge. You will get everything you need to follow along with the challenge, how to tailor it to fit your needs and your life, book suggestions, how to find the time to read, how to read books on a budget, the men's reading challenge companion guide, and more!
I can't wait to read more this year and encourage each other along the way!! ?
Leave a comment below and let us know what reading plan YOU are doing this year?
Looking for an affordable planner?
I've got an affordable, Christian homemaking planner to introduce you to today! Welcome to our brand new sponsor to our podcast: The Homemaker's Friend Daily Planner! I've used this planner for years and there are several things I love about this planner!
1) It's very affordable! 2) It's spiral bound so it lays flat. 3)It's made BY a homemaker FOR homemakers. 4) It includes a very easy weekly layout format. and 5) It includes tear our shopping lists!! BONUS: It's super cute ?
If you are looking for an affordable planner that you can take with you on the go, you need to check out The Homemaker's Friend Daily Planner!
PLUS the creator Sue, is offering you a FREE 16-page downloadable Meal Planning kit! All you have to do is head over and download it for free. ?