Making the Most out of Your Reading Goals This Year
Last week I shared my 2017 Christian Reading Challenge for Women and the response has been INSANE! I am blown away and so excited for everyone who will be following along with us during 2017. You ladies are setting some incredible goals for this year and I am so excited to be able to follow along with everyone.
(Hint: You can also check out the MEN'S companion reading challenge that my husband put together. You can go through the challenge with your husband or send it to a man in your life who might want to dig into some amazing Gospel-centered books.)
I have had a ton of great questions and suggestions from the challenge this week so here's a follow up update. I want you to be able to make the MOST out of your reading challenge this year so here are some additional resources to help you ROCK your reading goals this year.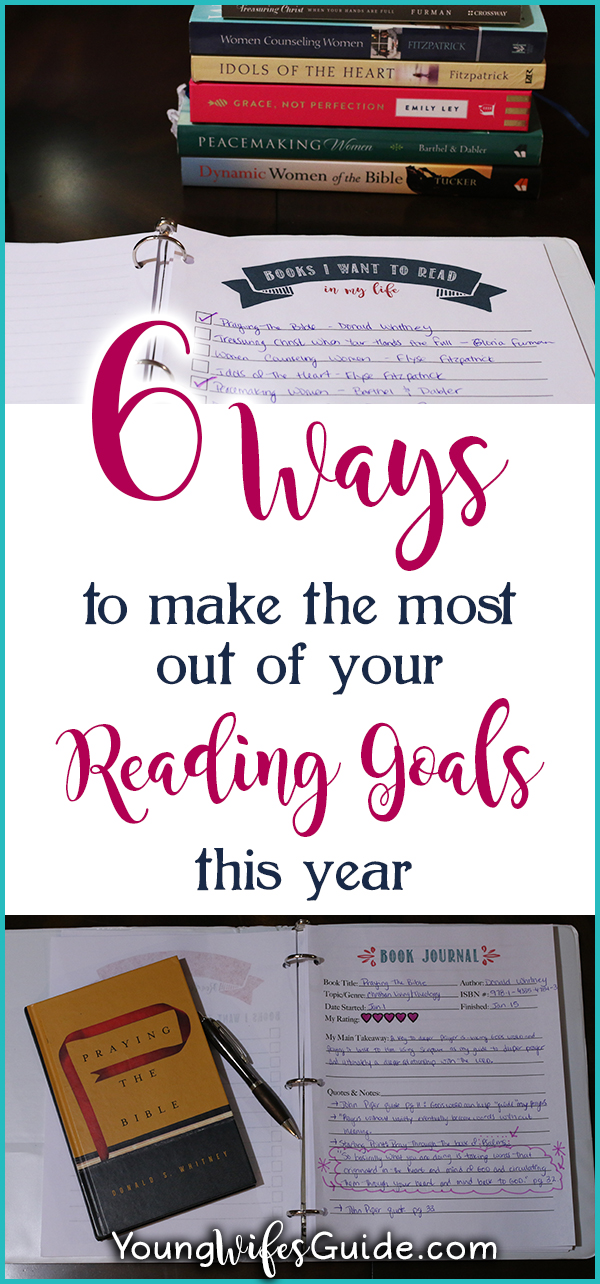 Subscribe to Kindle Unlimited
A friend pointed out that several of the books in my reading challenge are included in Kindle unlimited which can be an excellent way to get through some incredible books this year at a fraction of the cost. So I went through my reading challenge list and compiled all the books that are included in Kindle unlimited to save you some time (see below).
But first, what is Kindle unlimited? It's a program from Amazon that costs $9.99 a month. With your subscription though you get access to thousands of Kindle eBooks for FREE. And the best part is, you DON'T have to have a Kindle. You can download the FREE Kindle app to your tablet, phone, or even read right on your computer.
PLUS: Join Amazon Kindle Unlimited 30-Day Free Trial
(you might as well try it out and get a couple of books for free. Just remember to cancel before the 30 days are up). It also gives you access to certain audiobooks for free!
Books that are included in Kindle Unlimited:
Here are the books from my reading challenge that you can read for FREE with a 30 day FREE trail to Kindle Unlimited. Some of these are from the recommended reading lists so you can swap them out if you want 🙂
From the men's companion guide:
Get Two FREE Audio Books
I LOVE listening to audio books throughout the year but they sure can get expensive! So here's an easy way to get them cheaper:
Try Audible and Get Two Free Audiobooks
– You can try out a FREE 30 day trial to Audible and get TWO books for free. Again, you just need to make sure to cancel before the 30 days or you will be subscribed to Audible. But Jason and I have had an audible subscription for several years and love it! We get 1-2 audio books a month with our subscription and it's well worth the price.
So give the free trail a try to download two audio books completely free and then consider signing up if you want to continue the subscription. I'm not going to list all the books that are in Audible from my reading challenge because I bet that at least half are (if not most).
Download the Free Toolkit:
There are some other excellent way to get FREE or cheap books, eBooks, and audiobooks but I already covered those in depth in my reading challenge toolkit. So click on the image below to download the toolkit if you haven't done so already: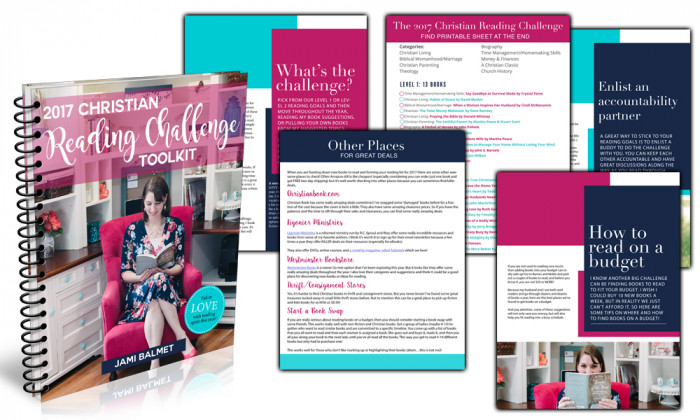 FREE Reading Journal
I've wanted to create something like this for a long time, but just never got around to it. So since I had so many of you asking this week on how to make the most out of this reading (since it's all so Gospel-focused and deep), I knew I needed to finally take the plunge and create a reading journal. (Click on the image below to sign up to download the reading journal in all sizes and colors.)
I just started using the journal this weekend to keep track of my first book of 2017 and I can already tell I'm in love! This is going to change the way I dig into books this year and I'm so excited. (You can use this journal for 2018 and beyond as well!)
Here's what the journal includes:
Space to record your books you want to read this year
Reading journal pages for all 13 or 26 books you read this year
A running list of all the books you want to read in your life (this is a great place to record all those great books you come across throughout the year and your life)
And I know all of us like to keep track of things in different ways, so I create several options for you. Each of these two options comes with a black and white option if you want to save ink 🙂
Full Size Notebook:
I created a full size (8.5×11) reading journal. Simply print it out and stick it in a normal notebook. Easy-peasy! Or download this version of the journal and then print it TWO per page. Then cut them apart once printed and you will have a half sized notebook. This is a great option for a small notebook you can carry with you.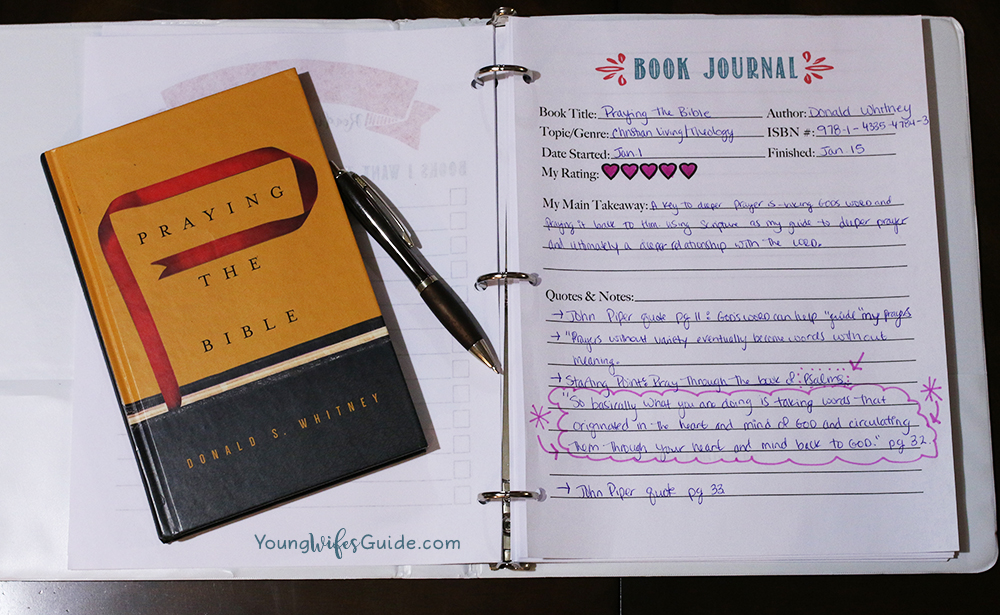 Traveler's Journal Notebook:
I'm getting ready over the coming weeks to share my newest obsession with traveler's notebooks but this is how I am keeping track of my reading challenge this year. I printed the reading journal out to fit my traveler's notebook and I keep it with me. This makes it super accessible to fill out throughout the year and I always have it handy when I'm reading something I want to write down or a great thought I want to remember.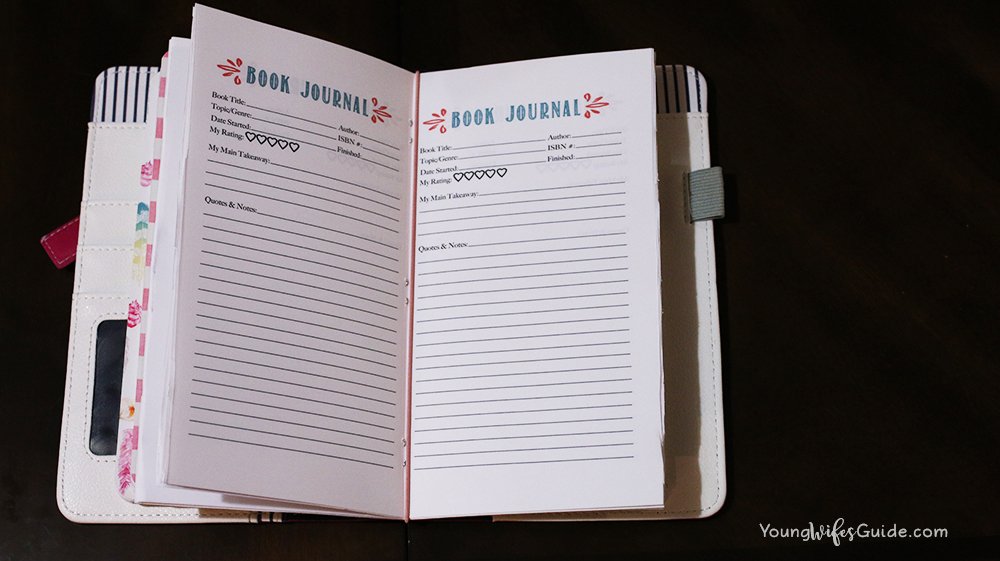 Follow Along in Our Community
With baby #5 due in about 3 weeks, my life will be a bit chaotic as we head into February. But I've had a ton of requests for some form of community while we go through this challenge together. I'll be updating on Instagram and here on the blog throughout the year, but a place we can all chat and interact would still be fun.
PLUS, I'm working on some sort of idea for a book study this year. I did a live video book study last summer and it was a BLAST!! It's on my radar for 2017, just not sure when it will happen.
So come on over and join our Facebook community to chat, share book ideas, get some accountability and more!
Use Goodreads to Keep Track of Your Reading
Someone mentioned this idea to me and I thought it was BRILLIANT!! If you are not a pen and paper kind of person in keeping track of your book reading this year, then the FREE phone app Goodreads is coming to your rescue (you can also use it on the computer).
My husband will be so proud of me for recommending this idea because he's obsessed with Goodreads. It's a phone app where you can create reading lists, review books, keep tracking of what you want to read, what you have read, etc. I prefer to do all of this on paper (hence my new reading journal) but if you want a simple and stream lined way to do it, then this is a terrific option.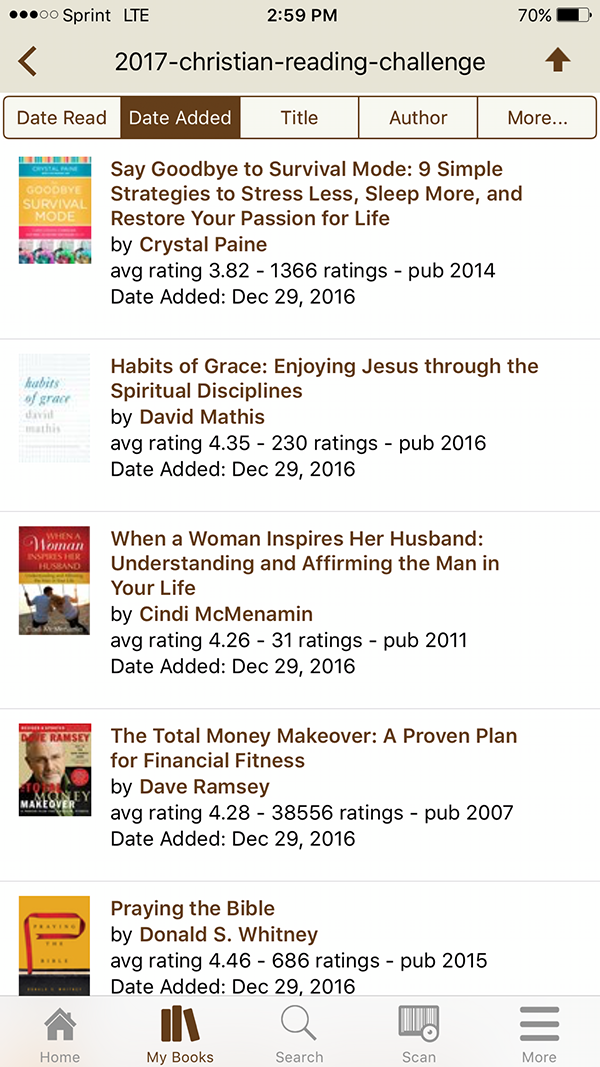 I went in, created an account, and in about 15 minutes I had all the challenge books added to my bookshelf "2017 Christian Reading Challenge". A great idea is to load these all into your library on Goodreads so when books go on sale or you see some free Kindle books, you can easily check back and see which books are on your list for this year.
I'm a pen and paper kind of girl…but after playing with Goodreads, I might spend some more time in there this year 😉
What are your tips?
Leave a comment and share your favorite tips for getting the most out of your reading goals this year!