30 Must-Try Soups for Fall
By Victoria Osborn, Contributing Writer
Fill your fall meal plan up with these warm, hearty and comforting must try soups for fall!
It's no secret, I love fall.
Outside of the beautiful colors and sights of the season, I love how the temperature slowly starts changing and getting a little cooler. Summer is fun, my family certainly had our share of good memories over the past several months, but now I'm ready for the season to turn.
The calendar may still say September, and depending on what part of the country you live, it may still feel like summer but take heart you fellow fall lovers because cooler weather is within sight!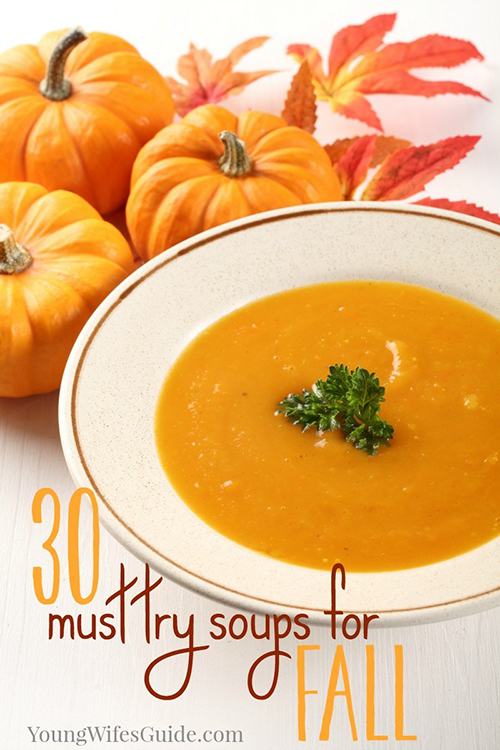 Along with the changing temperature, I love the introduction of warm, comfort foods that fill you up on cold nights. Soups are my favorite thing to eat during the cold fall and winter months (and if I'm being honest I may sneak a bowl during the warm months too!)
Soups are the perfect comfort food, rich and filling, and depending on what you put in, they are super healthy too. I love loading my soups up with hearty vegetables to help make the meat stretch farther plus my kids are slurping up veggies with no complaint either!
5 Reasons to Love Soup
Soup is Adaptable
Soups are so easy to change up or create on a whim. All you need is some broth, a protein (meat and/or beans), chopped veggies (either fresh, frozen or canned) and spices for taste. The possibilities are endless!
Soup Stretches the Budget
Need to stretch your meat and make it go further? Soups are perfect to add a little bit of meat to and then load up on cheaper, yet yummy, vegetables or beans.
Making a big pot of soup and eating off if for a few meals throughout the week is another budget friendly tip to make your grocery budget stretch even further.
Soup is Loaded with Veggies
Have an abundance of vegetables from your summer garden? Chop them up and freeze them for soups later.
I love loading my soup recipes with plenty of vegetables for both nutrition and for a full tummy. Best of all my kids chow down our family favorite soups and no one is complaining about having to eat lots of veggies!
Soup is Crock Pot Easy
On how I love my crockpot! Throw all the ingredients in after breakfast and like magic you have a hot and delicious meal ready to do at dinner!
Just about every single soup recipe I have ever come across can be easily adapted for the slow cooker.
Soup is Freezer Easy
I love making a big batch of soup and freezing smaller portions for quick lunches. Almost all soups freeze well, so if you happen to have an abundance of that yummy tasting soup left over, ladle some into small single serving glass containers (leave room for expanding at the top) and freeze.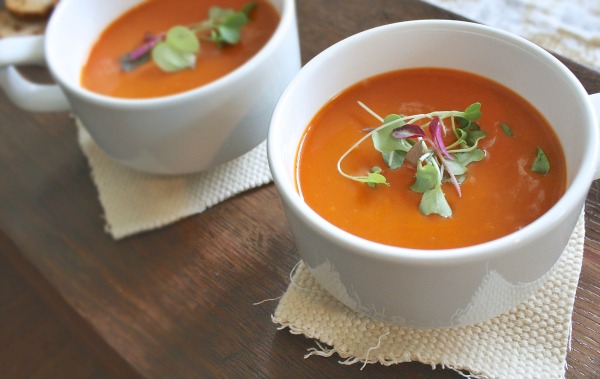 There's nothing better than having a big ol pot of soup simmering away for hours on the stovetop or having a freezer full of individual soup containers for quick easy meals. Most soups can be put together in minutes making them especially easy for busy nights. My favorite is making a big batch of soup over the weekend and re-heating it during the week.
With the changing season comes an opportunity for me to switch up my meal plan and incorporate a variety of flavorful, hearty and rich soups in the rotation.
If you love fall — and soup! — check out this list!
30 Must Try Soups for Fall
Heart-Warming Fall Stew from Young Wife's Guide
Slow Cooker Quinoa Vegetable Chili from Young Wife's Guide
Slow Cooker Zuppa Toscana from Ashley Rose Roe
Easy and Comforting White Bean Chicken Chili from Creative Home Keeper
Savory Butternut Squash Soup from Creative Home Keeper
Harvest Chili from Creative Home Keeper
Potato Soup from Intentional By Grace
Roasted Red Pepper Soup from DIY Budget Girl
Easy Slow Cooker Buffalo Chicken Soup from Living Well Spending Less
Olive Garden Chicken Gnocchi Soup from Tornadough Alli
Tomato Bisque from 100 Days of Real Food
Creamy Chicken and Rice Soup from The Humbled Homemaker
Lasagna Soup from Easy Peazy Mealz
Detoxifying Chicken and Vegetable Soup from Keeper of the Home
Creamy Potato Soup with Veggies from Keeper of the Home
Slow Cooker Chicken Noodle Soup from Cooking Classy
Slow Cooker Curried Coconut Chicken Soup from Once a Month Meals
Chicken Enchilada Soup from Real Mom Kitchen
Chicken Tortilla Soup from Passionate Homemaking
Slow Cooker Chicken and Wild Rice Soup from 100 Days of Real Food
Slap 'Yo Mama It's So Good Vegetable and Bean Soup from Beauty in the Mess
Tastier Broccoli Cheese Soup (with Bacon!) from Intoxicated on Life
Chicken Vegetable Soup (Whole 30 Approved) from This West Coast Mommy
Loaded Fotato Soup from Trim Healthy Mama
Nourishing Thai Noodle Soup from Nourishing Simplicity
Corn Chowder with Bacon from Leaving the Rut
Shrimp and Bacon Corn Chowder from Delightful E Made
Roasted Cauliflower White Cheddar Soup from Cooking Classy
Lemon Chicken Orzo Soup from A Dish of Daily Life
Hearty Tuscan Soup from Pickled Plum
Do you need some help with Meal Planning?
A quick note from Jami: I love Fall. The yummy recipes, delicious soup, and getting back into routines. One such area I've been working on is meal planning. I've fallen out of the habit and it's had an impact on my time, my budget, and how healthy the food is we have been eating.
That's why I'm so excited to share that my very favorite meal planning website (that I personally use every single week) is having a super sale!!
Seriously, this is my secret weapon when it comes to sticking to a budget (and meal planning in 10 minutes or less every week). It's called Build a Menu (This is my affiliate link by the way. I make a small commission when you purchase through my link at no extra cost to you. But please know, I would never share about BAM if I didn't 100% believe in it and use it myself) and through September 24, 2016 they are running a super special sale. You can get a full year of access for just $40!! <—That's just $3.33 a month or about $0.77 a week. Yeah. It saves me far more than that a month (plus saves so much time). Check it out here.
As you go through to pick your recipes for the week or month, it gives you a price estimate per meal for whichever store you select that you shop at. You can even upload all of your own recipes to your account and it will calculate the price per meal for you!! So handy when you are trying to stick to a budget.
I've been using BAM for about 2 years now and even after trying out the other top 5 meal planning websites out there, this one is still hands down my favorite. Sign up by September 24th to get it for less than $1.00 per week!