Simple, Healthy, & Nutritious $5 Dinners! (15+ Recipes Your Family Will Love)
Jason and I have some big financial goals for 2016 and we are ramping up for it all by trying to get our budget under control as much as possible in November and December. Unfortunately, these are just about the two hardest months of the year to do that in.
We are hosting Thanksgiving at our house this year, my husband's birthday is early December, then Christmas, then the day after Christmas my older twins turn three, and a week later is my birthday. Ouch!
So one area I'm really trying to work on in saving money is our grocery budget. Have you ever read one of those articles that promises to help you save $1000 a year by suggesting that you cut out cable, your daily latte, and expensive shoe purchases? Yeah – that's already been cut out of our budget.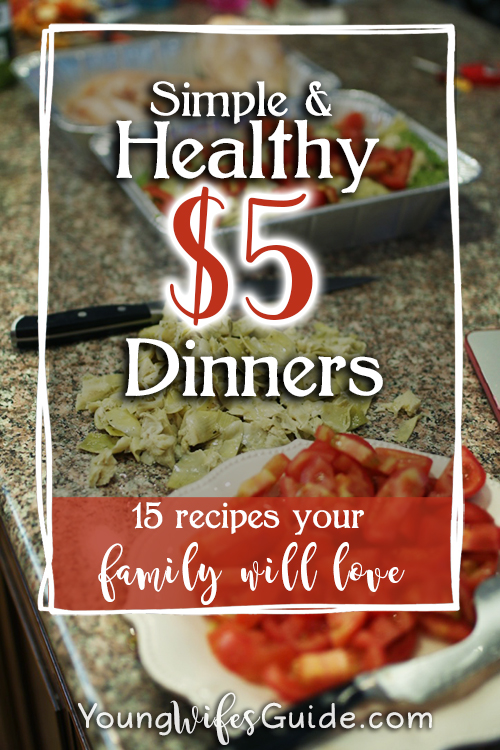 Do you need some help with your meal planning strategy over all? Check out my super simple method for meal planning that takes about 10 minutes a week.
But an area that has seemed to creep up and up is our food budget. Part of that is because we have started eating healthier food in the last four years and have been trying to source healthier eggs, dairy, and meat. But the really difficult part is that if I just head into Costco (my very favorite place to shop), with the idea that I will purchase everything organic, I will easily spend $500…for about a week's worth of food.
Now, I'm not knocking organic food in any way, shape, or form. I really wish we could eat organic 100% of the time and have completely free range chicken and eggs, pasture raised meats, etc. But I also have to be a wise steward with what God has given us right now, today, in this month. And that doesn't include purchasing all organic food.
Make Things Simple For Yourself
But what I can do in this season, is learn to cook smarter. I have 4 children under 3, and so I don't have a ton of time on my hands either. My goal in this season: Cook simple, healthy, and nutritious meals for my family on a budget.
Thankfully, there are a ton of great recipes out there that meet this criteria! Then use whatever kind of vegetables, meat, and dairy that you can get your hands on. And don't sweat the rest.
Scroll below to see 15 awesome recipes that only cost $5! But I did want to quickly let you know of my very favorite resource for planning my meals on a budget. It's a meal planning website that does price calculations FOR YOU!!

Seriously, this is my secret weapon when it comes to sticking to a budget (and meal planning in 10 minutes or less every week). It's called Build a Menu (This is my affiliate link by the way. I make a small commission when you purchase through my link at no extra cost to you. But please know, I would never share about BAM if I didn't 100% believe in it and use it myself) and through September 24, 2016 they are running a super special sale. You can get a full year of access for just $40!! <—That's just $3.33 a month or about $0.77 a week. Yeah. It saves me far more than that a month (plus saves so much time). Check it out here.

As you go through to pick your recipes for the week or month, it gives you a price estimate per meal for whichever store you select that you shop at. You can even upload all of your own recipes to your account and it will calculate the price per meal for you!! So handy when you are trying to stick to a budget.

I've been using BAM for about 2 years now and even after trying out the other top 5 meal planning websites out there, this one is still hands down my favorite. Sign up by September 24th to get it for less than $1.00 per week!
Simple & Healthy $5 Dinners!
Click on each link below to check out all these yummy and healthy $5 dinners! (You can even upload these recipes into your new Build a Menu account and fill out a full meal plan in minutes)
Tex Mex Chicken Skillet – $5 Dinners
Chicken Cacciatore Slow Cooker Recipe – Freebie Finding Mom
Crock pot Vegetable Chili – Frugal Living Mom
Spinach Lasagna Skillet – $5 Dinners
5 Meals That Cost $2 or Less – Loving Life and Living On Less
Pollo Asada with Rice and Beans – $5 Dinners
15 Dinner Recipes for $5 or Less – Your Modern Family
Roasted Chicken with Tomatoes, Zucchini, and Garlic – $5 Dinners
Seven Layer Tostadas – $5 Dinners
5 Crock Pot Chicken Meals with 4 Ingredients Each – Sunny Day Family
Chunky Spaghetti Sauce – $5 Dinners
Red Quinoa with Avocado, Black Beans and Corn – $5 Dinners
The Ultimate Quinoa Pizza – Simply Quinoa
Black Bean & Quinoa Stuffed Zucchini – Yummy Healthy Easy
These $5 dinners can give you a huge head start toward taking control of your budget and reaching your financial goals. I know how tempting it can be to just pick something up or have food delivered, but when it comes to saving money, home cooked meals are the way to go. You probably see ads for low cost meal delivery services with $5 meals, but keep in mind that these meals are $5 per serving — whereas many of the $5 recipes I've shared feed 4 people or more!
Make It Even Easier
If you love this idea of sticking to a budget while eating healthy meals but don't want to have to hunt down all these different recipes (and remember where they are!) then check out my very favorite meal planning website: Build a Menu.
You can get a full 12 month premium membership to Build a Menu for just $40 through September 24, 2016!! Don't miss out on the best sale of 2016 and get my very favorite meal planning software for less than $1.00 a week!!