A Theology of Hope for These Present Days – Episode 15
Anyone else feeling super stressed and overwhelmed with everything going on? I've seen countless posts this week about how heavy everything feels and all of the stress of this world. But how do we, as Christians, face this present age, and the future to come? Join me in this two part series on a Theology of Hope.
Listen to the Podcast:

You can find all the links and notes for this episode below!

And don't forget to subscribe to the podcast in iTunes

Right click here and save-as to download this episode to your computer.
The Problem of Being Hyper Aware
Social media has become a plague to these current generations. We see and know all (or least we think so). And instead of taking comfort in God's sovereign plan, we stress and fret and fear.
In the episode, we take a little jump into picturing what it would have looked like to live in the first half of the 1900s with smart phones. And compare that to how it feels now.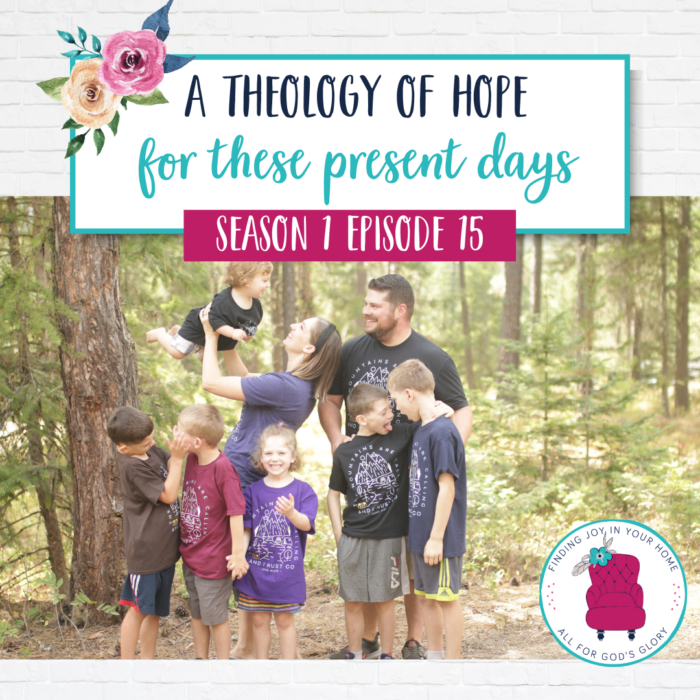 Studying a Christian Response to:
Black Plague
Early Greco-Roman Plagues
Emperor Nero
Our Takeaways:
Don't be ignorant of what's happening in the world, but largely stay in your circle
Develop a robust prayer life
You don't have to know all the answers
TRUST
In the next episode, we are going to get into the next part: The Theology of Hope for the Future Age
Links & Resources:
Songfinch is offering an additional $20 dollars off ALL personalized songs at SongFinch.com with code: HOME
Go to GreenChef.com/homemaking100 and use code: homemaking100 to get $100 off including free shipping!