My favorite Stitch Fix box EVER!! – August 2018
I am happy to report that this latest Stitch Fix box is my favorite one I've ever received and it makes me eager to do another one SOON 😉
This is my 7th box over the past few years! You can see all the Stitch Fix boxes I've reviewed in the past here. And this one is the best and my absolute favorite!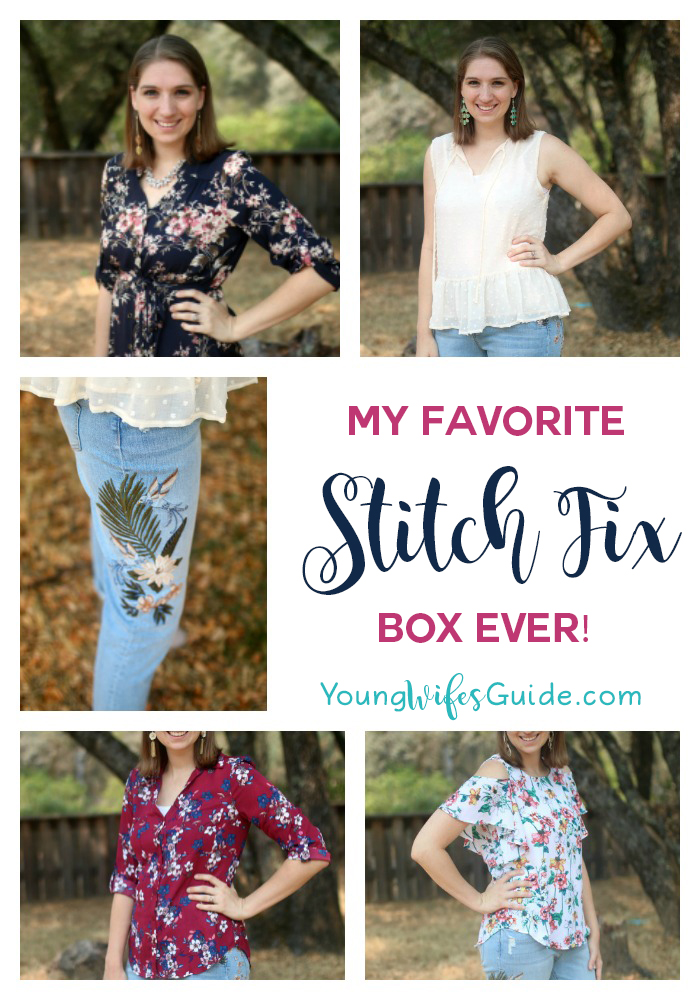 I started out excited about Stitch Fix but I just didn't love the clothes I got enough to say I was in LOVE with Stitch Fix. For these prices, I need clothes that are very high quality and will last years AND that I love the style and the fit.
But through trying out several more boxes, I think Stitch Fix's selection got vastly better AND I learned a lot more about how ask for what I wanted. I think there are some important tricks to learn when ordering Stitch Fix. Read down through the bottom and I'll give my secret tips for getting the most out of Stitch fix.
How Stitch Fix Works – The Short Version!

If you want a more detailed look at how exactly Stitch Fix works – check out my summer box from 2016!

Essentially you pay a $20 styling fee, fill out your style profile, and you get sent a box of 5 items. You only pay for the items you want to keep. If you keep all 5 items, you get 25% off all items (this makes it very worth it in my opinion). If you keep even one item, that $20 styling fee gets applied to that item. I've always kept at least one item so I've never minded the styling fee. (P.s. I have heard that if your box is just truly horrendous without a single item you even remotely like, you can contact customer service and they will send you a new box for free. So it's worth contacting customer service if that happens to you).

The prices range from decent prices for good quality items to much higher than I normally pay. HOWEVER, I have noticed now over the years of slowly purchasing Stitch Fix items, that every single one of those has become treasured pieces in my wardrobe. A week doesn't go by that I don't wear at least one Stitch Fix item. I've slowly come around to the idea that quality matters. And I know in the coming years, it will be my Stitch Fix items that stand the test of time…simply because I don't buy quality clothes otherwise.

I'm coming around to the idea of having a much smaller wardrobe (a time capsule wardrobe if you will) that is filled with the timeless high quality pieces that I truly love to wear! Stitch Fix fits well within that plan! And ultimately becomes affordable as well if I buy a select couple of things a year instead of many cheap items that need replacing much sooner.

To get $25 OFF your first Stitch Fix box, just sign up through my referral link (and then follow my secret tips below to make the most out of your box)!!
My August 2018 Box
It's been over two years since I've done a Stitch Fix box but I had some credit waiting for me and it's been at least that long since I've purchased any clothes for myself. Rosie is 18 months old and our second set of twins were only 9 months old when we got pregnant with her. So yeah, it's been a while since I've been down the baby weight or WANTED to buy new clothes.
So I thought this would be a fun time to get some new clothes for Fall (plus as a good bonus, Fall is my favorite time of year)! I am obsessed with the clothes I got sent in this box. It makes me want to order another box right now…but I gotta space them out a bit.
Here's an awesome tip: Since it's not quite fall yet, if you LOVE any of the pieces I got, pin them to your style board (see my tips at the bottom). Let your stylist know that you want that item and you might get it in YOUR box!! 😀
41 Hawthorn – Cristen Shirt Dress
41 Hawthron has become one of my favorite brands because of Stitch Fix. I own at least 4-5 dresses now from them that are among my very favorites. Full price $78
Pros: PERFECT for Fall and I am obsessed with the soft cream and pink of this dress.
Cons: It feels a little loose, however that's also the style. And the sides go up at the bottom a little too much for my liking. Overall though it's comfy and cute.
Verdict: KEEP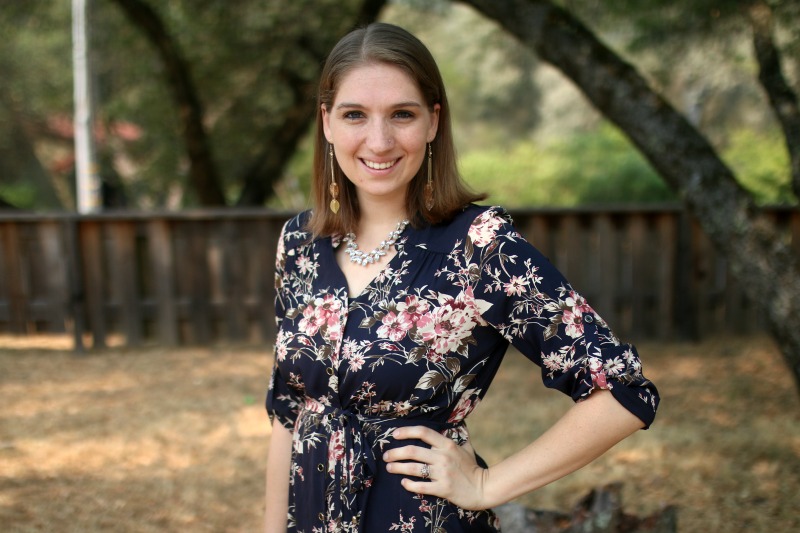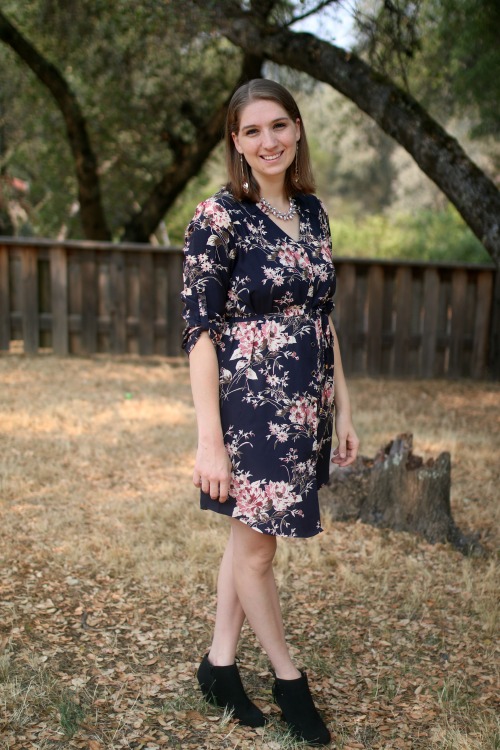 Le Lis – Ivori Swiss Dot Skirted Blouse
This is actually one of the items that I pinned from Stitch Fix to my style board! The stylist saw that and sent it to me! This is the second time I've received one of the exact items I've pinned! Normal price $42 (not bad for a nice blouse).
Pros: I love the soft material, the color, and the polka dots. It's the perfect combination for Fall and Summer! PLUS it matches the jeans they sent me PERFECTLY. See below.
Cons: I do wish it was a smidge longer. But I just tucked my cami I was wearing under neath into the jeans and it worked well.
Verdict: KEEP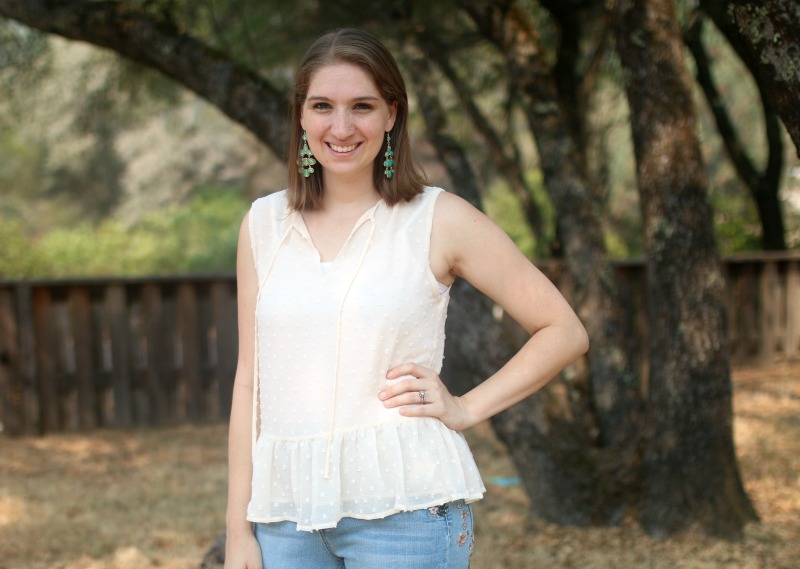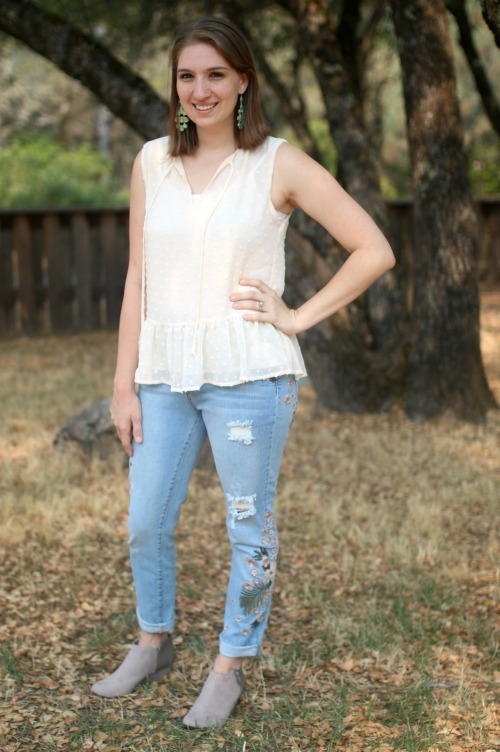 Tinsel – Playa Embroidered Boyfriend Jean
I've never requested a specific item before (other than telling them I LOVE dresses) but this time I requested a pair of embroidered jeans. In fact, I've NEVER received pants or shorts from SF before because I'm so picky and they are so hard to find good ones. But at this point I'm willing to spend a little more for a good quality pair of jeans.
These jeans have changed my mind about asking for pants or shorts. My stylist said she even picked this particular pair for me since they are not super form fitting and a little looser. Modesty for the win!! Normal price $68 (I actually don't think this is bad for a super high quality pair)
Pros: The jeans are gorgeous!! The fit, the color, the embroidery, it's perfect. They are incredibly soft and far better quality then any other jeans I've ever worn. And they perfectly match two of the shirts in my box. Two instant outfits, I love it!
Cons: I could have done without so much distressing but no skin shows through, so it's fine.
Verdict: KEEP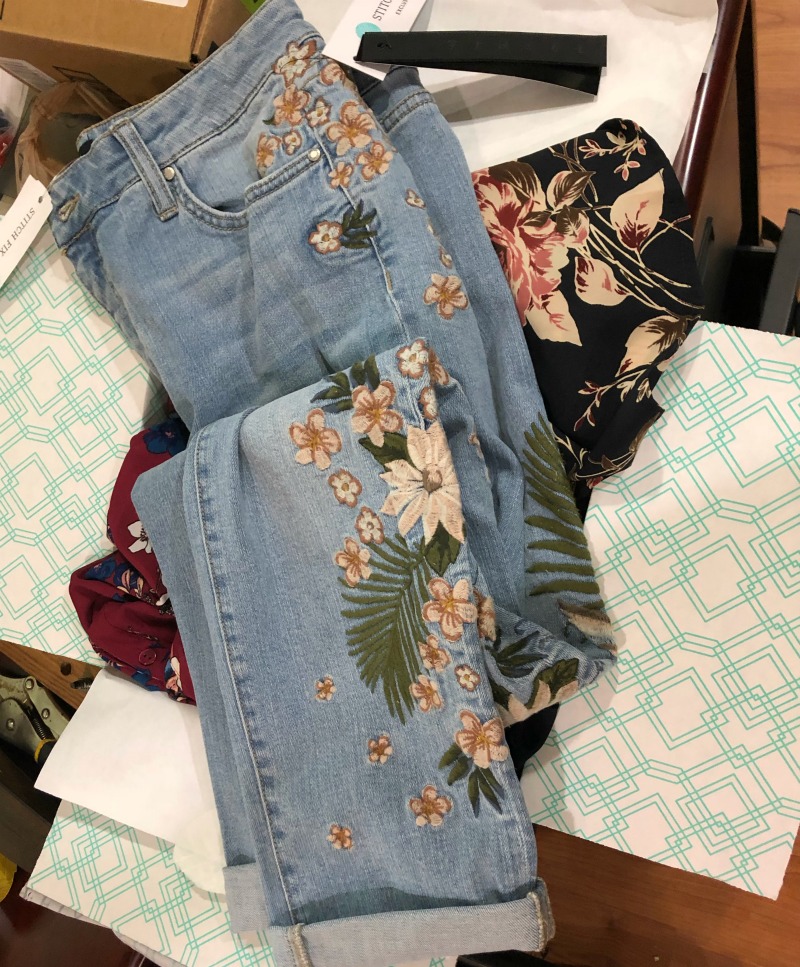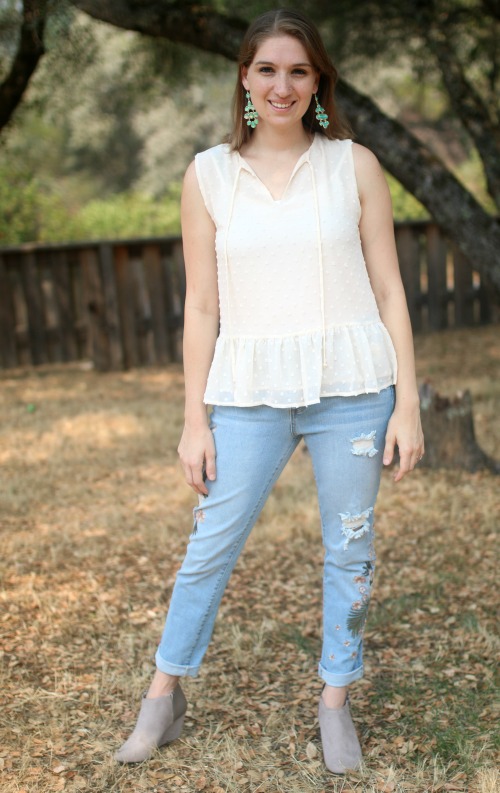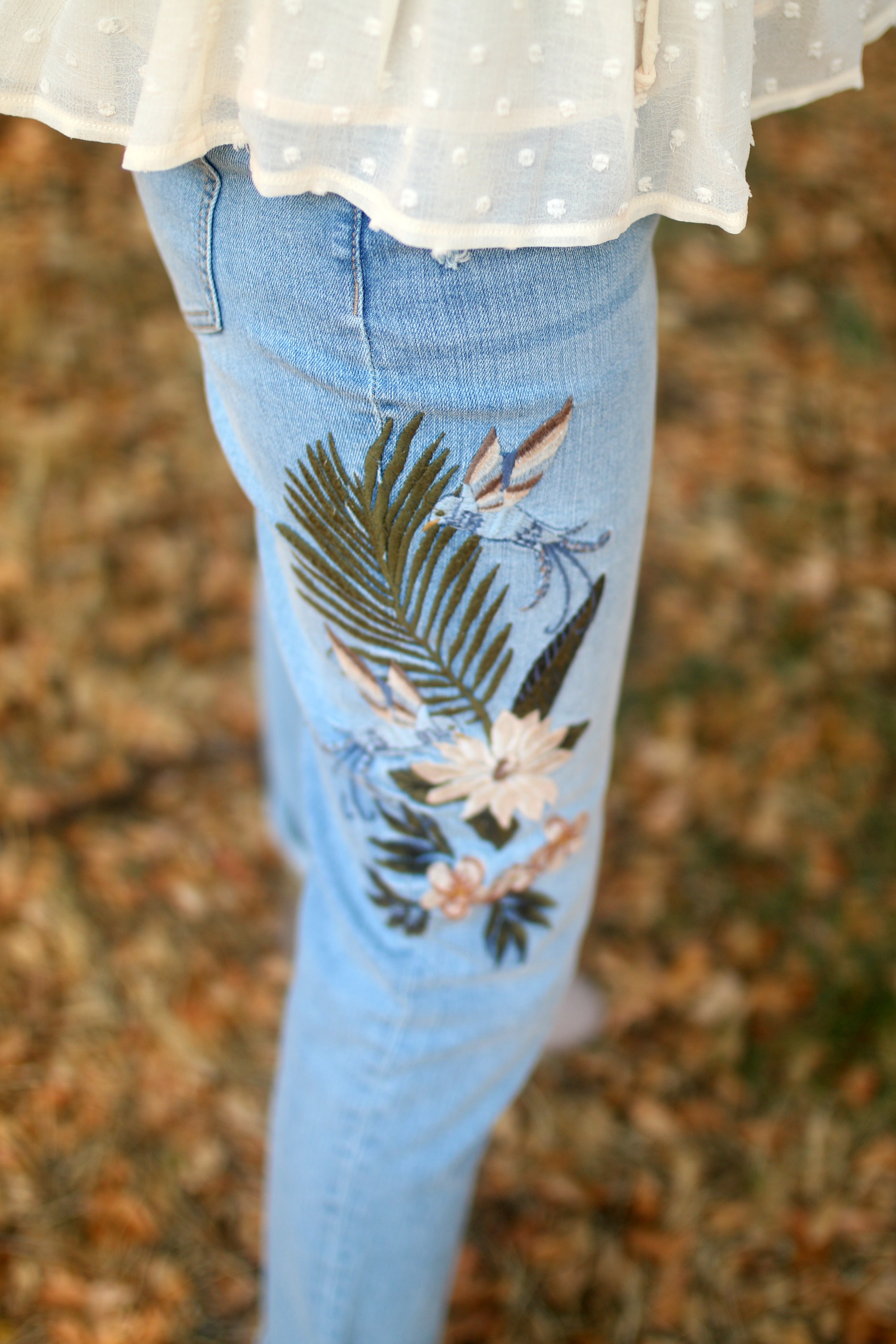 FORTUNE + IVY – Anwe Cold Shoulder Top
I am in love with this shirt. You can immediately tell the quality when wearing it, it's soft, and perfect for fall and summer! Normal price $36.
Pros: Cut, color, and fit is right on.
Cons: Because it's so light, I have to wear a cami underneath. Not a big deal for Fall but a bummer for summer when it's so hot. But makes sense for a white shirt!
Verdict: KEEP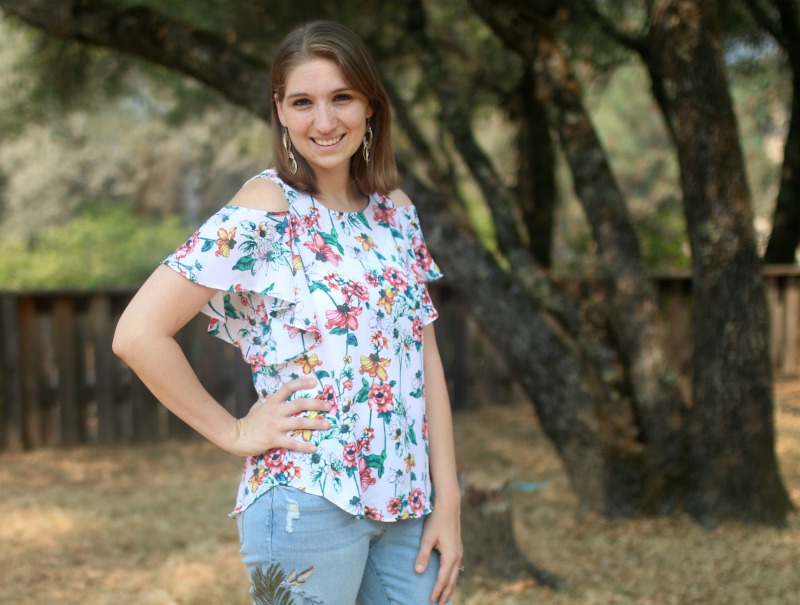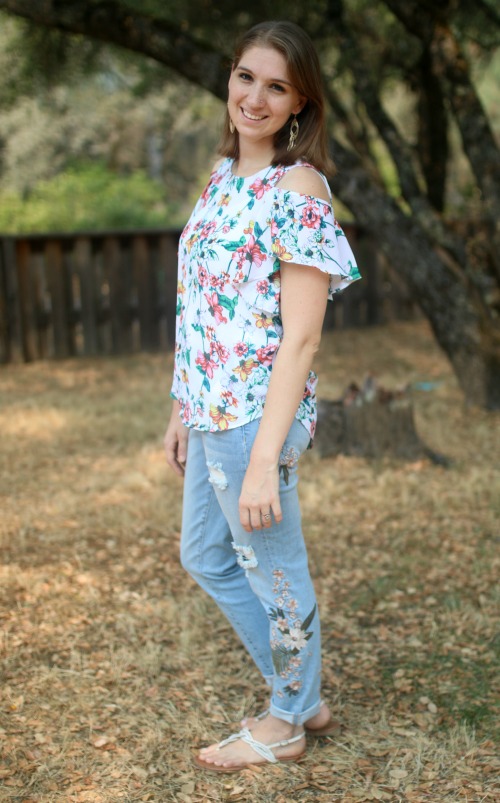 FORTUNE + IVY – Christelle Button Down Blouse
Honestly, this item was my least favorite but it will still be a great addition to my Fall wardrobe! I decided to keep it because I was in LOVE with the other 4 items. And when you keep all 5 items, you get 25% off the entire box. So by keeping this item, I got $65.50 OFF the entire box. It was a total win. Normal Price 38.
Pros: I love the color and think it's perfect for Fall! Exactly the kind of thing I was looking for.
Cons: The fit isn't quite right. It's a little boxy and I don't think it's the most flattering piece in the world. But it's so beautiful and easy to pair with jeans in the fall and winter, so it's a keeper!
Verdict: KEEP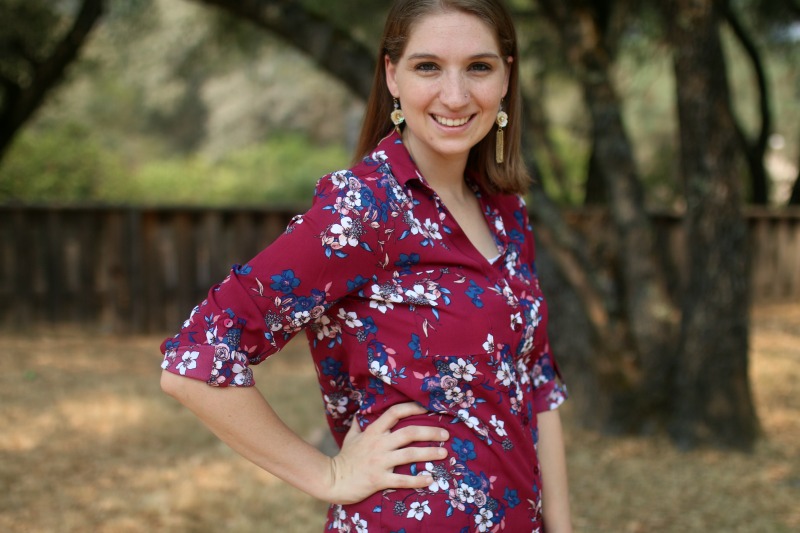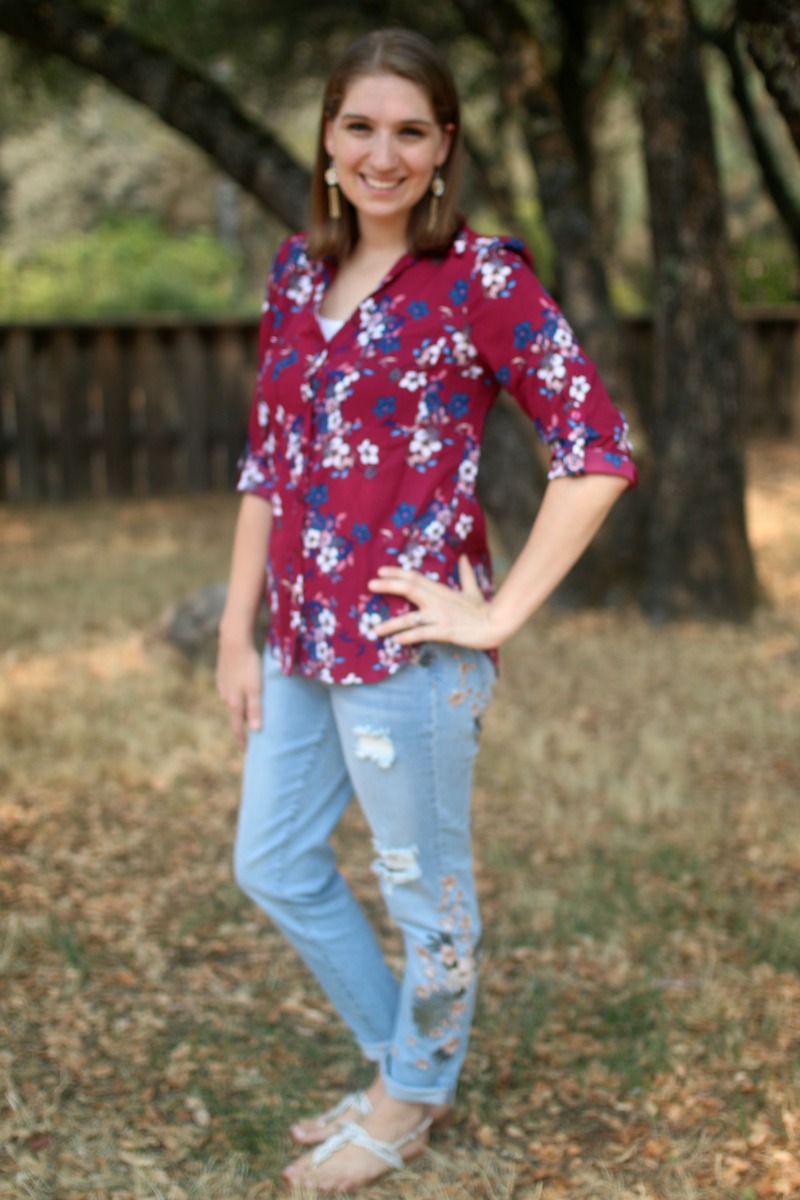 Overall opinion of my August 2018 Box:
I honestly don't have a bad thing to say about this box (and that's a FIRST)!! I've been very critical in the past of the prices and the lack of exciting pieces. I've found several good items here and there and have been overall very happy with Stitch Fix.
But this was my first box that the stylist TOTALLY nailed it. Every single piece is a winner for me and I happily kept al 5 pieces. I loved it so much that it's tempting me to try another box for Fall!
Final Verdict: KEPT all 5 items and I couldn't be happier.
Here's what I ended up paying with my credits that I've been saving up for 2 years ? (By the way, after you sign up for a free account, you can share Stitch Fix with your friends with your referral code and get $25 for each new person who signs up). And yes, the links in this post are my referral link. BUT it gives you $25 OFF your first fix (WOOHOO!) and I only EVER share my 100% honest opinions. If I was less than happy (or not at all), I would let you know!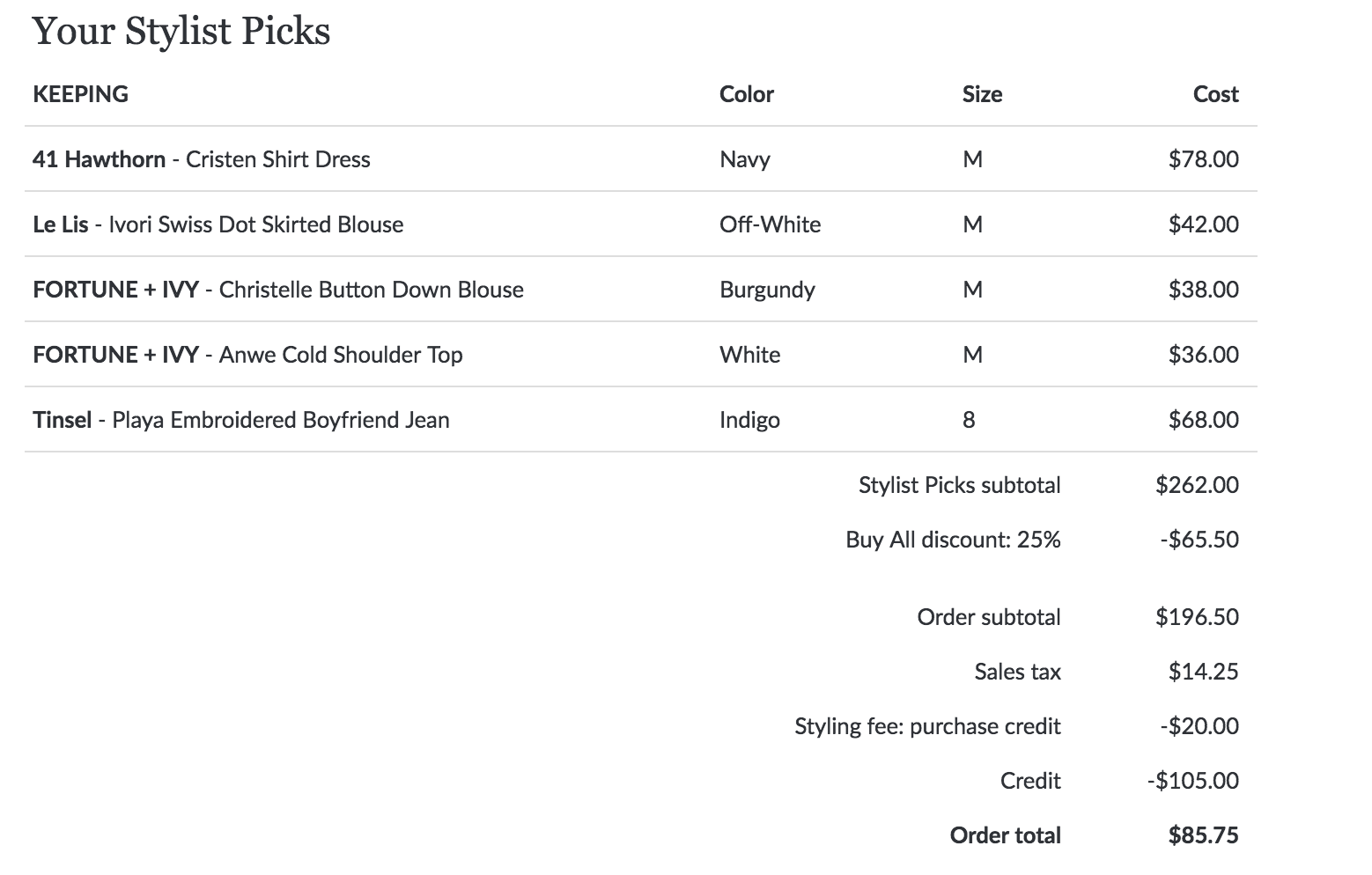 A note about prices: So I did have $125 in credit that's been building up for a while (although that's only 5 people referred, so start telling your friends)! But this was a very good priced box in my opinion. WITHOUT my credits, the total came to $210.75 including sales tax. So that's only $42.15 per item which includes an awesome quality pair of jeans AND an amazing quality dress. Not bad for this quality of clothing!!
How to get the most out of Stitch Fix:
1) Be really picky about what you honestly want to get
I tried jewelry in my first two boxes and didn't even remotely like them. So in my style profile, I told them not to send me jewelry anymore. I've very very cheap when it comes to purchasing jewelry and don't need it to be high quality. However, clothing is important to me now to be high quality.
So I took jewelry off and I shoes. I REALLY want to try getting a pair of shoes in my next shipment but honestly, I'm scared!! I feel like shoe sizes vary SO much and I must be super picky with shoe styles. But maybe if I'm looking for something specific I could ask for them? I'll have to think about. (Let me know if you've done Stitch Fix's shoes!)
So be picky: Will you never ever wear a dress? Tell them that! Do you HATE the color orange? Let them know! I am all for being adventurous and I think part of the fun of Stitch Fix is that they will send you things you wouldn't normally pick for yourself. So be open minded, but also be realistic. If you would NEVER pay $38 for this simple bar necklace, then take jewelry off, etc.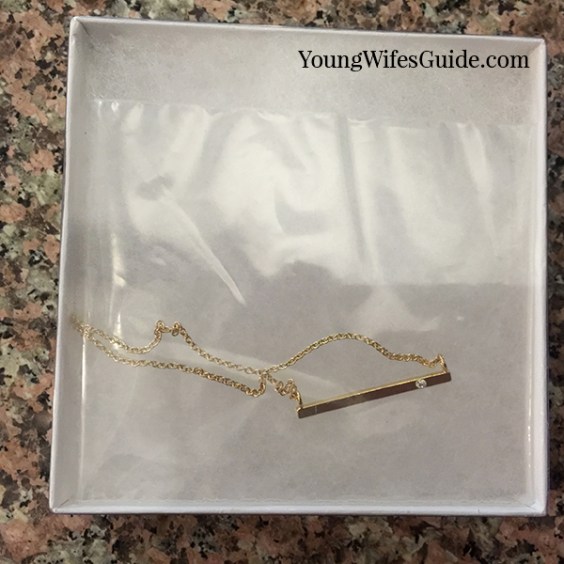 2) Don't feel pressured to keep things
I kept a few things from my earlier boxes, that I shouldn't have. I had FOMO: Fear of missing out. And that if I sent the items back, I would regret it. But those couple of items that I didn't absolutely love, are still sitting in my closet unworn ?
Don't fall into that trap. If you are not 100% completely in love with it: send it back! And the great thing is, you get to actually try on all these clothes WITH your current wardrobe to get a good feel if you will wear it or not!
3) Pin things FROM Stitch Fix
This is my single BEST piece of advice and I think it's the KEY to this wonderful box I got. I've heard over and over again to create your own "style" board on Pinterest and pin styles you like to it. So I used to search Pinterest for cute outfits and things to wear.
Now here's what I HIGHLY recommend. You go find STITCH FIX on Pinterest and go to their latest boards of THEIR clothing. My favorite boards are their stylist picks, our latest looks, and your stitch fix outfits. Then pin outfits and items that are already Stitch Fix pieces for the current season.
You have a pretty good chance of actually getting one of the items you pinned or at least pieces that are similar. From this box alone I received one exact item I pinned and one other item that was the same as one I pinned but in a different print (and actually, the print I got is even better than the one I pinned)!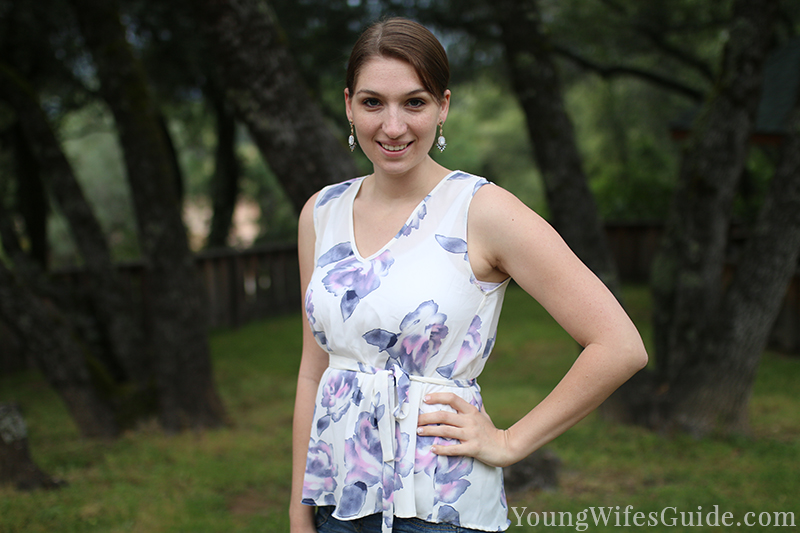 This allows your stylist to really pin point the type of Stitch Fix clothes you want!
You have to do this. Seriously, this will change your relationship with Stitch Fix forever. I don't know why I took so long to do this. Here's my style board.
4) Leave a note for your stylist (and be specific)!
This is important! Let your stylist know what you are looking for! I specifically asked for some fun and feminine fall finds as well as embroidered jeans. I didn't actually know if I would get embroidered jeans but I figured I might as well ask. And she sent me the PERFECT ones. In my next box I am going to request a pair or darker jeans (since these are light) and see what she comes up with!
Don't be afraid to be specific (i.e. I'm looking for a navy blazer). She may not be able to find it for you…but maybe she will!
Get $25 OFF your first Stitch Fix box!!

If you are as excited as I am to try out Stitch Fix, then sign up through my referral link and get $25 OFF your first box!!! That way, you can keep at least one item to try it out. Sign up here and get $25 off your first box!!