Finding Joy in Your Home Free eCourse: Essential Habits for Christian Homemakers
Joy has been a big topic here on the blog lately, because it's been a big topic on my heart and mind. Back in November, I recorded episode #20 of my podcast where I talked about discovering joy in your homemaking.
I knew when I was recording that episode that it was an important one. I asked for any feedback about that topic and if you wanted to go deeper on the subject. And I have never received a bigger response from any one podcast episode or blog post. It remains to be one of my most popular episodes and I still get emails, comments, and messages concerning it every single week.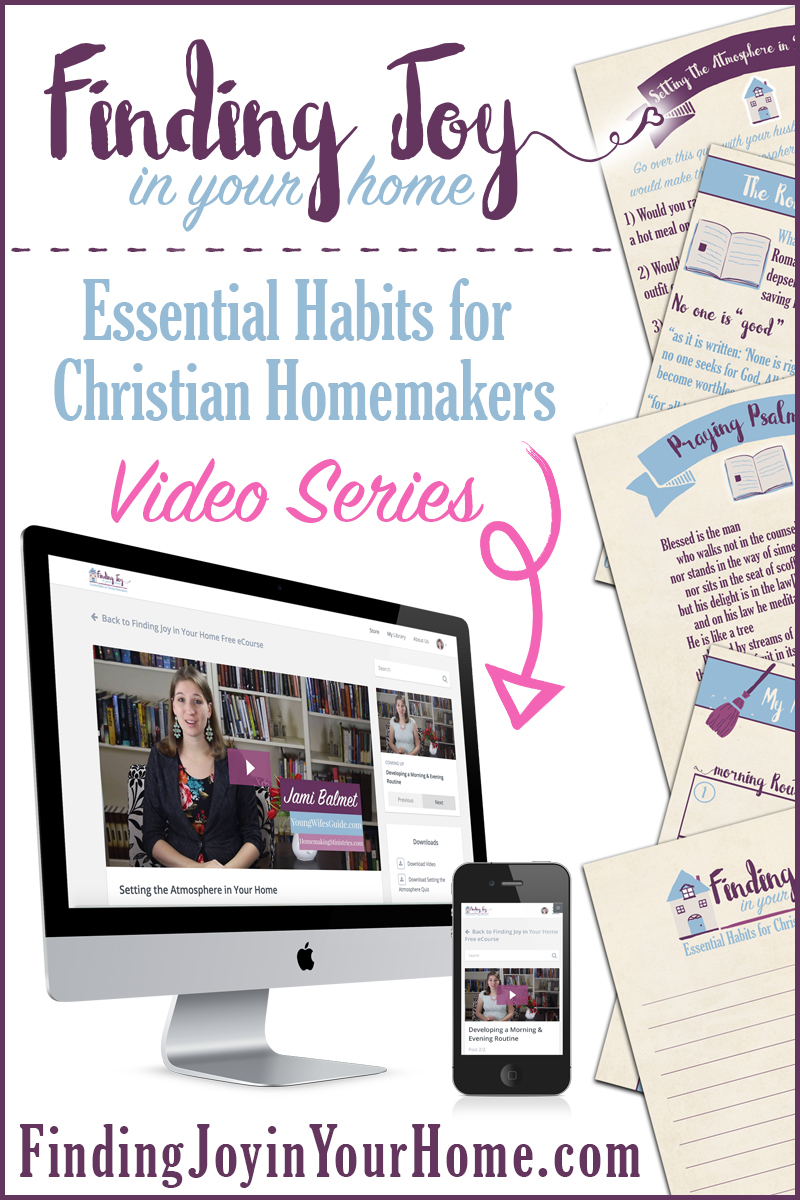 So I've been stewing on it, trying to figure out the best way to go deeper into the subject of finding joy in your life and your home. And while I continue to talk about it on my podcast, such as in yesterdays episode on cultivating joy in all things, I knew that I needed to put it into a more structured format.
So I decided to create a course for you. If you are wanting to go deeper into learning how to find and cultivate more joy in your life, then you are going to want to check out Finding Joy in Your Home – Essential Habits of Christian Homemakers. Jason and I discussed selling the course, but we decided that it was too big of a need and we wanted as many women as possible to access it that needed it.
And in just 6 short days of going live with our new course, we have had over 1300 women register to go through this course together! It's been an incredible response and the comments and community within the course have been fantastic. Come on over and join us:

Finding Joy in Your Home Mini eCourse
So heres what's inside the free eCourse (or just go sign up and find out yourself since it's free) 😉
5 Video Lessons on Finding Joy
I've designed the course to be as simple as possible. I know you are busy, so we are using a new website system that is easy and painless to use! Register for free, and you can jump right into lesson one. Here's what we cover:
Setting the Atmosphere in Your Home
Developing a Morning & Evening Routine
The Daily Habits of Bible Reading & Prayer
Tying it All Back to the Gospel
Finding and Cultivating that Joy in Your Home – And a Resource for Going Deeper
Worksheets To Go With Each Lesson:
Because I wanted you to get the most out of the course, I designed worksheets to go with each lesson. Heres what's included (and the feedback we've had on the worksheets so far has been great):
Setting the atmosphere in your home quiz – to go through with your husband
My morning and evenings routine worksheet
Praying through Psalm 1 printable
Roman's Road to Salvation Scripture Memory Guide
Printable notesheet
Watch the intro for the course:
Have you signed up yet?