Hf #36: Finding Joy in All Aspects of My Life
One of the biggest struggles within the home is finding out how to go from looking at the mundane (and sometimes boring) parts of our day to finding and cultivating real joy within it!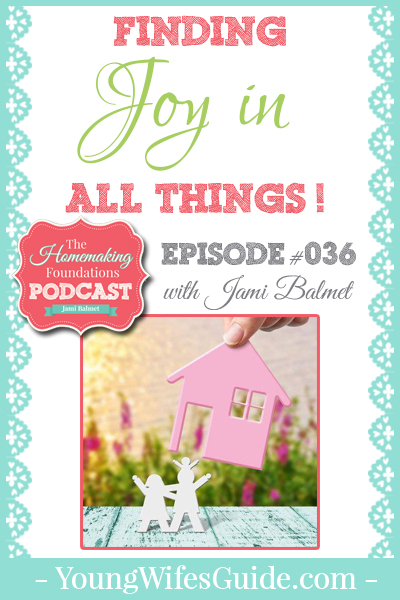 My word for this year is JOY and I'm looking at three main areas of my life to cultivate that joy: in my marriage, with my kids, and in my home. In this episode, I share a little bit about that journey and how my quest for more joy is rooted in Scripture.
God calls us to have joy in all things – so how do we practically do that? Join me in this episode as we dive into the discussion:
Right click here and save-as to download this episode to your computer.
In This Episode, You Will Learn:
About my all new eCourse that's currently FREE!
My word for 2016 and how I chose it based on Scripture
How we can begin to cultivate joy in all things
Four truths about JOY
And three areas we can apply this to
[Tweet "Rejoice always, pray without ceasing, give thanks in all circumstances; for this is the will of God in Christ Jesus for you." – 1 Thess 5:16"]
Links & Resources Mentioned in This Episode:
Resource of the week:
Finding Joy in Your Home  – Essential Habits for Christian homemakers
If you want to dive into this topic more, then head over to Finding Joy in Your Home and sign up for this free eCourse!
How do we find joy – real joy – within our days? As women, a lot of what we do can seem mundane and tedious. But when we view our homemaking (and our life) through the lens of the Bible, we can begin to experience real Joy, Peace, and Tranquility in our lives…all for God's Glory.
This free training is a 5 part video series that walks you through the essential habits that all Christian homemakers must form!
Included with each lesson are printable worksheets to help you make the most out of what you are learning. Start to find more Joy in your home by using an atmosphere quiz, morning and evening routine worksheet, and more! Click here to sign up for FREE and start watching the first video right away.

Thanks for Listening!