For when you lack energy- S2, E5
In this series of the new season, we are chatting about having productive households. One key component of a productive household, is stewarding our health (and our mental health) in a way that we can be productive in the season God has called us to. Today we are focusing on this topic from a very practical view point. Let's jump in!
Listen to the Podcast:

You can find all the links and notes for this episode below!

Right click here and save-as to download this episode to your computer.
Links & Resources: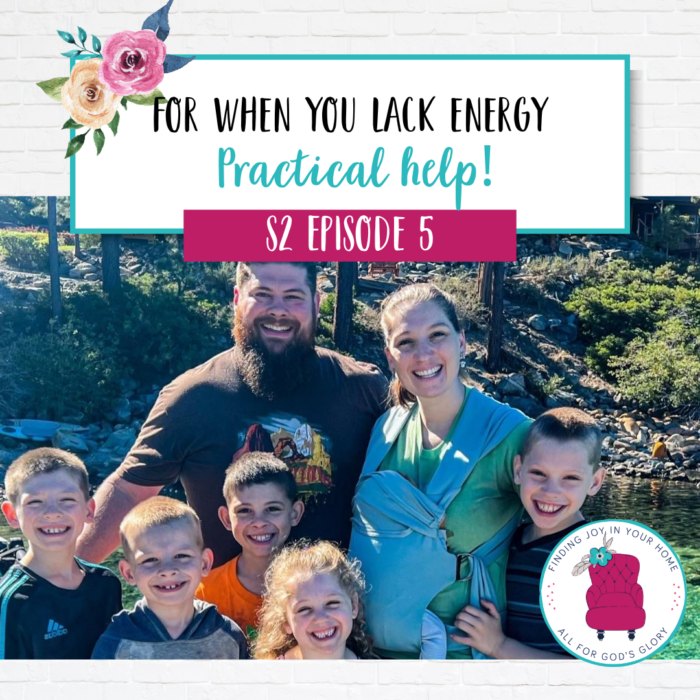 For when you lack energy:
1) Take an honest evaluation: why are you lacking energy?
Are you struggling to find meaning in your day?
Are you feeling bored? Listen to last episode
Are you feeling depressed?
Do you need to evaluate your health and hormones?
As women, we often put ourselves last. this can be a GOOD thing sometimes. It can also be a bad thing when we do it to the detriment of your health.
It brings glory to God when we care for our physical bodies in a way that allows us to care for our families.
Some ways to help energy: 
1. Minerals! Mt. Capra minerals are what I use right now. Also: real sea salt are an excellent source of minerals.
3. Figuring out your hormones & thyroid health (check out Dr. Axe as an important starting point)
4. Focusing on healthy carbs and fats
5. Vitamin D – get out in the sun 15-20 minutes a day