Foundations of Spiritual Growth for the Busy Homemaker – Hf #57
Throughout the last year, I had a lot of emphasis on Spiritual Disciplines. I shared a lot about reading God's Word, different methods for doing so, tips and methods for a deeper prayer life and more.
It was a fun year for me as I really explored what Scripture has to say on those subjects and wise advice from mature Christians in the areas of Spiritual Disciplines. And as it's the beginning of a fresh year, I think it's an excellent time to revisit this topic.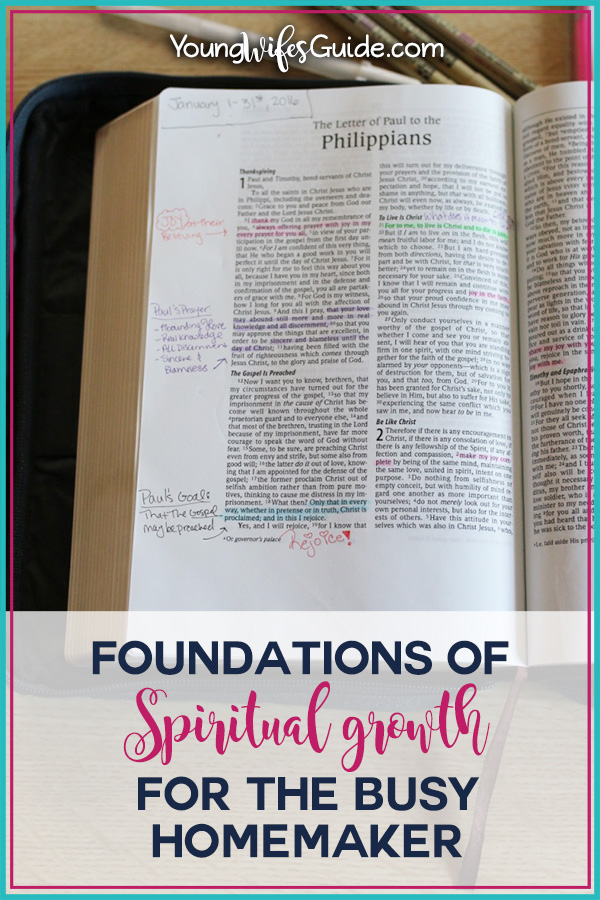 Listen to the Podcast:

I also recorded this blog post as an audio podcast. If you want to listen in instead of reading, click play below or do a combination of both

And don't forget to subscribe to the podcast in iTunes.

Right click here and save-as to download this episode to your computer.
It's good to come back and revisit this topic of Spiritual Disciplines – that is, those disciplines like Bible reading and prayer that help us to draw closer to the Lord – because it's so easy to get off track. We get lazy, we forget, we don't make it a priority and the busyness of life crams in and shoves out those priorities.
Before we jump into more specifics next week of how we can jump start our Spiritual growth, I want to make sure we have a firm groundwork laid for spiritual growth…especially as busy homemakers!
How do we grow in the Lord? How do we come to more maturity in Christ? And in fact, what does that even look like?
The Wrong Responses
I think most of us know that we should be reading God's Word. That we should make a consistent habit out of it. That we should be in prayer. But the ideas of doing so can easily get lost in the shuffle of our busy day. And 1 of 2 things can easily happen
We just never develop these into consistent habits. We may go 6 months or a year or more without every reading our Bible apart from Sunday morning.
We work on developing them into a habit, but mostly so that we can check them off our list and go about our merry way. We can easily equate the idea that we should be doing these things with the idea that we are somehow buying God's favor or his merit by practicing these spiritual disciplines.
It's so easy to either ignore our spiritual disciplines on the one hand with everything we else we have going on in life, or we can turn it into something legalistic, that we just want to mark off our list so that we can feel like we are doing the right thing.
Of course, neither of these responses is correct. And I've fallen into both camps at some points in my life or another.
"For the grace of God has appeared, bringing salvation for all people, training us to renounce ungodliness and worldly passions, and to live self-controlled, upright, and godly lives in the present age," – Titus 2:11-12
1) Salvation is of Grace
First and foremost, Salvation is of Grace. God's grace to an unmerited and undeserving people. Nothing we did or have ever done qualifies us for salvation. God freely bestows lavish love and grace on us because Christ died on the cross for our sins and made us righteous before a holy and just God.
When we accept that grace and salvation, and repent and turn away from our sins, then we are made right before God. God has placed Christ's righteousness on us at the moment of salvation, and thus we are saved. This is called justification. We are justified before God.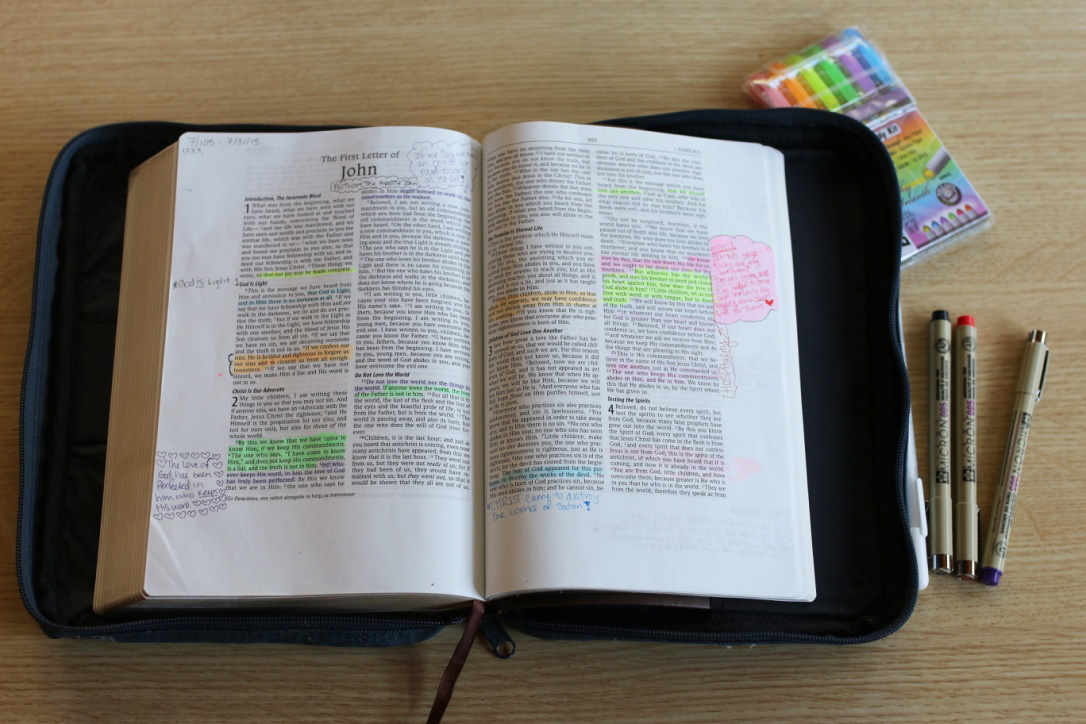 That's what we first have to understand when talking about growing and maturing in Christ. We already stand before God, forgiven and accepted. But as that passage in Titus demonstrated, we are still to train ourselves up in godly matters and to renounce ungodliness and worldly passions.
All of this takes discipline, effort, and work.
"Used in a spiritual sense, discipline includes all instruction, all reproof, and correction, and all providentially directed circumstances in our lives that are aimed at cultivating spiritual growth and godly character….so we see that the very same grace that brings salvation also trains us to live lives that are pleasing to God. All of God's disciplinary processes are grounded in His grace – His unmerited and unconditional favor toward us. We tend to equate discipline with rules and performance standards; God equates it with firm but loving care for our souls." – Growing Your Faith by Jerry Bridges
2) Our Motivation: God's Grace
In my own life, I have so often come to realize that there is no magic formula or key ingredient for consistent bible reading and a deeper prayer life. It simply comes down to discipline.
Disciplining myself and making it happen. Yes, it's hard work and takes time and there are some great plans and things you can follow which we will talk about in next week's episode, but it really does come down to discipline.
And in order for our hearts to be in the right place, in order to be motivated out of love of God rather than legalism or a misguided desire to earn God's merit, we have to understand the basics and why we strive to grow our faith and mature in Christ.
"And I am sure of this, that he who began a good work in you will bring it to completion at the day of Jesus Christ." – Philippians 1:6
So we discipline ourselves to work on these habits, but we also have to recognize that it's all of God's Grace. We have the responsibility to do these things, but it's through the Holy Spirit that actually enables us to do so. We don't do any of this out of our own strength, but God gives us the strength to do so.
"This thought is both encouraging and sobering. It is encouraging because it assures us that our spiritual growth is not left to our initiative, nor is it dependent upon our wisdom to know in which areas and in which direction we need to grow. Rather, it is God Himself who initiates and superintends our spiritual growth. This is not to say that we have no responsibility to respond to God's spiritual child-training in our lives, but it is to say that He is the only who is in charge of our training." – Growing Your Faith by Jerry Bridges
Of course, God can use a ton of different things to spur on and help this spiritual growth.
Your pastor and being involved in your local church should have a big impact on this.
Reading Gospel-Centered books and following ministries or podcasts online can also help with this.
Conversations and relationships with other mature Christians.
God can and does use all of these things to spur on our spiritual growth, and we need to be open to those.
But in order for God to use something such as our pastor to encourage our faith and spiritual growth, we need to be showing up to Church every week. We have to show up, we have to diligently pursue the Lord.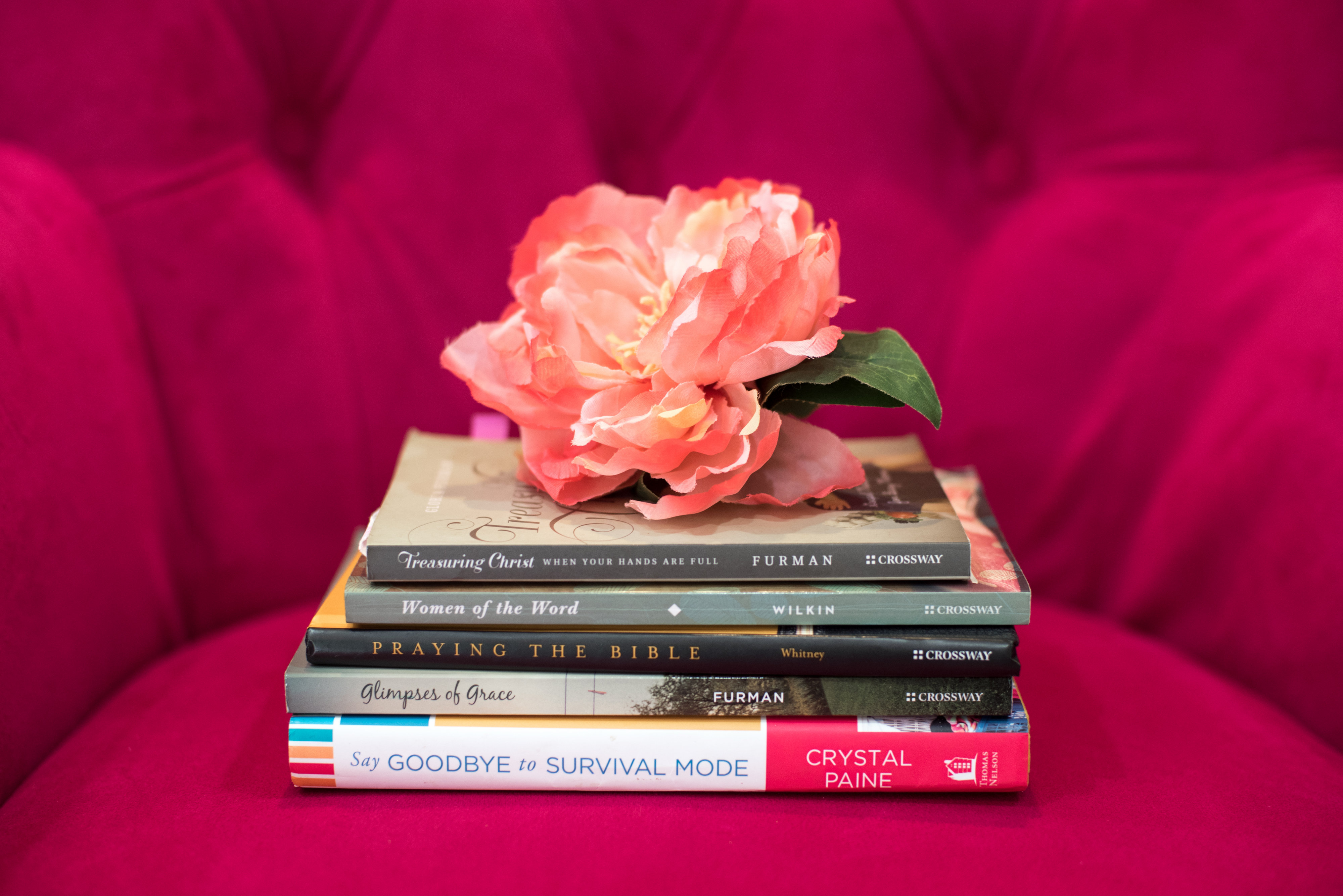 We come to greater maturity in Christ and grow our faith along the way when we are diligently seeking the things of the Lord. When we are wanting to grow in godliness and turn away from the things of this world. We do have a responsibility before the Lord to pursue the things of the Lord, but the real growth takes place through and because of the Lord.
Ultimately, it's not a result of our effort but rather a work of the Holy Spirit in our lives and our heart.
"Our acceptance by God is always based on the righteousness of Christ. And the enabling power to grow and become more Christlike always comes to us from Christ through the Holy Spirit…Remember, the grace that brought salvation to you is the same grace that teaches you. But you must respond on the basis of grace, not law. You must learn to depend daily on Christ for your acceptance and your power." – Growing Your Faith by Jerry Bridges
Through these Spiritual disciplines, we can come to know God more, love God more, and obey God more. Through practicing Spiritual disciplines, we can put off the world and put on Christ…all through the Holy Spirit.
"Too often we try to grow by our own willpower and self-discipline. We assume that if we read the Bible enough and pray enough, we will grow. We approach the Christian life much like a student approaches a difficult course in college – just buckle down and try harder. That attitude assumes that we have the ability within ourselves to grow into maturity as believers. But as Jesus indicated in John 15:5, we have no ability within ourselves to grow. All of the ability must come from Him." Growing Your Faith by Jerry Bridges
Book of the Week:
Growing Your Faith: How to Mature in Christ by Jerry Bridges
Bridges has become one of my very favorite authors of all time. He has such a beautiful way of blending Scripture, wisdom, and hefty theology with personal stories and application in a way that convicts me, gives me encouragement, motivation for change in every one of his books.
I highly recommend you add Growing Your Faith to the top of your reading list for sometime this year. It's a fairly short read and is very actionable and applicable. He starts with our foundation in Christ, talks a lot about disciplining by Grace and then dives into Spiritual growth in the Christian's life. One of the last chapters is on spiritual gifts and that chapter in particular really convicted me and encouraged me.
Free Month of Jelly Telly

I am also really excited to introduce our very first sponsor to the podcast: Jelly Telly – a Christian based video streaming service for kids. And let me tell you, it rocks!

Basically Jelly Telly is a sort of Bible-based Netflix for kids. They have over 100 different shows with a few of our very favorites being What's in the Bible, Owlegories, and Theo.

My kids and I have been playing around with JellyTelly and exploring it and are totally in love. It's coming at a good time since its wet and rainy out and we just had our baby girl Magnolia. We are all locked up inside a lot right now and I LOVE being able to tame some of the craziness with Bible-based tv shows.

I feel so good knowing that I can hand the boys my iPhone and I don't have to worry about what they might get into or click on to watch next. It's so fun to hear the boys singing along with hymns from Theo or reciting the books of the Bible with What's in the Bible.

Jelly Telly is normally $4.99 a month or $49.99 for a year but with an exclusive coupon code just for my readers, you can get an entire month for FREE! Just use coupon code: HOMEMAKINGFOUNDATIONS at checkout and get an entire month for free to check it out!