How to get started homeschooling (and the curriculum we are using this year)- Hf #92
All Summer Jason and I went back and forth on an important decision: Do we start our oldest twins in Kindergarten this year? Or do we wait a year?
We went back and forth – because honestly I'm really excited about homeschooling and also totally terrified. We started doing research and came across a curriculum that my friend uses and we got hooked! We got so excited about the curriculum that we decided to go ahead and take the plunge to start this year!
We are only one week into the school year – but I think this was a great decision for our family! So while my blog is NOT turning into a homeschool blog, I do get questions about it all the time. So I wanted to share in today's episode all about our homeschooling philosophy and what we are doing this year (and hopefully in future years).
Disclaimer: I do not believe everyone has to homeschool. I don't think it's the right decision for every family. But it's the right decision for us, this year. So feel free to skip this episode if it doesn't pertain to you! 🙂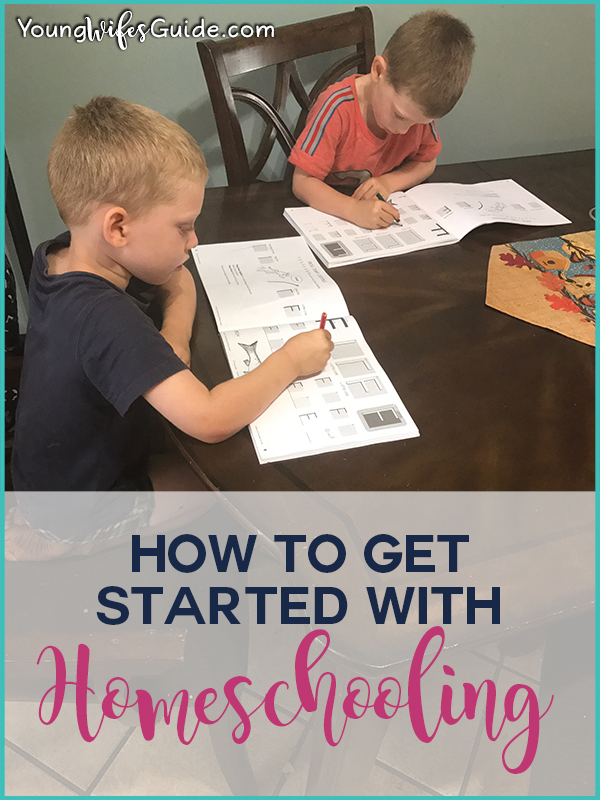 Listen to the Podcast:

We also recorded this blog post as an audio podcast. If you want to listen in instead of reading, click play below or do a combination of both

And don't forget to subscribe to the podcast in iTunes.

Right click here and save-as to download this episode to your computer.
What We Value in Homeschool Education:
Math
Jason's bachelors degree is in mathematics. So it's extremely important to him that our kids have a solid foundation in math. So that IF they choose to continue on into higher education, then they are equipped to do so.
We want a math curriculum that is fun and hands on, but that also doesn't back down from challenging them.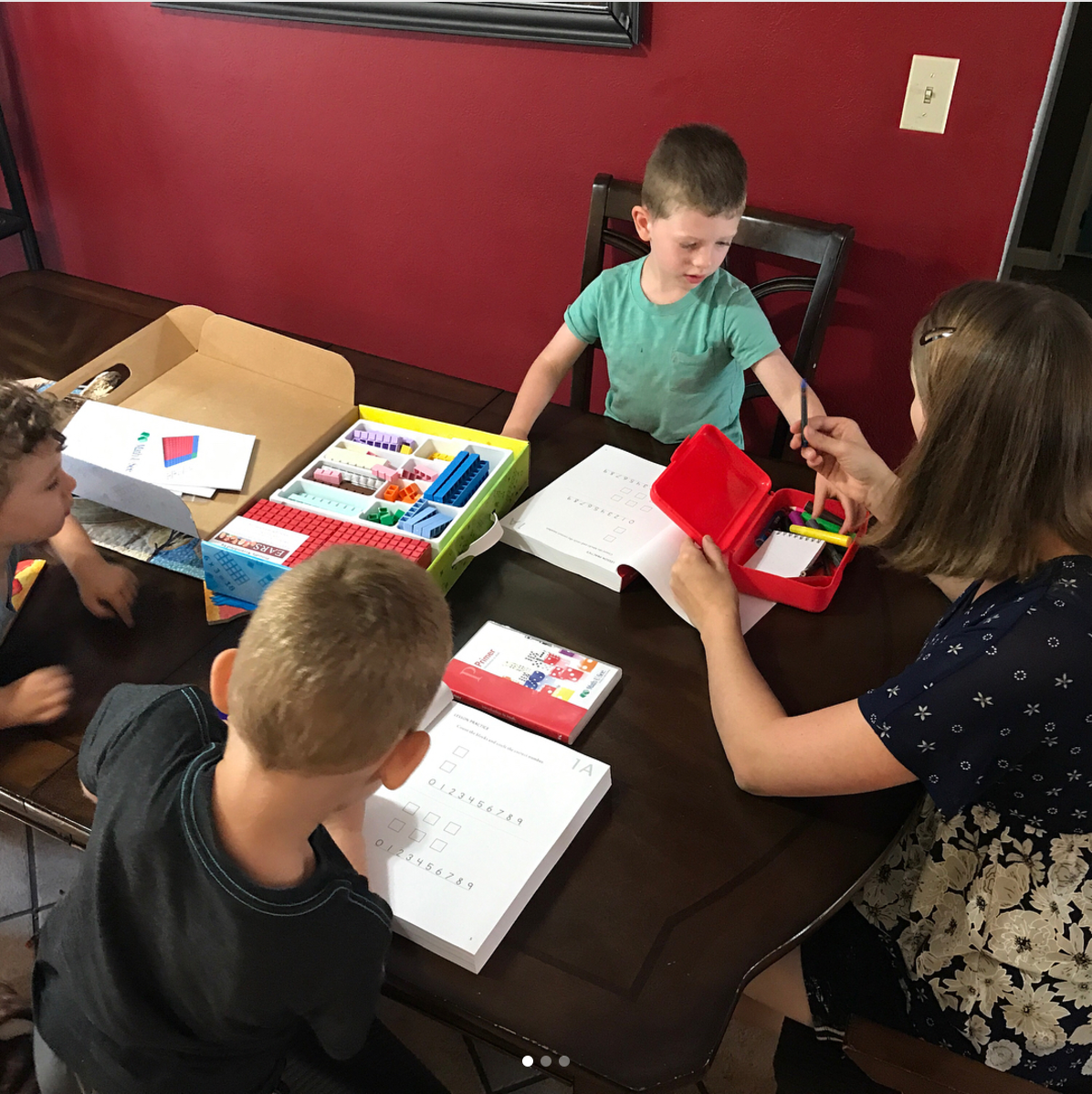 Reading
Jason was homeschooling Kindergarten through twelfth grade and I think his mom did a fabulous job with their homeschooling. Most of what we are doing and how we structure our day is based off of what they did and what she has learned through homeschooling 7 children all the way through.
A ton of Jason's homeschool depended on reading books. Books on all kinds of subjects, science, biographies, history, etc. We have always planned on having a huge emphasis on reading with our kids. As you know, Jason and I both LOVE reading and a large part of our life is oriented around reading.
Bible
My bachelor's degree is in Biblical Studies so this is a subject that I have been very excited for! I can't wait to incorporate Bible, Church history, missionary biographies and more into our homeschool. This will be a huge emphasis within our daily reading as well.

Growing a thirst for knowledge in them
A HUGE goal of ours in homeschooling is getting them to LOVE learning and to nurture common sense within them. We want to give them the tools to discover the things they don't know and the thirst to do so. In the young ages, this goes hand in hand with free play and encouraging them to discover and explore!
All of this has led me to doing a lot of reading about the Charlotte Mason philosophy of education:
"The Charlotte Mason method is based on Charlotte's firm belief that the child is a person and we must educate that whole person, not just his mind. So a Charlotte Mason education is three-pronged: in her words, "Education is an Atmosphere, a Discipline, a Life."

An Atmosphere, A Discipline, A Life

By "Atmosphere," Charlotte meant the surroundings in which the child grows up. A child absorbs a lot from his home environment. Charlotte believed that the ideas that rule your life as the parent make up one-third of your child's education.

By "Discipline," Charlotte meant the discipline of good habits—and specifically habits of character. Cultivating good habits in your child's life make up another third of his education.

The other third of education, "Life," applies to academics. Charlotte believed that we should give children living thoughts and ideas, not just dry facts. So all of her methods for teaching the various school subjects are built around that concept." – What is the Charlotte Mason Method? by Simply Charlotte Mason
Figuring out our school year
So as we began to talk about homeschool this year, I was really overwhelmed. A lot of Charlotte Mason/unit studies homeschoolers we've known in the past spend hours and hours a week and/or month planning out their studies, pulling resources from a hundred different locations, etc. And while I love that idea in theory, there is just absolutely NO way I could ever stay on top of that with five kids four and under AND running a business from home.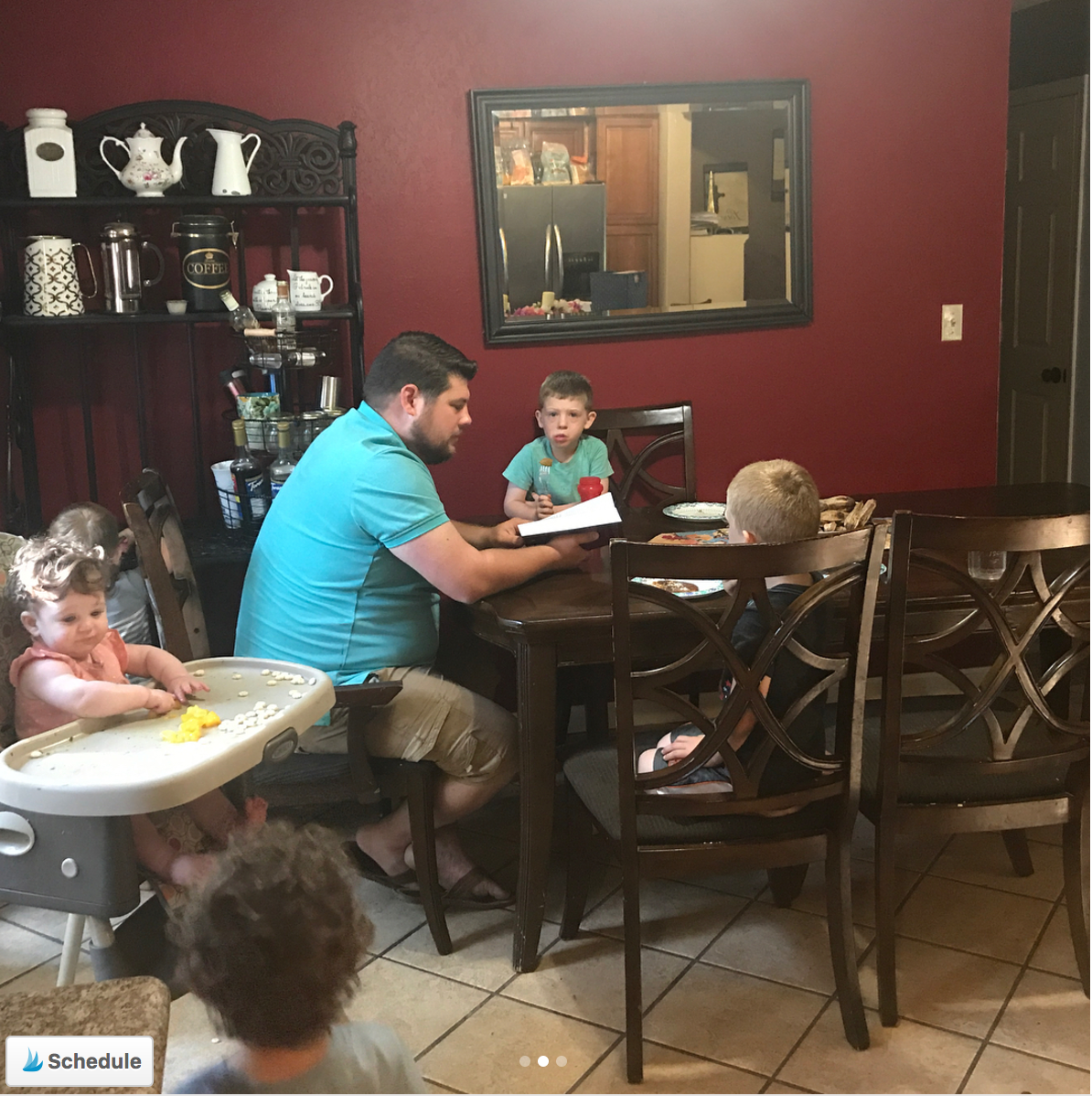 So because of that, I've been feeling a little discouraged and stressed this year. I did an interview with MacKenzie Monroe back in episode #79 and her enthusiasm started getting me excited again. And then one of my blogging friends Rachel from Day to Day Joys started posting about her curriculum she just got for this upcoming school year.
So I looked into it a little, followed the company on Instagram and then didn't think much of it. But then I started seeing their posts popping up again and again and finally one night, Jason and I started talking seriously about starting the boys in Kindergarten this year. I figured I would just order a few workbooks to take it easy this year and start very slow.
And then I remembered this curriculum that Rachel was using and remembered that it was an intriguing idea. So I pulled up the website while we sat on the couch and we started digging into what the curriculum was. The more we read about it, the more we both felt that this might be the ideal curriculum for us right now.
The curriculum was called Sonlight! Which is apparently one of the biggest names in Christian curriculum today but neither of us had any idea. We are now one week into our school year with Sonlight and think it's going to be an EXCELLENT fit. But I'll update again soon once we've had more time to play with it.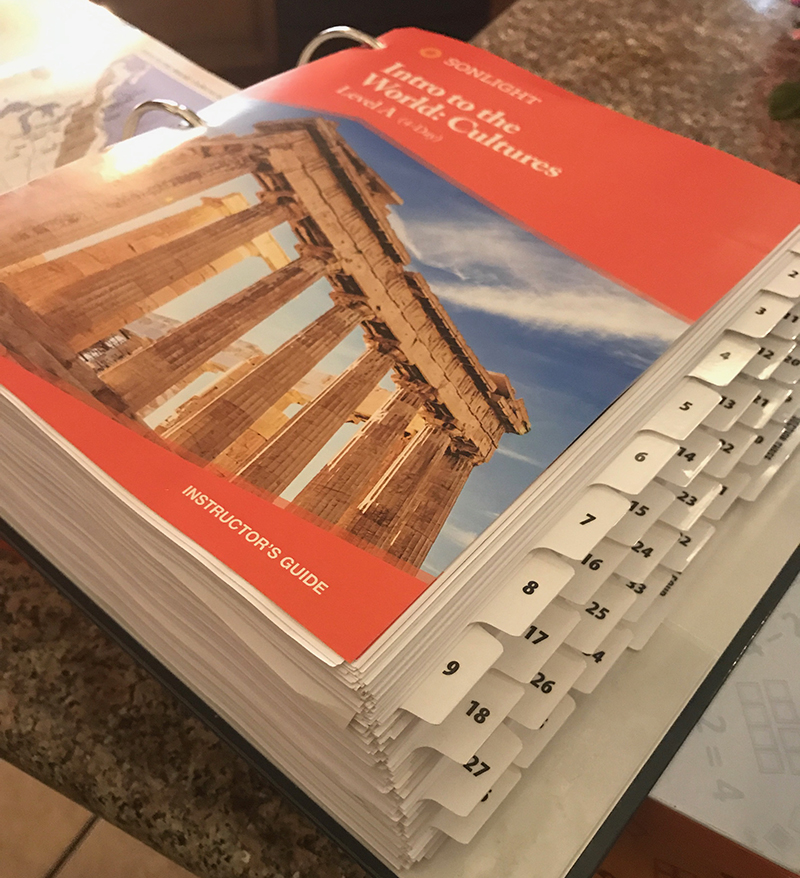 What is Sonlight:
Sonlight is a complete Christian curriculum. It goes from pre-K all the way through 12th grade. What really hooked us in is that it's a literature based curriculum. So most of what you are getting in the curriculum are real engaging books, not boring dry textbooks. A ton of the curriculum revolves around your kids reading books and reading books out loud as a family.
I was excited about the books. But when we opened up the curriculum the first day, I was so shocked and excited how wonderful these books all are. There's no way I could have put these all together this year! Here's a quote from their website on what a literature based curriculum looks like:
"What does literature-based learning look like?

Let me give you an example. Let's say you're up to the Vikings in World History with your second-grader.

In History, you read a narrative from A Child's History of the World that describes some of Viking history
You also read from several illustrated books. These give you a visual of Viking culture. What did they eat? What did their houses and clothes look like?
You place the Vikings on your timeline and locate the Viking homeland on your map, to emphasize the chronology and geography.
You read a short biography about some of the most famous Vikings, Eric the Red and Leif the Lucky, those intrepid travelers who reached Greenland and North America."
In your Read-Alouds, you enjoy an adventure in 20th Century Denmark with some exciting Viking connections.
And in your Language Arts, some of your assignments come from your reading." – What is Sonlight?
I love this approach! It's basically like unit studies but all the work is totally done for you!
You can purchase the full curriculum and you have everything you need for the entire year or just use the History/Bible/Literature Core and use your own extras for math, science, etc. They offer most of the popular math programs: Saxon, Teaching Textbooks, Math U See, etc.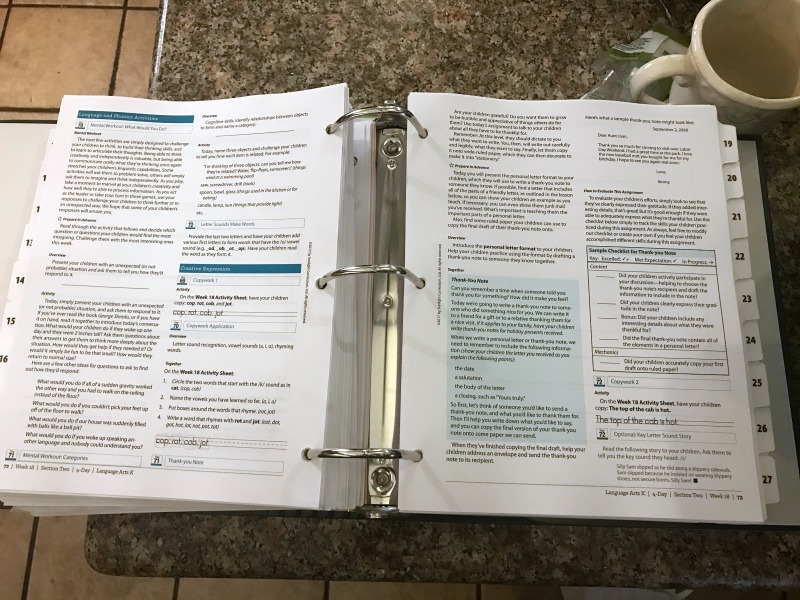 Why we love the idea:
Reading
We already want to read with our kids as much as possible. This gives us the books to read with them for their level. We got a ton of books for this year that I wouldn't have started with them yet because I just wasn't sure what they could handle. They have been LOVING the books so far.
No-Stress
I don't have to worry about ANY holes in their education as it's done. I was thinking I would piece it all together from different sources (which is fine!) but it felt like way too big a project to figure out right now.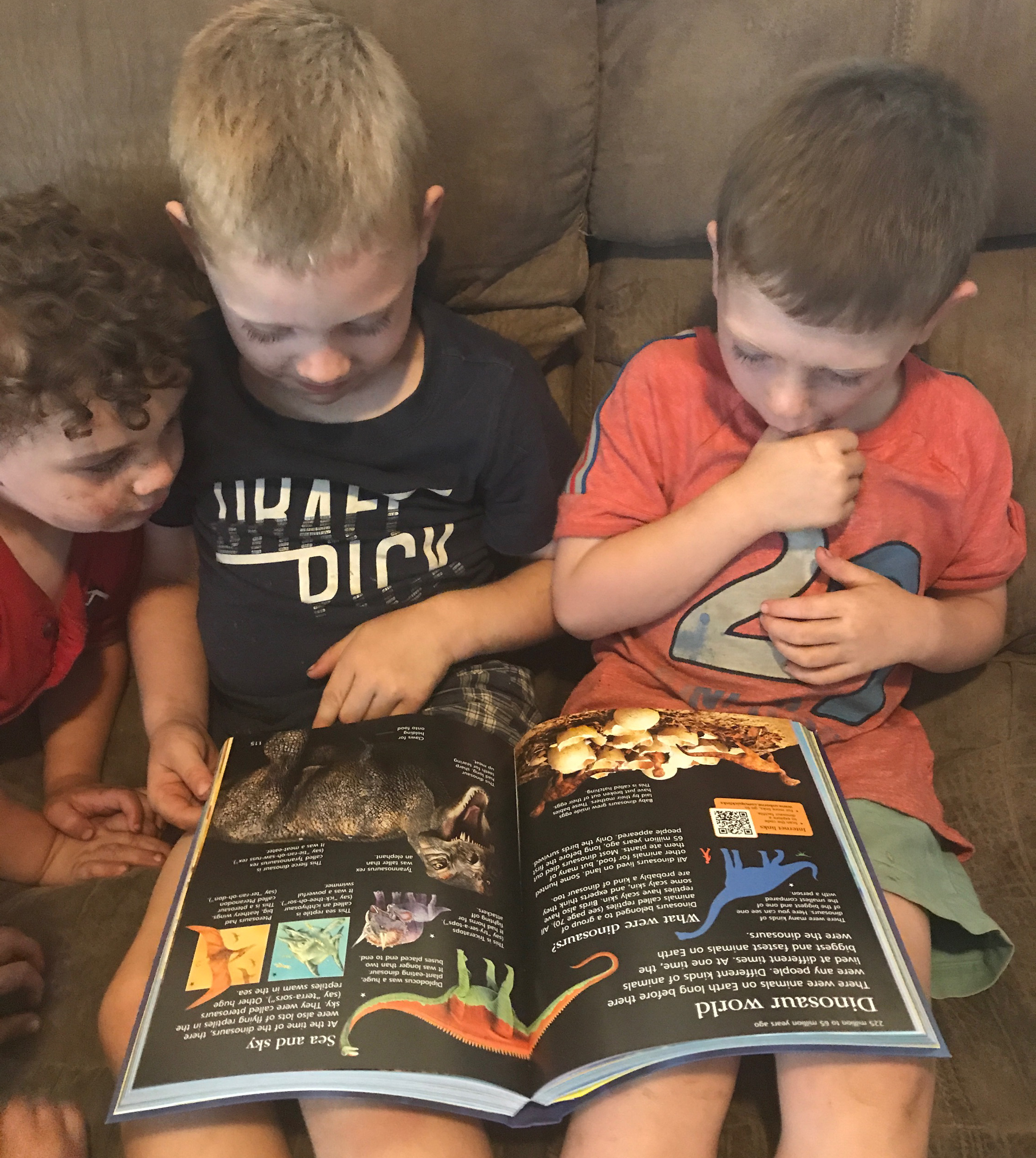 You can add in extras:
They have a ton of things on their website you can add in: things like extra grammar or phonics to computer programming and CLEP prep courses in high school! You can also add in your own supplements if you want. But I don't think we will need to add in anything this year, except maybe a few more read-alouds since our boys love it so much.
The Instructors Guide
I think this is what made us go ahead and choose Sonlight. The Instructors Guides are incredible!! Jason and I are still playing with how to organize them to make them work the best for us – but we love them so far. Essentially, 100% of the planning for the entire year is DONE for me.
At the beginning of each week, I just have to open up to that week and it tells me exactly what to do that day, what pages in what books to read, etc. For this busy and tired mama, the instructors guides are my favorite thing!!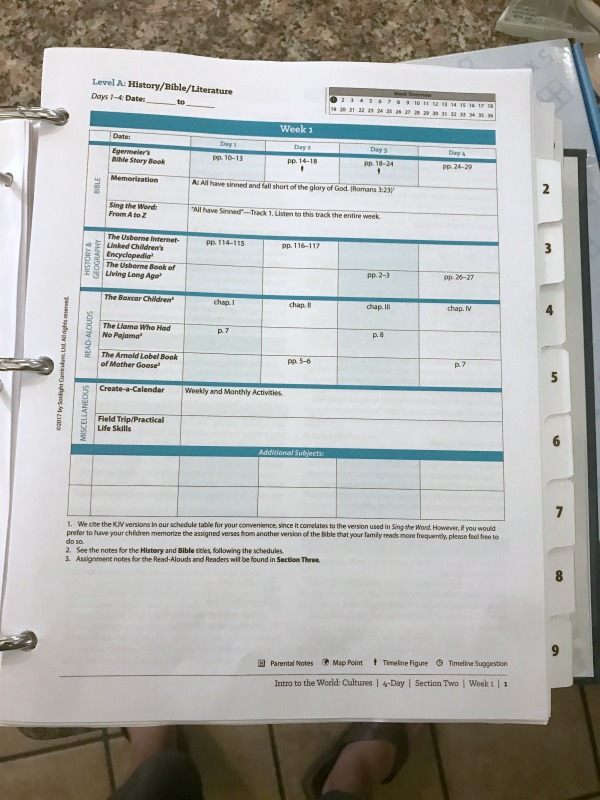 One year money back guarantee
I really love the safety of having a one year money back guarentee behind it. If you HATE it or it just doesn't work for your family, you have that fall back. Send it all back within one year and get your money back. This takes all the risk out of trying a new curriculum for the year!
EVERYTHING you need
When you purchase the full curriculum, it comes with everything you need for the school year. Right down to the worksheets, printables, and even the things you need for science experiments!
What's the downside of Sonlight?
Honestly – Sonlight has been a near perfect fit for our family. But Jason and I did a ton of research to make sure we knew what the downside or drawbacks of Sonlight could be. In fact, Sonlight has an articled title 12 Reasons NOT to Buy Sonlight to help you decide if the curriculum really is a good fit for your family.
I think the biggest draw back I've heard from people is that is can be very time intensive. There are a lot of books throughout the year and I've heard people complain about it being too much reading. This hasn't been the case for us at all and we foresee adding in more books this year…but we are a reading family 😉
I think the biggest thing with Sonlight (as with ANY other homeschool curriculum) is that you need to be able to be flexible and work the curriculum so it works for your family. I've heard some people who are frusterated because they think they need to read each page on the exact day it's assigned and they become a slave to the instructors guide.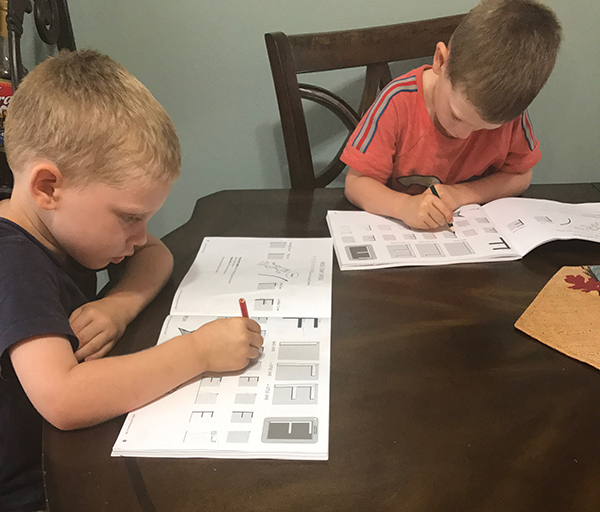 We've already found that the reading and the assignments are extremely fluid. One week in and we've already tweaked things and done the reading a little out of order to fit our family. We LOVE that the structure is there to guide us and then we can be flexible with it.
So I would warn you to be aware of that if you are the kind of personality that can't skip things or rearrange things.
Overall we are extremely satisfied with our choice for this year! Soon I will have an unboxing video on YouTube to give you a peek inside the curriculum itself. And I am going to do an update podcast in a few weeks once we've really had the chance to do into it!
Links from this episode:
If you have any questions about how Sonlight works, please leave a comment! 🙂