Your Bible study questions answered! – Hf #116
Learning how to dive deeper into God's Word doesn't happen by accident. It takes work, discipline, and a willingness to invest that time in the Lord.
Last week on the podcast, we covered going deeper with Bible study when you have no time. Today we are going to be continuing that conversation with a Q&A time. We cover a ton of fabulous topics today, so tune in!!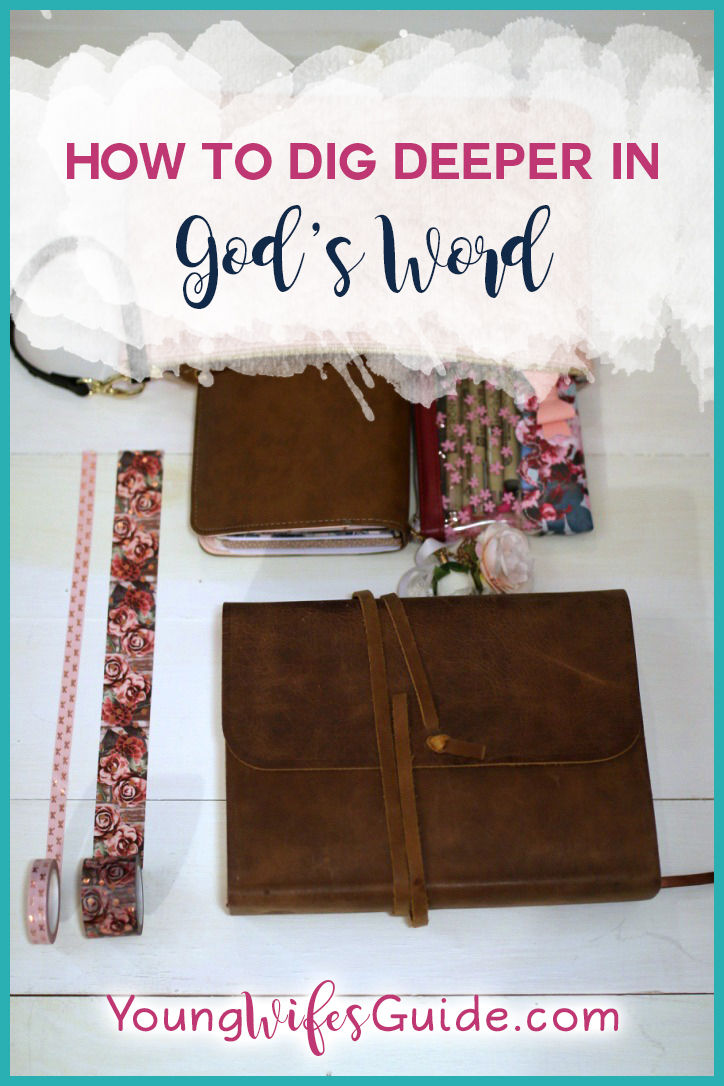 Listen to the Podcast:

We also recorded this blog post as an audio podcast. If you want to listen in instead of reading, click play below or do a combination of both

And don't forget to subscribe to the podcast in iTunes.

Right click here and save-as to download this episode to your computer.
Bible Study Q&A:
"Do you have a list of books you read, in order, if doing the book a month study?" – Elise
Elise is referring to my simple Bible reading plan that Jason and I have been following for a few years now. With this plan, we read the same book of the Bible everyday for 30 days. See the link above for a full explanation of the plan.
But to answer Elsie's question: I don't. We just alternate between a big book and a little book. It's not that hard. When you get to the next month, just pick one! So I don't have a list for you, but don't make it overly complicated 😉
"How long do you devote to quiet times vs general study times or are they the same?" – Jennifer
I think our culture has done a bit of a disservice surrounding our Bible study time with all our different lingo: "quiet time, devotional, Bible study, etc". It can be confusing as to what we are supposed to be doing!
To answer this question, we have to first ask the questions "What is the purpose" and "Why do we study the Bible?" We must first recognize why we study, why we spend "quiet time" with God. Ultimately, we study God's Word to know him more. We want to learn his character, his commands, his love, and what he excepts of his disciples. We study God's Word because he commands us to and we want to learn more about our creator, to love Him more.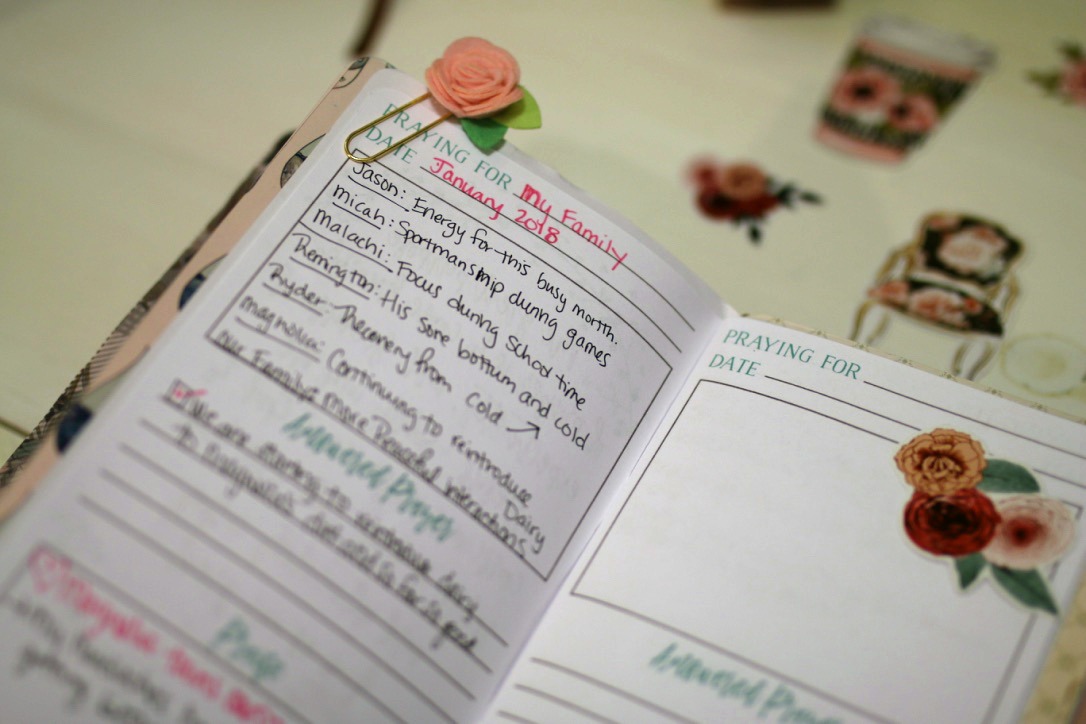 When we approach it from that standpoint, we can more easily see that all of these things tie together – our bible study time, devotionals, etc. But the unifier is: We need to be in God's Word. Other books, devotionals, sermons and podcasts can be helpful in our knowledge of God. I know I have been mentored from afar from hundreds of books, but God's Word still needs to remain the core.
So whatever you call it: other books, especially devotionals, shouldn't be the meat of what we study, God's word directly should be.
Breadth versus depth: there are times for both in our study. Sometimes we read through entires books at a time, sometimes we hunker down and study one single passage.
If you have never done so before, I highly recommend you: Read through the entire the Bible. Go through Genesis to Revelation. This gives you a good overview of the Bible. Then go through studies where you learn to study God's Word on your own. Katie Orr and Jen Wilkin's studies are both ones that do this wonderfully.
Resources: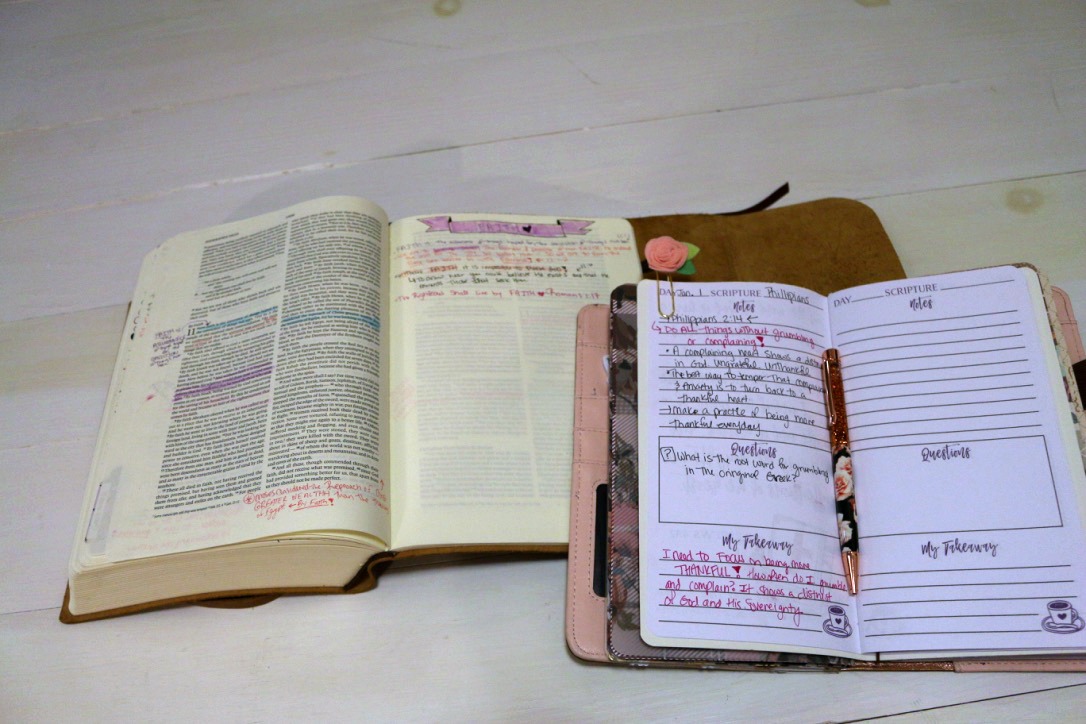 "What are some ways you suggest to memorize scripture?" – Stacey
There is no way around it – memorizing Scripture is hard work. It's easier for some of us, and very hard for others. Jason memorizes scripture very easily. It takes me a lot more work, especially in this season of young kids.
My preffered method is to use Scripture memory cards. You can just write them out on 3×5 cards. Or use the Scripture memoruy cards we have in our store to just print off and go!
Another method is to write out Scripture. Take a piece of paper, and write out Scripture over and over again. After a while, you will have it memorized! My notebook in my spiritual disciplines notebook has this.
Resource: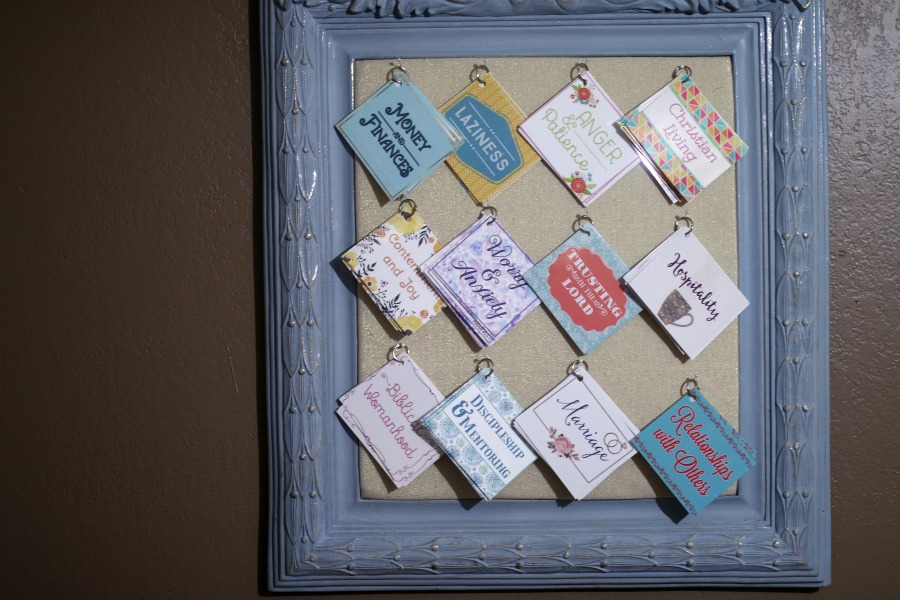 "How do you find the right Bible translation for you?" – Tabi
I'm not sure you can say the right Bible translation for you, as there are some very important things to understand about Bible translations.
"You can separate modern Bible translations into two basic groups—formal equivalency and dynamic equivalency. Formal equivalency attempts a word for word rendition, providing as literal a translation as possible. Dynamic equivalency is more like a paraphrase, trying to convey ideas thought by thought.

Since no one language corresponds perfectly to any other language, every translation involves some degree of interpretation. A translation based on formal equivalency has a low degree of interpretation; translators are trying to convey the meaning of each particular word. When faced with a choice between readability and accuracy, formal equivalency translators are willing to sacrifice readability for the sake of accuracy.

By its very nature, a translation based on dynamic equivalency requires a high degree of interpretation. The goal of dynamic equivalency is to make the Bible readable, conveying an idea-for-idea rendering of the original. That means someone must first decide what idea is being communicated, which is the very act of interpretation. How the translators view Scripture becomes extremely important in the final product." – Which Bible translation is Best? by Grace to You.
So those translations that would fall under the dynamic equivalency, or less literal translations, include the NIV, NLT, TNIV, TLB, and GNB. The Message technically falls under this label, but it's a straight of interpretation. The only of these that I would personally use is the NIV.
The most popular formal equivalency translations, or more literal ones, are the ESV, KJV, NKJV, and NASB.
Resource: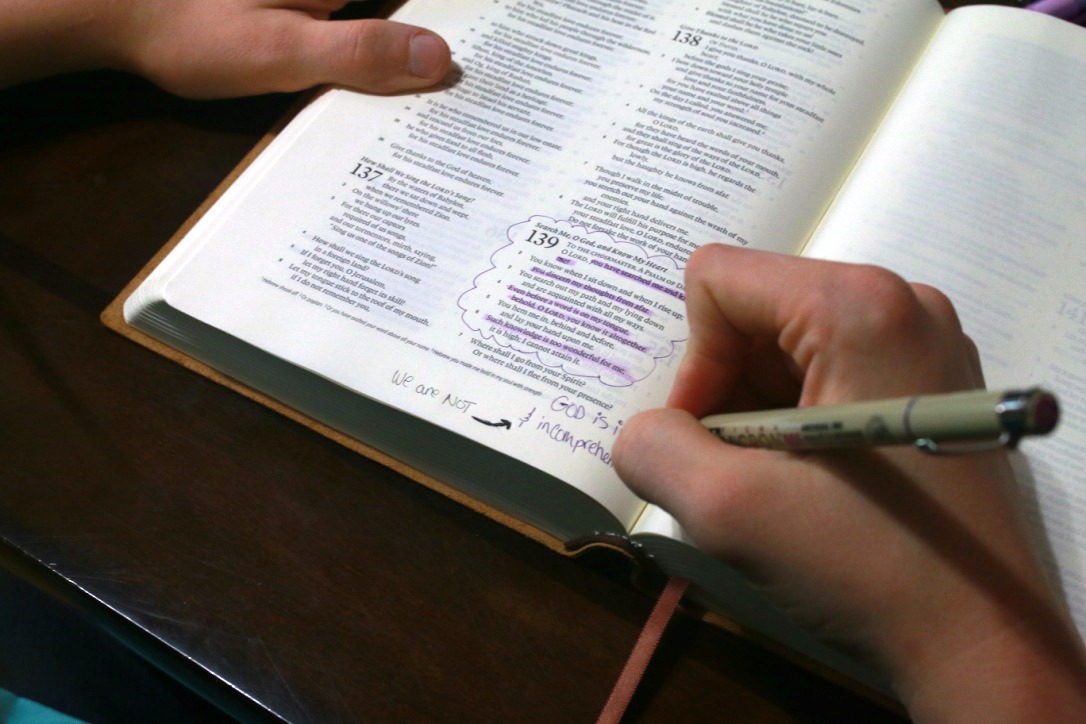 "I have always wanted a resource that tells me where different events fit into the overall time line of scripture (especially for the old testament)" – Kari
My favorite resource for this: The Amazing Bible Timeline.
A good study bible can also help with this. I highly recommend the ESV Study Bible and the John MacArthur Study Bible. Another great resource is the ESV Bible Atlas.
"How do you take your study deeper without being overwhelmed? Do you use one Bible during your quiet time, or do you use several to compare verses and notes? What kinds of notes do you take during Bible study, and how do you keep them organized? And finally, what resources/how do you recommend learning the Greek/Hebrew and the original context of the passage? :)" – Elizabeth
For my average reading time when my goal is to be in the word reading, I almost always use one translation. I read that translation again and again in my reading. After that familiarity, I will then sometimes look up different version. I might read the same version for 10 days, then try a new one for 11 and 12, etc. But in my normal reading time, I don't flip back and forth a ton between translations.
With my limited time now, my daily time with the Lord doesn't involve a lot of notes. I do underline and take notes inside my Bible which really helps me with retention of the text. And I use my Bible study notebook in my traveler's notebook to jot down at least one main take away from my daily reading.
Overall, without knowing the original languages, it's hard to pull much out of the Greek and Hebrew words. You can get a greek/Hebrew lexicon to look up the original words but without further knowledge of the culture and context, it often doesn't profit much.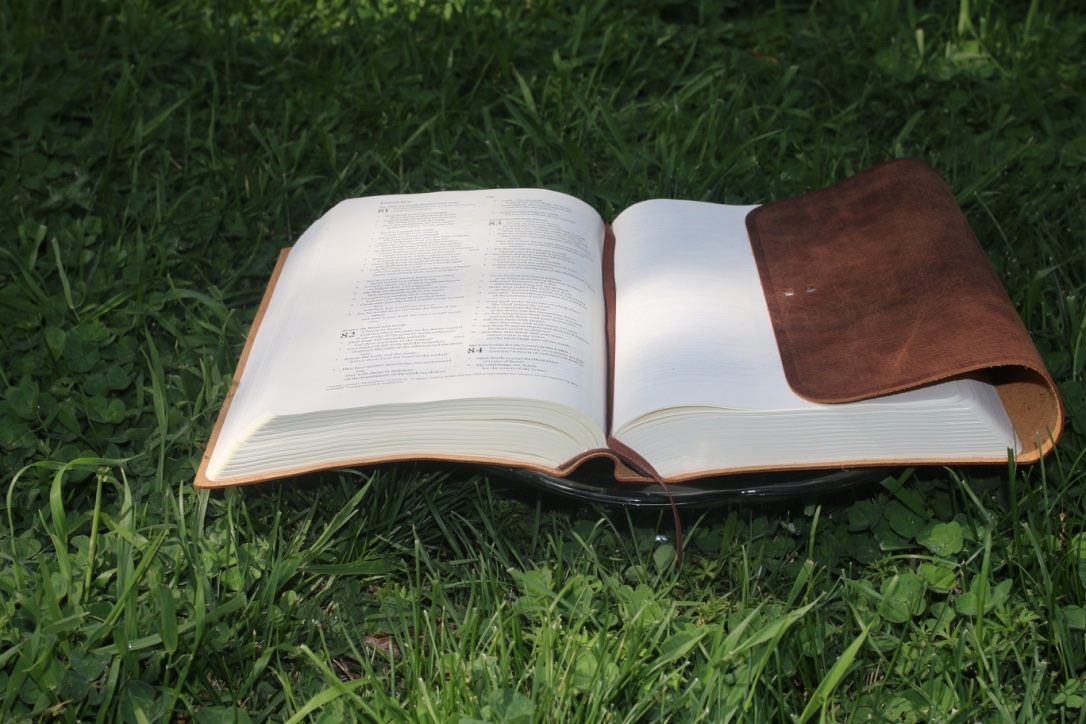 However, learning the original context and culture that passage was written in, is hugely beneficial! This is where a good study Bible can come in handy. These will usually point out any significant words in the original languages, how that concept differs from our current culture, etc.
But this is also one area that you should be learning at Church. A good Bible teaching, expository Church should offer a lot of this learning in Sunday morning sermons, during Sunday school classes, and in weekly Bible studies. They way it looks may differ from Church to Church, but if you want to learn more about the culture and context, finding out what classes or Bible studies your church offers is huge!
Enjoy the Word Online Bible Conference!
I am over the moon excited to announce the very first Enjoy the Word Online Bible Conference! Tickets officially went on sale today and the live conference will run May 2-4, 2018 (but you don't have to participate live, you can watch all the replay videos)!
We have 20 incredible speakers lined up this year! You can find out ALL about the conference, read more about the speakers, and read about all the breakout sessions.
Find out more about the conference here!