A fun way to expand your reading in 2017 with Joyful Devotion
This post is brought to you by Joyful Devotion. All opinions are my own.
One of my goals this year is to be more varied in my reading. I tend to pick up the same kinds of books and this year, I want to branch out and try new things. So far I've been pretty successful in branching out and it's been so fun.
But I can quickly run out of new ideas of what to read. It can be hard to know what's worthwhile to pick up and to think of different kinds of things to read. I issued a 2017 Christian Reading Challenge at the beginning of this year and have had so much fun focusing on reading this year with everyone.
So when Jessica from Joyful Devotion reached out to me about a fun idea, I knew it was a perfect fit! Jessica runs a subscription box service for Christian women that's focused on encouraging women to spend time with God. And each month's subscription includes a new book and a box of goodies – so much fun!!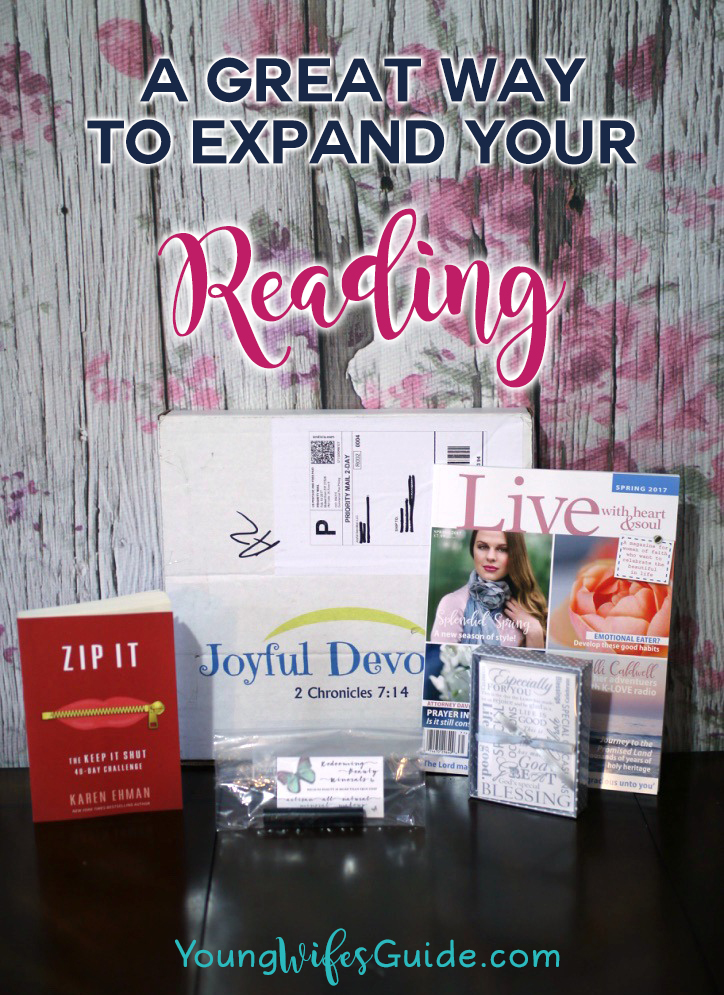 I just got my box for March and I am really excited about what's inside. I'm going to dig into what it contains below but here's how the subscription works in case you want to jump right in:
Joyful Devotion – Subscription Box for Christian Women
Pick Your Subscription
The really fun part about Joyful Devotion is that you can sign up and get deliveries each month. Every month a box will show up with a surprise assortment of new books, jewelry, cards, and more.
If you choose a monthly subscription, you will get each box for $34.95 (you can also choose to order 3 months, 6 months, or 12 months at a time and get a discount on each box). You can also choose a one time delivery from their shop for a higher price.
(Please note: Once you subscribe you CAN skip any month that you want with no charge. That's important to me if I want to put my membership on hold for a month or so. She makes it really easy.)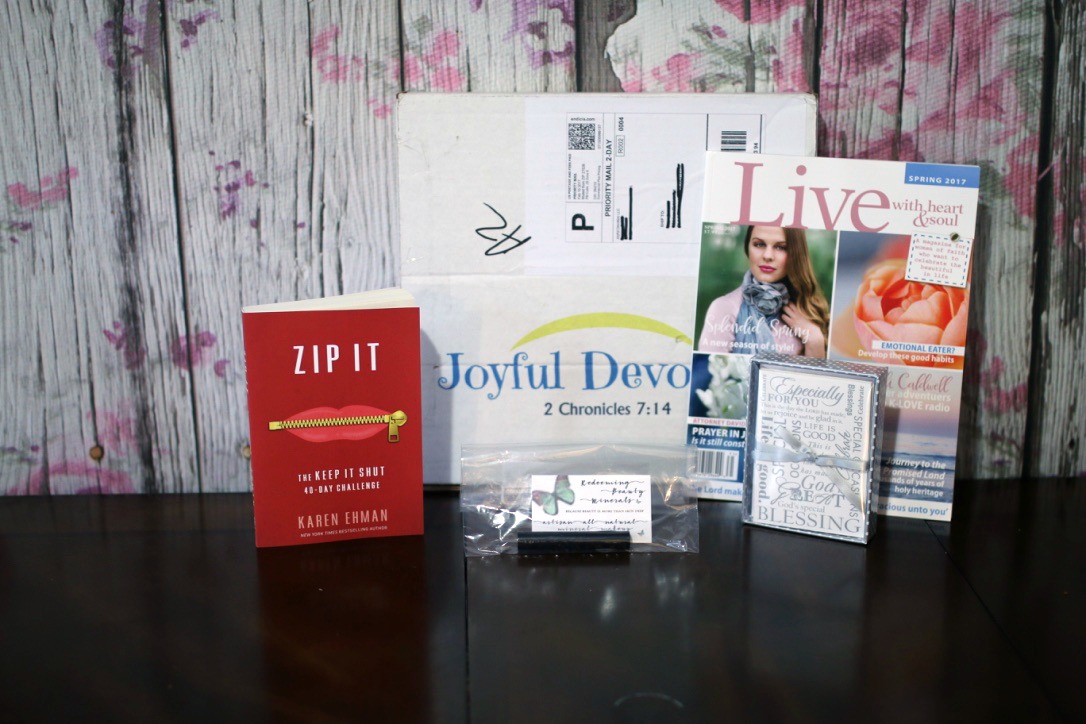 And Jessica was so kind to offer my readers an exclusive coupon for her store!! You can use it on either your first subscription box or anything in her store. Get $5 off a $20 order with coupon code: SPRING17
She also has a fun option where you can give a box or a subscription as a gift. With Mother's Day coming up, this might be the perfect opportunity to bless a Mama in your life (or pass this along to your hubby as a hint hint for yourself).
What's Inside?
If you have been wanting to join a book club with other Christian women, this is your chance!! Each box contains a Christian book and if you join their private Facebook group, they do a book club of that book each week. I can't wait to jump into the discussions for this month's book.
I got March's box a few days ago and LOVE it (especially the book this month). This box starts to ship out to everyone March 1st. Here's what I got:
Zip It – The Keep It Shut 40 Day Challenge by Karen Ehman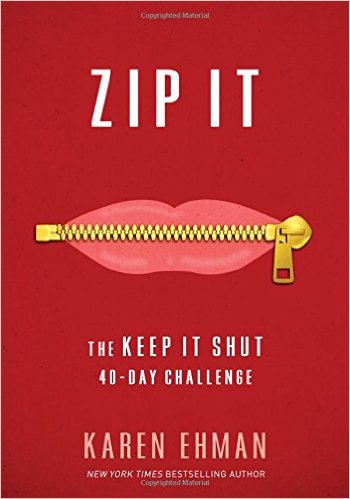 I love Karen Ehman and really appreciate her ministry. I read her book Keep it Shut several years ago and LOVED it! And this month, her 40 day challenge was just published and I can't wait to go through it. I'm actually thinking about asking my sisters if they want to go through this challenge with me.
Each day there is a short 2-3 page devotional to read that encourages you to think deeply about your words, how you say things and to think Biblically through everything you say. I always appreciate how open and honest Karen is in her writing. I already had my books picked out for March to read, but this one was just added to the list!
What I'm the most excited about with the Joyful Devotion box is that I would not have known about this book otherwise! I can't wait to see what she adds to the box next month. I am so excited to dig into it 🙂
Redeeming Beauty Minerals Lipstick
I actually used to order Redeeming Beauty Minerals products all the time! I used their mineral eyeshadows for years. I think her shop took a maternity break at one point and I got out of the habit of ordering them. So when my box showed up with a Redeeming Beauty Minerals Lipstick, I was so excited!
I've already worn it several times since I got it and can't wait to go check out her store again. Everything is handmade by a fellow work at home mom. I love getting to support a small business like this. The lipstick is normally $14.99 on it's own. So awesome that it's included in the box!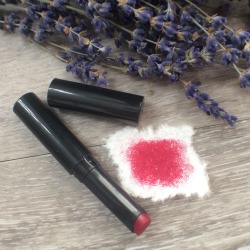 Rejoice Boxed Notecards
What a fun addition to the box! Jessica shares why she included these cards, "Since we are learning about the tongue this month, I thought we could all use these cards. They are blank inside, so you can create custom words of encouragement and blessings for those around you."
What a fun idea! I can't wait to write out some cards of encouragements for friends and mail them – thanks for helping me get intentional about it.
Live with Heart & Soul Magazine/Spring Issue
I had never heard of the Live With Heart Magazine before but I've been having fun digging into it. It's a BEAUTIFUL magazine and seems to have some really fun features (like a 30 day prayer calendar in the back).
I have only flipped through it at this point, so I cannot speak for all of the theology inside. So please read with a discerning heart and mind 🙂 But it looks really fun.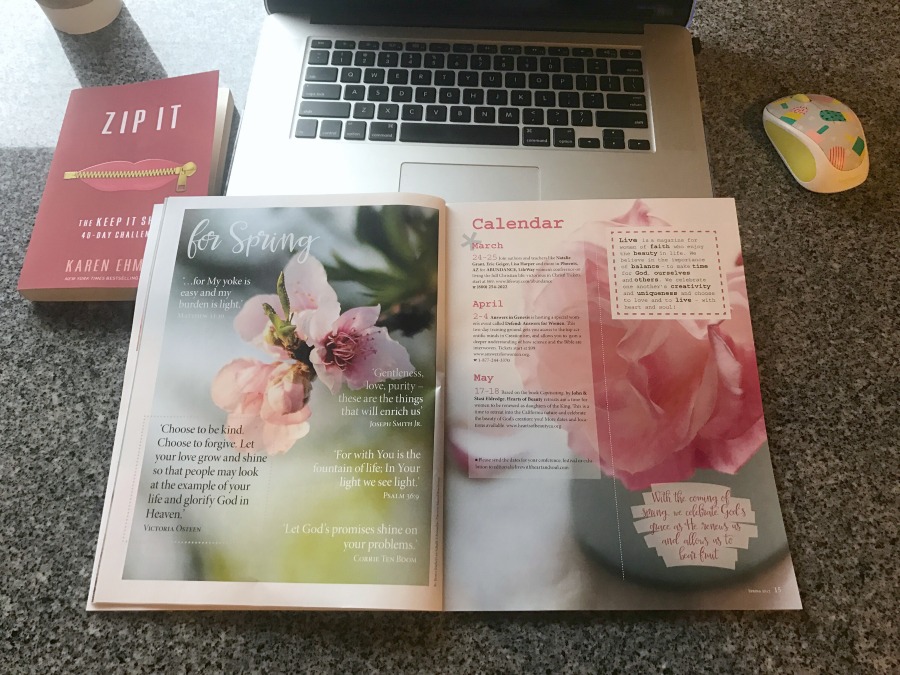 The Final Verdict
I wasn't totally sure what to expect with this box. I've had subscription boxes in the past of different natures and honestly, some of them are worth it and some are not. After digging into this box and playing with the items, I can say that I am really really excited about the potential of this subscription box.
I am a bargain hunter and always want the best deals. So I did some digging into the original prices of all these items and even finding the best prices (i.e. Amazon) you are still getting these items cheaper than ordering them on your own (and this doesn't even include shipping which comes FREE with the box). I was really really happy about that.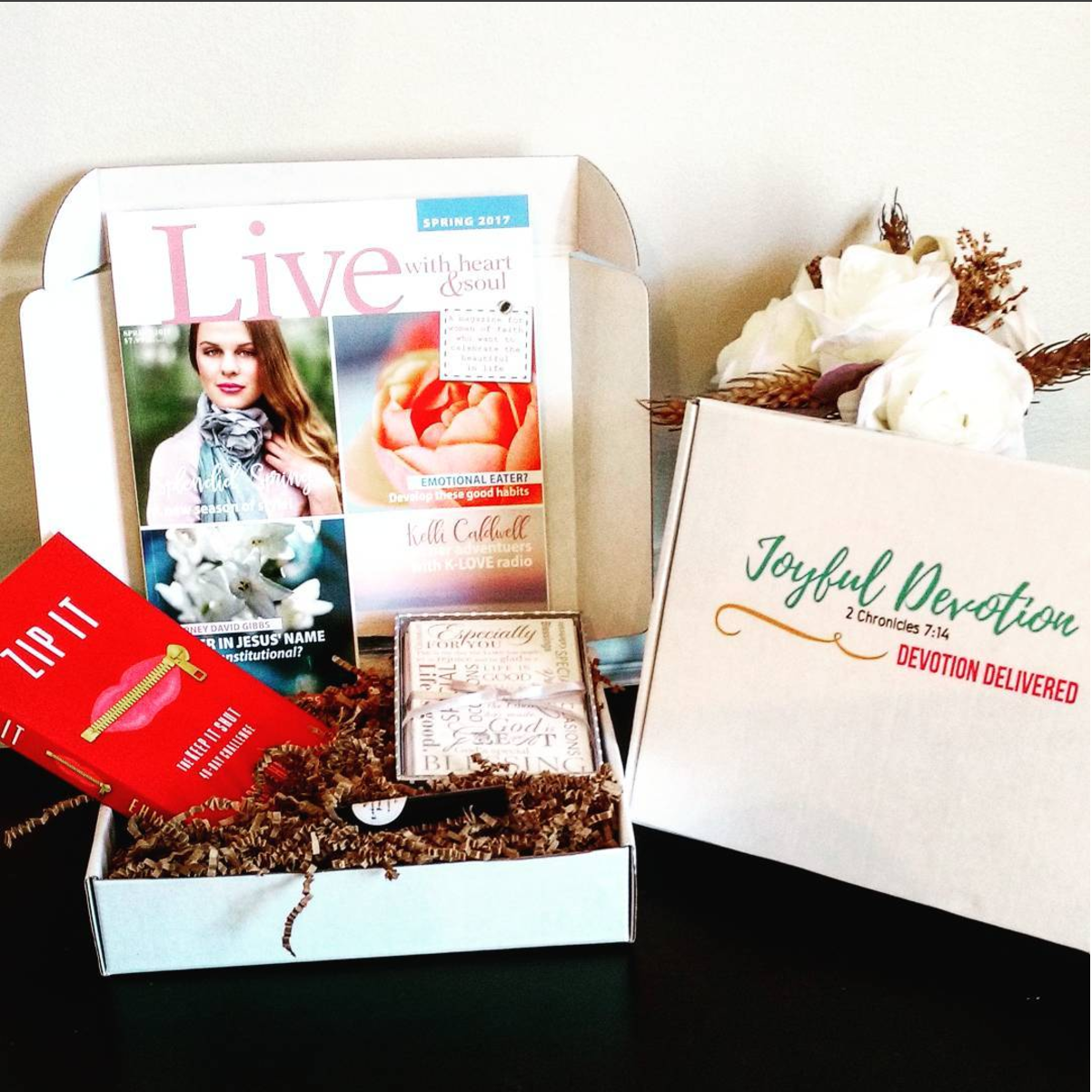 So not only am I saving money on all these items (a HUGE deal to me) but I'm also getting a fun box of surprises and a new book to read each month). Overall, I am really impressed and can't wait to see what comes in my April box.
How to Order:

If you are interested in trying out Joyful Devotion (which I highly recommend you do!) then you need to first choose between:

Don't forget at checkout to use coupon code SPRING17 and save $5 off ANY order of $20 or more! You can get this month's box for just $29.95 then and FREE shipping which makes this an even sweeter deal. If you want to dive into this brand new book, then this is a great way to do it.