Adding Project Fridays to Our Weekly Schedule – S2, E6
We've started a new habit in our weekly schedule this year called Project Fridays and it's change the way we get to household projects AND fun projects we want to do. This episode is for all homeschoolers especially, but really for anyone who wants to get to "extra" projects but just never finds the time to do so. Listen in!
Listen to the Podcast:

You can find all the links and notes for this episode below!

Right click here and save-as to download this episode to your computer.
I've got a few goals this year in running a productive household. I've got some household projects going on like decluttering and organizing kids clothes, putting the garden to bed for the fall in a good way, and organizing the garage. We've also got a whole list of fun things we want to tackle: learning how to knit, making sourdough, the kids want to do homemade play-dough again and the list goes on.
As we sink back into normal life routines after having a baby and revamping our homeschool routines for the year, I accidentally started something new that we call Project Fridays. And we've loved it!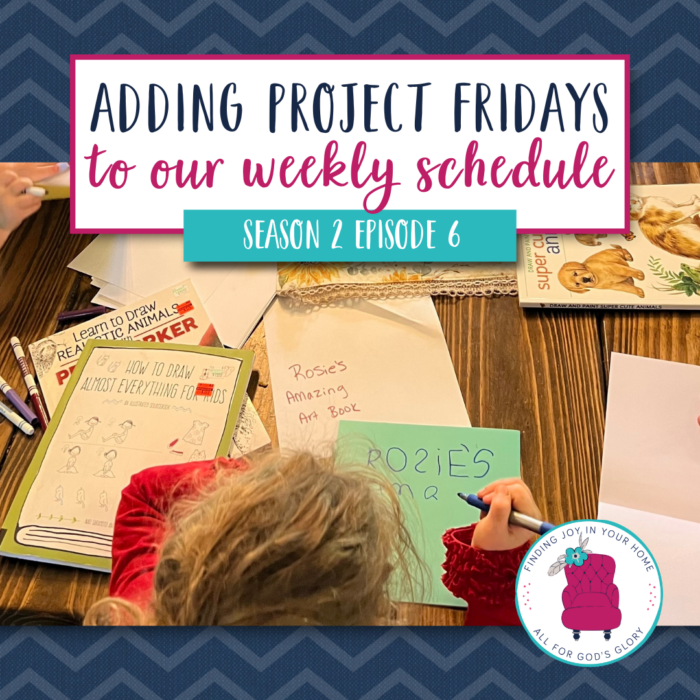 Our goal with Project Fridays: Learn and explore a fun new skill or craft AND get a home project done!
Here's how we do it: First thing we start our home project and get it done quick. Everyone is motivated and excited to get it done. And then we move into our hands on project!
So far we've done: Water color class, Making necklaces and bracelets, making chocolates and lollipops.
What we've got on our schedule for this year:
Making clay beads
Christmas cookies
Homemade play dough
Learning how to sew
Learning how to crochet
Candies from scratch
Charcoal sketching
Carving soapstone
Making soap
Making clay stop motion characters + background making
Turning this into movies
Learn how to make basic video games
Learning to code
Cake decorating
Woodworking
How to make it affordable:
Thrift stores – check in often for craft supplies (create a list so you know what to look for!)
Hobby Lobby (and Michael's + Joannes) clearance sections
Dollar Tree
Links & Resources:
Join our free community and join the discussion here: FindingJoyCommunity.com
Our sponsor: For a limited time only you can get Honeylove's best deal they offer! Get 20% Off your entire order with the code HOME at honeylove.com