Creating a Gospel-Centered Atmosphere on a ZERO Budget – Hf #87
I talk and share a lot about creating a Gospel-centered home. My focus throughout my ministry is to encourage you (and myself) to focus on Christ more and more within our homes.
This week I got a question from a reader about how we can create a Gospel-centered atmosphere in our home on a ZERO dollar budget. And it got me thinking.
Yes, there are some things you can buy that can be helpful in your home. And I love sharing resources here on my blog. But more than that, creating a Gospel-centered home can easily be done without spending a dime. So today we are going to cover that topic. Ready? Let's jump in!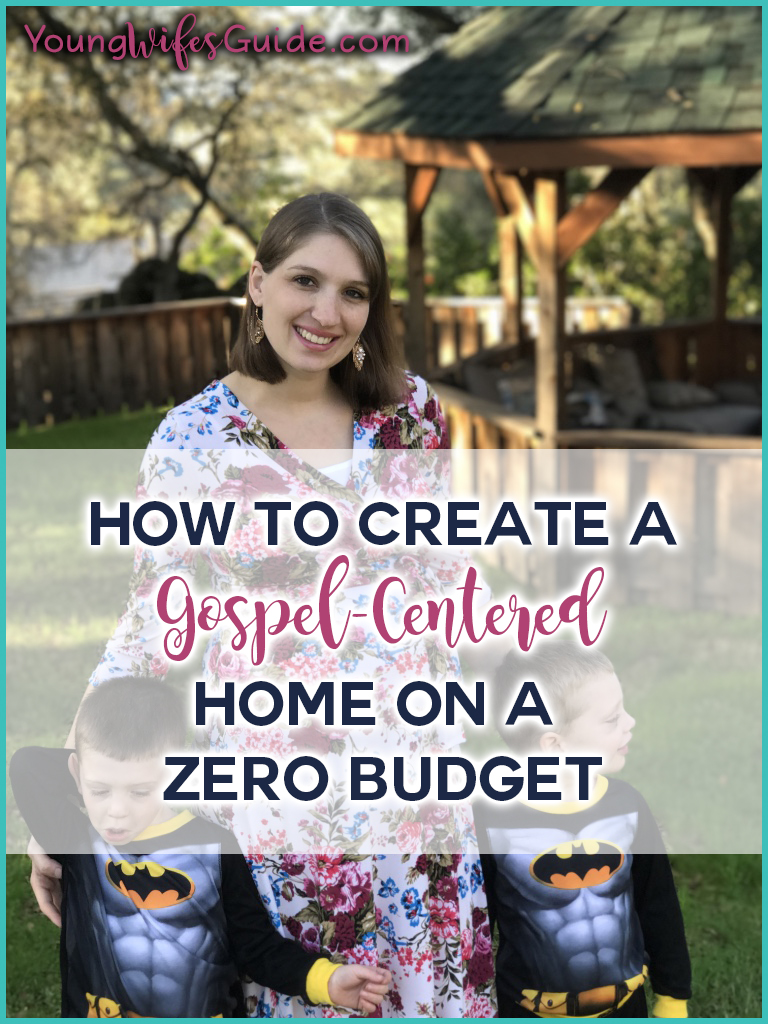 Listen to the Podcast:

We also recorded this blog post as an audio podcast. If you want to listen in instead of reading, click play below or do a combination of both

And don't forget to subscribe to the podcast in iTunes.

Right click here and save-as to download this episode to your computer.
The Gospel for our entire life
At the heart of it – the Gospel needs to be for our entire life, not just for that moment of salvation. Here's a related podcast you might want to listen to: Hf #12: What does it really mean to manage a Gospel-Centered home?
"We never 'get beyond the gospel' in our Christian life to something more 'advanced.' The gospel is not the first 'step' in a 'stairway' of truths, rather, it is more like the 'hub' in a 'wheel' of truth. The gospel is not just the A-B-C's but the A to Z of Christianity. The gospel is not just the minimum required doctrine necessary to enter the kingdom, but the way we make all progress in the kingdom." – Tim Keller, The Centrality of the Gospel
What is the Gospel?
We talk about the Gospel so often, that sometimes I wonder if we all have a clear grasp on what it is? I know that for me, I had years of "knowing" what the Gospel was. But when push came to shove…I couldn't explain it all that well. And I certainly didn't understand how it applied to all of my life.
Yes, the Gospel is for that moment of salvation when you repent of your sin and trust in God. But how do we define it?
"In short, the Gospel is the life-altering news that Jesus Christ, the eternal Son of God, became man, lived a sinless life under the law, died for sinners, and rose again to reconcile them to himself, enterally victorious over every enemy that stood between God and man." – John Hendryx
And this Gospel should impact ALL areas of our life, on a daily basis, rather than just that moment of salvation. And that leads us to creating a Gospel-Centered home.
A Gospel-Centered home simply implies that we are daily focusing on Christ and the Gospel within our homes. So what are some practical ways to do that?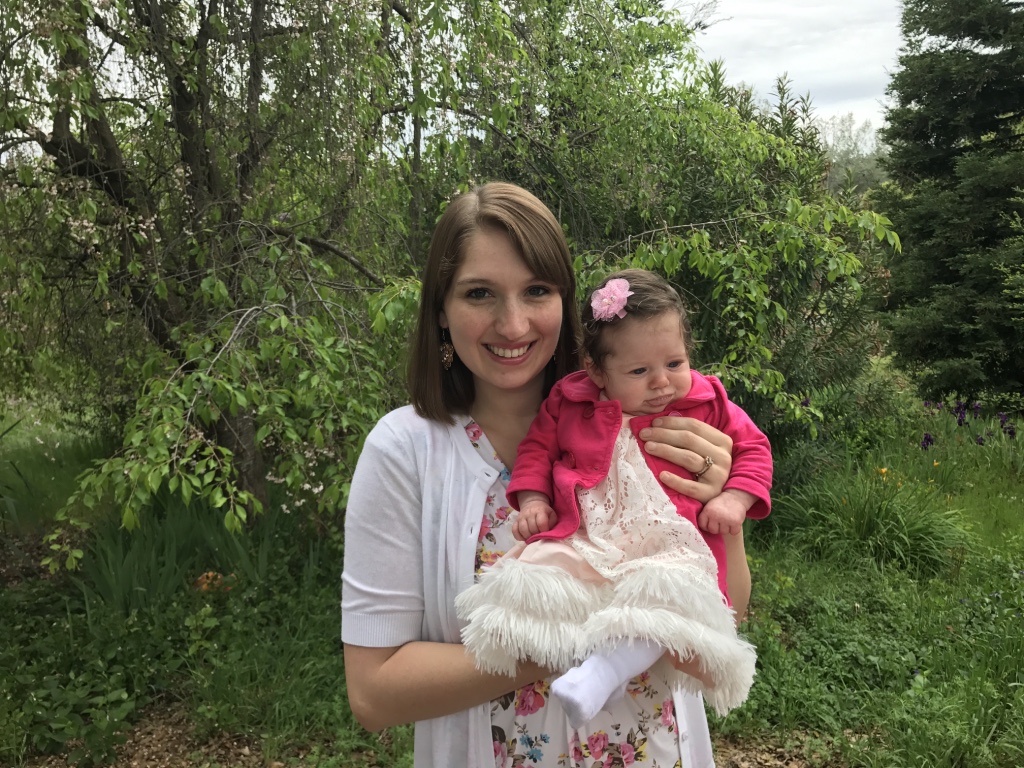 Family Worship
The idea of family worship can be elusive. It's hard to know what sort of things we should focus on within our homes. It can be tough to know what that should look like and how to go about it. I love this definition of family worship:
"Family worship isn't a full-on Church service every day; instead it's a brief time of devotion before the Lord. The elements are singing, Scripture reading, and prayer. That's it! You sing together, pray together, and read the Scriptures together. Giving fifteen to twenty minutes a day to these simple practices will transform your family." – Voddie Baucham, Family Shepherds
I think in the past I've made the idea of family worship something so big and structured that it was too much. I wanted to make it too complicated. Family worship simply implies creating a family culture of studying God's Word and worshipping Him.
That can be as simple as reading a passage of Scripture, singing a song, and closing in prayer! It doesn't need to be huge or complicated.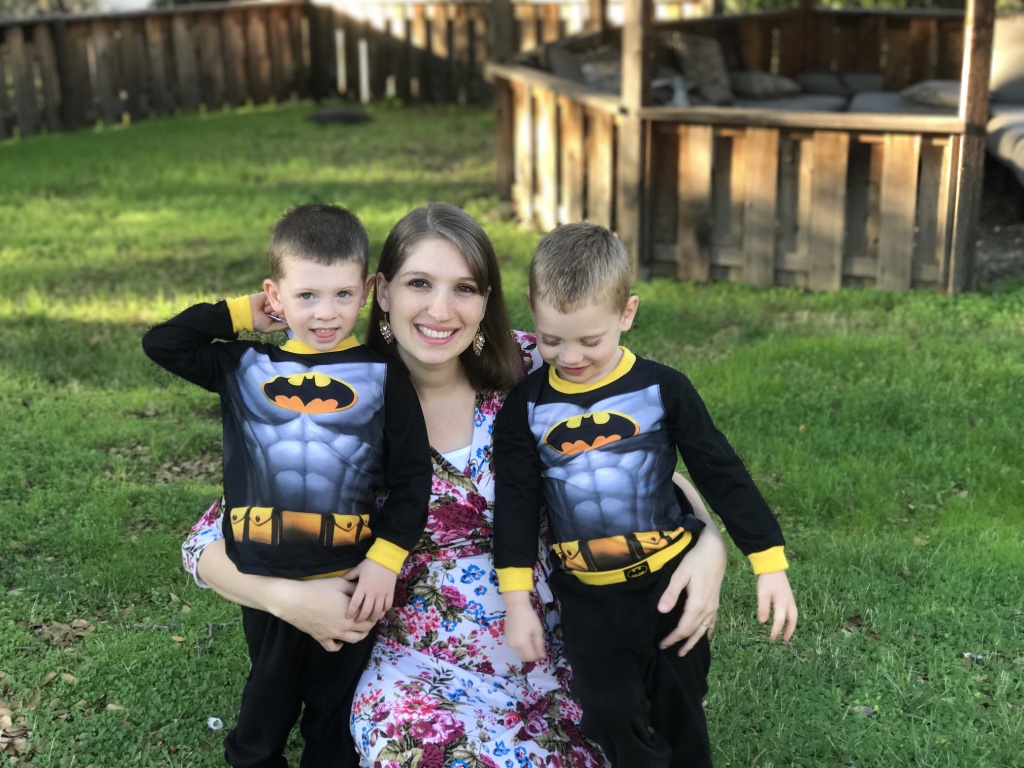 Becoming a Discipling mother
A note to mothers: I love love love this encouragement to disciple our children. I need to focus on the Gospel within my home for myself and my husband. But another huge responsibility God has entrusted to me is instructing and discipling my children!
"Mothers can tremendously impact the future of the Lord's heritage, as Paul testified about Timothy's start for the Lord: 'and that from childhood you have known' (2 Timothy 3:15). Young Timothy, in a home with an unblieving father, was shaped by a Word-filled mother. Everyday I prayerfully set out to do the same. During this short life on earth – this prelude to eternity – God has assigned us parents the role of standing in His place to show our children what He is like. My husband says, 'God has given us their tiny hands to hold, to walk with in this world, step by step, until we lead them to their heavenly Father, and place their hands in His everlasting hand." – Bonnie Barnett, Word-Filled Families: Walk in Truth
When you feel unworthy
There are so many times and places when we will feel unworthy. When we will feel our own sinfulness, our own failings, and our own shortcomings so acutely. We are not perfect and we will never have the right answers all of the time, no matter how hard we strive.
This is an all too common feeling among women, especially for mothers. Here's some encouragement:
"God will help you, as you keep a steady focus on the Lord and search for His unchanging truths, to increasingly model the characteristics of a genuine disciple of Christ. Does He expect perfection? No, for that is impossible this side of heaven. Remember: God isn't after your ability, but your availability. Simply put, God wants your heart. As you surrender yourself unreservedly to Christ, the Holy Spirit will use the Word of God to conform you into the image of God, for His Glory. (Romans 12:1-2). " – Bonnie Barnett, Word-Filled Families: Walk in Truth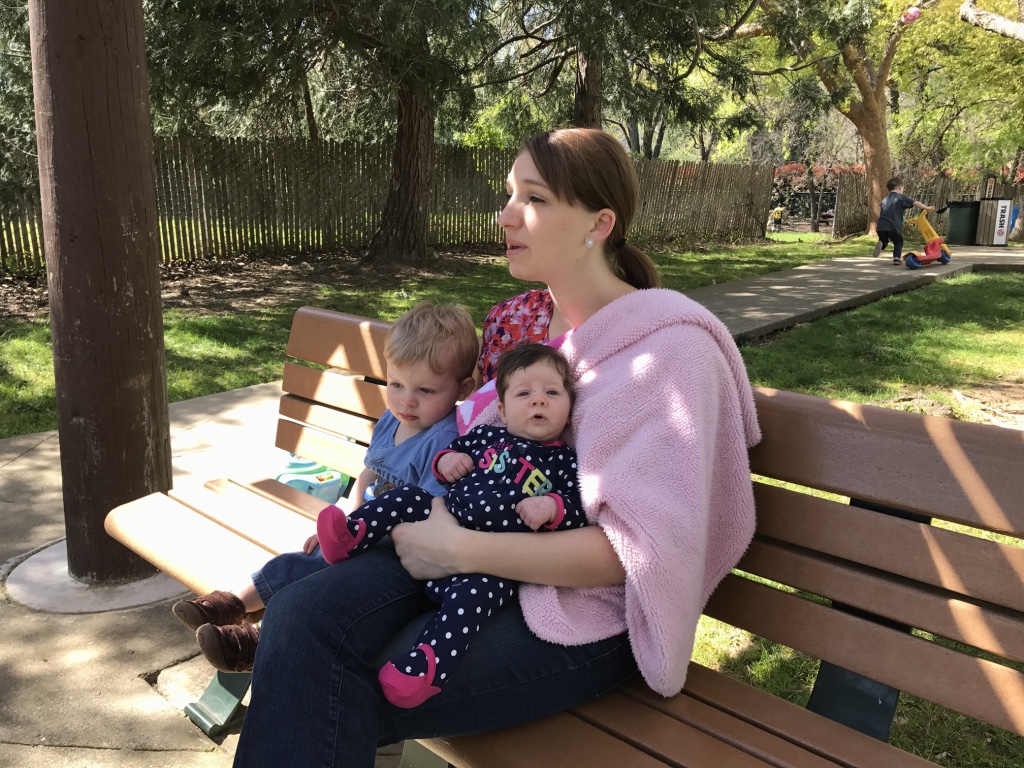 Being Gospel-Centered
So what does it mean to be Gospel-Centered and to try to craft a gospel-centered atmosphere? Like Bonnie's quote from above, we need to remember to rely on Christ and His strength each and every moment. We need to turn to Him when it feels tough and when we need wisdom.
This passage from Joshua, while located in the Old Testament, gives some great guideline for doing so:
"Only be strong and very courageous, being careful to do according to all the law that Moses my servant commanded you. Do not turn from it to the right hand or to the left, that you may have good success wherever you go. This Book of the Law shall not depart from your mouth, but you shall meditate on it day and night, so that you may be careful to do according to all that is written in it. For then you will make your way prosperous, and then you will have good success. Have I not commanded you? Be strong and courageous. Do not be frightened, and do not be dismayed, for the Lord your God is with you wherever you go." – Joshua 1:7-9
We should not turn from God's Word. We should not look to this culture, or pop psychology, or the latest trend for guidance. We are to look straight to Scripture and we are to stand rooted and firm in Scripture as our guidance.
Be strong and courageous as you boldly follow Christ!
Here are a few practical things you can use in your home as well!
Seeds Family Worship
Seeds Family Worship is a company that puts together Scripture based music for kids. It's a wonderful way to focus on the Gospel more and more each day.
You can buy the CD's but if you use the free app, Spotify, you can listen to most of their CD's for FREE! You can stream them right in your kitchen, living room, or on the go!
Where to get: Seed's Family Worship | on Amazon | Listen free on Spotify

Jellytelly – Christian tv for kids
JellyTelly is a sort of Christian netflix for kids. It has over 100 different tv shows for kids that are all Bible based. We have been very impressed with it! To get a subscription, it is $4.99 a month or $49.99 a month. You can try out a FREE week here with coupon code: HMF.
They do have some great family devotional guides on their blog that are FREE. You can browse through them here.
New City Catechism
We use the New City Catechism with our kids nearly every single day. We've been doing this for almost a year. Now that our oldest boys are 4.5, they are really catching on!
Most people are surprised when they hear about catechisms because they think they are a Catholic thing. But a catechism is simply an easy way to memorize truths about God's! A catechism is a question and answer format. So Jason will ask a question, and the boys will answer.
It asks questions like "What is our only hope in life and death?" or "How do we glorify God?" It's amazing what our kids can memorize and repeat back. It ends up being a great activity for the whole family and something so easy to fit into a "family worship" time.
Where to get it: Download the free app here | Get the book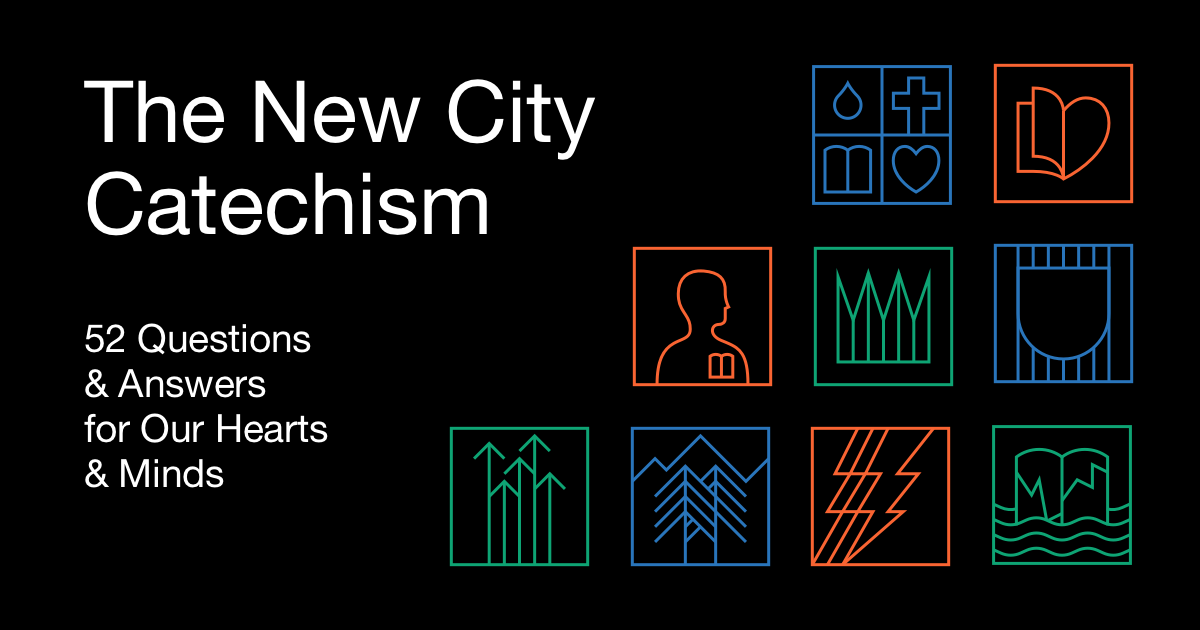 Other Resources:
If you want to dive in to other topics related to this, here are some great resources for you:
Welcome to our Sponsor!
I am so excited to once again be partnering with Jelly Telly for the month of July! We have been using Jelly Telly now for about 6 months and my boys are hooked (so am I)! Think of Jelly Telly as a sort of Christian Netflix for kids.
They have become my boys' very favorite iPhone app as they have over 100 Bible based Christian tv shows for kids! Whether they're discovering God's great rescue plan in What's in the Bible?, singing along with Yancy and Friends about how much God loves them, or discovering what it means to follow Jesus with the beautifully animated series Owlegories, I know they are safe as they browse.
I love that it's all Bible based and I don't have to worry about what they are watching. I love to hear them singing along to hymns in Theo and learning deep theology through What's in the Bible. And you can try out Jelly Telly for FREE for one week AND get a 10 page Jesus coloring book download by using coupon code: HMF at checkout.
Our current favorite shows are Theo, Owlegories, and 321 Penguins but I can't wait to check out a few more. They have over 100 tv shows for kids – how fun! Remember to use coupon code: HMF at checkout!