My Favorite Method for Meal Planning (a walkthrough)
Meal planning saves my sanity when it comes to the kitchen. It allows me to make healthier meals for my family, stict to a budget, and save time.
When I get in the consistent habit of meal planning, it's pretty amazing how much it helps. But then when I fall out of the habit, it's tortue to get back into it.
But for the past few years, I've been using a meal planning method works so well that I don't think I'll ever go back! Read on to see what method I've been using and how it only tkes 5-15 minutes each week to create my full meal plan, grocery shopping list, and recipes .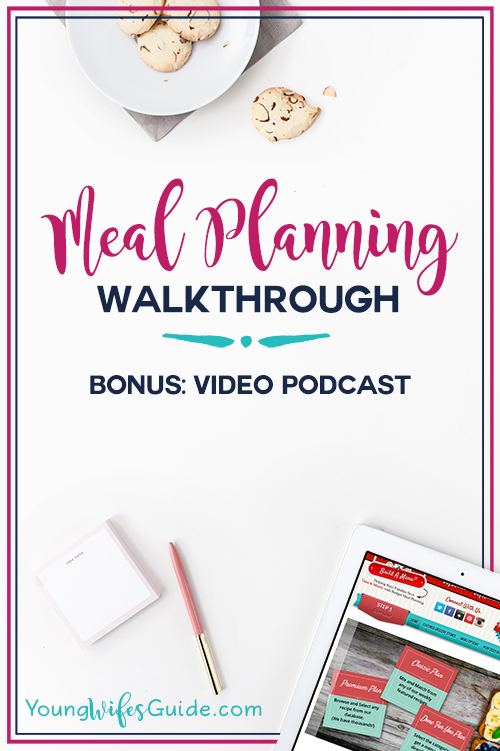 Episode #1: My Favorite Meal Planning Tool
I created a video for you to share how I do my meal planning. It's easiest to show you on a video but scroll down below to read if you prefer. You can watch the full episode below or continue scrolling to read all about my favorite meal planning tool. Don't forget to subscribe to my YouTube channel so you never miss an episode!
My
very favorite tool for meal planning is an online system called Build a Menu.
It's a website that I pay a low annual fee for (although you can also pay monthly)
that allows me to build meal plans out of my own recipes or their bank of recipes
. It helps me do price estimates per meal so it's easy to stick to a budget and within seconds prints out the recipe cards, a fully done meal plan, and a grocery shopping list broken down by section.
The incredible thing is, Build a Menu is having a super sale right now through April 22, 2019. You can get an ENTIRE year subscription to their premium plan for only $24.99! That means you are getting full access to BAM for only $2.08 a MONTH! Check out Build a Menu here and get signed up.

Just use coupon code: APRIL24 at checkout to get a 12 month premium subscription for just $24.99!

So make sure to check it out by April 22, 2019!! I've never seen the price this low.
If you would prefer to do meal planning by pen and paper, check out my super simple meal planning method instead.
Okay today I want to give you a peek inside Build a Menu. Meal planning is by far the biggest thing that has helped me get organized in my kitchen. I used to do all my meal planning by hand and it worked fine, but now using Build a Menu, it has changed the way I meal plan. Watch the video above for a video walkthrough of BAM or see the pictures below.
A Walkthrough of Using Build a Menu
Once you purchase your subscription, log into Build a Menu and from any page, you will see the big red button on the left hand side "Step 1: Start Here". This is the button you will use each time you want to create a new menu.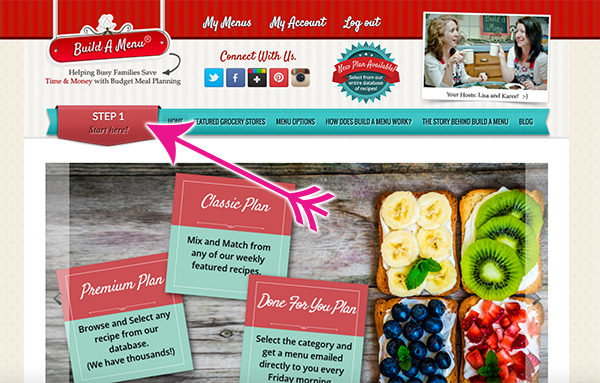 Pick Your Grocery Store
Each week, Build a Menu compiles the sales ads for the following stores: Fred Meyer, HEB, Kroger, Publix, Safeway, Walmart, Aldi, or you can select "any grocery store". What this does is allows BAM to put together priced estimates for every single meal. You will see what this looks like in the next step.
I typically do 99% of my shopping at Costco & Trader Joe's so I select "any grocery store". This still compiles a fairly accurate price estimate for meals. It's not 100% accurate but it gives you a really good guideline.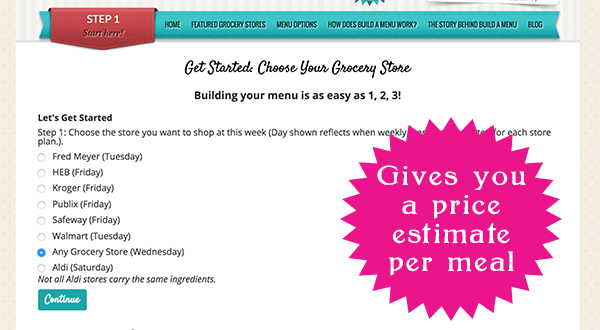 Now it's time to build your menu for the week (or month)
In this step, you are going to go through the main category of meals: Breakfast, lunch, dinner, sides, snacks, cooking with kids, dessert of the week, and special menu.
You also have the option here to upload YOUR OWN recipes and use them alongside BAM's bank of recipes. Best of both worlds for me!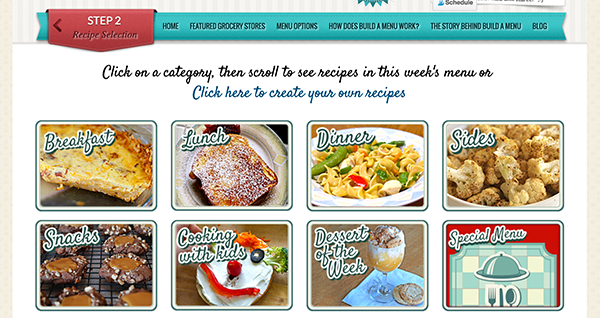 Click on the picture of the category you want. I started with breakfast. You will now see several categories within breakfast come up. You have options for family friendly recipes, trim healthy mama recipes (woohoo!), shakes and smoothies, etc. Please note: Each category includes different sub-categories. I'll show below, but dinner has a TON more options.
I selected "Family friendly – serves 4-6" and five recipes for this week pop up (they add NEW recipes each week). You can select "show ingredients" right there on the screen to see the ingredients and the recipe to make sure it's something your family will eat and love. Then select the check mark to add it to your list.
See to the right? That's your menu choices that updates in real time as you add a recipe. And the amazing thing….it keeps a running total of your approximate cost of your menu so far. This is amazingly helpful when you are trying to stick to a budget. No more trying to figure out estimates on your own (or worse, getting to the checkout line with $100 more in groceries than you can afford)!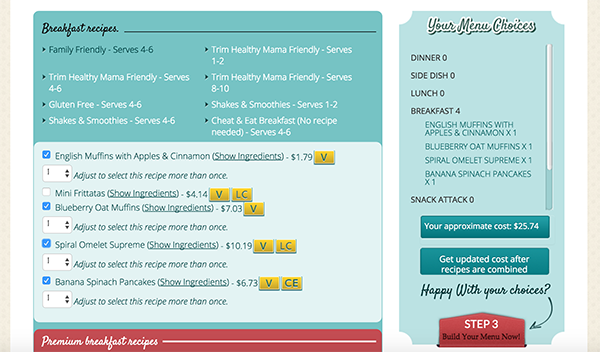 Gives your price estimates along the way
I want to make sure you see this. Look at the breakfast recipes below….read to the end of that line. See that? It gives you the price estimate PER meal. This is not per serving. This is the estimated cost PER MEAL. Trying to stick to a really strict budget? You can see that the English muffins with apples and cinnamon will cost about $1.79!! And the mini frittatas are only $4.14.
This is literally the easiest way I've ever found for building a meal plan while sticking to a budget.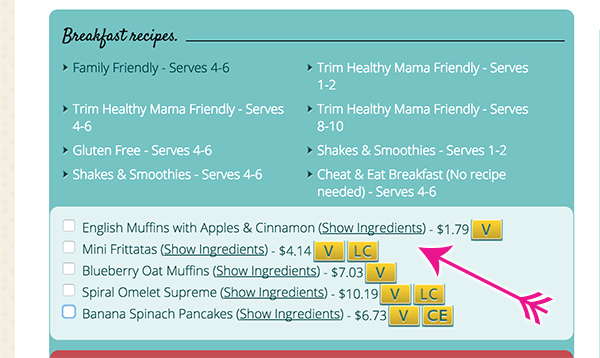 I wanted to quickly show you the dinner options as this is the category I use the most. My personal favorite categories of dinners that I use the most often are:
Family Friendly – serves 4-6
Trim Healthy Mama Friendly – Serves 4-6
Soups On! – Serves 4-6 (During the Fall & Winter)
Grill A Meal – Serves 4-6 (During the Summer)
Dine On a Dime – Serves 4-6 (LOVE this category for budget friendly meals)
Slow Cooker – Serves 4-6
Manly Meals – Serves 5-6 (Jason loves this category. duh!)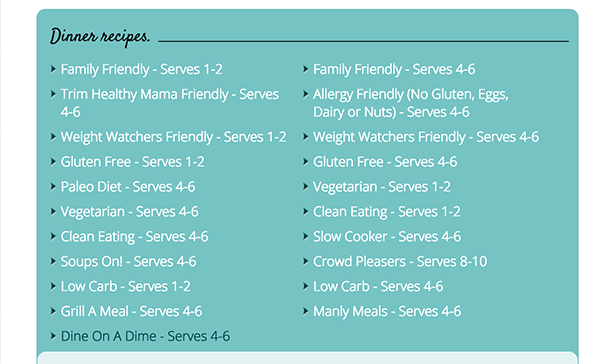 Search by ingredient
This is their newest feature to their premium plan and it ROCKS!! Let's say you have a ton of Zucchini from your garden or sitting in your fridge that you really need to do something with before it goes bad. I hate throwing out food because I didn't use it in my meal plan well.
NOW you can search by INGREDIENT in their entire bank of hundreds of recipes to find meals to FIT your meal plan AND budget. So here's my search for "Zucchini"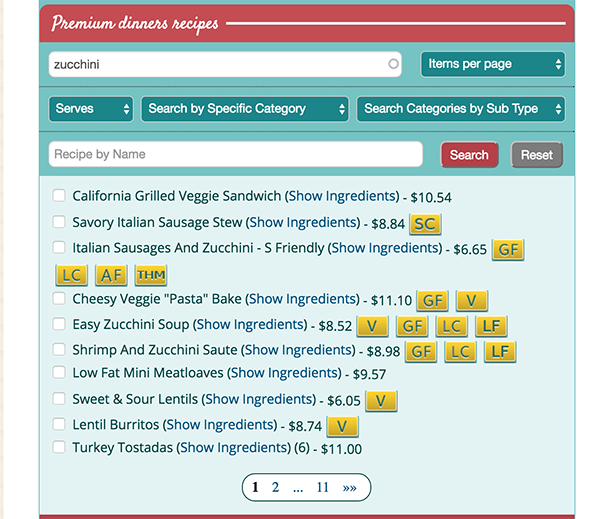 It came up with 153 recipes to use with Zucchini. Now you can quickly sort or search through the recipes, scan the other ingredients and make sure you use what's already in your fridge or pantry!
This works really well too if you find something like Whole chicken on a fantastic sale that week. Search for "whole chicken" and select several meals to make with your dirt cheap chicken. No more hours spent searching through Pinterest for meals to make that lead you to dead pages, recipes that don't turn out, etc.
Step 3: Building Your Menu
Now that you've built your menu for the week. Click on step 3 to print and finalize your meal plan. From this page you will see all of your recipes listed out by category and have the option to quickly drag and drop your meals onto a calendar to easily organize your week.
Once you've built your calendar (which is optional) you can print it out quickly.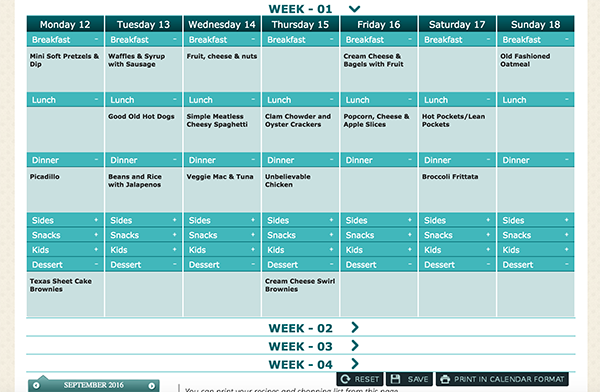 Print out Your Recipe Cards
With one click, you also have the option of printing out your recipes cards. I like to do this for two reasons:
I prefer to have printed physical copies of recipes rather than digital. I'm a paper kind of gal.
If any of these recipes end of being FAMILY FAVORITES that we will want to use again and again, I can slip the printed recipe right into our family favorite recipe binder to keep forever. Makes it easier for me to find and remember later.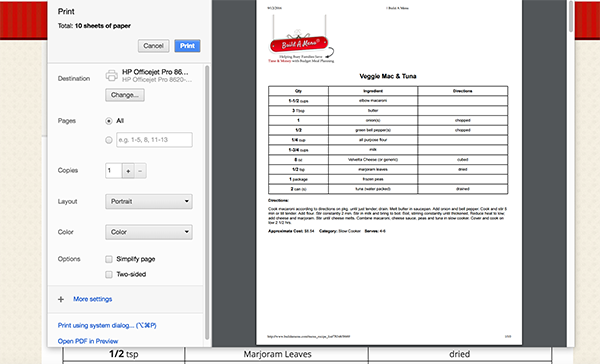 Edit & Print Your Shopping List (My VERY favorite part)
This is my single favorite thing about BAM because it saves me the most time. BAM automatically compiles a shopping list FOR YOU. You can click to edit it. So if you already have a ton of Zucchini and don't need any chicken, uncheck them from your shopping list before printing. You can also add ingredients if there are other things you need.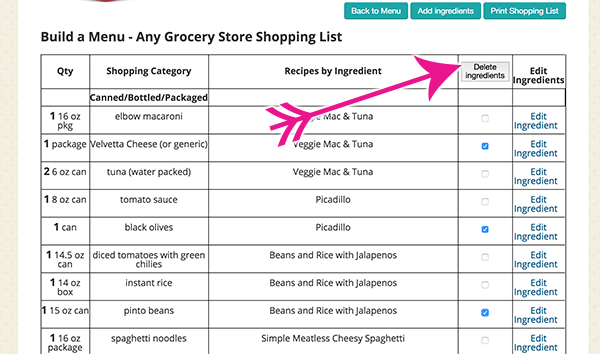 Then hit print (or save it as a PDF to view on your phone) and in seconds you have your shopping list DONE for you AND it's broken up by category i.e. meat, canned goods, frozen, etc.
Now head off to the store with your shopping list in hand! In under 20 minutes you can be out the door with a full meal plan that fits your budget. <— That's why I have fallen so in love with Build a Menu.
There are even more features I didn't get a chance to show you. But I've found that BAM is complicated enough to have ALL of the features I could ever need in a meal planning software but it's step by step nature and it's simple enough to jump in and use with NO experience.
I'm picky about the things I spend money on, especially an online system like this. And after trying out the top 5 or so meal planning websites out there, I've firmly landed on Build a Menu as being the absolute best solution for our family. Please leave me a comment if you have any questions about Build a Menu or how it works!
Get Build a Menu for just $24.99 for a YEAR!

Don't forget, they are doing an incredible sale right now and you can get an entire year for just $24.99 (normally $59). Use coupon code: APRIL24 at checkout.

Yup that breaks down to just $2.08 a month or $0.52 a week. As you can tell from the price estimates alone, BAM can save you far more than $0.52 per week. I've been so happy with it over the last 4 years and I love their commitment to always changing and growing to better meet their customers needs.

Sign up here to get Build a Menu for just $24.99! And get instant access to all these premium features. Sign up now and in less than 20 minutes you can be on your way to the grocery store with a full meal plan DONE and grocery shopping list printed. Sweet!