My Word for 2021 (and how to pick your own!) – Hf #311
This is my 7th year picking a word for my year. Last year I expressed that I always love picking my word for the year but I had difficulty in picking one for 2020. Well that's true again this year. I thought and prayed about it a lot but I think I landed on the perfect word for my year.
So today I'm sharing my new word for the year as well as some tips for picking your own word for this year.
Here are my past words: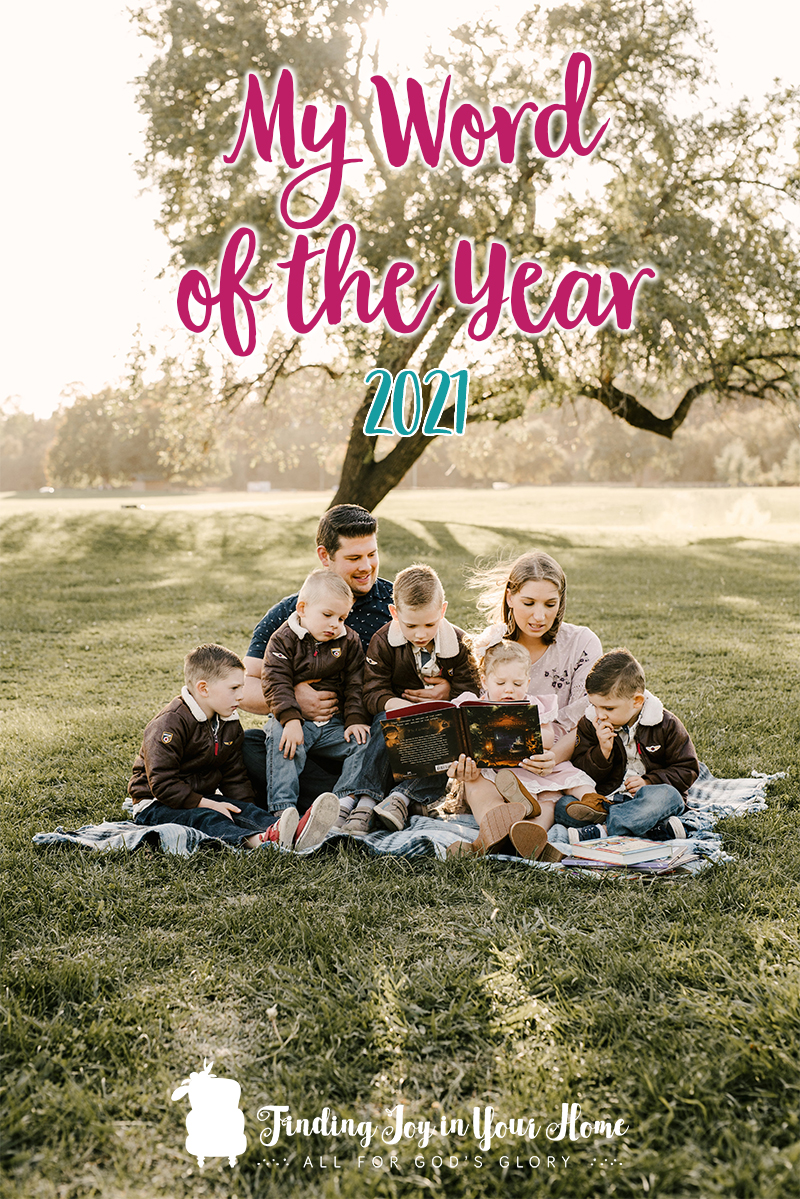 Listen to the Podcast:

We also recorded this blog post as an audio podcast. If you want to listen in instead of reading, click play below or do a combination of both 

And don't forget to subscribe to the podcast in iTunes.

Right click here and save-as to download this episode to your computer.
What has gone into choosing this word:
When picking my word for 2020, I was looking ahead to what looked like an extremely full and weird year. We were looking ahead to selling our house, having baby #6, and buying an RV and starting to travel around the U.S. full time. And now we are almost 7 months into that travel journey.
But of course, we had no idea what else 2020 would have in store. So I've been praying a lot these past months on what 2021 will have in store for us. I know now more than ever that I can't control what the future holds. But I can hold fiercely to joy and peace this year for my own life and family.
More than ever, I need to make sure that MY priorities are crystal clear. I need to make sure that when things in the world get crazy and the days might be hard, that I am standing fiercely in the hope of God's Kingdom. I need to make sure that God's priorities are my true priorities. For my own personal goals, for my family, and for our business.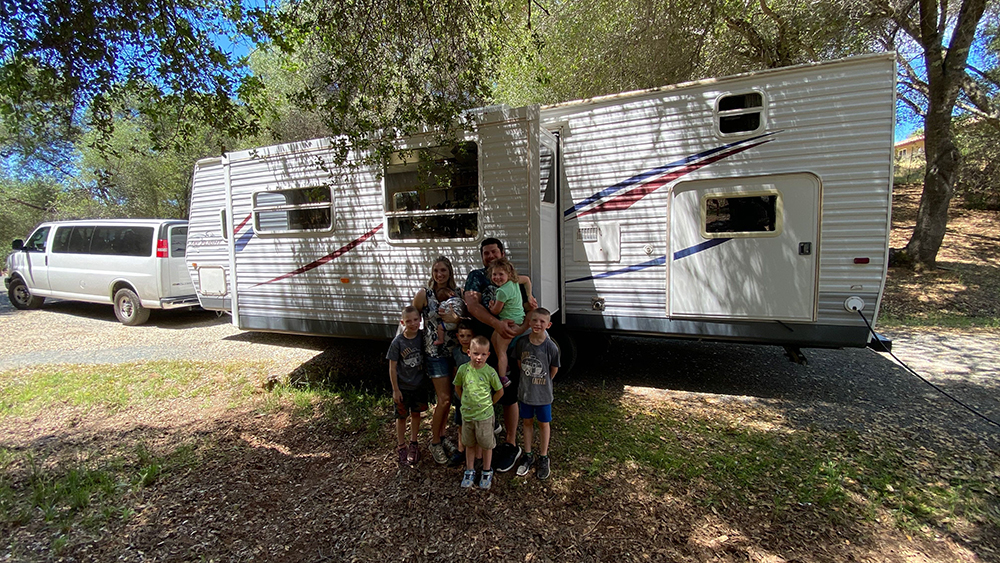 It's something that Jason and I have been discussing a LOT and praying about a LOT. And so all of this has led me to my word for 2021…
Kingdom.
I want more than anything for 2021 to be Kingdom focused. I want Kingdom focus in my personal goals, my parenting, my marriage, and my business. I want to make choices, pray about decisions, and walk boldly into 2021 with this Kingdom focus.
So what does this mean?
Got Questions explains that God's Kingdom is:
"Broadly speaking, the kingdom of God is the rule of an eternal, sovereign God over all the universe. Several passages of Scripture show that God is the undeniable Monarch of all creation: "The LORD has established his throne in heaven, and his kingdom rules over all" (Psalm 103:19). And, as King Nebuchadnezzar declared, "His kingdom is an eternal kingdom" (Daniel 4:3). Every authority that exists has been established by God (Romans 13:1). So, in one sense, the kingdom of God incorporates everything that is.

More narrowly, the kingdom of God is a spiritual rule over the hearts and lives of those who willingly submit to God's authority. Those who defy God's authority and refuse to submit to Him are not part of the kingdom of God; in contrast, those who acknowledge the lordship of Christ and gladly surrender to God's rule in their hearts are part of the kingdom of God. In this sense, the kingdom of God is spiritual—Jesus said His kingdom was not of this world (John 18:36), and He preached that repentance is necessary to be a part of the kingdom of God (Matthew 4:17). That the kingdom of God can be equated with the sphere of salvation is evident in John 3:5–7, where Jesus says the kingdom of God must be entered into by being born again. See also 1 Corinthians 6:9."
So to me, what this brings to mind is twofold:
Christ is reigning over the cosmos. He is in control of all things. He is not afraid for what tomorrow will bring. He knows and he sees it. His Kingdom reigns over everything. From the small everyday concerns we deal with to the overarching global pandemic that seems to make the world crazy.
Because Christ is reigning over the cosmos, this affects even the most minute details of life. His Kingdom means very real and practical things here on Earth.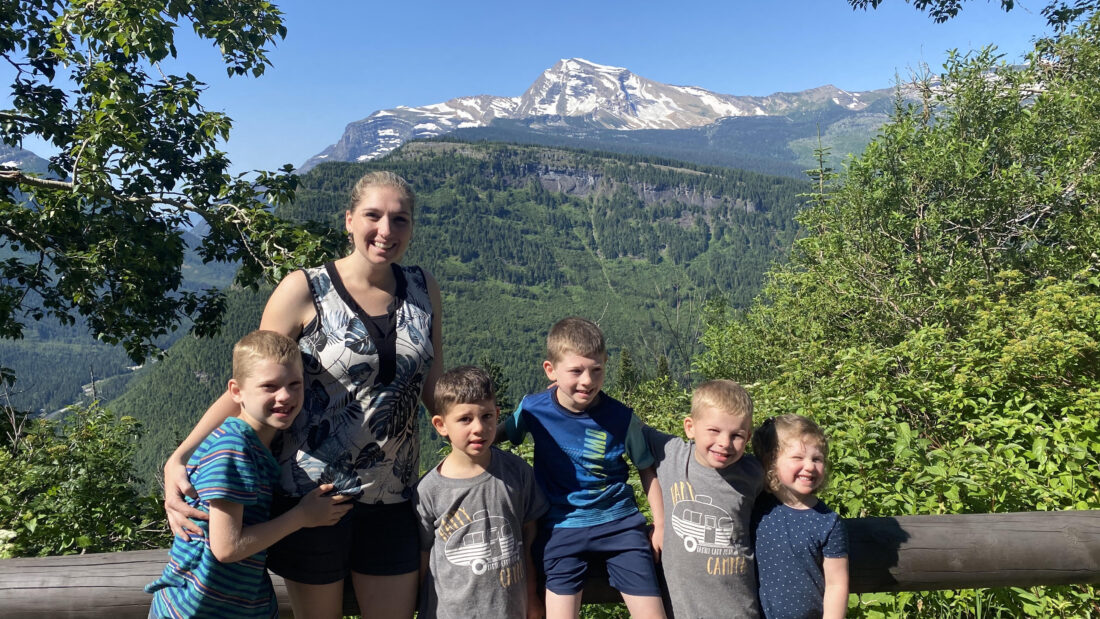 So as I look towards 2021, Kingdom is my word so to remind me to look to Christ in everything I do. This affects my daily to do list, the anxiety that can creep into our hearts, big gigantic life alternating decisions and everything in between.
A few verses I've been looking at as I pray through my to do list has been:
"For God is the King of all the earth;
    sing praises with a psalm!
God reigns over the nations;
God sits on his holy throne." – Psalm 47:4-7
"For the kingdom of God is not a matter of eating and drinking but of righteousness and peace and joy in the Holy Spirit." – romans 14:17

"But if God so clothes the grass of the field, which today is alive and tomorrow is thrown into the oven, will he not much more clothe you, O you of little faith? 31 Therefore do not be anxious, saying, 'What shall we eat?' or 'What shall we drink?' or 'What shall we wear?' 32 For the Gentiles seek after all these things, and your heavenly Father knows that you need them all. 33 But seek first the kingdom of God and his righteousness, and all these things will be added to you." – Matthew 6:30-33
Next week I'll be sharing my goals for 2021. But the areas I'm currently thinking through are: 
The Kingdom and my goals
The Kingdom and my family
The Kingdom and my business/ministry
Resources for picking your own word:
Are you read to pick your own word for 2021? I know it can be hard to know where to begin when picking your own. So here are some resources and help on choosing your own!
How to pick a word for the year
1) Stop, slow down, and think
Picking a word for your year doesn't need to be overly complicated or hard. Chances are, you won't have a terribly hard time coming up with word options. You will probably have a hard time narrowing it down. So spend a few minutes dreaming about what you want for this year:
What do you wish you had more of (or less of) this year?
What word or idea do you want to dominate your life this year?
What do you want 2021 to be characterized by?
Is there something you want to work on? Like finding more joy in your home.
When you stop, think for just a second. What one WORD comes to mind?
2) Look up the definitions
If you are struggling to narrow it down. Then hop on google and look up the definitions, this might help clarify things. This can sometimes either solidify it for you that THIS is the word, or it can help confirm that it's not entirely right.
I don't think it needs to be complicated to pick your word. Chances are, your gut is already telling you what you need for this year. What do you dream for 2020? Some ideas might include:
Joy
Create
Grace
Rest
Discipline
Grateful
Thankfulness
Connected
Intentional
At the end of this day, word and mission for 2021 boils down to this: I will joyfully labor each day with the gifts, talents, time, and resources that God has given me for His Kingdom Work.
Links & Resources: