A Tour Inside My Favorite Store: Costco (And what I buy) – YWGtv episode 004
If you've hung around here very long, it's likely you've heard me mention Costco once, or twice, or a couple hundred times. It is my all time favorite store and where we do nearly all of our grocery shopping.
From their low prices to wide variety of organic foods (and the fact that we can bring all four of our loud kids into the store without as much notice) makes Costco my favorite! I get questions all the time about whether a Costco membership is right for them and what all I buy.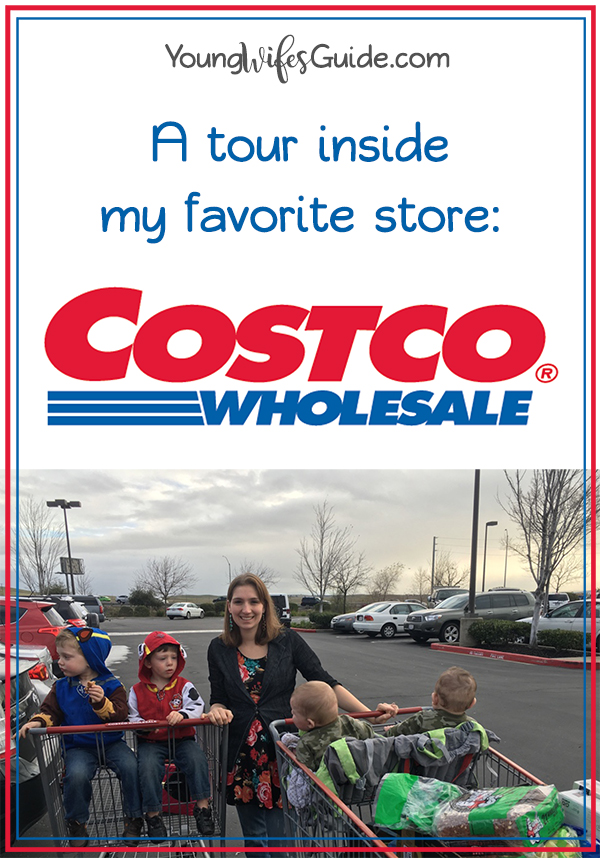 So Jason and I went on a little scouting trip to Costco to compile this video and guide for you on everything we buy at Costco! Watch the video below or keep scrolling to read all about it.
What I Love About Costco (And what we buy)
You can dive in and watch my video podcast from today (and subscribe to my YouTube channel so you never miss an episode).
So first, how does Costco work?
You need a membership
In order to shop at Costco, you need to purchase a membership. It's $50 a year for the basic membership and I know this is what turns people off at first. You have to pay to shop at a store? But the thing is, it's well worth it. Costco saves me FAR more than $50 week, let alone a year. Their prices on most things literally cannot be beat.
So if you decide to get a membership, rest easy knowing that the $50 is well worth it and will save you money in the long run. You show your membership card at the door when you walk in and again in the check out line.
8 Things You Need to Know About Costco
1) Buy Their Batteries
The price of Costco batteries is unbeatable. They work really well and last a long time. Yes, a pack lasts us a while but run into Target to buy a small pack of batteries and you will cry at the price difference (at least I do).
2) Get Your Eye Exams
I wear contacts and so I have to get an eye exam each year. Not only do they offer killer deals on a year supply of contacts, but their eye doctors are the best prices around. I struggled for years to find a good eye doctor, one that would listen to me when my contacts didn't seem to fit right. I finally ended up at the Costco doctor and he was amazing!
Then on vacation this year, I lost my very last contact and had to make an appointment at the nearby Costco. Their doctor was also amazing and totally listened to me. I know that's only two Costco's out of hundreds, but those two doctors are my favorite I've ever had. I have a feeling they only hire the best, otherwise everyone would complain and they would be out of there!
3) Buy Their Electronics
Because we run an online ministry, we go through a lot of electronics from laptops, to cameras, to external hard drives. Costco is our go to place for these. Yes, we compare prices to Amazon, Walmart, Best Buy, etc but Costco is almost always the best price. Plus, they have a 90 day warranty on their big electronics. If anything happens within 90 days, you can take it back, no questions asked.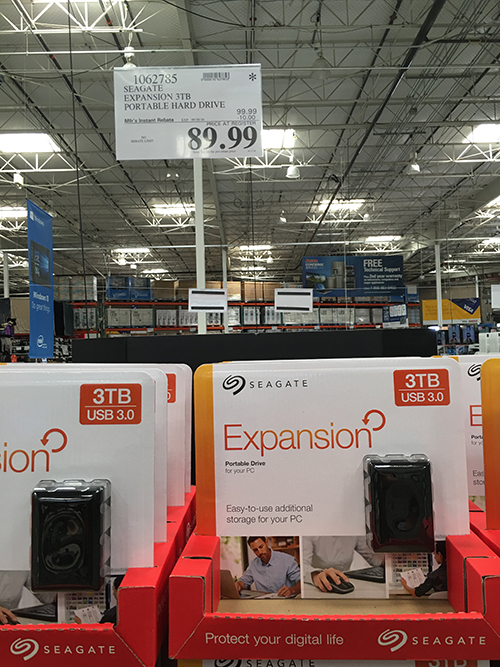 We purchased a Dell laptop for myself several years ago. After 70 or so days, it stopped working. It wouldn't turn on or anything. We brought it back to Costco and got a brand new one for free. Try doing that at any other store, it won't work. Or you have to buy additional warranties, etc.
4) Amazin Return Policy
Their return policy is phenomenal! You can return anything with no time limit, no receipt, etc. Expect their big electronics which are a 90 day return policy. It makes me feel so much better about buying appliances, a new coffee maker or whatever from Costco because if we hate it or it doesn't work, then we can return it!
A year ago, we finally decided to invest in a good vacuum. We got a Dyson vacuum and not only was the price the very best at Costco, we knew we could return it if it turned out to not be as good as we thought. Of course we still love it, but having that security there is really helpful, especially when on a budget.
5) Get Movie Tickets and Gift Cards
They always offer awesome deals on their gift cards. You can usually get $100 worth of gift cards for Coldstone or Peet's Coffee for just $80! If you shop there a lot, then you are literally saving $20!
Or break up the small gift cards and use them as gifts. They have gift cards for restaurants, theme parks, and killer deals on movie tickets.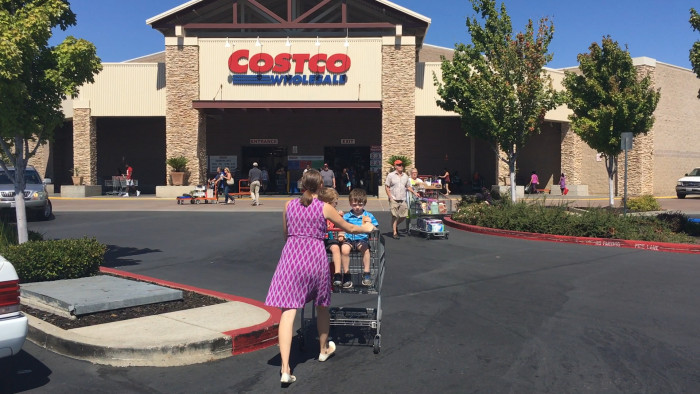 6) I don't often buy beauty items or vitamins from Costco
While they do have amazing prices on this stuff usually, it's not as healthy or natural as I would like. I am very picky about my health care needs and unfortunately, most of their stuff just isn't that healthy. It's the normal vitamins and things you find that are packed with chemicals, fillers, and other stuff.
Over the last 5 years or so, Costco has started carrying more and more organic and healthy items and I'm hoping their beauty, skincare, and health products will follow. I've already started seeing healthy nail polish kits and they now sell Honest co. products sometimes.
I'm a huge fan of Honest Co and Costco carries the very best price! I always buy our Honest CO shampoo from Costco, sunscreen during the summer, and their healing balm.
7) Clothes
I buy a ton of my kids clothes at Costco. They have awesome three and four piece carter sets for cheap. They have all kinds of kids clothing for a great price. We also get shoes, socks, underwear, and other clothes for my husband and I there a lot as well.
8) Gas
Costco gas is consistently the lowest in our area. So we always try and fill up when we are there.
What We Buy At Costco for Groceries
Okay so now to the food. I want to try to keep this short and sweet for you, so if you still have questions, leave me a comment and I'll address them.
I buy 90% or more of my groceries each month at Costco. Part of this is because we have two sets of twins that are 3 and 1 and getting to the store is tough. Jason and I both love going into Costco with a cart each and it works really well for our family.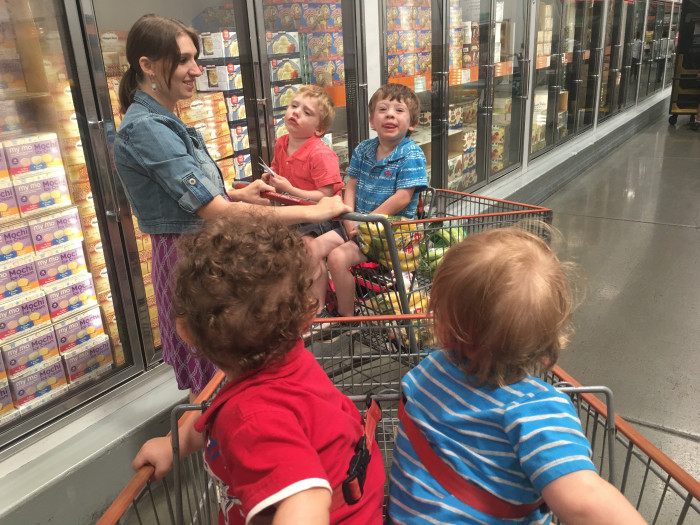 I usually then stop at Trader Joes once or a twice a month to get a few other things like salad dressing, frozen spinach, green onions, etc. And sometimes get other non perishable things like honey or jelly off of Amazon or Vitacost. Im going to go section by section of how our Costco store is laid out:
The Meat Section:
I buy all of our meat at Costco. They have excellent prices on ground beef, boneless skinless chicken breasts, and ground turkey. They have fabulous prices for both organic and non-organic meat.
You also can't beat their prices on rotisserie chicken. At just $4.99 for an entire chicken, we buy these a lot!!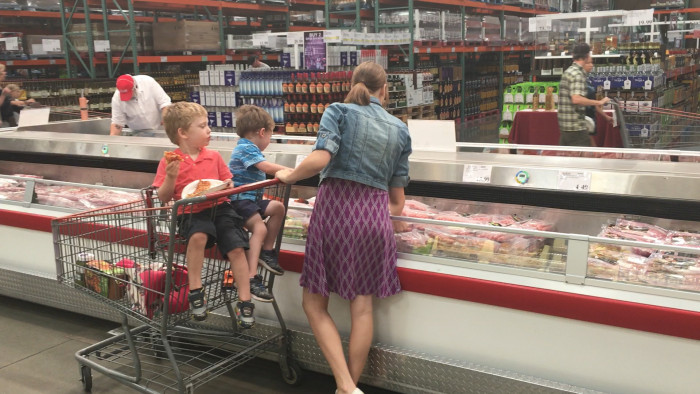 The Produce Section:
We buy all of our fruit from Costco depending on what's in season. We love getting bananas, apples, cutie oranges, and grapes. They also have killer prices on Strawberries, watermelon, and grapes throughout the year.
I buy 99% of our vegetables from Costco as well. Unless I need something small and specific for a meal such as green onions. I buy broccoli and cauliflower every week as well as salad ingredients and squash and zucchini. When avocados are on sale they have great prices as well as bell peppers, tomatoes, onions, celery, carrots, etc.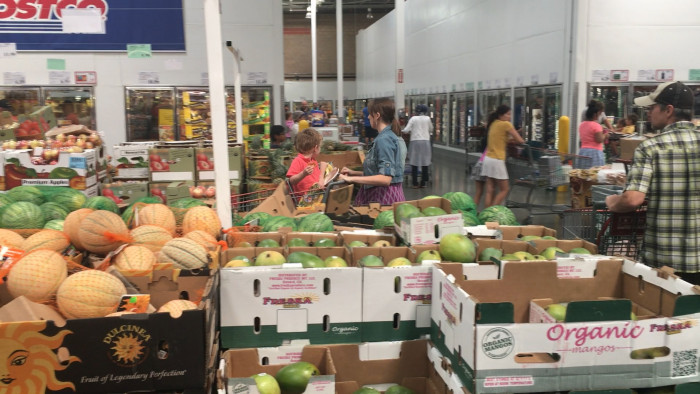 Other Products:
I buy all of our diapers, wipes, toilet paper, and paper towels from Costco. We get the Kirkland brand for all of those and the prices rock. I've heard that you can find cheaper prices on diapers using Amazon mom but that's a whole other system I've not figured out and I love the quality of Costco diapers.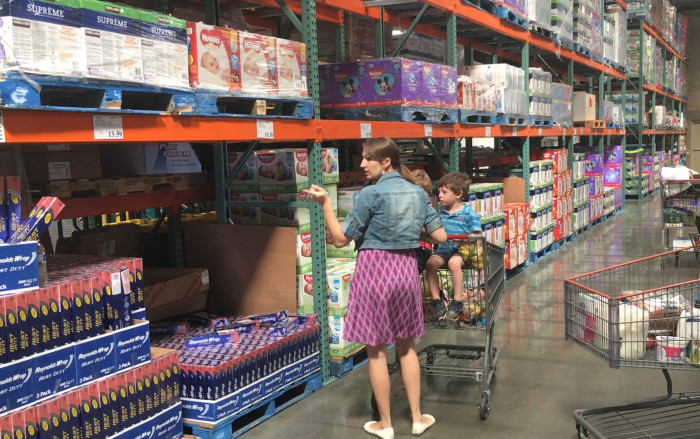 Frozen & Cold:
We love their pesto basil tilapia fillets and prices on other fish. As well as all of their frozen veggies and fruit. I won't buy frozen fruit anywhere else.
We also always buy our string cheese, yogurt, shredded cheese, sour cream half and half, milk, and eggs at Costco every week.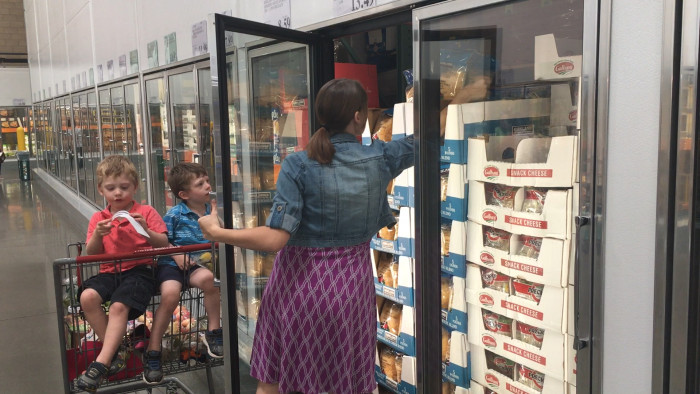 Everything else:
We buy all of our coffee, maple syrup, spices they have, chicken stock, pure vanilla extract, applesauce pouches for the kids, black olives, almond butter, organic tortilla chips, Killer Dave's bread, tortillas and more.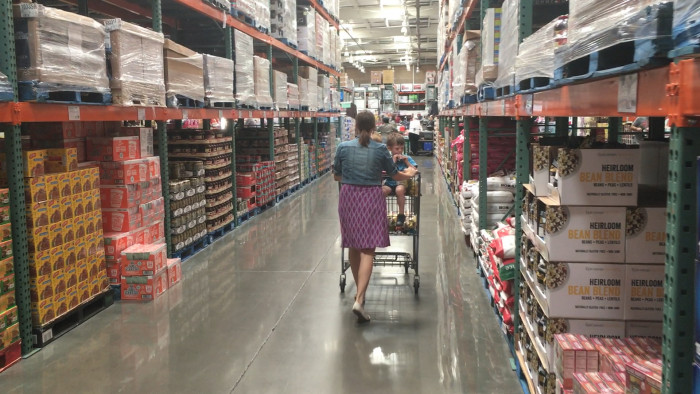 There is a lot more I could cover about Costco but I don't want to overwhelm you. So I'm going to leave you here for now. I hope this gave you some good ideas of what we buy at Costco. And please remember, we live in California and our food prices are higher than most parts of the country. But other parts, like Hawaii or places internationally have much higher food prices.
So if you are not sure, stop by Costco and give it a look! Ask friends or family in your area if they shop at Costco and what they think. And one more note: Costco has been increasingly adding more and more organic options at their stores but all Costco stores carry slightly different things. Ours for example, was one of the first in the area to really start carrying organic options, which is one of the reasons I love them so much. Your Costco might not have as much, but be patient, I think its coming!
I hope to cover what we buy at Trader Joe's soon! But in the meantime, what other questions do you have about grocery shopping or meal planning that you'd like me to cover?