My 10 favorite books from 2017 – Hf #106
Reading is one of my favorite past times! But I've gone through seasons in the last few years where I haven't read as much as I wanted.
So in 2017 I set a reading goal for my year for the first time! While I didn't actually reach my insane goal of 104 books, I did end the year with 67 read! And I am just fine with that.
Out of the 67 books, I read last year, I came across some amazing ones. So here are my top 10 books I read in 2017.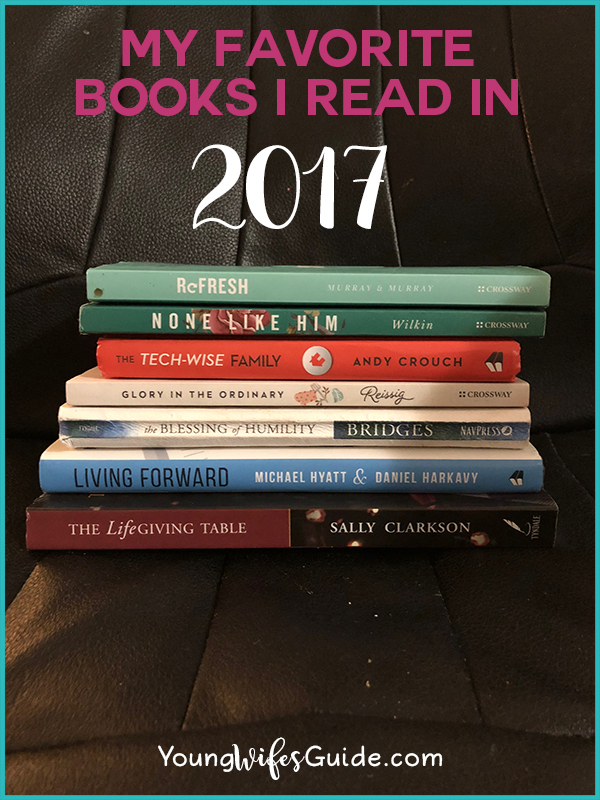 Listen to the Podcast:

We also recorded this blog post as an audio podcast. If you want to listen in instead of reading, click play below or do a combination of both

And don't forget to subscribe to the podcast in iTunes.

Right click here and save-as to download this episode to your computer.
My top 10 Books from 2017:
Refresh: Embracing a Grace-Paced Life in a World of Endless Demands – Shona Murray
I read Refresh near the end of December 2017 and funny enough, I had already picked it as my word for 2018! So this book was a perfect fit for me as I was contemplating what my year of REFRESHMENT was going to look like. You can read or listen in all about my word for 2018 here.
This book takes a look at what we do when our lives get too full and too busy. It's full of practical suggestions and ideas, but my favorite part of the book was it's spiritual look at how we run our lives. The author again and again makes the case that we need to rely on God more within our daily lives and less and less upon ourselves. There was a lot in this book that I really needed to hear as I head into 2018.
The Life Giving Table: Nurturing Faith through Feasting, One Meal at a Time – Sally Clarkson
The Life Giving Table is a book about hospitality and serving those who eat at your table, particularly your family! There are a loooot of suggestions in this book and I'm only looking at implementing a very small fraction of the ideas for this season of life with little kids. And many of those suggestions I'm modifying even further to make work.
Sally presents a very ideal look of home and table life and I think it's a great idea to pick and choose which ones will work for your family. I did walk away from reading this book with new found encouragement to make family mealtime special. I interview Sally in the fall about her book. You can listen to that interview here.
The Tech-Wise Family: Everyday Steps for Putting Technology in Its Proper Place – Andy Crouch
I think this is a must-read book for all families! It's all about healthy and responsible approaches to technology in the home. I think this is a vital message in today's culture and family life and it's only going to get more important as technology integrates itself even more in everyday life.
While we LOVE technology in our home and even run an online business, balance is the key! We had a lot of good things to think about from this book and several of his suggestions we are incorporating into our family. Jason and I both read the book in August. It was great to get to both read it and discuss it along the way.
Glory in the Ordinary: Why Your Work in the Home Matters to God – Courtney Reissig
Most of what I do in my home each day is boring and ordinary. I bounce between scrubbing toilets, making dinner, and folding laundry. It's very easy within these routines to wonder, "What's the point in all of this?? Am I really serving God through all this mundane?"
Courtney beautifully addresses this heart problem and directs us again and again to view our work in light of serving God and His Glory! It's a quick easy read but will give you a lot to think about.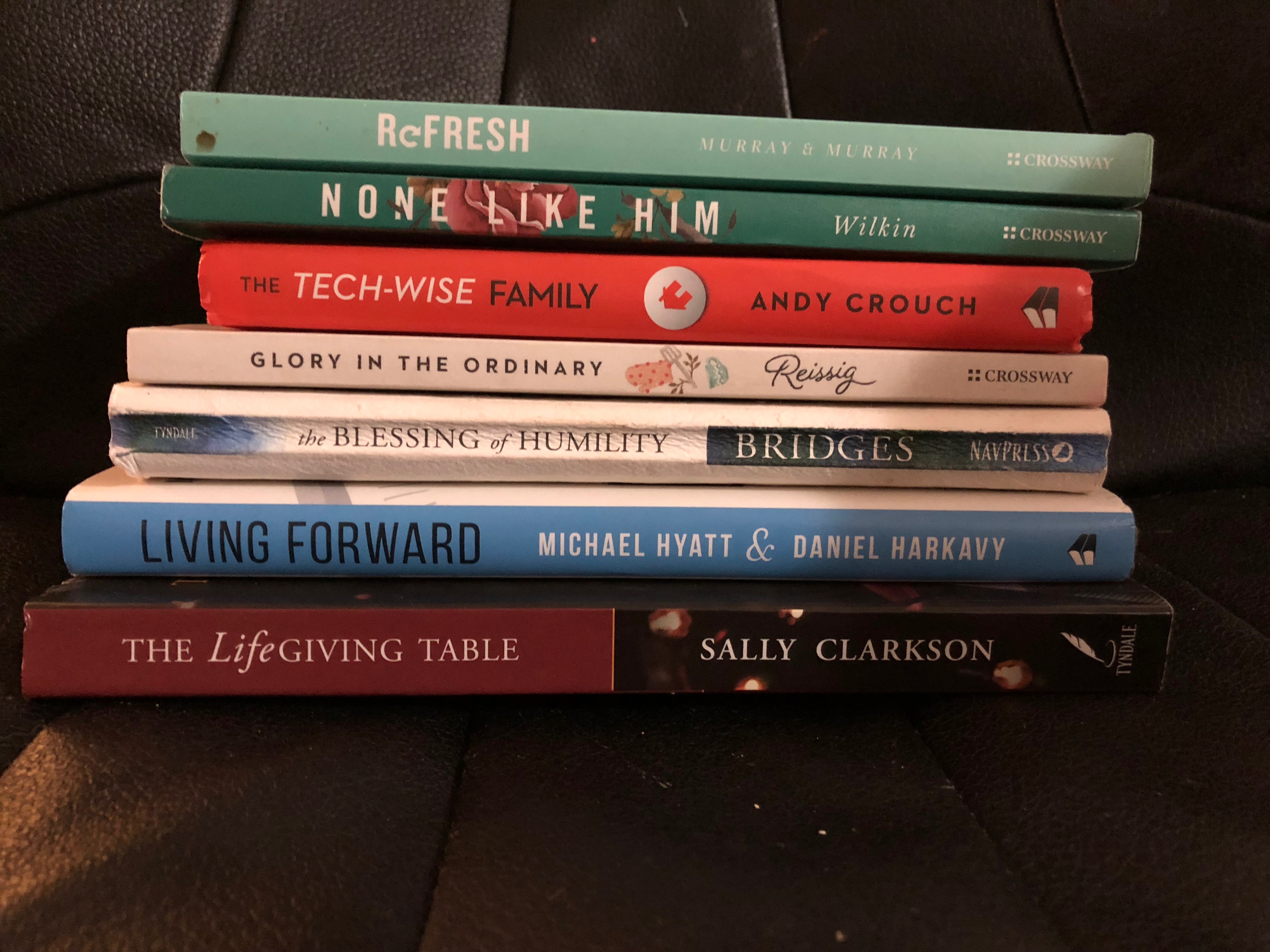 None Like Him: 10 Ways God Is Different from Us by Jen Wilkin
Jen has long been one of my favorite authors (and I'm looking forward to the new book she has coming out in May)! None Like Him is a great book that takes a look at 10 attributes of God. If you are wanting to learn more about God and his character, then this is a terrific starting place!
I was also able to interview her in the fall and it was a great chat! You can listen to my interview with Jen here.
Missional Motherhood: The Everyday Ministry of Motherhood in the Grand Plan of God by Gloria Furman
Another one of my favorite authors, Gloria Furman! And her new book Missional Motherhood doesn't disappoint. I listened to it on Audible, so it felt a little long. But audio books always feel long to me since it takes so long to go through. I loved it so much thought that I also purchased it on Kindle and can't wait to read through it again.
The book was a little different than I expected because it's written to all women, not just biological mothers. The premise of the book is how we can all me spiritual or physical mothers in one sense or another throughout our lives and serve God through that. I highly recommend it to all women!
Shopping for Time: How to Do It All and Not Be Overwhelmed by Carolyn Mahaney
This is a small and quick book that I highly recommend to all women!! Carolyn Mahaney and her daughters write with a very conversational tone but this mini book is packed full of practical suggestions for using your time well.
I took a ton of notes and plan to implament many suggestions from this book!
Living Forward: A Proven Plan to Stop Drifting and Get the Life You Want by Michael Hyatt
Jason and I originally got this book as a business book but I think it will work well in any area of life! We got this book as a free audiobook and listened through it but there were so many practical suggestions in it that we also ordered the physical book so we could go through, take notes and implement suggestions from it.
Their goal in the book is to help you develop a life plan with yearly goals and boy, does that deliver! I highly recommend this as a book to read together as a husband and wife.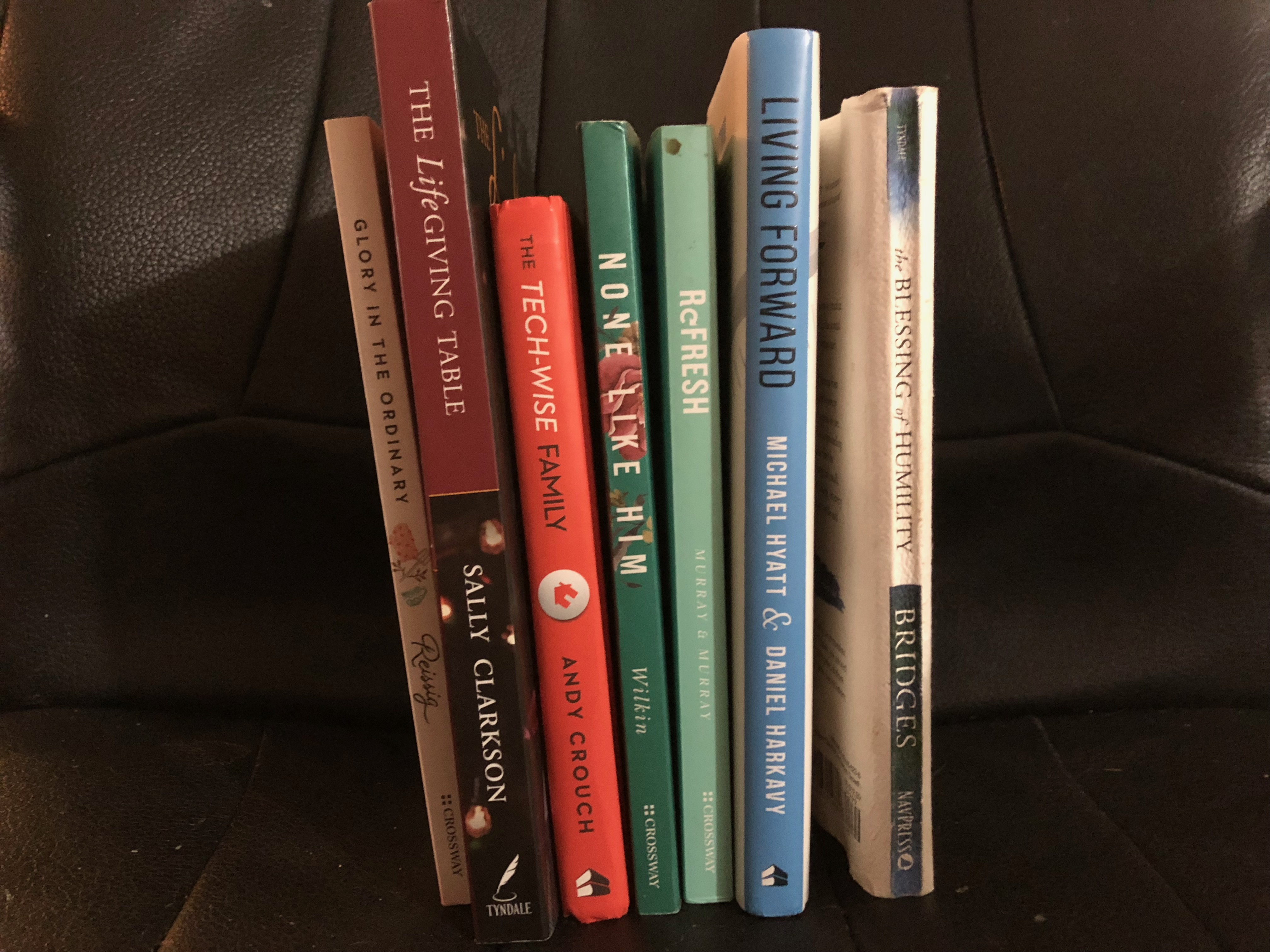 Unoffendable: How Just One Change Can Make All of Life Better by Brant Hansen
Our whole family (my mother and father in law as well as all 6 of my husband's siblings and their spouses) went through this book as a study together this year. It was eye opening and very convicting along the way!
I highly recommend this as a book for the entire family to read, or at least to read with your husband!
The Blessing of Humility by Jerry Bridges
In all honesty, this book tore my heart wide open! I don't often think of myself as a super prideful person. But that's when the subtlety of pride and sin creeps in – when we least expect it. I have always loved Jerry's easy conversational way in which he writes. And in The Blessing of Humility, he opened my eyes to prideful sin in my life AND offered practical encouragement for confessing this sin to God.
Again, this is a huge recommendation for the entire family!
Tips for Reading More: