Building a Practical Evening Routine (The Key) – Episode 10
We've been really working on routines around here. It's been one of those seasons where I need to tighten up our routines and habits for the whole family. In episode 9, we discussed a solid morning routine which will make your day go so much smoother. But the KEY to a solid morning routine is a very practical evening routine. That's what we are going to discuss today, let's dive in:
Listen to the Podcast:

You can find all the links and notes for this episode below!

And don't forget to subscribe to the podcast in iTunes

Right click here and save-as to download this episode to your computer.
A practical evening routine for my house: Helps me to close out today and prepare well for tomorrow. If I can successfully do my evening routine, it's so much more likely that tomorrow will start without a hitch.
It's kind of like a vicious circle in my household. When I stay up too late and am not intentional, my morning is rocky which throws off my whole day. Then we get to bedtime and I stay up too late again trying to either capture a little productivity or finally sneak in some rest time. Which of course, means TOMORROW is rocky or messed up. Thus the circle.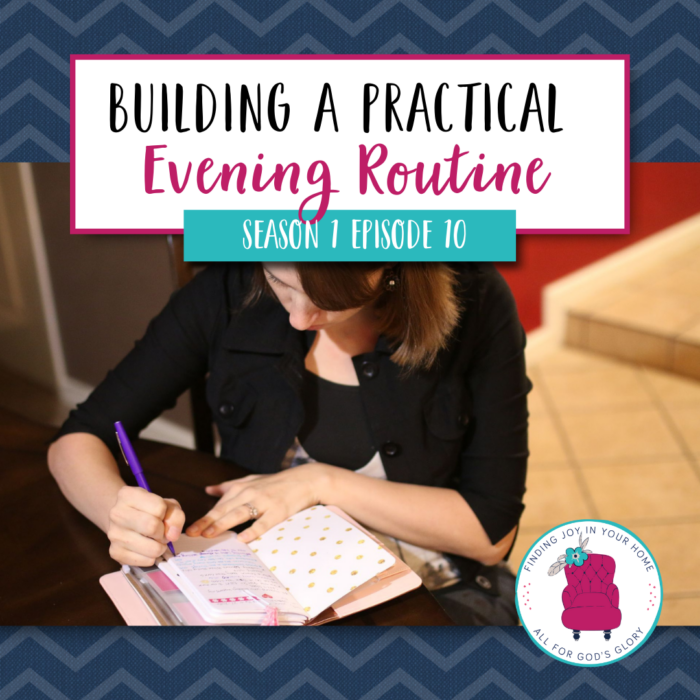 But in a positive way, if you can get on a rhythm of good routines: closing out your day well, getting a good nights sleep and getting up and getting productive: a very good circle can start. That's our aim with a practical evening routine.
A Practical Evening Routine for Me Includes:
Shut down the house and my day: Create a routine that you step into each evening
Set the coffee make to start
Make sure kitchen is clear & I know what's for breakfast
Review my dinner plan for tomorrow: does anything need to go in the crockpot or pull out of freezer
Review my plans for tomorrow: school plans, doctors appointments, etc.
The most important part: Get to bed on time
I have a brain that likes to never stop. I have the tendency to get into bed exhausted but my brain is wide awake. So in some stressful seasons, it's very important for me to intentionally wind down before bed.
If I try to go straight from working on a work project, watching tv with Jason, or scrolling IG on my phone to sleep, it just doesn't work. So I like to:
Take a detox bath: Epsom salt + essential oil
Take Mary Ruth's nighttime multi mineral (magnesium)
Read a book before bed to relax
Links & Resources: