When Pregnancy (or Motherhood) Doesn't Go the Way You Planned – Hf #60
I got an email last month and I just knew I had to address it because I can so identify with her heart. I'll share more in a minute, but I've had two very difficult twin pregnancies and then a third pregnancy which should have been easy and uneventful, but turned out to be fraught with complications.
So today we are going to be talking about how do we respond when pregnancy doesn't go the way we planned, or when things are a lot harder than we expected (and this lesson powerfully applies to motherhood in general as well).
Listen to the Podcast:

I also recorded this blog post as an audio podcast. If you want to listen in instead of reading, click play below or do a combination of both

And don't forget to subscribe to the podcast in iTunes.

Right click here and save-as to download this episode to your computer.
Here's the email I got:
"I'm new to your podcast and maybe you've covered this topic after Podcast #6, but I have a question for you that I've been struggling with. I'm due with my second child in February and both this pregnancy and my first have been very difficult both physically and emotionally (I'm unfortunately not a fan of the healthcare system that my insurance covers). It's unfortunately to the point that I don't think I want to go through any additional pregnancies (my oldest was 6 months old when I became pregnant with my second baby so I never really had a break). I'm just wondering how you were able to get through your difficult pregnancies? I don't want to struggle through my pregnancies, I would really like to enjoy the experience. Thank you in advance!"
My Pregnancy Journey
I want to first share a little bit about my pregnancy journey and experience because I can so identify with her emotions. I am so thankful for our five beautiful blessings, but we've had some ups and downs in the process as well.
If you are new around here, we've had five kids in four years. We have two sets of twin boys and a baby girl who was born January 20th.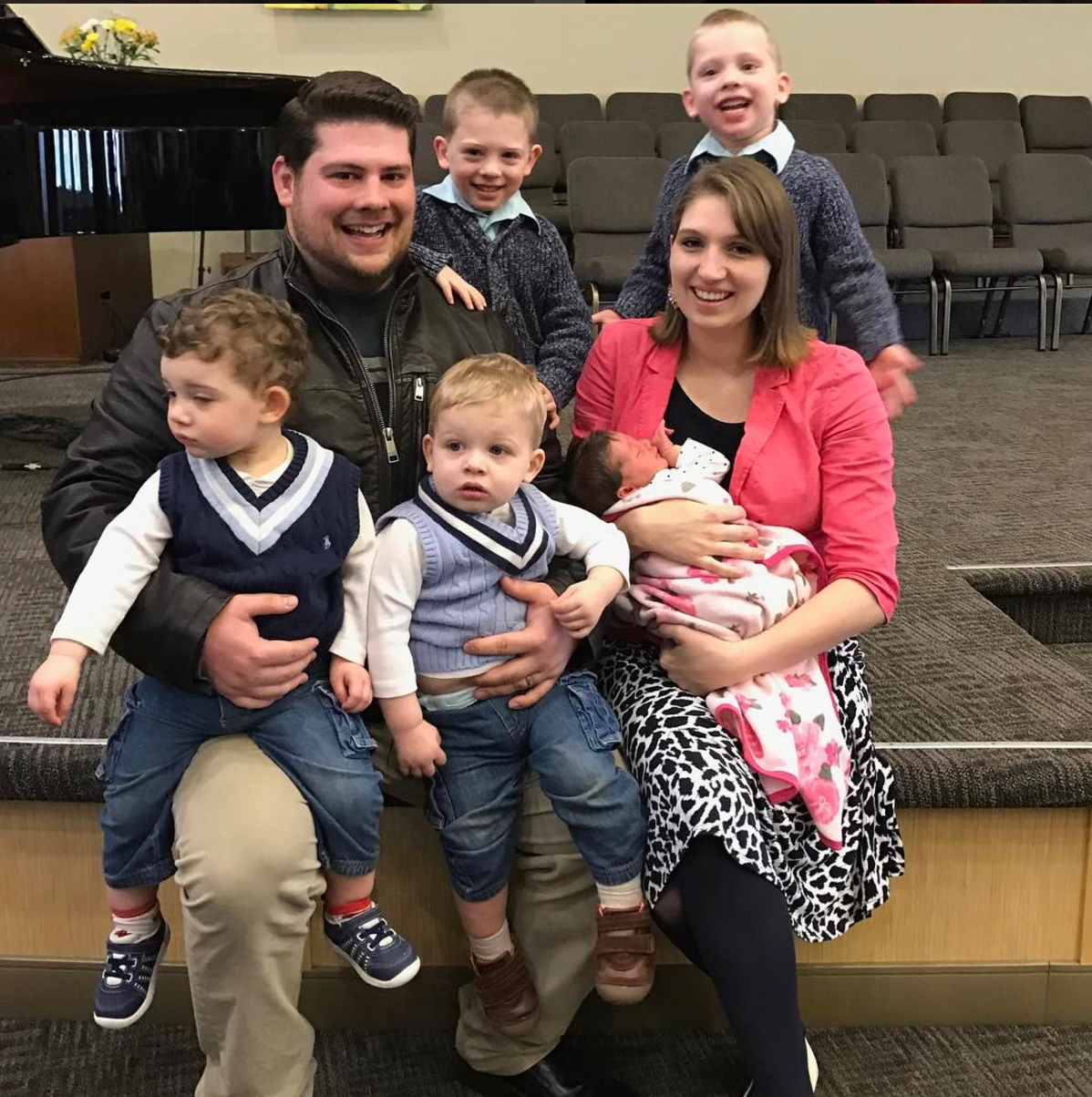 Our first set of twins, Malachi & Micah, were born at 36 weeks 6 days and weight 5.5lbs each. I went into labor with them several times starting at 30 weeks. We had to medically stop labor a couple of times and I was in and out of the hospital several times before they were born at almost 37 weeks via emergency c section. After all the stress, thankfully they were born healthy and happy.
Our second set of twins, Remington & Ryder, were born at 38 weeks and weighed over 7lbs each. From around 30 weeks on, I had over 10lbs of baby and had a really rough final 8 weeks. I could barely walk by the end and was in a lot of pain. As much as we were hoping for a VBAC this time around, we ended up with another c section due to pre-eclampsia at 39 weeks. This time the surgery was rough, I lost a ton of blood, and recover was really really hard.
When R&R were 9 months old, we got a great surprise: We were pregnant! This was certainly not in our timing or our plan to space them so close together, but God is good! This time around, God had a different plan: a single baby girl! Magnolia Rose was born on January 20th after a third unwanted c section. And we are busy adjusting to life as a family of seven with five little kids, four and under.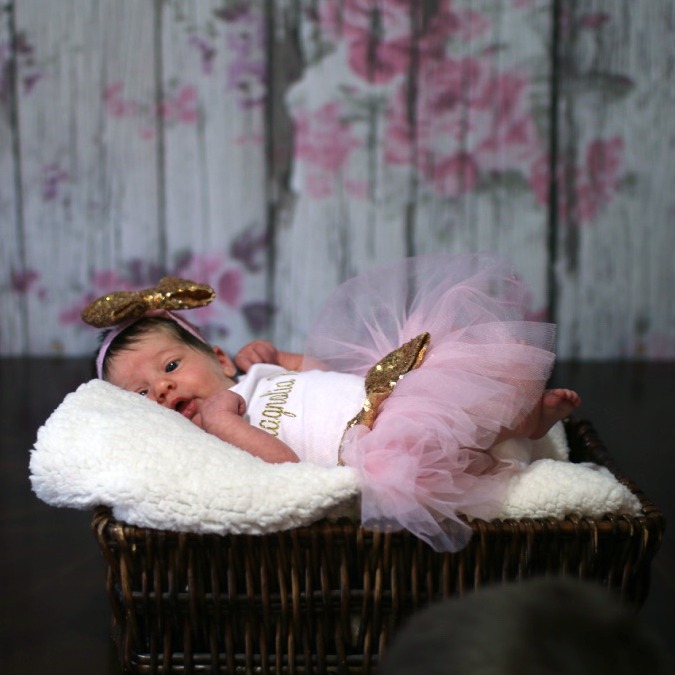 I certainly haven't had the craziest stories and I am so so thankful that my kids are healthy and strong. I know that many others are not as fortunate. But along the way, things certainly didn't turn out how I wanted or expected and it was really rough at times. At the end of the day, I can identify with my email friend about not loving or even enjoying pregnancy.
So how do we deal with this? What do we do when pregnancy, or motherhood, doesn't turn out the way we expect? Hopefully this gives you some encouragement:
1) It's okay to not love pregnancy
In fact, it's okay to not love everything about motherhood. Some days are long, exhausting, and really really hard. I know I have talked to enough women who LOVED pregnancy, some had super easy pregnancy and deliveries, some just seemed to enjoy every single second of the whole process. And honestly, that's not been my experience. I don't love or even like most aspects of pregnancy. There are special moments when I feel my babies kick, or can feel their little hiccups that I love, but for the most part I would be totally okay skipping these 9 months all together.
But when I start to compare myself to those who love and adore pregnancy, it's really easy to feel like something is wrong me with. Don't get me wrong, I'm happy to make the sacrifice. I look at my beautiful children that God has given us, and I couldn't imagine a different family or lifestyle. But the pregnancy is a sacrifice on my part. I'm so thankful for it, but I don't love every minute of it.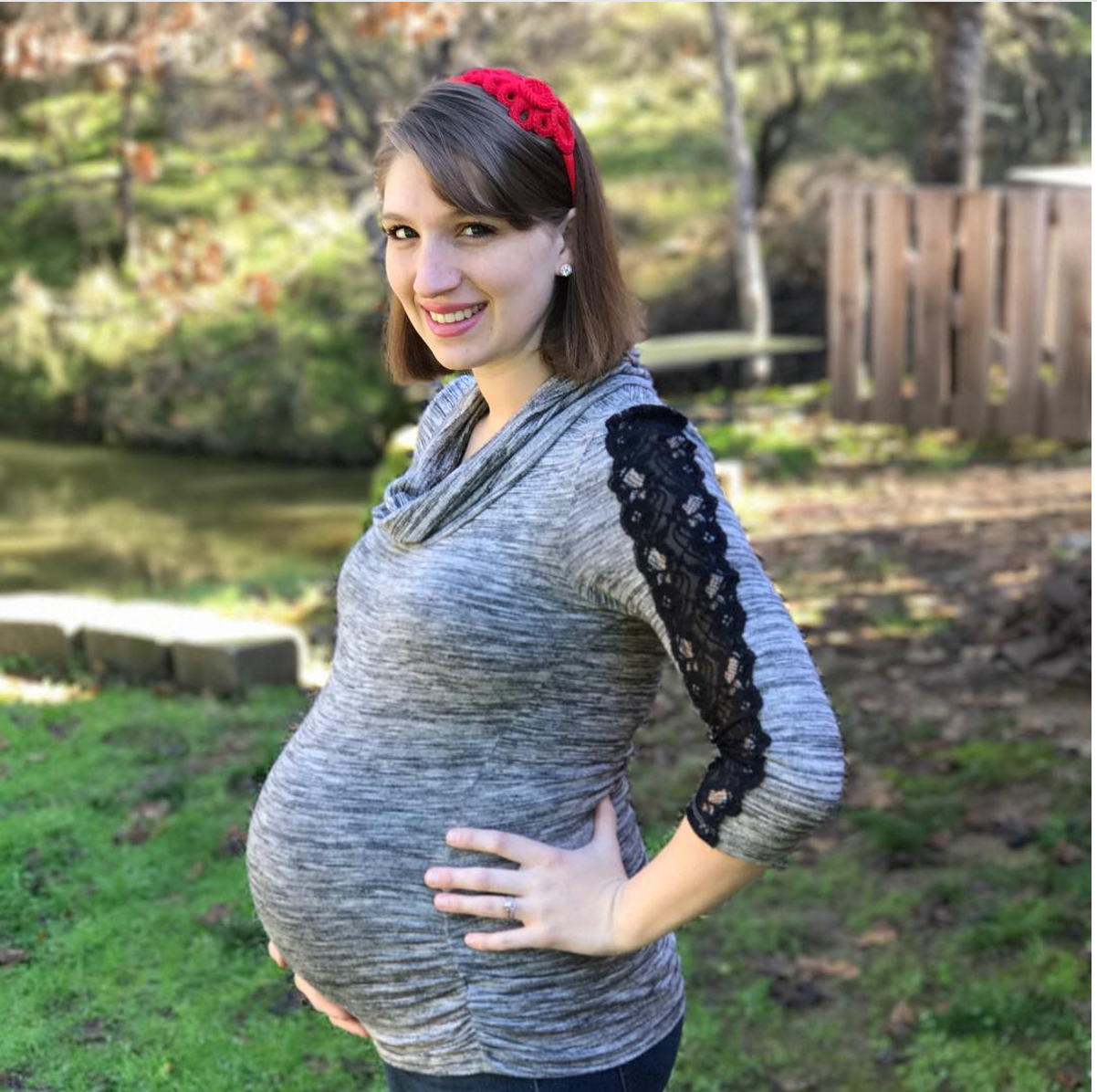 I think you need to give yourself permission to be okay with that. It doesn't make you a bad mom that you hated the 12 weeks where you threw up every single day. Or barely suffered through the fatigue for 9 months while also caring for other kids. Of course, this doesn't give us an excuse to grumble, complain, and be angry or grumpy. God still calls us to have joy in all things, which we will talk about in a minute, but it's certainly okay for pregnancy to not be your favorite thing.
It doesn't make you a bad mom and it doesn't somehow mean you are not cut out for motherhood. Childbirth is extremely painful for a reason, it's a result of the Fall. It's a result of sin in this world. Labor and deliver isn't supposed to feel wonderful and happy. Its excruciatingly painful, and that serves a purpose as a result of the Fall. And motherhood is fraught with problems as we are a sinful mama living in a houseful of sinners.
I wouldn't trade the pregnancy days of my children for anything in the world because it's what's given me 4, almost 5 blessings, but that doesn't mean it was always fun at the same time.
2) God is Teaching Me Something Powerful
I know that God has taught me so many powerful lessons throughout my three pregnancies, and now my four year journey into motherhood. I know many of these lessons I don't even fully realize yet and may never know this side of heaven.
With both sets of twins, I was on bed rest by the end. And really, I could barely walk anyway so it's not like I had a lot of choice. But I know one lesson that has really stuck with me. Towards the 30-33 mark with the twin pregnancies, It started getting really painful to walk. And if I did walk very much, it would throw my body into a storm of contractions.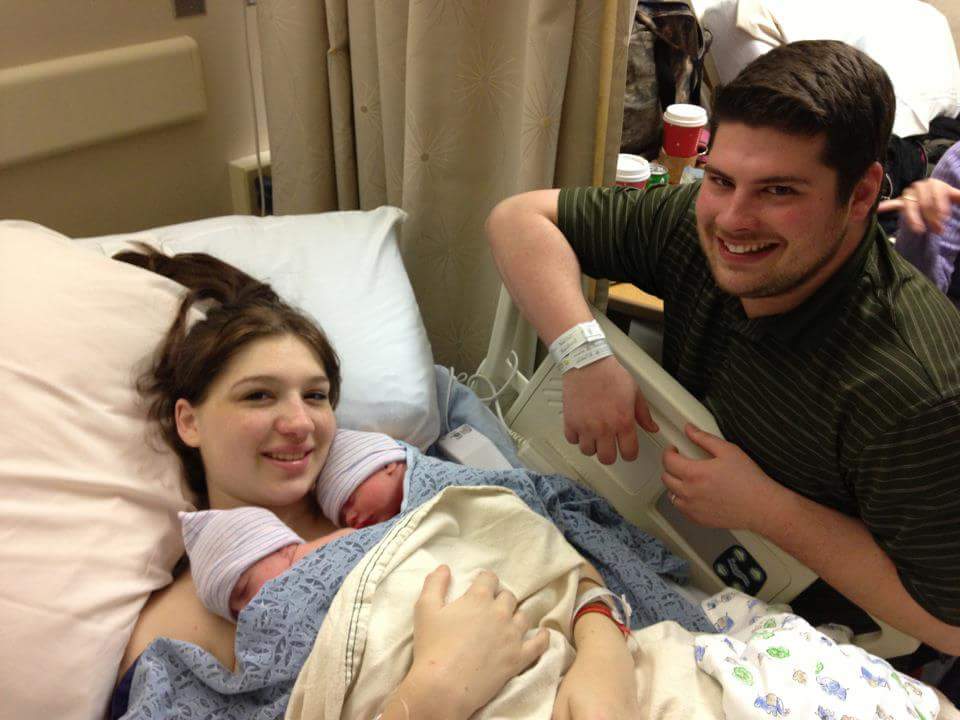 So something as simple as running to Target for a quick errand suddenly became a much bigger deal. I couldn't park very far out in the lot because just the sheer size of the parking lot was too much. Something I never thought about before. Walking into Target and to the back to the baby stuff was too much. I had to hunt for one of the electric carts, and if there were none, I had to wait.
This gave me a brand new perspective on those with disabilities, those that live with chronic pain, or who can no longer get around. And that lesson has always stayed with me. As a young person who can get around, I've never experienced something like that and it has really shifted my perspective.
Along with that, God has been teaching me patience. Patience that I am not in control of all things. Patience that God is teaching me things I don't understand. Patience to endure things that hurt, are painful, and are not fun.
Throughout it all, I've had to take it one day at a time that God had a plan. God knew what he was doing. None of it was by accident. And now I look back sitting next to my five beautiful blessings and know that it's all worth it. But in the thick of it all, it can be so hard to remember that.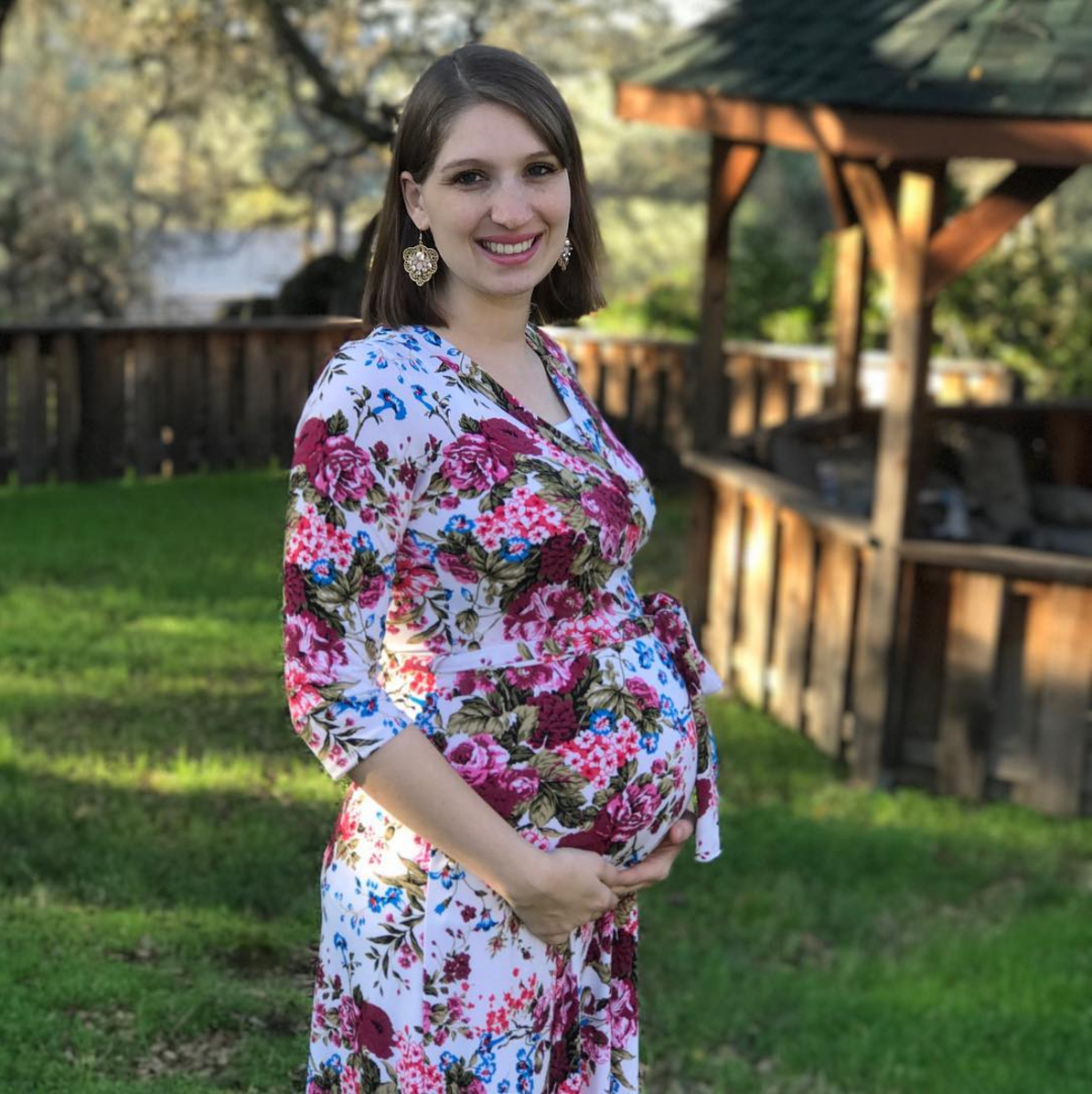 God was teaching me a lot about being in control and that at the end of the day, I need to have more patience that God will work things out in his timing, not my own.
3) Putting my Faith in God
Pregnancy, and motherhood, has taught me to put my faith and trust in God more than anything else.
All the pain, all the unknown, all the uncertainty, even the exhaustion has caused me, more than anything in my life, to learn to rely on Him more. Because it certainly wasn't in my own strength, as much as I would like to think so, that I got through the first year of having two sets of twin boys 2.5 years apart and then found out at 9 months that surprise! I was pregnant again.
People always ask me how I do it. And I don't have an answer, other than in my own strength, I couldn't do any of it. It's God's strength that enables me day by day.
With everything, I've had to learn to trust in God and His plan more than myself and my own plan. And that's the most powerful lesson of all.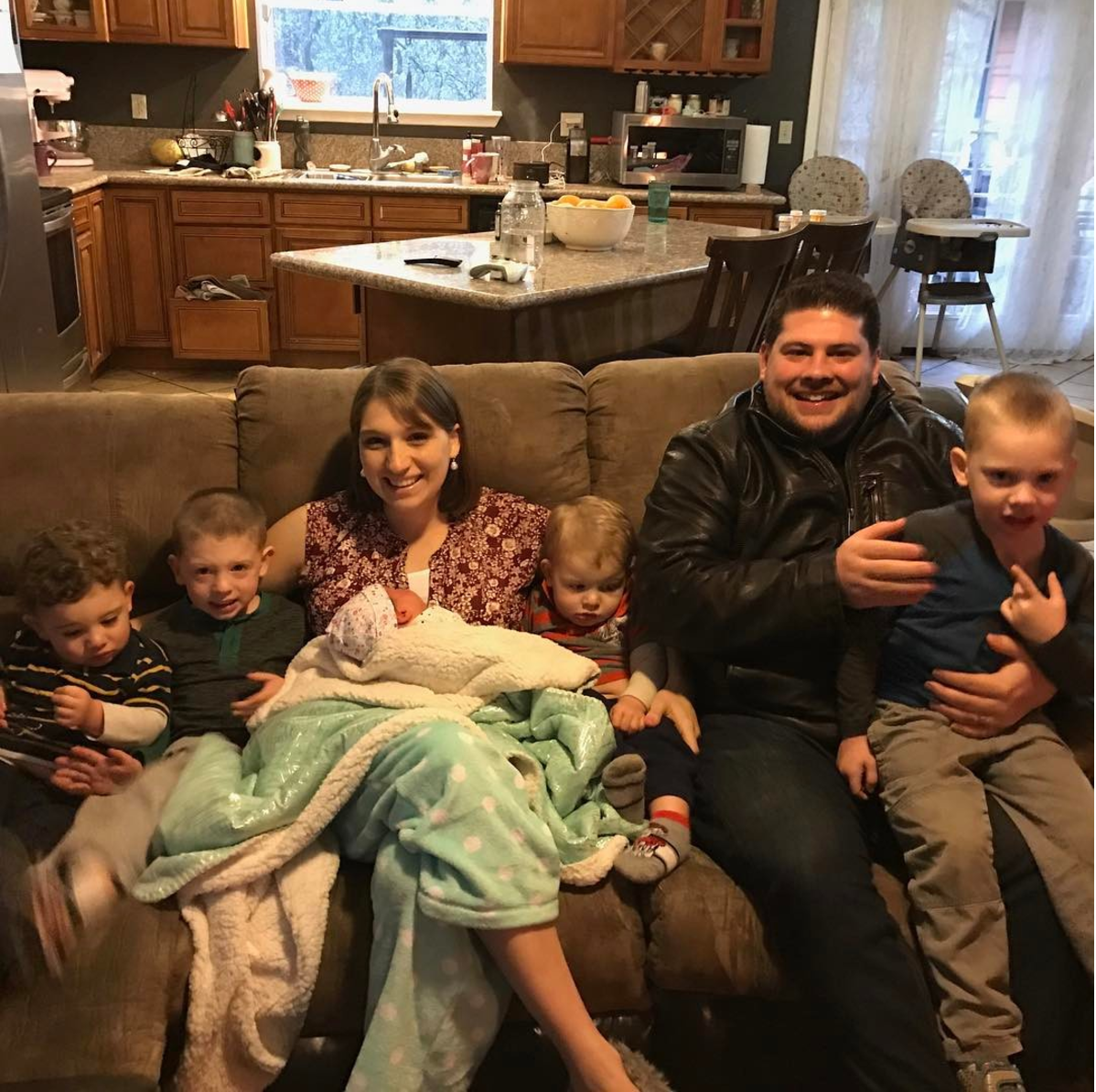 If God gave me control over my body and my babies, I would have never even thought to give us two sets of twin boys and a baby girl all within 4 years. I would have never even dreamed of it, but God knows. God knew what our family needed. Yeah, I'm exhausted 100% of the time, but God sustains me through that.
"On the day I called, you answered me;
my strength of soul you increased." – Psalm 138:3

"So we do not lose heart. Though our outer self is wasting away, our inner self is being renewed day by day." – 2 Corinthians 4:16
Clinging to HOPE
So on those days when you are out of strength, when you just desperately need a nap and your other kids are crawling up your legs, or you take a pregnancy test and find out that God is giving you a new surprise that wasn't in your timing, call out to God.
Tell him that you don't feel like you have the strength and ask Him to fill you with His strength. I know my family seems insane, with 5 kids 4 and under, but God gives me the strength to greet each day.
Now he doesn't often give me a lot of extra strength, but we make it to the end of the day and Lord willing, along the way we are demonstrating to our kids what it means to place our hope and our trust in God.
"I can do all things through him who strengthens me." – Philippians 4:13
There's a difference between being happy or even enjoying something than having joy.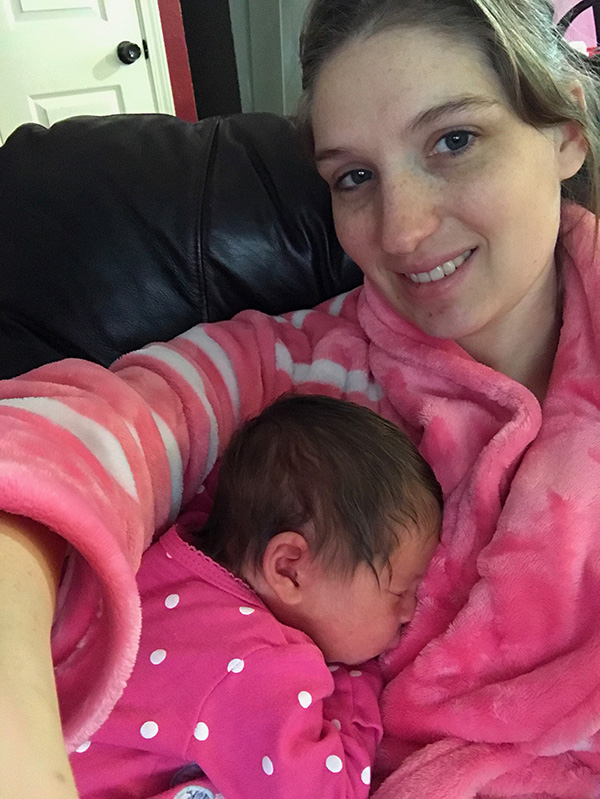 Here's the rub, God calls us to have joy in all things. Even that difficult pregnancy, the c section we didn't want, or the timing that wasn't up to us. We are called to look at it all with joy.
"Rejoice always, pray without ceasing, give thanks in all circumstances; for this is the will of God in Christ Jesus for you." – 1 Thessalonians 5:16-18

"And do not be grieved, for the joy of the Lord is your strength." – Nehemiah 8:10
No, we are not always happy about how things turn out, or the things that happen. But at the end of the day, God calls us to turn back to him in thanksgiving, to pray without ceasing, and to rejoice in the Lord for He is Good!!
RELATED: Choosing to be Thankful in Troubled Times – Hf #50
Book of the Week:
Trusting God: Even When Life Hurts by Jerry Bridges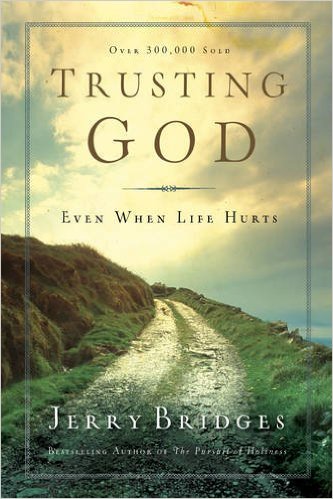 I've shared here on the podcast before, that I struggled with anxiety for years. To the point where I ended up at the cardiologist having a whole battery of tests done on my heart. All to get to the conclusion that I was letting anxiety and worry get so out of hand that it was having a physical effect on my body.
Trusting God was the book that had the single biggest impact on me during that time. It was the first Jerry Bridges book I ever read and now I'm working my way reading all of his books. You can snag it for about $10 on Amazon and he walks you through how we can trust God more, how this impacts our life, and so much more. If you struggle with any of this we've talked about today, I highly recommend you grab a copy or see if your local library carries it.
Free Month of Jelly Telly

I am also really excited to introduce our very first sponsor to the podcast: Jelly Telly – a Christian based video streaming service for kids. And let me tell you, it rocks!

Basically Jelly Telly is a sort of Bible-based Netflix for kids. They have over 100 different shows with a few of our very favorites being What's in the Bible, Owlegories, and Theo.

My kids and I have been playing around with JellyTelly and exploring it and are totally in love. It's coming at a good time since its wet and rainy out and we just had our baby girl Magnolia. We are all locked up inside a lot right now and I LOVE being able to tame some of the craziness with Bible-based tv shows.

I feel so good knowing that I can hand the boys my iPhone and I don't have to worry about what they might get into or click on to watch next. It's so fun to hear the boys singing along with hymns from Theo or reciting the books of the Bible with What's in the Bible.

Jelly Telly is normally $4.99 a month or $49.99 for a year but with an exclusive coupon code just for my readers, you can get an entire month for FREE! Just use coupon code: HOMEMAKINGFOUNDATIONS at checkout and get an entire month for free to check it out!