Serving Within Our Homes – Episode 11
We spent the first 10 episodes of our 25 Foundational Episode series chatting about routines, habits, and how we can find joy in our homes all for God's Glory. The last part of what we want to focus on in our homes, is serving! Today we are going to talk about what it looks like to serve within our homes and then we will jump into a 2 part mini series on hospitality. After that, we will kick off a series on PLANNING out all of these habits and routines in our homes. Let's jump in:
Listen to the Podcast:

You can find all the links and notes for this episode below!

And don't forget to subscribe to the podcast in iTunes

Right click here and save-as to download this episode to your computer.
I did a deep dive into this topic in my new book, She Laughs Without Fear. So as I was planning out the notes for this episode, I started pulling stuff from that chapter but realized I basically just wanted to give you everything from that episode. So instead of reinventing the wheel, today's episode is just going to be the audiobook Chapter 7 of my new book! If you are loving this topic, you can hop over to FindingJoyShop.com to purchase the full eBook or Audiobook on the Proverbs 31 woman!
"She opens her hands to the poor and reaches out her hands to the needy." – Proverbs 31:20
Often in seasons where we are home a lot (like being a stay at home mom and/or having lots of little kids), it can feel like our ability to serve within our homes isn't much. But in this episode, I hope to show that while God has us all in unique seasons, we are still called to serve. In fact, we can use our homes as a powerful form of ministry…it might just look different from season to season.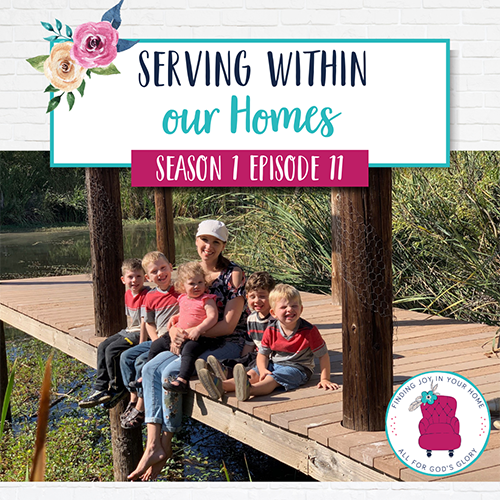 Some ways we can serve that we discuss in this episode:
Through hospitality
Tithes & offerings
And other forms of ministry
Ministry to our own families
So I will leave you here on that note. What season does God have you in right now? What are some ways you can serve in the season you are in? Empty nesters, you might find yourself with more time on your hands and the ability to serve outside the home more, but lack the energy to do so. Pray that God would direct where you should serve and use the restrictions and freedom that God has given you in this season.
Likewise, young moms, you might feel so squeezed for time, yet you are home a lot. Use what God has given you in this season to serve! Don't discount the small ways you can serve the Lord right now. Take this lesson from the wise woman and plan and prepare for ways you can serve the Lord while serving your family.
Links & Resources: